Most homeowners have long forgotten about the good old dish rack, so incomplete is a kitchen today without a built-in dishwasher. But dish racks can be the perfect chore-mate for tiny kitchens where space premiums–or budgets–don't make a dishwasher reasonable, for the less-modern summer cabin, or for anyone who occasionally whips through a few dirty dishes between loads. Dish racks are usually equipped with slots and gaps so that dishes can be kept in a standing position and glasses can be placed upside down to facilitate the drainage of any water. In this post, we will present you with 10 Modern and Functional Dish Rack Designs. Hope you find it useful.
1. DrainFOREST Bamboo Dish Rack [amazon]
Graceful and versatile dish-drying rack for the kitchen coutertop
Crafted from stainless steel and renewably sourced bamboo
Open and elongated design accommodates everything from pans to cups
Perforated flatware holder, deep drainage grooves, and compact shape
Measures 19 inches long by 5 inches wide by 3-3/8 inches high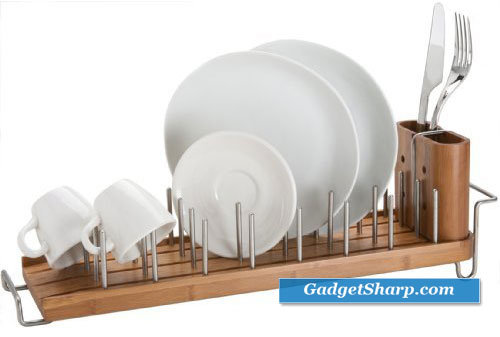 2. simplehuman Dish Racks [amazon]
Elegant, fingerprint-proof steel rack enables energy-efficient dish drying
Removable inner wire frame with flip-up tines holds plates, pans, and more
4 flip-out cup holders; large utensil holder; natural bamboo knife block
Extendable drip tray with 3-way pivoting drain spout; dishwasher-safe parts
Measures 15 by 21-2/5 by 8-1/2 inches; 5-year limited warranty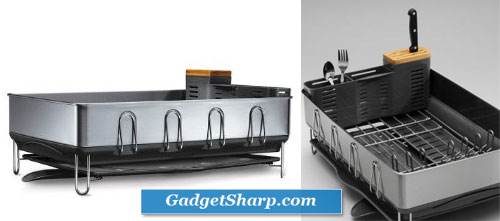 3. Dry Gent Dish Rack [amazon]
The Dry Gent Dish Rack neatly organizes and dry all washed kitchen utensils. Roomy and spacious, it provides ultimate protection to the kitchen sink counter area and washed dishes from splashing water during washing.It's an inexpensive and smart way to replace dish washer machines. This revolutionary drainage system is maintenance free and easy to clean, allowing dripping water to be collected into a small and removable frontal water tray. This patented feature efficiently solves standing water and drainage problems, creating a cleaner and healthier kitchen sink environment. Light weight but tough enough to carryand store all you washed dishes, plates, cups, forks, knives, and spoons. Also features side kitchen towel racks.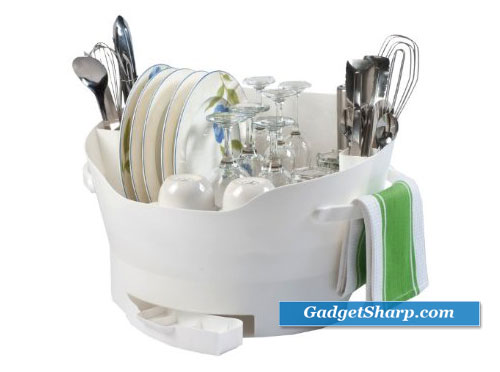 4. Compact Stainless-Steel Dish Rack with Utensil Holder [amazon]
Compact dish rack enables energy-efficient dish drying
18/8-grade stainless-steel construction resists corrosion
Holds up to 14 plates; 2-slot removable mesh cutlery basket
Stainless-steel drip tray with side rims collects water run-off
Measures 14 by 6-1/2 by 5 inches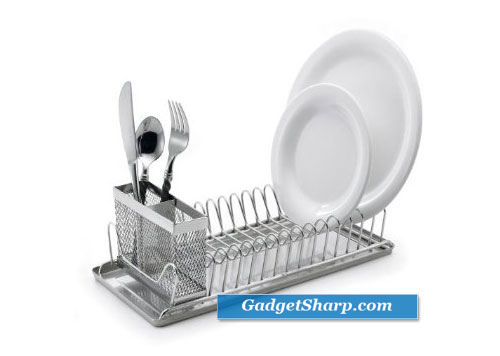 5. Norpro Pine Wood Folding Dish Rack [amazon]
Measures 20.5 inches/52cm by 15 inches/38cm
Made of natural pine wood
Portable and lightweight
Large capacity hardwood construction featuring two drying levels
Wipe dry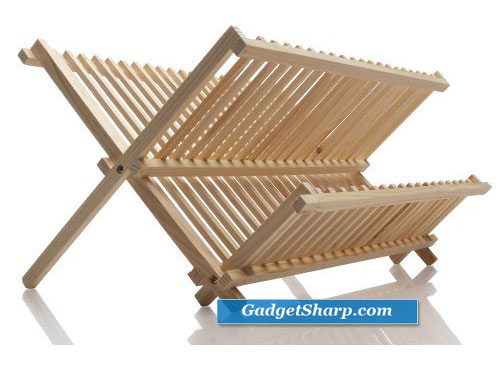 6. Polder Advantage Dish Rack [amazon]
Elegant Design, full size rack made from rust-resistant brushed stainless steel.
Removable plastic drying tray with slide out drain tray offers added drying space-perfect for glass items.
Wire plate and cup holders, this dish rack holds up to 10 plates and includes 6 glass posts.
Drain tray and cutlery holder with split compartments. Both the drain tray and the cutlery holder are dishwasher safe (top rack only)
Measures 19-inch-by-14-inch- by-6-inch, the removable tray measures 14-1/4-inch-by-13-1/4-inch.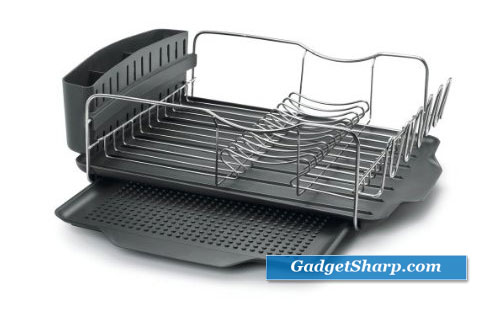 7. Black+Blum High&Dry Dish Drainer [amazon]
A contemporary and highly functional dishrack inspired by architecture. The sculptural shape folds down to a flat compact shape for easy storage. The wave of spikes can be used to hold even your most delicate champagne glasses upright. There is a drainage tray which has an ingenious flip up spout so that you can chose to drain or not, depending on your kitchen set up.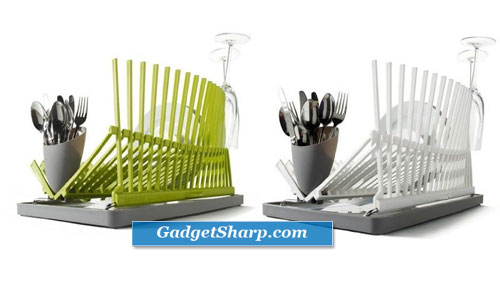 8. Bamboo Slat Dish Rack [amazon]
Contemporary, stylish dishrack with a host of practical design features. Comes complete with a cutlery holder for vertically airing smaller items, a slanted tray for drainage and a flat, slatted bamboo upper for easy, efficient placement of dishes and glassware alike.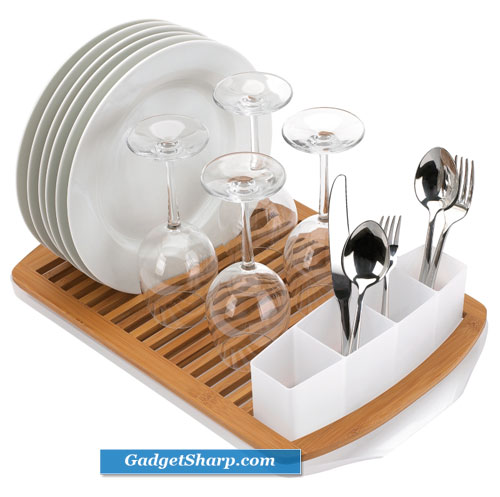 9. simplehuman Dish Racks, Compact, Plastic [amazon]
Plastic dish rack in black for use on in the sink or on the counter
Removable inner stainless steel wire frame lifts out for easy cleaning
Dual directional drip tray can be adjusted so that water can drain on either side of the dish rack
Convenient handles make it easy to move the dish rack
Measures 13 by 15-1/5 by 6-5/8 inches; 5-year warranty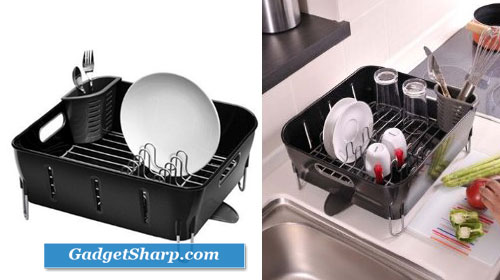 10. Polder 3 Piece Compact Dish Rack System [amazon]
Elegant design made from rust-resistant brushed stainless steel
Expands to your needs; arms extend to 24-1/2-inch for in-sink use
Wire plate and cup holders can be used on drain tray or over sink for increased drying space
Frosted drain tray and cutlery holder with split compartments
Dishwasher safe on top rack only