During the holidays, most people take great pains to dress the dinner table with evergreens, candles and other decorations. We can decorate our Christmas dinner table in whatever we want. Classic, vintage, simply chic, elegant, luxury blue, or shining silver, all can work well. But after all, why don't we add more joy by using and placing cute Christmas tableware to make us happier? In this post, we want to share some lovely Christmas Tableware with you and hope you can get some ideas to decorate your Christmas table.
1. National Lampoons Christmas Vacation Glass Moose Mug [amazon]
You too can now enjoy your eggnog in a Moose Mug just like Clark Griswold and Cousin Eddie in Christmas Vacation. These replica Christmas Vacation Moose Mugs are officially licensed by Warner Bros. Studios. Each high quality, yet affordably priced mug is individually made from hand molded glass. These festive goblets make unique gifts, perfect conversation pieces and unforgettable party favors.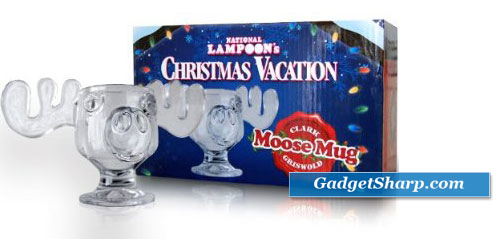 2. Pfaltzgraff Winterberry "Cookies And Milk For Santa" Set [amazon]
Winterberry is the holiday classic that brings this timeless motif to life in elegantly sculpted dinnerware & serveware, beautiful glassware and joyous giftware.
3. Mud Pie Letter to Santa Mug [amazon]
Every child looks forward to that trip to sit on Santa's lap. The memories are precious, preserve and display them with this adorable red gingham frame features multi colored grosgrain ribbon border and Sittin' with Santa embroidered ribbon accent. Holds a vertical standard 4x6 photo. Makes a great gift for that family in your life celebrating that special first holiday.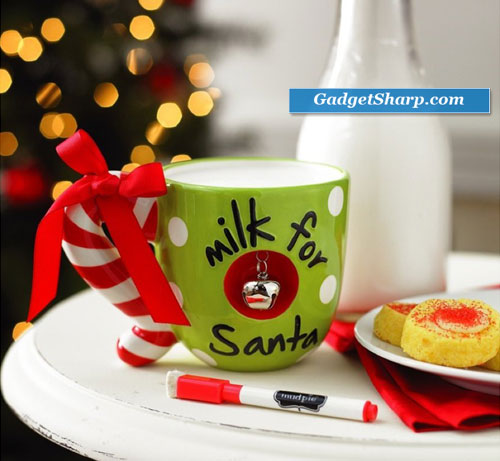 4. Spode Christmas Tree Sauce Boat and Stand [amazon]
2-cup capacity sauce boat and stand; boat is 8-1/2-inches long and 6-1/2-inches wide
Both crafted of high-quality earthenware
Matches full line of dinnerware, serveware, and accessories
Features festive, distinctive Christmas tree design
Safe in oven, microwave, dishwasher, and freezer; 1-year defect warranty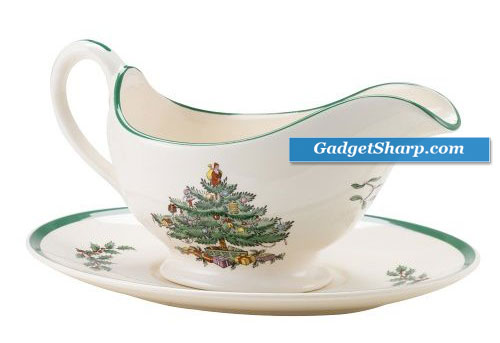 5. Let it Snow Candy Bowl [amazon]
Holiday candy bowl Made of hand painted earthenware Hand wash recommended 7 inches long by 4.5 inches wide by 5 inches high with 13 ounce capacity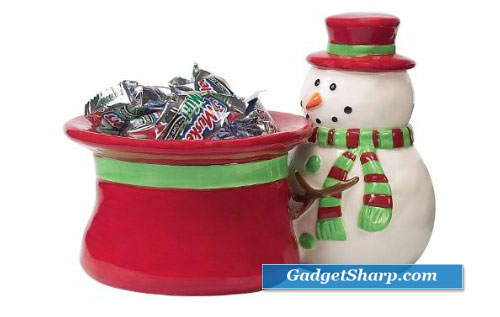 6. Snowman Glass Fusion Plate by Lori Siebert [amazon]
Layers of colored glass coupled with iridized metallic finishes create bright and friendly snowman to make any day a festive occasion.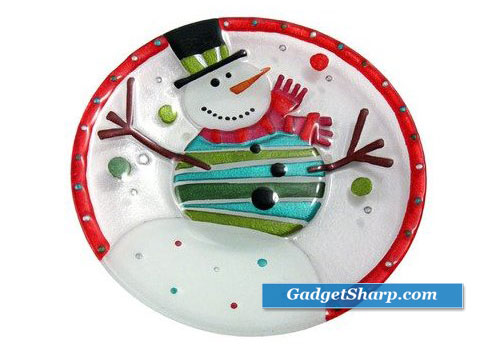 7. Footed Snowman Cake Plate [amazon]
This adorable footed snowman cake plate will add a touch of whimsy to your holiday dessert table. The sculpted snowman pedestal will definitely melt your heart and makes a great gift when filled with homemade goodies. The Winterberry cake plate is dishwasher safe, and goes great with other Pfaltzgraff Winterberry pieces like dinnerware sets, dessert bowls and more. Footed cake plate is 11 1/4" dia. x 5 1/2" high and comes in a gift box.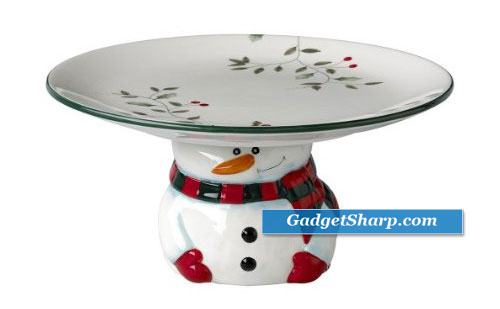 8. Spode Christmas Tree Glass Pitcher [amazon]
96-ounce glass pitcher makes pleasing seasonal gift Decorated with Spode's classic Christmas Tree design Ideal for mixing cocktails, serving milk, holding flowers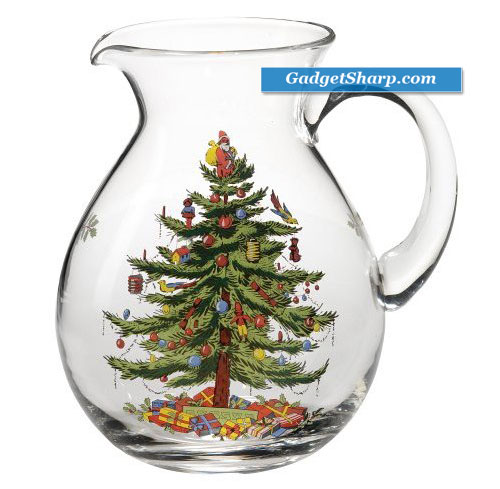 9. Santa Hat Dip Bowl Set [amazon]
Santa hat dip set features three ceramic Santa hats resting in a black wire holder. Perfect for dips, spreads and condiments at holiday parties! Each bowl is 4" D. and 4" H. Wire holder is 13 7/8 x 3 3/4 x 4" H.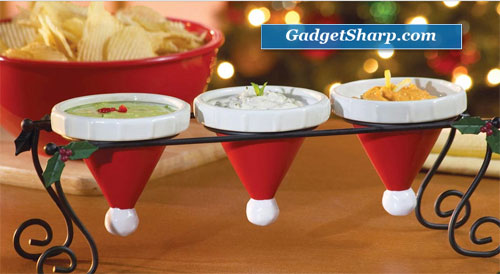 10. Snowman with Scarf and Cookie Plate Set [amazon]
Grasslands Road Snocountry Snowman with Scarf "Made with Love.." Cocoa and Cookie Plate Set. Cookies and milk for Santa. This adorable scarf adorned snowman will add cheer to any home. 2-piece set with message "Made with love by santa's helpers".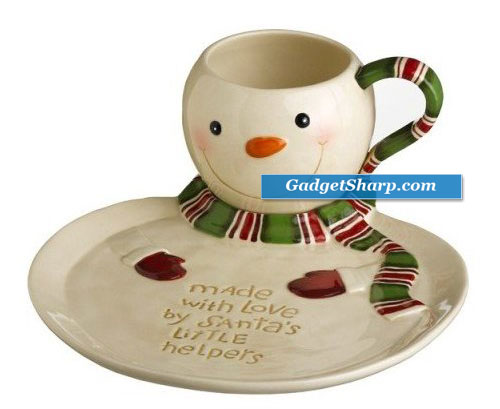 11. Christmas Tree 3-Piece Hostess Set [amazon]
Set includes 8-inch butter dish with lid
Also, 1 pair 3-inch salt-and-pepper shakers
Made of glossy white Imperialware with green trim
Decorated with festive Christmas Tree pattern
Dishwasher-safe; gift-boxed in Spode's red packaging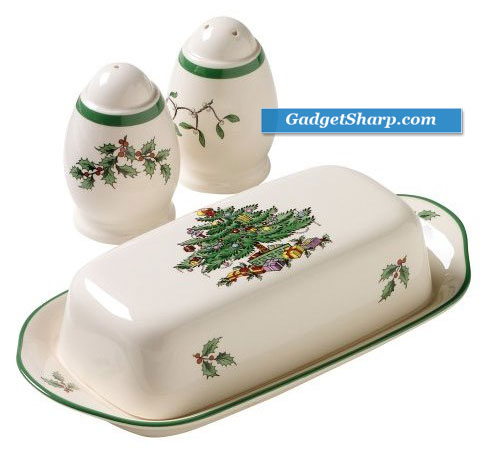 12. Tree Sculpted Christmas Tree Shape Sugar and Creamer Set [amazon]
Hand painted
Made of highest quality earthenware
Dishwasher and microwave safe
Guaranteed against manufacturer defects.