Christmas is almost here. Are you plan to invite your friends to have Christmas dinner? In this post, we will present you 19 Christmas themed products which include: tablecloth, napkins, napkin rings, candles, candle holders, plates, and etc. Hope you would get some ideas from this post to decorate your Christmas table.
1. Christmas Ribbons Engineered Printed Tablecloth [amazon]
A tablecloth that is perfect for your Holiday d?cor. Effortlessly dress up your Holiday dinner with this luxurious engineered tablecloth.
Features an engineered print of Christmas Ribbons that will bring elegance to your holiday dinner table
Available in additional sizes
55-Percent cotton 45-Percent polyester
Machine wash and Dry
60 by 104-Inch tablecloth; Fits a table of 10 to12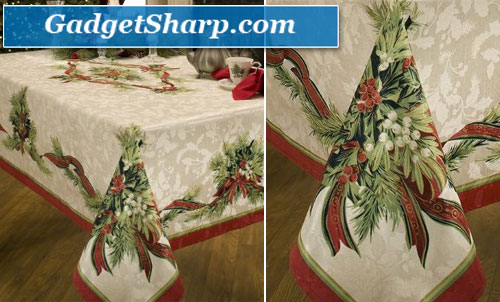 2. Lenox Tablecloth [amazon]
The combination of jacquard damask fabric and classically colored accents make the Lenox Holiday Nouveau linen line a sophisticated way to dress the table for holiday festivities. Fashioned from a cotton-polyester blend, the line has a subtle sheen to its background, which features an ivory field set with tone-on-tone holly leaf patterns.
Elegant and colorful Holiday Nouveau linens from Lenox
58 percent cotton and 42 percent polyester ivory jacquard damask
Pattern features lively holly leaves, flowing tartan bands, and gold ribbon
Collection includes tablecloths, runners, placemats, and napkins
Machine washable in cold water with like colors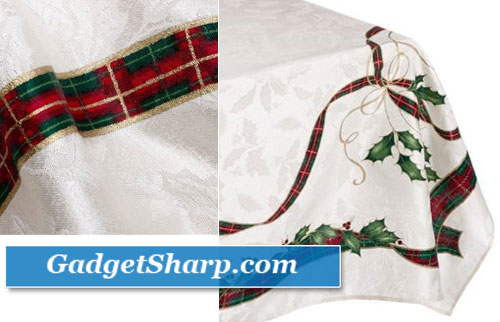 3. Waechtersbach Christmas Tree Paper Napkins [amazon]
The Christmas Tree pattern from Waechtersbach has been a holiday tradition since 1976. The combination of holiday red, Christmas tree green and snowflake white decorations are an intregal theme during the holiday season. Package includes 25 napkins measuring 5.5" by 5.5" manufactured in the United States.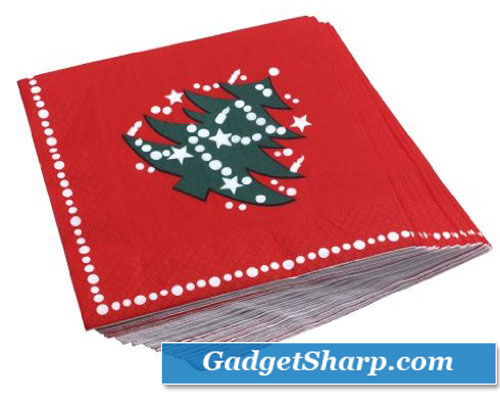 4. Christmas Napkins Linen Like Smart Set Festive Ornament 75 Per Pack [amazon]
The Festive Ornament Smart Set is a unique Linen Like napkin with a slit in it that forms a pocket to easily preset your cutlery in the napkin.
Manufactured to the Highest Quality Available.
The elegance of real linen at a fraction of the cost
75 per Pack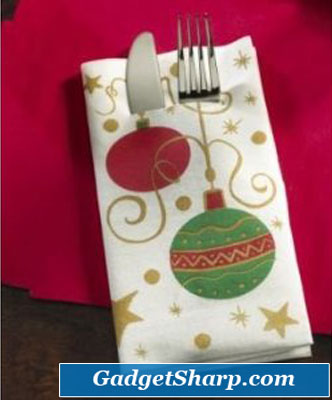 5. Lenox Holiday Nouveau Cocktail Napkin 6-Pack [amazon]
Elegant and colorful Holiday Nouveau linens from Lenox
58 percent cotton and 42 percent polyester ivory jacquard damask
Pattern features lively holly leaves, flowing tartan bands, and gold ribbon
Collection includes tablecloths, runners, placemats, and napkins
Machine washable in cold water with like colors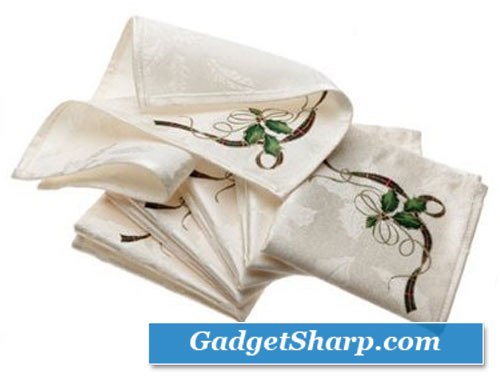 6. Nouveau Napkin Rings [amazon]
Celebrate the holidays in style for years to come with this set of four napkin rings from the Lenox Nouveau collection
These multi color rings are perfect for setting the scene at holiday dinners or use throughout December
Decorated with festive holly spray with ribbon accents
Gold trimmed for extra fashion
A little touch of the holidays for your dinner table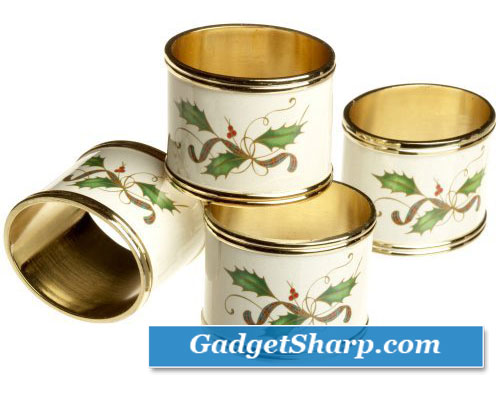 7. Holly Napkin Rings 4 Pack [amazon]
Set of 4 Beautiful Lenox Enamel Holly & Berry on Gold Napkin Rings, New in Sealed Lenox Packaging
Lenox Holiday Holly Gold Nouveau Napkin Ring Rings
Berry Enamel Enameled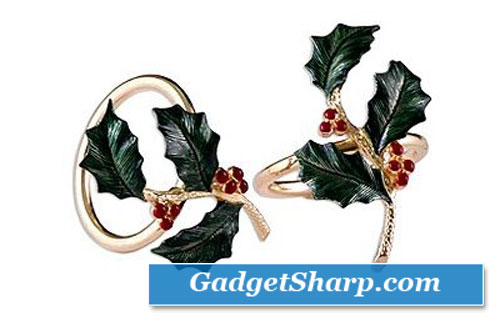 8. Holly Jolly Snowman Napkin Holder [amazon]
Mealtimes get merrier when you put this sweet-faced snowman on serving duty! Cute and colorful holder keeps plenty of napkins within easy reach. Weight 0.5 lb. Dolomite. 3 1/2" x 3 1/4" x 3 1/8" high.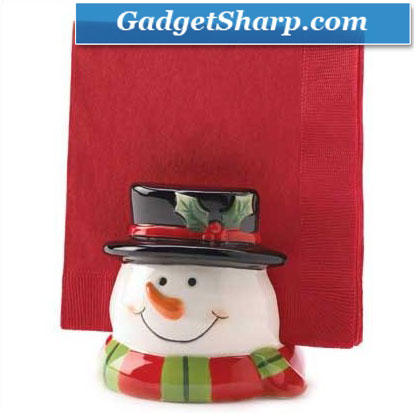 9. Reindeer Beverage Napkins Set [amazon]
Featuring sleek lines and contemporary flair, the Reindeer Napkin Holder is crafted of brilliant aluminum. The holder keeps cocktail napkins on hand for guests and family during the holiday season. Add a little sparkle to Christmas decor with Mariposa?s napkin holders.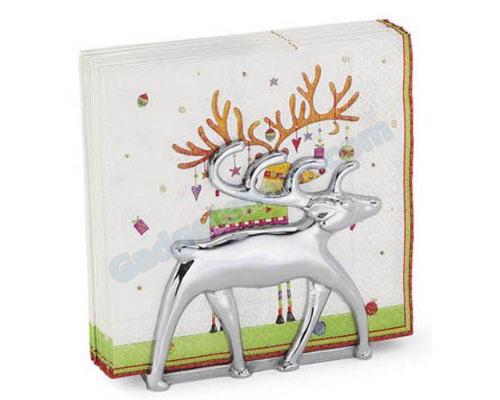 10. Treats Novelty Jingle Jitters Latte Christmas Candles [amazon]
"Jingle Jitters" latte candles add a jolt of Christmas cheer to any decor. Features "whipped cream and sprinkles" decorations
Peppermint Mocha, Gingerbread, Vanilla Cinnamon scented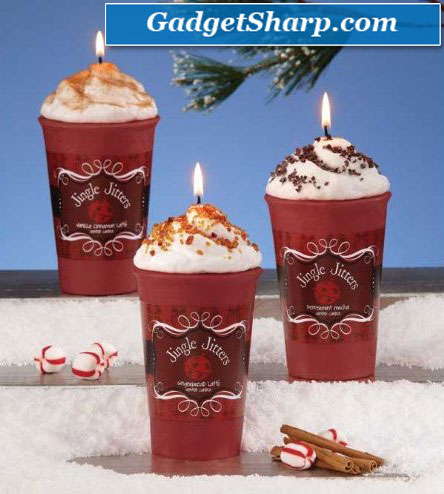 11. Dazzling Glitter Tree Candles [amazon]
Table top decorations this holiday season are not complete without our Glitter Tree Candles (set of 3). These stunning shimmering candles make the perfect addition to any dining room table display or as decoration throughout your home. The hand painted and glittered metallic finish gives each candle a very elegant look. Each candle offers a burn time of 2 hours.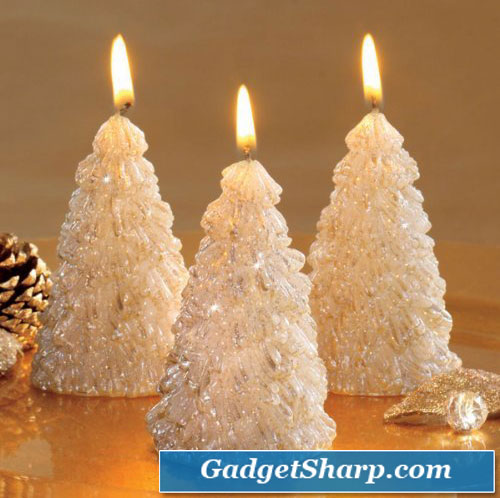 12. Reindeer Votive Candle Holder Christmas Holiday Decor [amazon]
Instantly create a holiday glow when you place this shining centerpiece in your favorite decorating space! Golden reindeer and dancing candlelight add glittering glamour to any holiday theme. Weight 1.3 lbs. Metal and glass cups.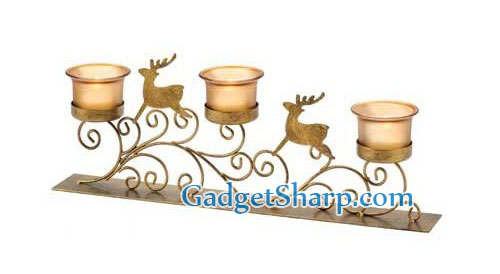 13. Red Snowflake Luminary Tealight Candle Holder [amazon]
From the Winter Brilliance Collection of Colonial Candle. This fabulous and festive collection offers new and exclusively designed patterns. Contemporary design with shimmering, dancing snowflakes in traditional colors make a strong seasonal statement. Perfect for gift giving and well as home entertaining.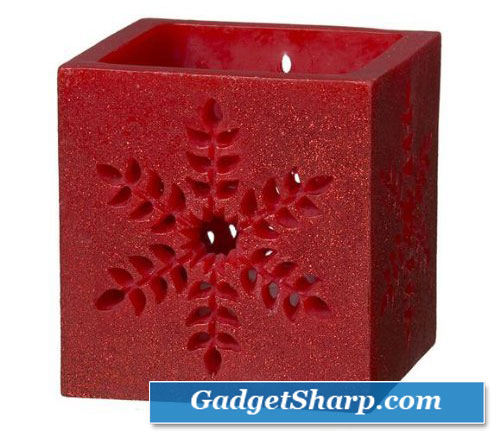 14. Spode Christmas Tree Dinnerware [amazon]
10-1/2 inch dinner plate
Crafted of high-quality earthenware
Matches full line of dinnerware, serveware, and accessories
Features festive, distinctive Christmas tree design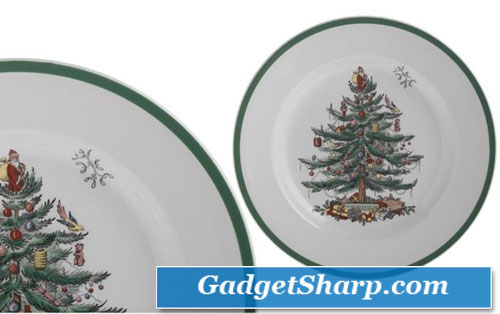 15. Winter Greetings 12-Piece Dinnerware Set [amazon]
12-piece set includes 4 each: 10-3/4-inch dinner plate, 8-inch salad plate, 13-ounce mug
Crafted of Lenox ivory fine china accented with 24-karat gold
Delightfully decorated with familiar winter birds, ribbons, and evergreens
Designed by renowned bird artist Catherine McClung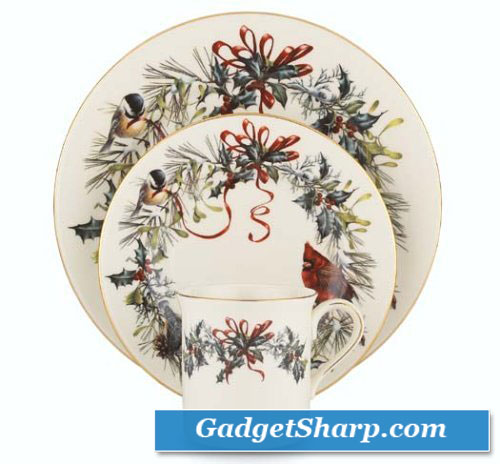 16. Grasslands Road Holiday Presents Snowflake Ornament 8-1/4-Inch Dessert Plates [amazon]
The creamy-white ceramic plates feature intricate snowflake patterns in deep cranberry hues, with gold metallic inscriptions reading "Merry Christmas" and "Warm Wishes for a Happy Holiday Season" (includes two of each style). Shaped like elegant ornaments–complete with gold-trimmed hangers and dimensional bows
Set of 4 dessert plates measuring 8-1/4 inches in diameter each
Creamy-white ceramic construction with raised details and glossy finish
Ornament shaped; snowflake imagery and gold metallic accents
Dishwasher-safe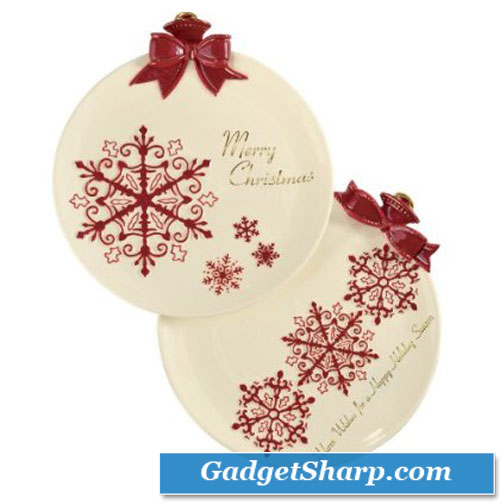 17. Santa Claus Cookie Jar [amazon]
Kids of all ages will think twice before sneaking a treat from this cookie jar; after all, Santa is definitely watching! Holds a plentiful portion of your special holiday goodies. Dolomite. Not microwave safe.Dishwasher safe; 7 inches x 6 1/2 inches x 11 1/2 inches high.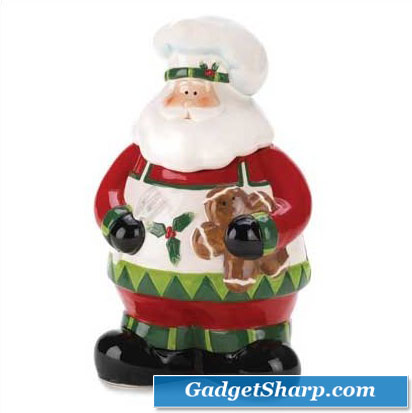 18. Spreader Set of 4 - Snowman [amazon]
Cheese Spreader-Snowman
Set of 4pcs
Hand Painted Resin handle
Size: 5" length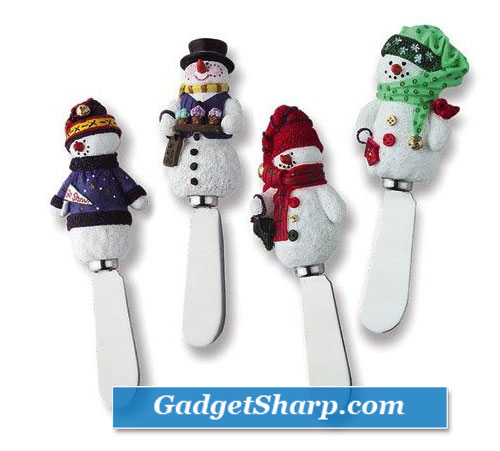 19. Sleigh Candy Dish, Reindeer Salt and Pepper Gift Set, 3 Piece [amazon]
Gift boxed with photo label
gift set includes: sleigh candy dish and reindeer salt and pepper set
Ceramic
handwash only