Santa Claus is Coming to Town! Go and immerse yourself in a fun ambiance with these reindeer products. From decoration to S&P Set, from candle holder to door stop, from stock holder to child toy, decorate your home and have the most festive house on the block with reindeer displays.
1. Rockin Reindeer - Set of 3 [amazon]
Rockin Reindeer - Set of 3These decorative reindeer each have their own unique set of holiday decor. This set will make a fun addition to a holiday party.Reindeer are made of 100 percent iron.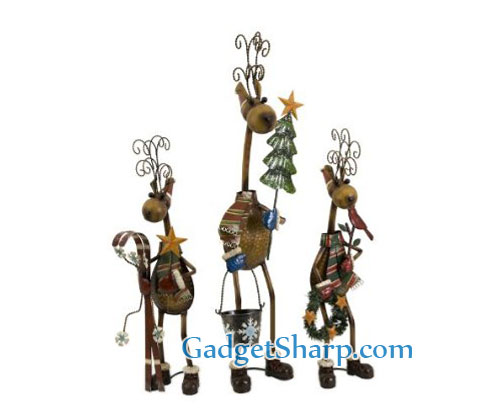 2. Reindeer Votive Candle Holder Christmas Holiday Decor [amazon]
Instantly create a holiday glow when you place this shining centerpiece in your favorite decorating space! Golden reindeer and dancing candlelight add glittering glamour to any holiday theme. Weight 1.3 lbs. Metal and glass cups.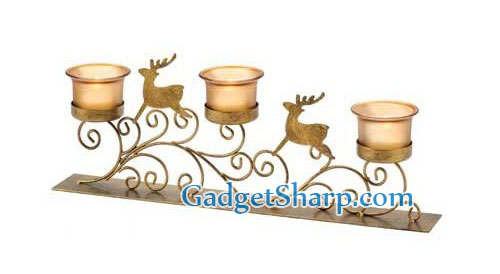 3. Wild Wonderful Winterland by Babs Ceramic Salt and Pepper Shaker Set [amazon]
This 6 1/8-Inch reindeer kiss magnetic salt and pepper shaker set, crafted fine hand painted ceramic, adjustable reindeer horn with beads. It can also be used as a beautiful centerpiece for the cake topper. The product is designed by Babs, with a whimsical, stylish and an artist look.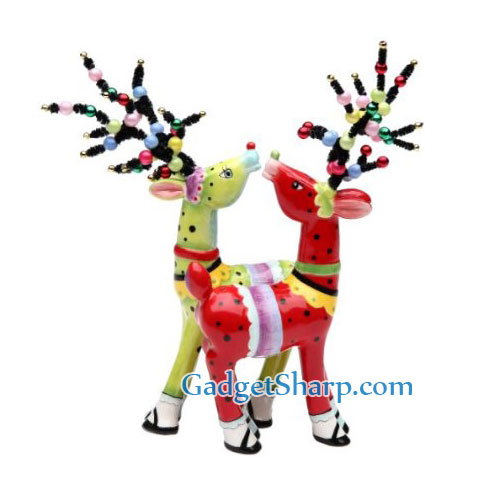 4. Reindeer Finials - Set of 3 [amazon]
Reindeer Finials - Set of 3 Finished in an antiqued gold, this traditional style set includes three reindeer. Although the same size, each reindeer is set at a different height, suspended off ornate, gold stands. Each reindeer has a small red accent around its neck for added interest. Made of calcium carbonate and polyresin.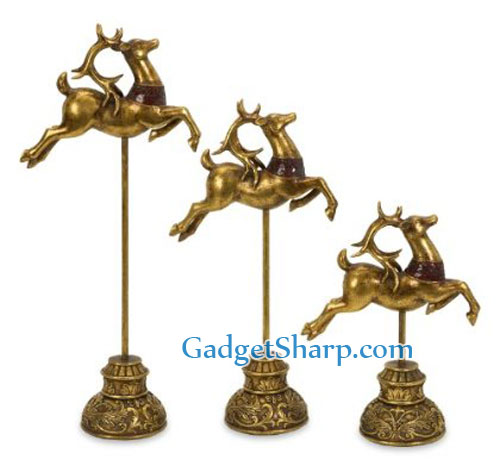 5. Pack of 2 Retro Decorative Reindeer Robot [amazon]
Flashback to times past with these fun and nostalgic reindeer robots. Vintage deer have festive Christmas balls on their antlers and robot gear feet.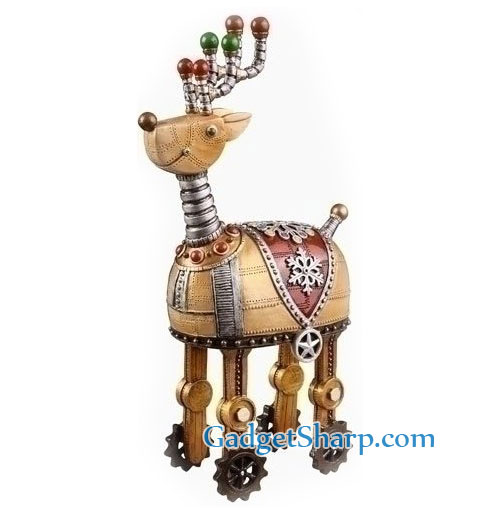 6. Zodax Silver Wire Decorative Metal Reindeer [amazon]
Decorative metal reindeer; solid metal wire construction
Stylish silver colored wire
Large; measures 16 X 5 X 18"
A perfect housewarming gift; whether new to the neighborhood or just starting out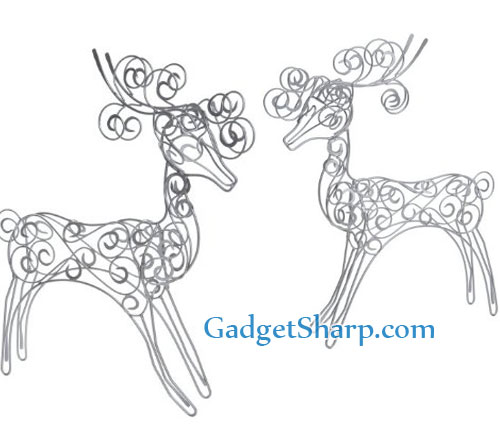 7. Reindeer Decorative Doorstop [amazon]
Made of heavy cast iron, this decorative doorstop is a charming way to keep a door from slamming shut. Use a Reindeer Decorative Doorstop to prop open a bedroom or kitchen door that might otherwise swing shut, or place in front of a closed door at the top of the basement steps to help keep small children out. This decorative doorstop can also be used as a book end or tabletop decor. Buy any 2 or more Reindeer Decorative Doorstops for only $9.99 each.Benefits of the Reindeer Decorative Doorstop:Decorative doorstops prop open your doors in festive fashion Each Reindeer Decorative Doorstop is heavy cast iron, beautifully shaped and finished You can also use these decorative doorstops as holiday decor on shelves, tables, or your mantel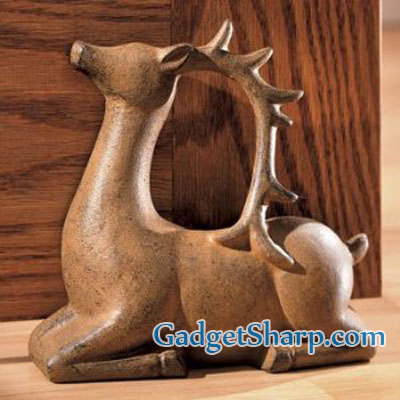 8. Set of 2 Brown Decorative Christmas Reindeer Figures [amazon]
Decorative figures are a great fit for any holiday scene. Dimensions of each figure: Small: 25.5"H x 5"W x 14.5"L Large: 28"H x 5"W x 20"L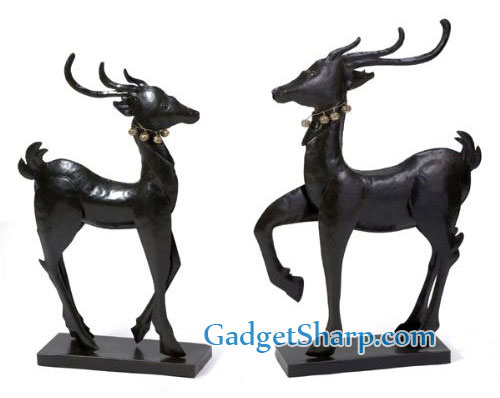 9. Sleigh Candy Dish, Reindeer Salt and Pepper Gift Set, 3 Piece [amazon]
Gift boxed with photo label
gift set includes: sleigh candy dish and reindeer salt and pepper set
Ceramic
handwash only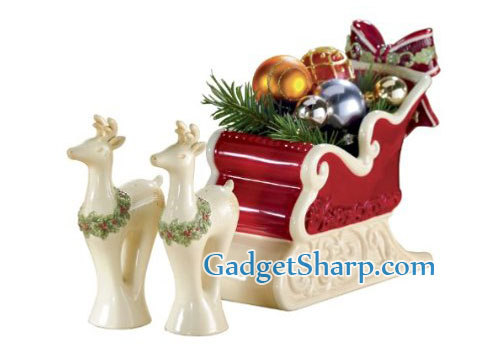 10. Department 56 Krinkles Reindeer Dancer Ornament [amazon]
"Dancer" is a serious ballet dancer. She wears a tutu, toe shoes and ribbons in her antlers. This seven inch hand-painted figure is part of the "Dash Away" series designed by Krinkles' artist Patience Brewster for Department 56.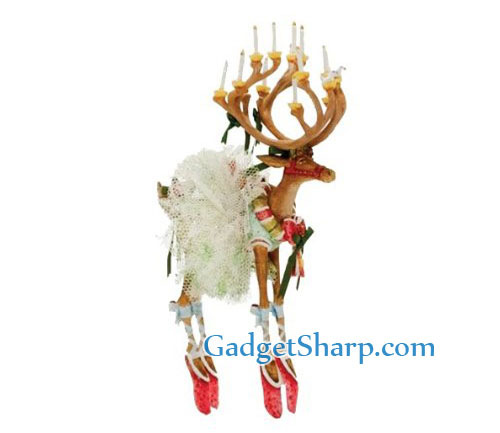 11. Collectible Rudolph The Red Nosed Reindeer Snowglobe [amazon]
It lights up! With a flick of a switch, both Rudolph's nose and the Christmas tree glow with light, adding colorful joy your holiday celebrations
Unique Christmas snowglobe plays the beloved holiday classic "Rudolph the Red-Nosed Reindeer"
Premiere issue in the Rudolph the Red-Nosed Reindeer Snowglobe Collection
Edition is strictly limited to 120 crafting days, so order now!
Hand-numbered with matching Certificate of Authenticity
Measures 6-1/2" H; 16.5 cm H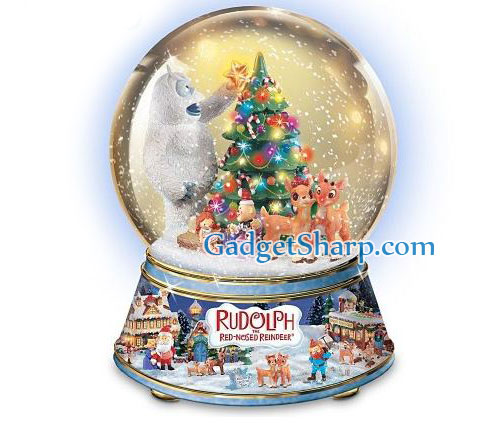 12. Christmas Holiday Time Reusable Wall Decoration Stickers [amazon]
Instantly brighten your home, workplace, dorm, or store!
Comes with all the stickers pictured on the sticker sheet.
Decorate your walls, bed post, refrigerator, windows, tables, store fronts, doors, and more!
Easy to apply and remove without leaving any residue or peelage.
Made of PVC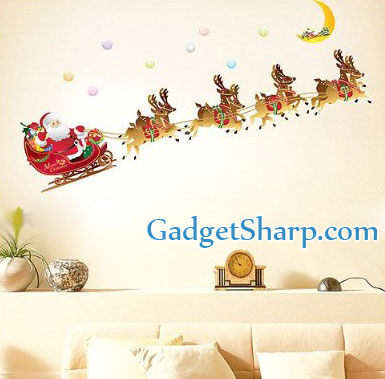 13. Lighted Reindeer Christmas Window Silhouette Decoration [amazon]
24" white lead cord that has 1 plug with end connector allowing you to stack multiple sets of lighted decorations together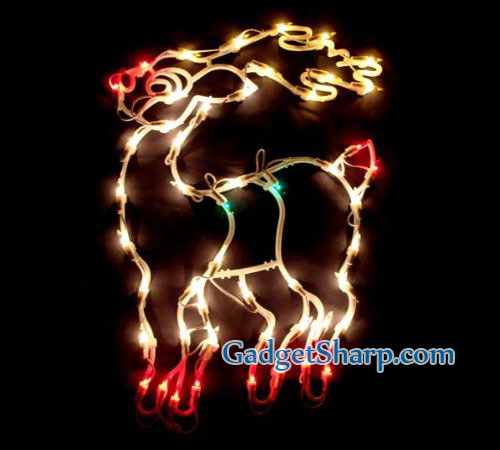 14. Stocking Holders - Set of 4 - Santa and Reindeer [amazon]
Number of Pieces: 4
Material: Metal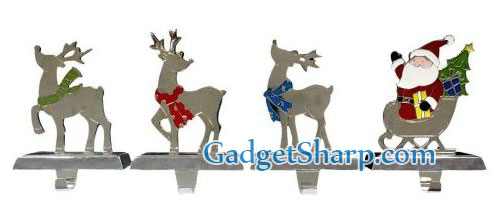 15. Tootin Tushies Farting Reindeer Ornament by Tekky Toys [amazon]
his Tootin Reindeer ornament butt, farts a Christmas tune, Deck The Halls, when you press the button on his little butt. It is a classic. Farting, We mean hearing it is believing. Batteries Included.