Each year Christmas prep seems to get a little earlier. Here is the first post for this year?s Christmas season, 7 Christmas themed USB gadget design? They are all small gadgets to make your desktop more Holiday looking?Snow Man, Christmas tree, Santa Webcam? get ready for your first stop in this amazing holiday journey?
1. USB Powered Miniature Christmas Tree w/Multicolor LEDs [link]
It's beginning to look a lot like Christmas! Bring holiday cheer to your desktop with this USB Powered Miniature Christmas Tree. It features a convenient USB interface, a shining Gold Star on top, and it has a built-in LED that produces a series of festive multi-colored lights! Just plug in the tree's USB cable and bring a warm Christmas glow to your desktop.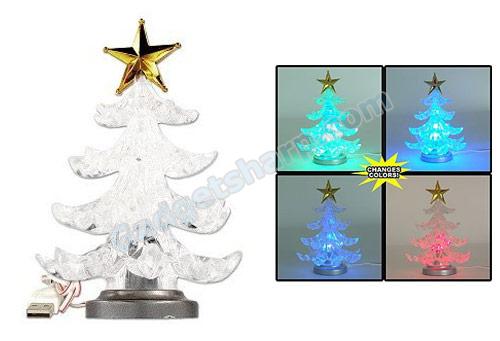 2. USB Powered 4 Colors Snow Man [link]
If you enjoyed building snowmen during the winter and then becoming depressed as you watched the sun melt away your work of art, then you are sure to want this unmeltable snowman that connects to your computer. This way you can have a snowman year round without the fear of it melting away no matter how hot it gets.
He is completely dressed with a unique hat, scarf, and ready to smile on your face as his belly glows. His LED will glow and change into four different colors. This is sure to lighten your mood when you are under the gun to finish your work so you can go Christmas shopping, a dinner party, or looking for your special Christmas tree.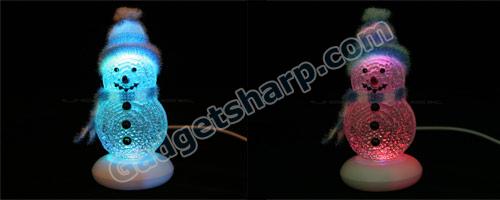 3. Christmas USB Drives [link]
Fancy something festive to store all your data on? then check out these Christmas USB Drives. These fun USB gadgets comes with 2GB of storage, and are bound to get you in the festive mood, even though it is still November.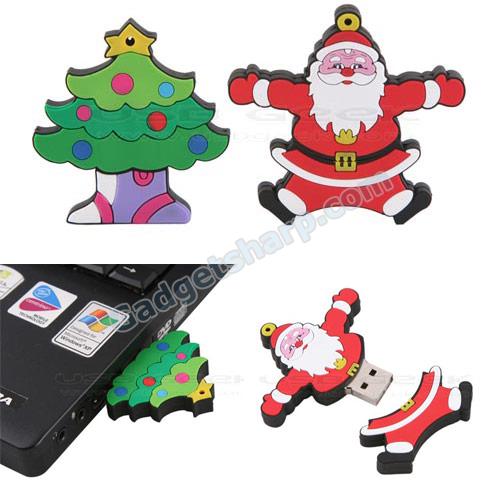 4. The Santa Webcam [link]
This fun Santa webcam connects to your PC via USB and stands 17cm tall, and weighs 128g. It features a 350K pixels webcam with a max resolution of 640 x 480.
Sensor: 1/4? CMOS
Focus distance: 6cm ~ infinity
Adjustable lens to manually control the clarity of your image
Auto white balance and exposure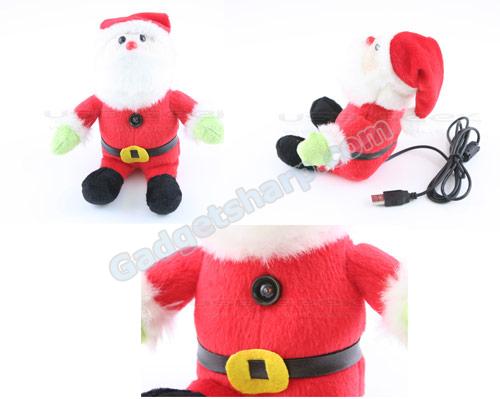 5. USB X'mas Heating Gloves [link]
Ever experience that your hand feeling freeze? Maybe when you're working in an air-conditioned room or in the winter time. Then the USB X'mas Heating Gloves may suits your need. It has a warmer pad inside. Once you plug it in the USB port, your hands will get warm during Christmas.
Cut finger design allows your fingers to take action/typing easily
Deforsting your hands for gaming, typing and mouse controlling.
Glove made of wool and connects individually to a USB port.
Works under any device with USB port, e.g. PC, Mac, PlayStation or Xbox 360.
Each glove built-in warming pad
Maximum temp: 52 ~ 53?C (126?F)

6. ThinkGeek USB Snowbot [link]
Snowbot is a small, winter-themed beacon , Powered by a simple USB port. The Snowbot has a scanning light just like the robots from the future. You can change the speed of the scan, turn on/off the scanning noise, and (for future protection) change the scan color (red or blue). So no matter which robot army storms your home or office, a quick flick of a switch and you are rooting for the invader's color. Looks like a pretty geek christmAs gift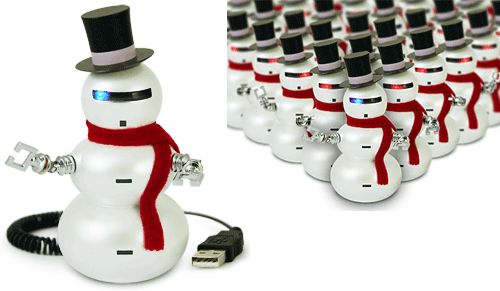 7. Strawberry Christmas cake USB hub [link]
It's a four-port USB hub in the shape of a heavily frosted mini Christmas cake (4.7" x 4.7" x 5.1") decorated with - and this is adorable - removable 1GB USB strawberries. How cute is that? If it didn't carry a price that would cause even Santa to do a double-take, I wouldn't mind seeing one in my stocking.