Most people spend a lot of time decorating their home for the holidays, but when it comes to the kitchen many are at a loss as to how to spruce it up for Christmas. In this post, we will present you 12 holiday themed kitchen accessories and appliance to spice up your Christmas kitchen? from table cloth to salt/pepper set, from apron to bacon glove, from flatware holder to paper napkin? you can make Christmas everywhere in you kitchen.
1. Christmas Tablecloth [link]
This is a fabulous, bright & modern table design that's perfect for either an indoor or outdoor Christmas function.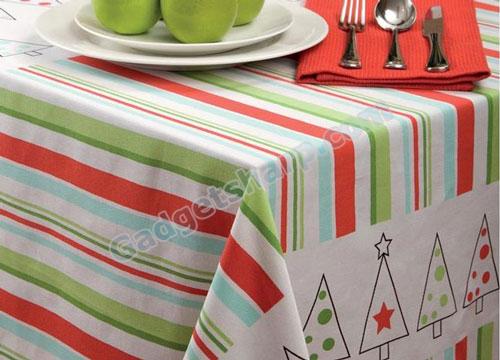 2. Flatware Stockings Set [link]
Fun miniature stockings are hand- and machine-knitted to serve up flatware.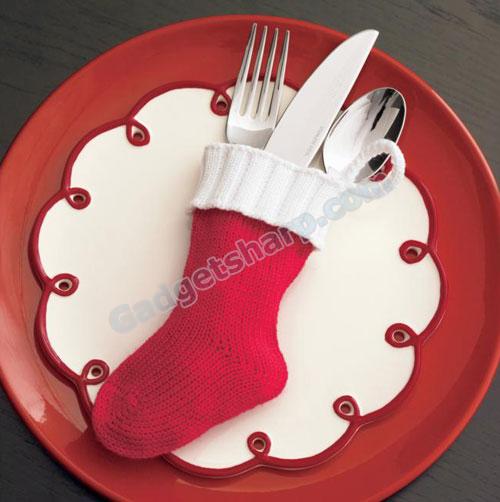 3. Reindeer Beverage Napkins Set [link]
Featuring sleek lines and contemporary flair, the Reindeer Napkin Holder is crafted of brilliant aluminum. The holder keeps cocktail napkins on hand for guests and family during the holiday season. Add a little sparkle to Christmas decor with Mariposa's napkin holders.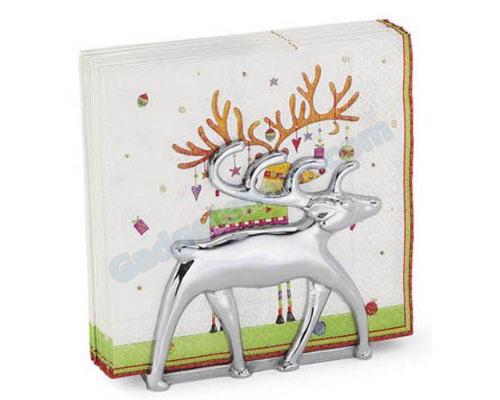 4. Love Merry Christmas [link]
Featuring a red background with pink hearts & kisses with white writing, the range includes an adult apron with diamante studded hearts, child?s apron, a 3-piece kitchen set (pot holder, oven glove, double oven glove) & 2-piece tea towel set.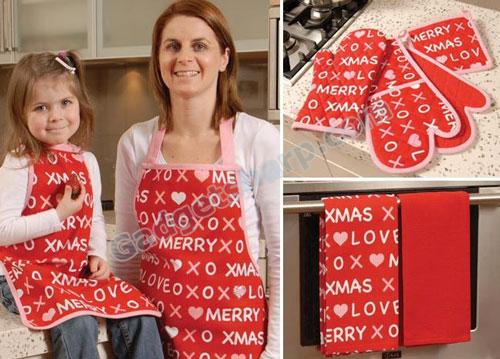 5. Snow Pup Mugs [link]
An adorable snow pup sleds his way onto holiday mugs for adults and kids.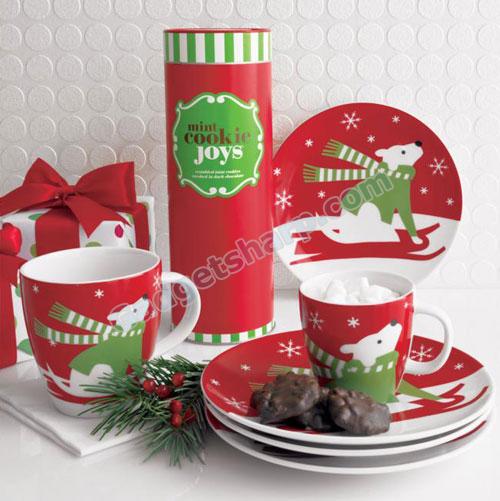 6. Poinsettia Tea Towels [link]
Pair of 100% cotton waffle weave tea towels. Machine washable.
Doing the dishes after Christmas dinner won?t be such a chore with these waffle-weave tea towels.
Machine washable 100% cotton.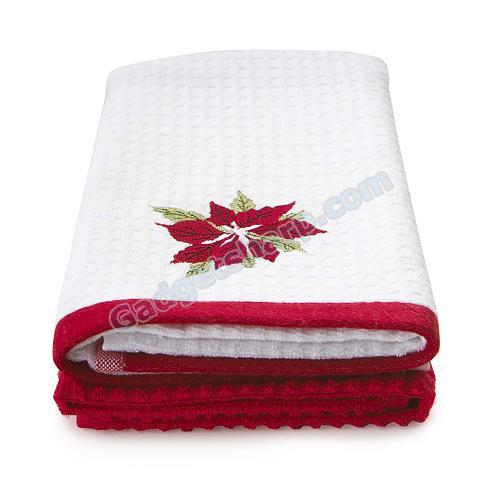 7. Santa Claus Cookie Jar and Santa Claus Teapot [link] [link]
Kids of all ages will think twice before sneaking a treat from this cookie jar; after all, Santa is definitely watching! Holds a plentiful portion of your special holiday goodies.
Santa himself helps serve the beverage at your next tea-party, adding a holiday flavor every treat! Whimsical teapot holds a generous serving of your favorite hot beverage.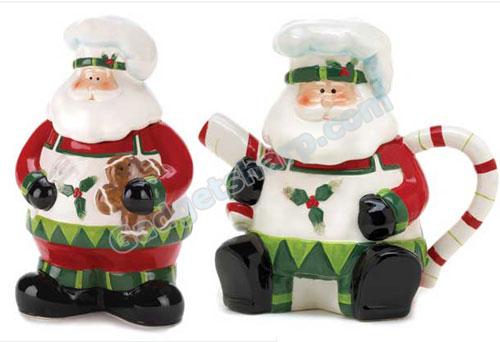 8. Dessert Plates And Rack [link]
Tree-topped metal rack displays three 8" porcelain plates, each with a seasonal scene.
Hand washing recommended; not microwave safe. For decorative purposes only. 15 3/4" x 15 3/4".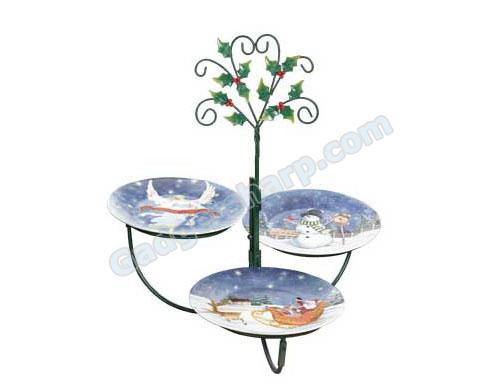 9. Snowball Candy/Fruit Dish [link]
Porcelain, has several trinkets hanging from metal chains around the bowl such as candy canes, snow flakes, stars, and Christmas trees. Bowl measures 6 1/2" wide x 5" tall. Wonderful for Christmas candy!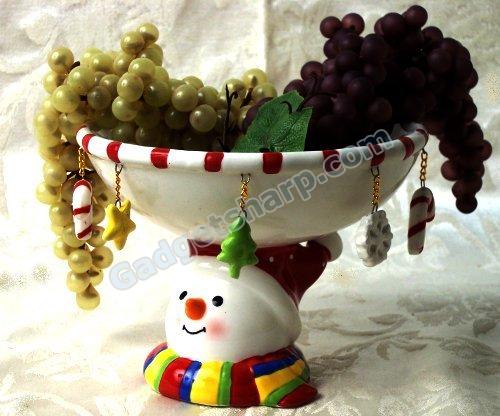 10. Snowman Salt and Pepper Set [link] [link]
All decked out in matching holly-trimmed top hats and scarves, a pair of jovial snowmen brings bright holiday colors to your yuletide table.
This pleasing salt and pepper shaker set spices up mealtimes with a bright dash of holiday panache! Dishwasher safe. Ceramic. Each is 2" x 1 1/2" x 3" high.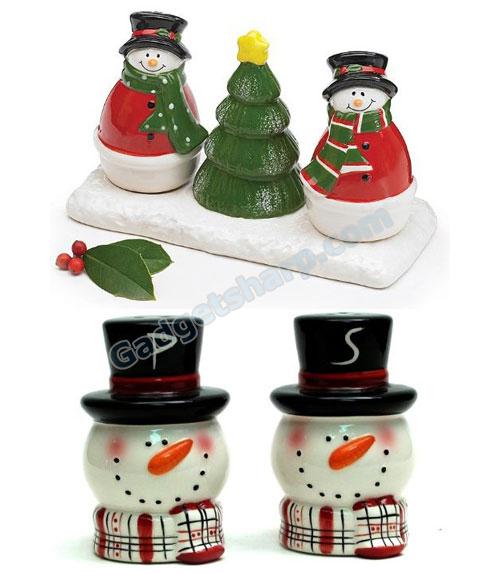 11. Christmas Candle Holder [link] [link] [link]
There are 3 great Candle Holders for your dinner table.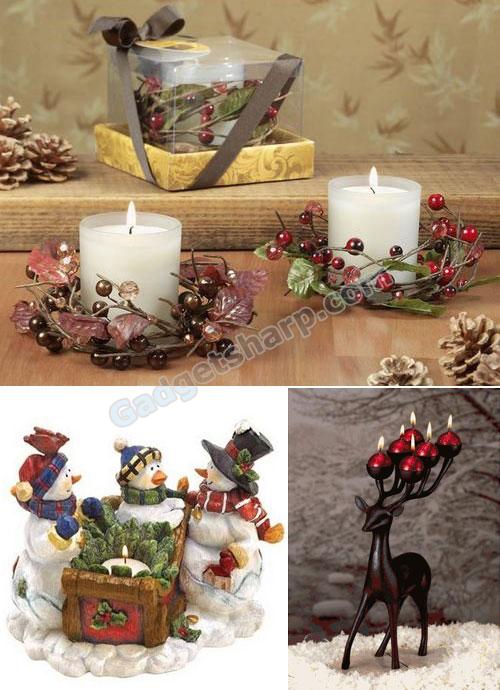 12. Snow Pup Spatula [link]
Bright red, heat-resistant silicone spatula is screen-printed with our exclusive weather-watching snow pup in a festive striped scarf. Flat and curved sides and sharp edges scrape any bowl or pan; smooth surface makes for easy spreading. Wood handle is embossed with the Crate and Barrel logo.