There is very little "wiggle room" in baking! The wrong size baking pan may cause your creation to overflow, burn around the edges and bottom, or sink in the middle. It's amazing how affected baked goods are by the pan you use. Hence, find a suitable pan is the first step for your baking preparation. In this post, we will present you with 17 Fun and Useful Baking Pans, coming in a wide range of sizes and shapes. Hope this will help you create some delicious baked good and impress your guests.
1. Baker's Edge Nonstick Edge Brownie Pan [amazon]
* Adds two chewy edges to every brownie.
* Fits standard box mixes with no adjustments necessary.
* One continuous chamber, so batter can be easily spread.
* Durable nonstick coating and heavy gauge cast aluminum construction.
* Made in the USA, nylon spatula and brownie recipes included.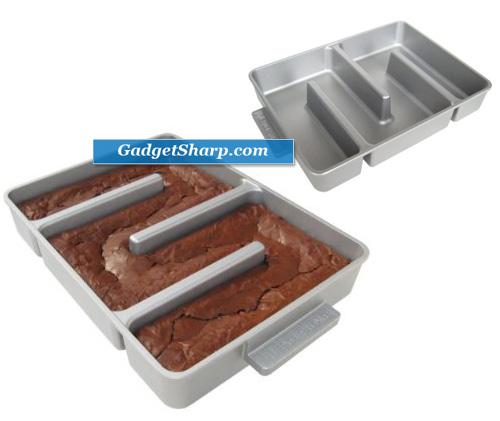 2. Norpro 3919 Mini Cheesecake Pan [amazon]
* Mini cheesecake pan with 12 individual cups; ideal for muffins and quiche
* Constructed of durable metal; each cup measures 2 by 2 by 1-3/4 inches
* Nonstick coating and removable bottoms enable easy food release
* Riveted, stainless-steel handles provide a secure hold; contoured for comfort
* Pan measures 17 by 11 by 2 inches overall; cleans easily; dishwasher-safe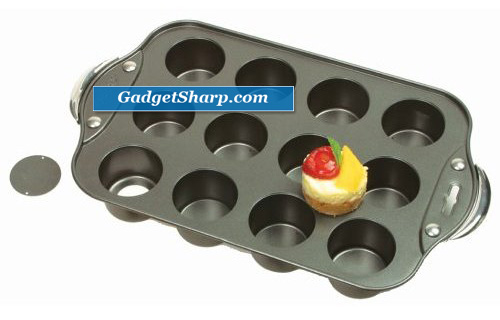 3. Metallic Multi Tier Cake Pan 4 Cavity [amazon]
Make miniature three tier cakes.Four at a time with the Chicago Metallic 4- cup Multi-Tier Cake Pan. Use your favorite recipe or the recipe include. Decorate for a wedding or any festive event. Nonstick, dishwasher safe.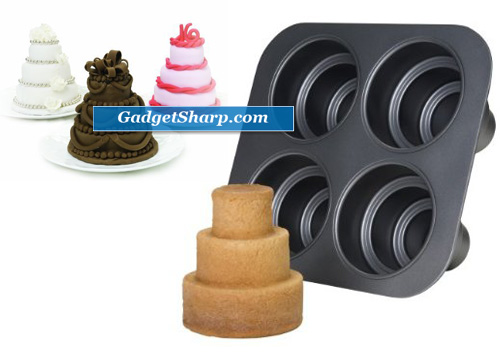 4. Non-Stick 12- Cup Mini Popover Pan [amazon]
Crisp, puffy popovers are crowd pleasers with any meal. Using this aluminum, nonstick pan, you can create up to 12 at a time. Cups are designed so that as popovers bake, rise, and "pop over" they won't spread into the others in the pan. Deep tapered cups promote even baking and better air circulation. Use for muffins and cornbread, too. Dishwasher safe.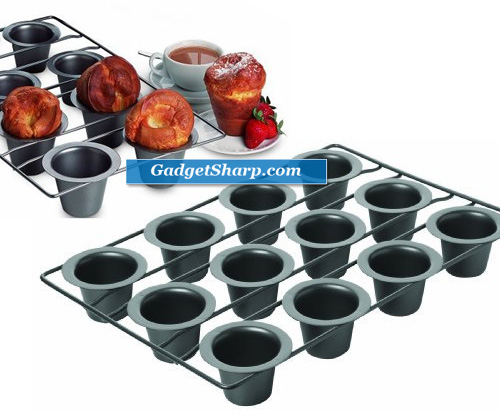 5. Wilton Giant Cupcake Pan [amazon]
* Top-and-bottom oversized cupcake pan; 10-cup capacity
* Creates a 3D cupcake that measures approximately 7-1/4 by 7-1/2 inches
* Made of heavy-gauge cast aluminum with nonstick surface
* Design features sculptural details for charm and fun decorating
* Washes up easily; measures 15-1/2 by 8-1/4 by 3-3/4 inches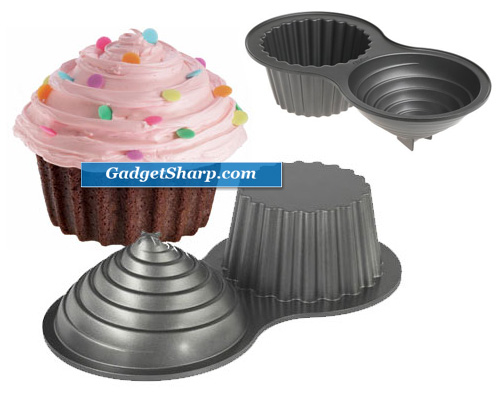 6. Nordic Ware 54737 Platinum Collection Cast Aluminum Garland Bundt Pan [amazon]
* Make fun and unique individual bundt cakes
* Cast aluminum construction for even browning
* Nonstick coating for easy release and quick cleanup
* Hand wash with mild detergent
* Made in the USA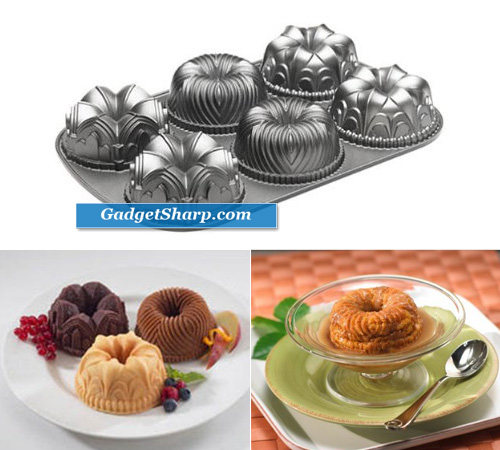 7. Silicone 12 Cavity Heart Pan [amazon]
* One mix makes 40-48 petite hearts or 12 cavities
* Freezer, refrigerator, microwave and dishwasher safe
* Oven safe to 500 degrees
* One mix makes 12 petite hearts
* Each heart measures 1-1/2 inches across by 1 inch deep; one cake mix makes 36-40 hearts; limited lifetime warranty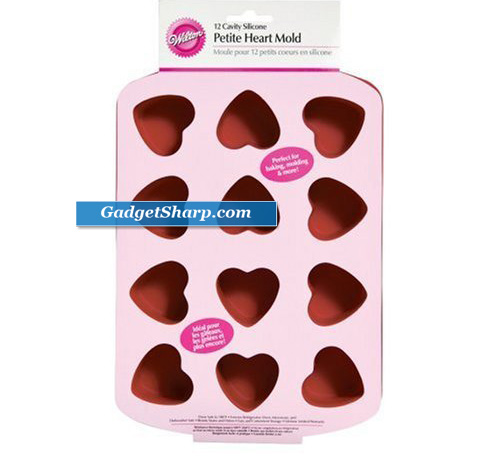 8. Chicago Metallic Lasagna Trio Pan [amazon]
The Trio Lasagna Pan from Chicago Metallic has 3 separate channels allowing cooks to be creative and makes it easy to serve vegetarians or carnivores from one pan. A custom-fit, exclusive spatula is deep enough to get that great first piece with no mess. The width and length of each channel is the same as standard lasagna noodles, making lasagna building fast and easy.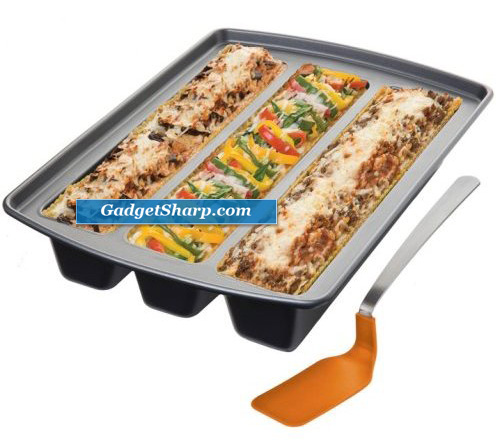 9. Nordic Ware Pro Cast Stadium Pan [amazon]
Support your home team on game day with a cake made in this unique Stadium Bundt Pan. Whether the game is soccer, football, basketball, baseball, or hockey, this pan will make you a winning host. Cakes made in this pan are the perfect accompaniment to any game day meal or snack time, and the stadium cake shows all the details of a real sports arena.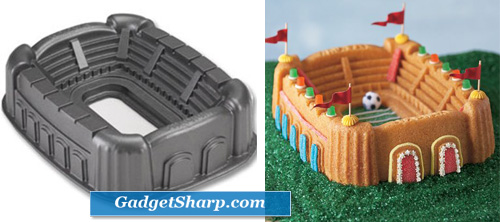 10. 12-Count Nonstick Mini Donut Pan [amazon]
* Pan measures 13 inches/33cm length by 8 inches/.20cm width by .75 inches/2cm deep
* Pan makes 12 mini donuts at a time, each 2 inches/5cm each
* Durable nonstick coating helps ensure effortless food release
* Recipes and instructions included
* Hand washing recommended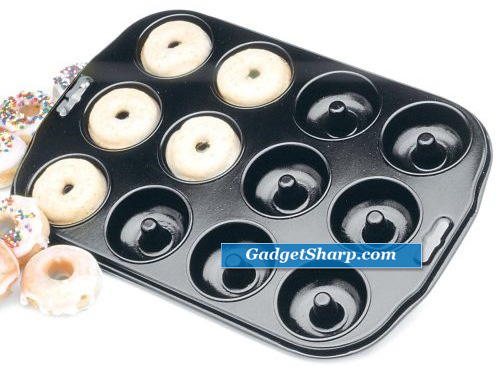 11. Tractor Cake Pan [amazon]
The power baked into this fun cake will bring a big harvest of smiles. This sculpted cake has many details, so its easy to decorate. Just choose your color based on whether youre a red or a green tractor lover. Heavy nonstick cast aluminum interior. Perfect for breads, cakes and gelatins. 9 cup capacity.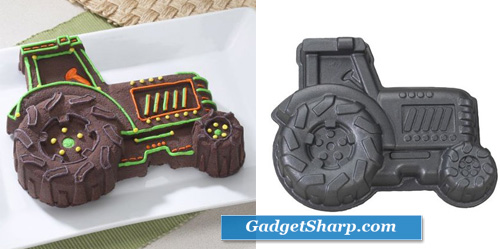 12. Norpro Nonstick Cake-Sicle Pan [amazon]
* Measures 17.25 inches/44cm length, 11.25 inches/28.5cm width and .5 inches/1.25cm depth
* Nonstick coating for easy release and cleaning
* Includes recipes and 25 wooden sticks
* Hand washing recommended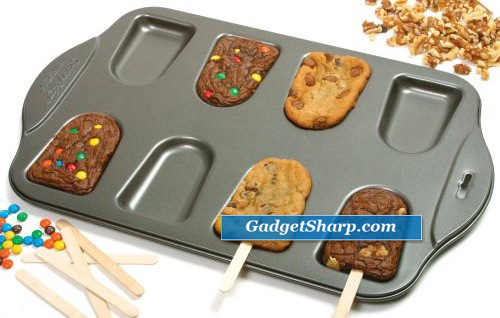 13. Wilton Excelle Elite 4-Inch Heart Springform Pan [amazon]
* Perfect for mini cakes, mini cheese cakes, tortes and frozen desserts
* Removable waffle-textured bottom with springlock to release sides
* Reinforced coating on durable steel for easy food release and cleanup
* Superior non-stick performance, serving convenience and elegant desig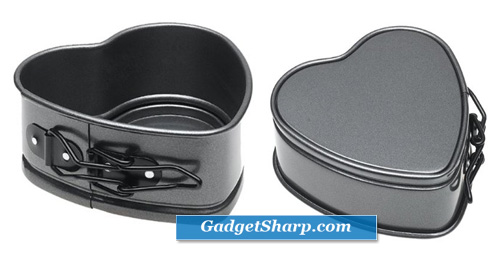 14. Chicago Metallic 26635 12-Cup Lift & Serve Single Squares Pan [amazon]
Savory or sweet individual servings are as easy as lifting a finger with the Chicago Metallic 12-cup Lift & Serve Single Squares Pan. Make breakfast or lunch quiches or offer everyone a sweet treat for dessert. The bottom of each cup lifts up making it extra easy to remove flaky crusts.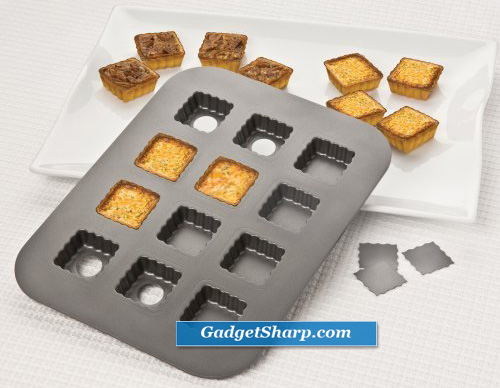 15. 12-Cup Nonstick Madeleine Pan [amazon]
The Chicago Metallic Madeleine Pan features 12 shell shaped cups, the classic shape for the French Madeleine. Use it to create your favorite tea and dessert cakes. The nonstick coating release cakes effortlessly and clean up is a breeze.
16. Tea Cake Pan 20 Cavity [amazon]
Make 20 2-inch Tea Cakes in one pan with the Chicago Metallic Tea Cake Pan. Each cup is 1.25-inch deep with an indentation. Turn out the cakes and fill with fruit, ice cream, whipped cream for sweet treats. Nonstick, Dishwasher safe.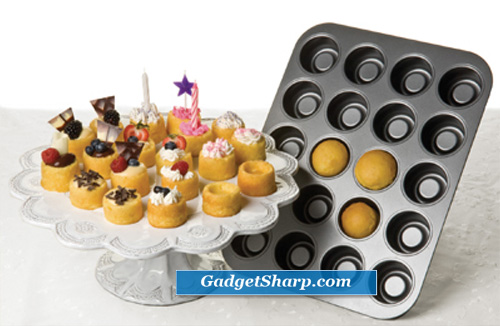 17. Backyard Bugs Nordic Ware Cake Pan [amazon]
What fun! These bugs are adorable and kids will love them! Leaf-shaped pan is 14-1/2-in. long x 11-1/2-in. wide. Sitting on the leaf are 8 of the cutest little bug cavities. When cake batter is baked, you have 8 charming cake pests to decorate and devour! Bugs include: butterfly, ladybug, bumblebee, dragonfly and are approximately 3-in. x 3-in. in size. Uses one cake mix, 5 cup capacity.