If you feed the squirrels, why not laugh at them at the same time? With below 4 Interesting Squirrel Feeders, you can feed squirrels and as well as enjoy the the eating show. Clever squirrels love those challenges and looking for their food, they will forget all about your bird feeders!
Hang this vinyl 5-1/2" x 8" (14 cm x 20.3 cm) Big Head Squirrel Feeder in a spot where you can see it, fill it with squirrel food and as the squirrel eats he will look like he has a giant, unwieldy head with a goofy expression. Perfect for birdwatchers, dads or anyone else who thinks squirrels need a bit of humiliation. Has holes in the ears for hanging with string.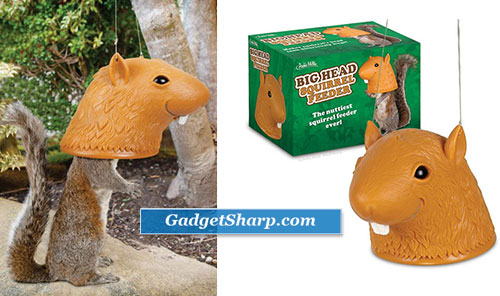 2. Woodworking BBW8 Squirrel Under Glass Feeder

Squirrel under glass feeder made from western red cedar and comes with a one gallon glass jar. Feed peanuts or corn to the squirrels and enjoy the show.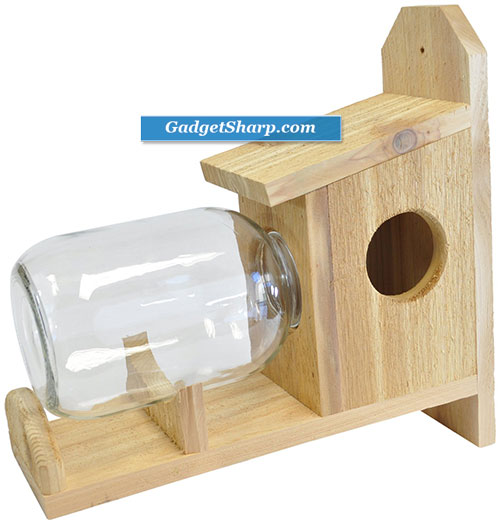 3. Metal Squirrel Feeder

They will be so busy raiding, they will forget all about your bird feeders! Rugged, all-metal feeder has weather-resistant finish. A metal roof keeps food dry and fresh. Post mounts or you can use the slots on the back to rear mount it to a tree or post. Hold about 2 lbs. depending on the food you offer. Green Verdigris. 12 x 7 x 7 inches.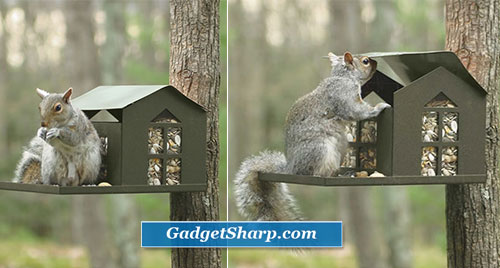 4. Adirondack Chair Squirrel Feeder

Entertaining feeder for squirrels Place away from bird feeders to distract squirrels Easily mounts to solid posts with a screw Corn cob easily screws on through cob core