Summer is a nice season to see observe birds. With bird bath and bird feeder hanging on your window or placed in your garden helps to attract birds. You can watch those beautiful wild birds and at same time, provide them with food and help birds keep cool in the heat of summer with bird baths. Checking below 13 well designed Bird Baths and Bird Feeders, hope you can attract more birds all summer long with the help of those products.
1. Bird Bath Bowl with Tilt-to-Clean Deck Rail Mounting Bracket [amazon]
Practical birdbath with tilting mount from API, Inc.
Basin is constructed in plastic with a rim designed for natural talon gripping
Basin mounts a screw-clamp bracket that fits deck railings; no tools needed for installation
Hinged mount allows users to tilt the basin to dump out dirty water for simple pool refreshing
The bath measures 20 inches in diameter with a 2-inch depth; this item weighs 4.9 pounds upon shipping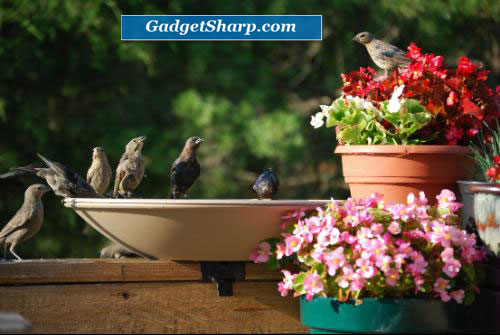 2. Avant Garden Hanging-Standing Birdbath [amazon]
Fluted metal bath and high-detailed leaf stand
Hand applied rust resistant finish
14 1/2 inch diameter bath
Includes hanging hardware and ground spike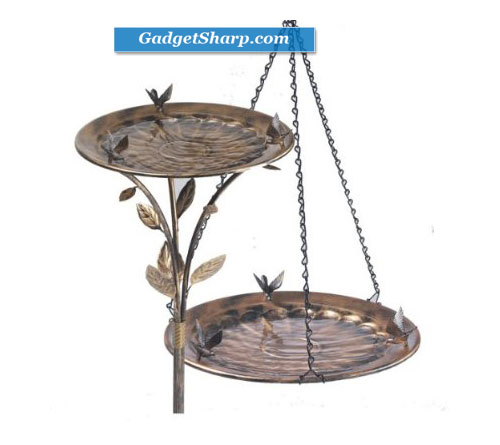 3. Looking Glass Hummingbird Feeder [amazon]
This beautifully designed hummingbird feeder offers beauty and function to your garden.It contains an integrated perch that invites the hummingbirds to sit and dine.Made of durable, tempered tinted glass, you will enjoy this feeder for years to come.It's 32 ounce capacity offers you the luxury of not cleaning daily.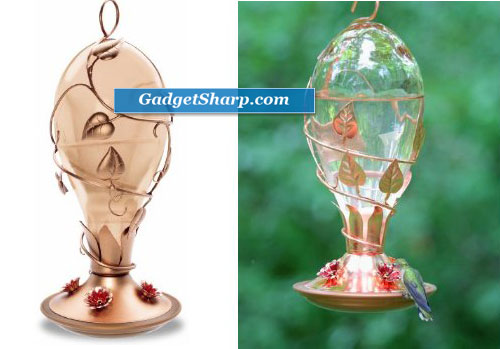 4. Birdscapes Garden Sip & Seed Feeder [amazon]
Attractive backyard bird feeder adds class to your yard or garden
Matching, interchangeable cap and base act as seed and water trays
Hangs from 2-toned scroll
2 plastic silos included
Measures 15 x 7 x 23 inches; holds 1.5 pounds of seed and 27 ounces of water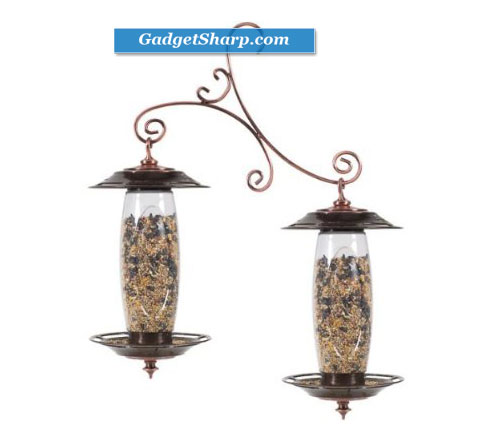 5. Squirrel Proof Bird Feeder [amazon]
Durable powder coated steel body. Pole mounting hardware and hanger included
Locking top
No waste seed saver baffle
12-Pound mixed seed capacity
Fully assembled; made in USA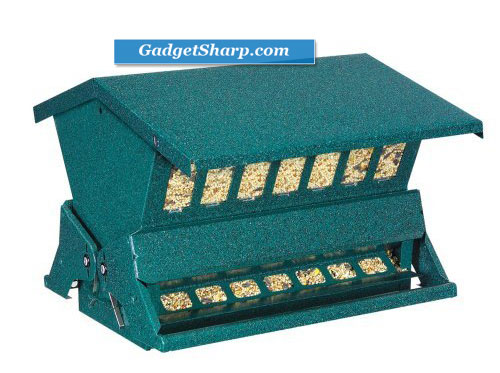 6. Copper Triple Tube Bird Feeder [amazon]
10 lb. seed capacity
12 flip- feeding ports that serve Nyjer or mixed seed
Three independent seed tubes
Clear plastic reservoir makes it easy to monitor seed levels
Can be pole mounted or hang mounted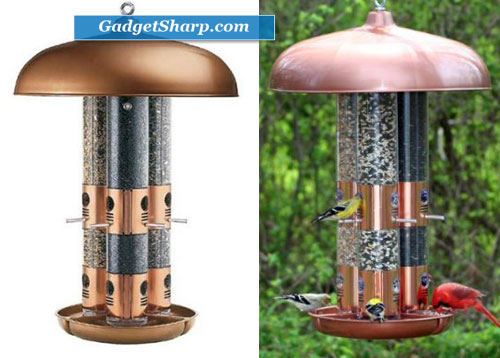 7. Squirrel Buster Plus Wild Bird Feeder with Cardinal Perch Ring [amazon]
Wild bird feeder with 6 feeding stations, adjustable perches, and optional cardinal perch ring
Green powder-coated aluminum; reservoir made of UV-stabilized polycarbonate plastic
3-quart seed capacity; adjustable spring mechanism closes seed ports to deter squirrels
Unique seed ventilation system; easy to assemble and disassemble for cleaning; 6-inch hanger included
Measures 22 by 6-1/2 by 6-1/2 inches

8. Mini Hummzinger Hummingbird Feeder [amazon]
Smaller capacity is ideal for using several feeders for territorial hummers who don't like to share. Built-in ant moat. Easy cleaning and filling. Hang or post mount. Raised flowers divert rain. Drip and leak proof.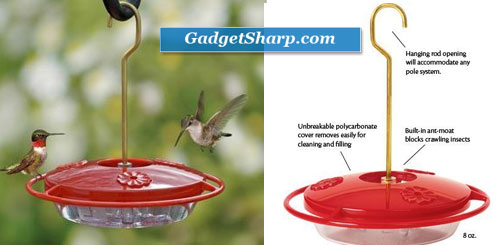 9. Rocky Mountain Bird Bath [amazon]
Rocky Mountain Bird Bath by Birds Choice will be appreciated by many species of birds, including those that feed on the ground and may not use traditional bird baths. This natural looking bird bath is constructed of durable fiberglass and is made to look like stone. Dimensions: 24.75 L x 17.5 W x 4.75 H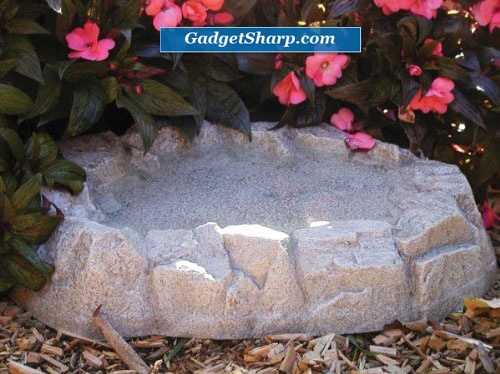 10. Bird Brain Beaming Bird Feeder [amazon]
Crushed glass is hand applied creating a one of a kind piece of art
Feeding tray has a four sided perch
Powder coated top lifts for easy cleaning and filling
Holds 2lb of wild bird or black seed oil
Lovely addition to any yard or garden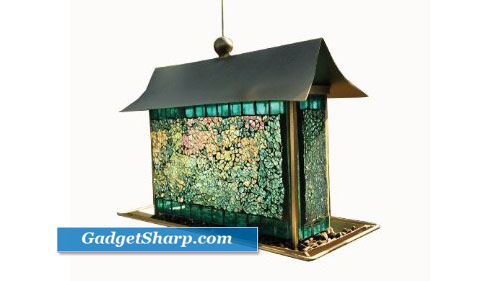 11. Dine Around Window Bird Feeder [amazon]
1.5 lbs seed capacity
3 feeding ports
Easy fill wide mouth top
View birds easily from inside window
Mixed seed feeder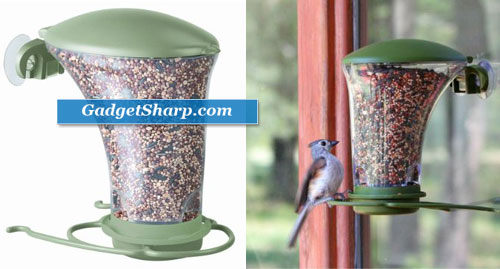 12. Pinch Waist Glass 8-Ounce Hummingbird Feeder [amazon]
Perky Pet hummingbird feeder attracts hummingbirds using bright red as a lure
Made of hardened glass bottle, the Perky Pet hummingbird feeder is clear and shatter-proof
The feeder has 4 feeding ports with built-in bee guards, a 4-way perch and 8 ounces of nectar capacity
Unscrews easily from the feeder base for quick cleaning and filling
Measures 7-9/10 by 3 by 10-3/5 inches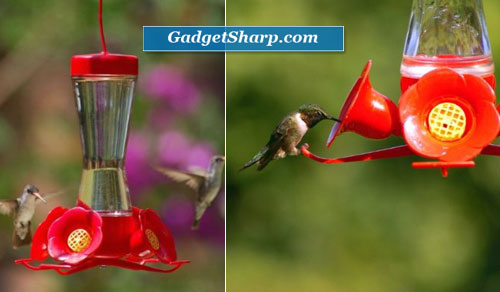 13. Coveside Panoramic In-house Window Bird Feeder [amazon]
Treated with a mirrored film, this feeder lets you to view the birds up close, while not allowing movement from within the house to disturb them. The unique design, with its dove-tailed, wooden side panels, fits most windows from 20 to 40 inches wide. Made of mahogany, you can watch and feed the birds from the comfort of your own home.