Birdhouse, or nestbox, is a man-made enclosure provided for birds to nest in. Different sizes of birdhouses suit different species of birds with very small boxes attracting wrens and tree-creepers and very large ones attracting ducks and owls.
With a birdhouse settled around your house, you might have the chance to see those lovely furry creatures up close. It is easy to build your own birdhouse. If don't have that time, you can always buy a nice one. Here we rounded up 10 Cool and Cute Birdhouses. Let's get prepared to have some birds live nearby.
1. Acorn Bird House, Handmade Poplar Wood [amazon]
A sturdy habitat the birds will go nuts for! Crafted with durable 1-inch-thick poplar wood with stained top and semi-gloss exterior 1-3/8" opening, drainage hole and 6" metal chain hanger Approximately 7.5" tall x 5.0" wide Handmade in the USA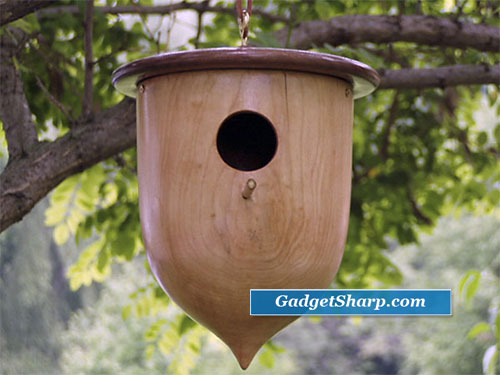 2. River's Edge Oak and Tree Leaf Birdhouse [amazon]
he Rivers Edge Oak Tree Birdhouse is the perfect addition to your outdoor space. What better way to enjoy nature than to invite it to your yard? Realistic and durable.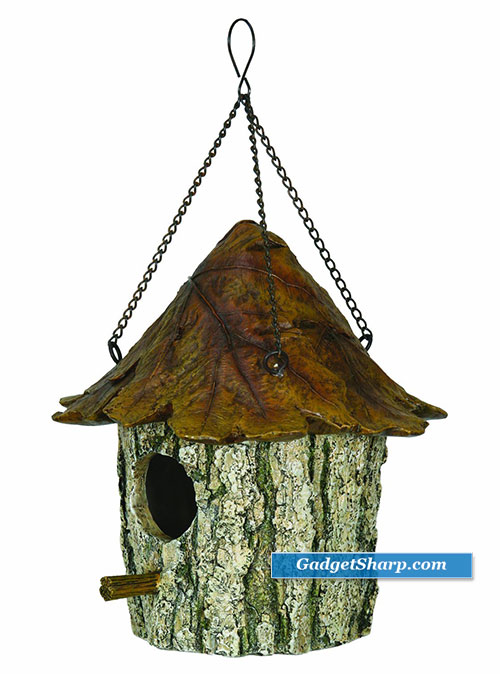 3. Byer Of Maine Alcyon Bird House [amazon]

Made of quality, heavy duty porcelain Features a 1-1/8-inch opening, which is an ideal size for small cavity nester's Deep egg shaped design offers ample protection from predators Easily removable screw off cap located on the bottom of the homes allows backyard bird enthusiasts to quickly clean out the empty homes at the end of the season Forged steel hanging hook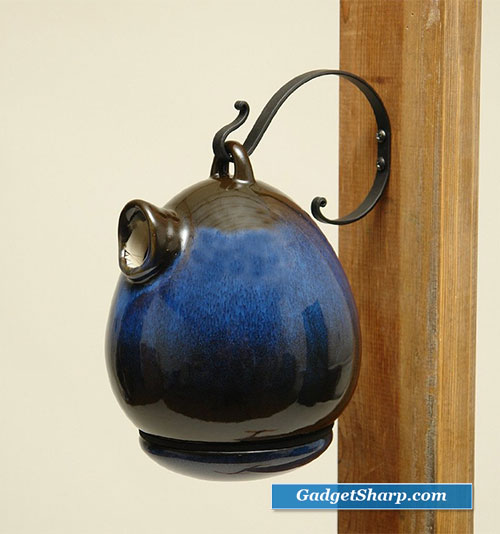 4. Esschert Design Bird Nest Pocket [amazon]

This coconut fiber roosting pocket, mounted on a wooden frame with a roof for added protection from the elements, will provide welcome shelter for wild birds, particlularly wrens. The best place for this pocket is somewhere quiet and sheltered, away from direct sunlight, wind or rain.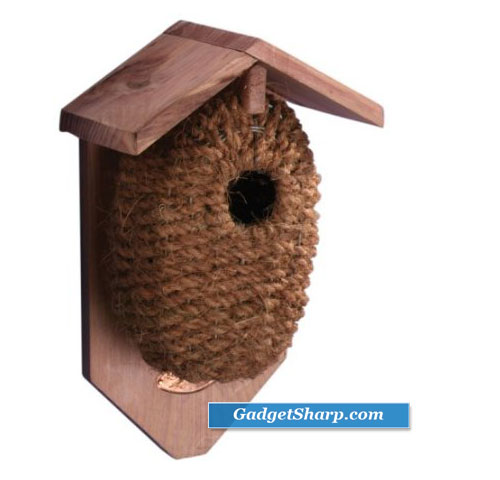 5. Rosso's International Retro Chic Birdhouse [amazon]

The galvanized steel roof is insulated and made to last a long time. This birdhouse is made from exterior grade ply board, kiln dried hardwood and non-toxic exterior paint. A magnetic ring limits this house to small songbirds such as wrens, chickadees, finches, nuthatches and titmice. The door opens easily for cleaning. Vents and drainage holes complete this functional birdhouse.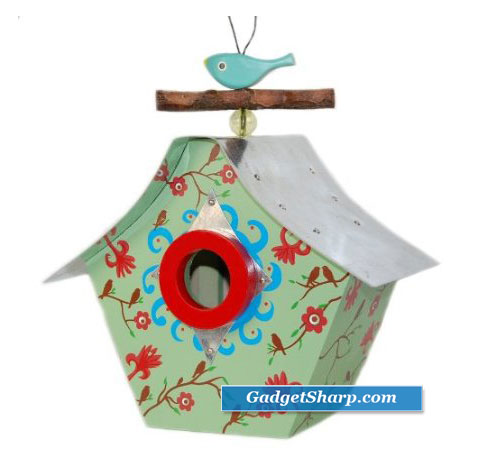 6. Rustic Wood Heart-Shaped Birdhouse [amazon]

Very unique rustic birdhouse that is made out of wood/resin and has great details. Makes a great gift. 6.75" tall x 7.75" wide.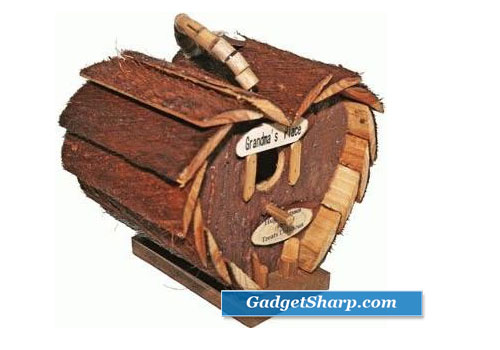 7. White Green Door Cottage Birdhouse Gourd [link]

Get ready for Spring! This one-of-a-kind large White Cottage Birdhouse Gourd will beckon the birds to come-a-nesting in spring and summer and raise their young in your yard or garden. The birdhouse measures 7 inches tall (including short stem) and it is 6 inches wide.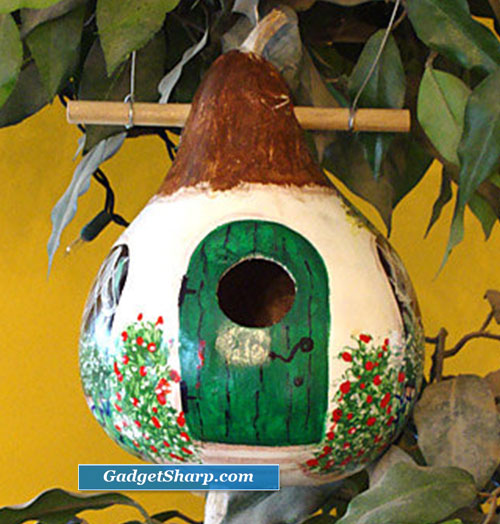 8. Scan Birdhouse [link]

A hand-thrown porcelain base with a handmade paneled cedar roof and an 18? long braided leather cord in Iceburg for hanging. Glaze in bone. The roof is paneled in a pleasing striped pattern, mixing wood tones and grain for subtle contrast. Wood is treated to be water-resistant.

Dimensions: Approximately 8? W x 5.5? ; 1.5? opening.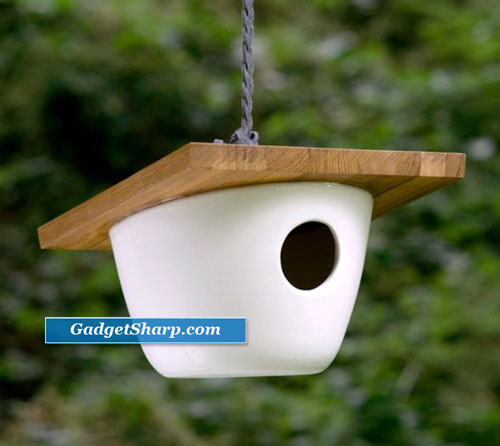 9. Moasic Birdhouse [link]

The entrance done in Bronze tile and Blue while the rest is made from recycled and organic materials I have collected in the North West such as wine corks, Obsidian, Oregon coastal agates, random river stones, textured rocks, colorful gems and fools gold.

The front features a blue bird and there are blue flowers on all sides. There is also a lady bug on the back.

This birdhouse is 8.5" x 5.5" x 5"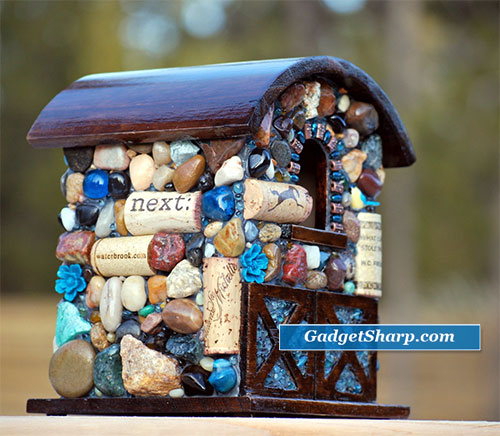 10. modern style wooden birdhouse [link]

Made from reclaimed wood Size is approx 7" x 7" x 5" deep Hole is 1 1/2" Flat floor inside for the birds to nest.