If you enjoy spending time outside in the garden you?ll enjoy it even more if it?s full of gadgets. Here we look at many types of tools and gadgets, from advanced auto watering system to simple greenhouse kits. This poster is dedicated to gadgets that wouldn?t look out of place in any technology loving geeks outdoor room. And they are also great ideas for gifts for your favorite gardener, even if it's you!
1. Claber 20 Plant Garden Automatic Drip Watering System [amazon]
Claber Oasis Self - Watering System keeps plants healthy while you're away! Set it up to water your precious indoor greenery for 10, 20, 30 or even 40 days for up to 20 plants! No electrical connections needed and no water taps left on! Powered by a 9V battery (not included), this System dispenses water from the 6 1/2 gallon tank so you don't have to worry on your vacation! More: Comes with 33 feet of water distribution hose ; Includes 20 drippers and fixing stakes ; LED on / off indicator light ; Isolated tank prevents condensation ; Washable filter for clean, pure water flow ; Rubber feet won't scratch your tabletops;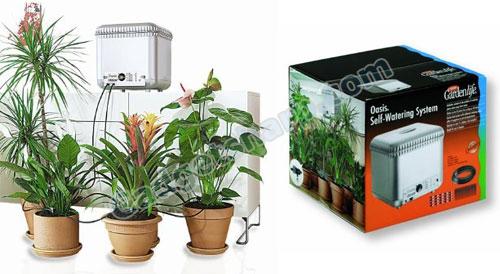 2. Apollo DT3795P Precision Tools 18-Piece Garden Tool Set [amazon]
Apollo Tools 18-Piece Pink Garden Tool Kit A portion of each purchase is used to help fund breast cancer awareness initiatives. Think "the pink garden tool kit" as the perfect gift!! The 18 piece garden tool set contains useful tools for all your gardening needs. Contains: 8.5" pruning shears, 8.5" anvil pruning shears, Knee pad, Trowel, Narrow trowel, Rake, Pitch fork, Weeder, Bulb planter, Edging knife, 6 function hose nozzle, Adjustable metal hose nozzle, Hose coupler with swivel, 1/2" hose connector, 1/2" waterstop hose connector.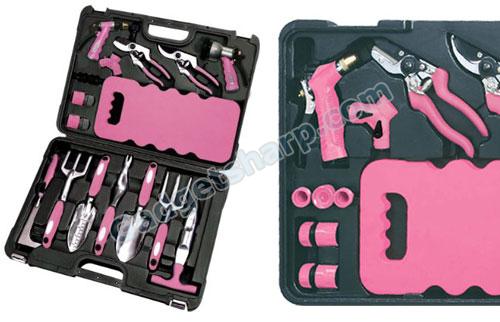 3. Ergonomic Garden Set [amazon]
'RADIUS GARDEN' ADVANCED ERGONOMIC BULB TROWEL For bulbs and transplanting Optimized blade with depth markings for precision planting Natural radius grip maximized power and comfort and minimizes hand and wrist stress Santoprene provides secure grip weather wet or dry Ultra-light, super-strong aluminum magnesium blades should last a lifetime of gardening Carded Ergo style hand tool program that was featured at the open buy program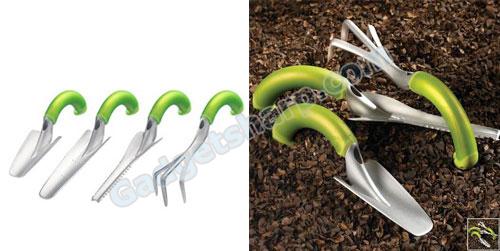 4. Orbit 91213 One-Dial Garden Hose Digital Water Timer [amazon]
One dial allows complete timer control functionality. Cycles easily from set clock, set watering time, how often, how long, then run program. A rain delay is built into the run program function. A manual button allows program interruption.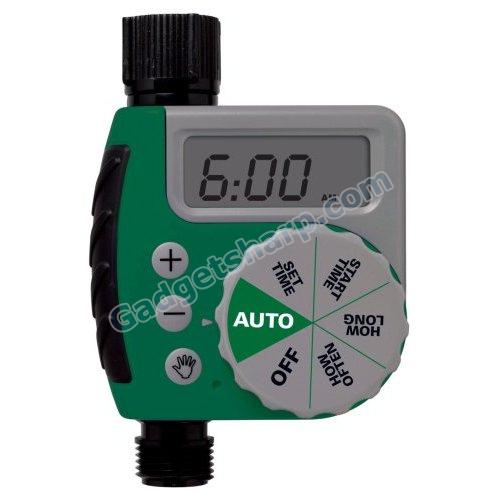 5. Noodlehead N111C Flexible Lawn & Garden Sprinkler [amazon]
Noodlehead - The flexible lawn and garden sprinkler that waters exactly where you want it to water! The flexible noodles on this sprinkler stay bent where you point them. This lawn and garden sprinkler conserves water by not spraying sidewalks, people and cars. This flexible sprinkler adapts to any shape of garden area. This sprinkler will effectively water areas up to a 20' x 20' lawn, a 40' strip, any irregular shape - just attach to an overhang or eave. Use the optional "Extend-A-Riser" to elevate your Noodlehead sprinkler above growing vegetation. Simply add up to three riser extensions with heights of 8" to 16", up to 24". This flexible sprinkler will have you will wonder how you ever watered without it!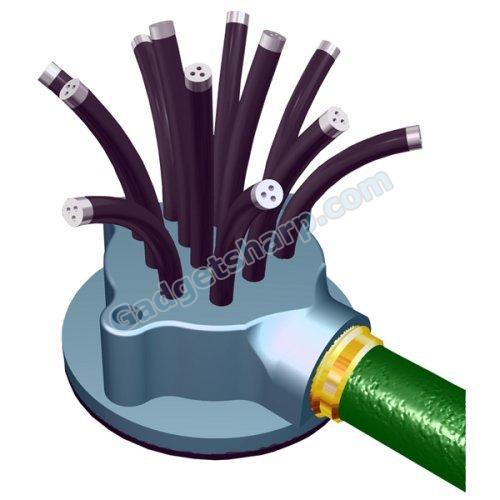 6. Black & Decker LP1000 Alligator Lopper 4.5 amp Electric Chain Saw [amazon]
The Black & Decker LP1000 Alligator Lopper 4.5 Amp Electric Chain Saw is an ideal tool for pruning tree branches up to four inches in diameter, cutting branches into manageable pieces, and cutting fallen branches after storms. Its 4.5 Amp motor provides powerful, fast cutting and its innovative clamping jaws grab and cut in one easy motion. Also included is a heavy duty cutting bar and chain to deliver fast cutting of thick branches and logs. With a six-inch bar length and with a weight of 6-1/2 pounds, this electric chain saw comes backed by a limited 2-year warranty.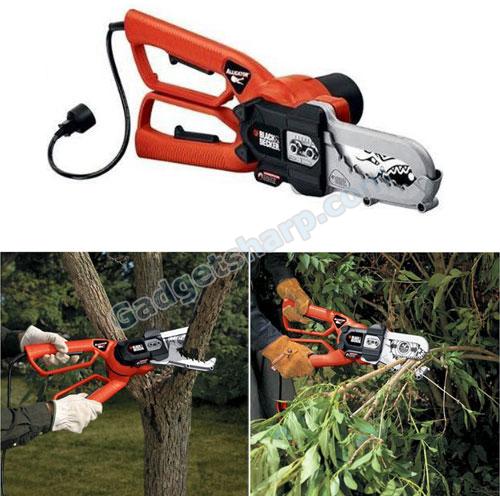 7. Oswego GW-1 Grandpa's Weeder [amazon]
The Original, Effortless Weed Puller: Grandpa's Weeder. Grandpa's pride and joy was his weed puller! A simple lever (and a sore back) was his inspiration for inventing this tool in 1913. He wanted a way to pull out weeds quickly and easily without bending, kneeling, or pulling and by golly, this tool did the trick! Using this tool was so effortless he was often seen using it in his Sunday best!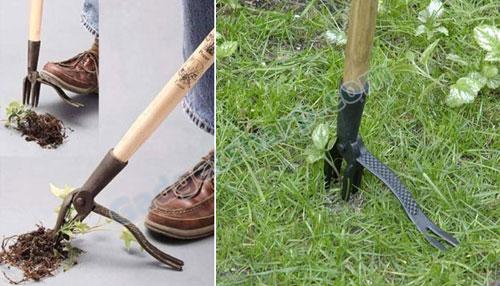 8. EasyBloom 1000 Plant Sensor [amazon]
The EasyBloom Plant Sensor Plus gives a "plant's-eye" view of your garden or home ? telling you what plants to grow or what's wrong with a sick plant. Patented technology recommends the right plant, flower, vegetable, tree, shrub or vine, for inside or outside. Stop wasting money and time on plants that aren't right for your environment–know what to grow, right from the start. The reusable EasyBloom Plant Sensor Plus uses patent-protected sensors to measure sunlight, temperature, soil moisture and soil fertility. Soil fertility is a new feature with the EasyBloom Plus and requires a subscription. Use EasyBloom indoors or outdoors. Plug EasyBloom into the USB port on your MAC or PC, and your environment will be analyzed by our Plant Doctor Algorithms to recommend plants, or assess the health of your plant. Use the EasyBloom Plant Sensor over and over again, season after season, to help care for your plants and decide what to plant.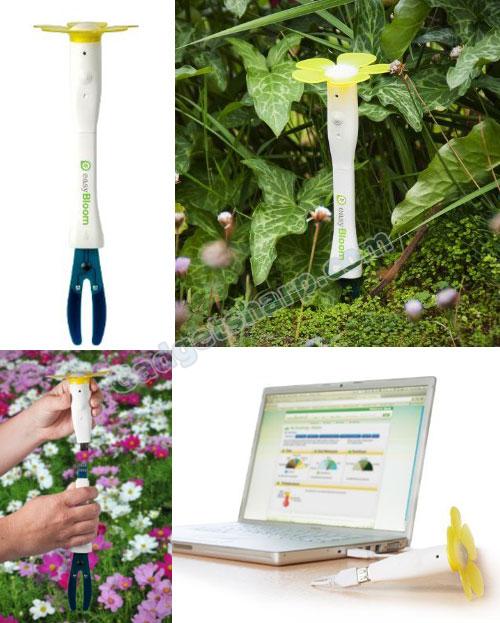 9. Digital 4 Way Soil and Light Tester for Plants and Lawn - pH, moisture, temperature and light level [amazon]
This is a brand new digital 4 in 1 soil moisture and and light tester. It is great to measure growing conditions for all kinds of plants indoors and outdoors. It can be especially useful in lawn care in determining the soil conditions in different areas of your garden and finding the correct grass seed.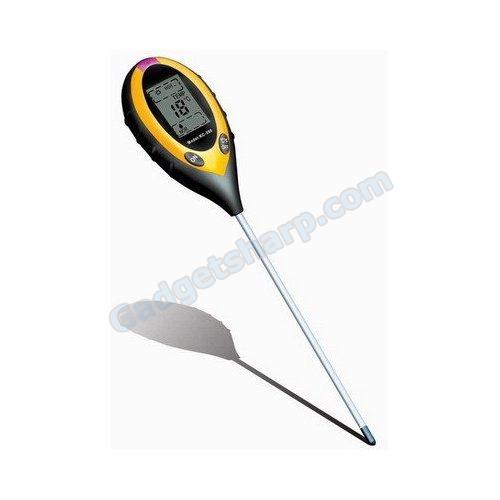 10. The Rumford Gardener Gardener's Half Apron [amazon]
This durable hunter green polyester half-apron snaps around your waist to hold your garden tools while you work. Features four seven-inch deep reinforced tool pockets, one large four-inch deep seed pack pocket, and an adjustable one size fits all clip-belt waistband. Fully washable for when you are really moving the dirt around! For over 25 years The Rumford Gardener has been the manufacturer of choice for master gardeners, landscapers, hobbyists, and homeowners. All Rumford tools are designed to make your gardening tasks easy and enjoyable.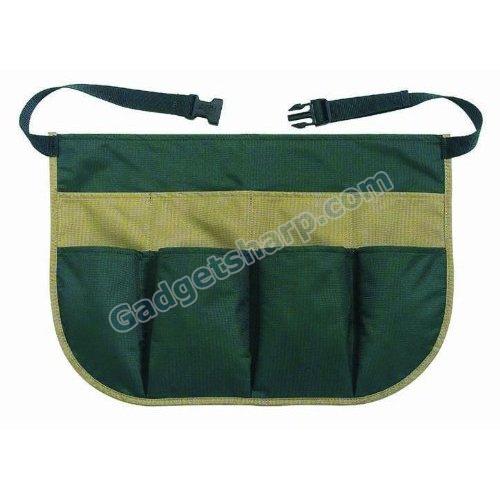 11. Fiskars Garden Bucket Caddy [amazon]
The Fiskars garden bucket caddy features clever, durable design to make gardening easier. In addition to its deep, large pockets for hand tool and glove storage, the caddy has a space for seed storage to keep seeds dry and protected, as well as a beverage holder and even a cell-phone pocket. The durable cloth caddy fits snugly around a 5-gallon bucket.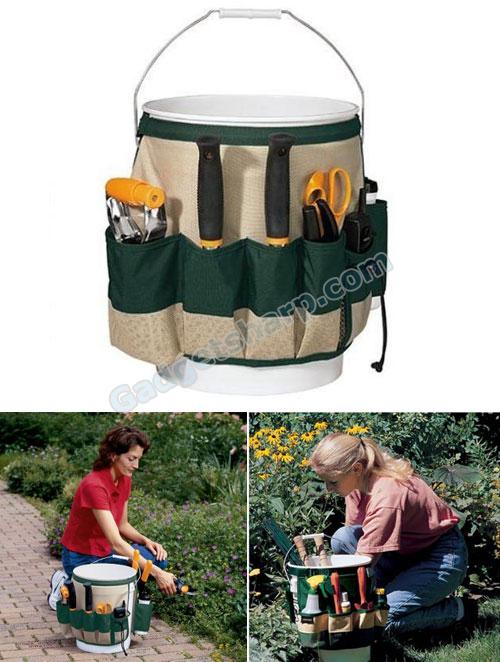 12. The Rumford Gardener Deluxe Indoor Garden Set with Mini Tote [amazon]
The sturdy canvas mini tote has seven pockets, five of them with elastic handle catchers. Also included in the set are six quality indoor gardening tools: a tiny cultivator, trowel, spade, pruning shears, floral snips, and a mister. With rubber and wooden grips, the tiny tools feel great in your hand as you're transplanting or repotting. Who needs a garden to be a gardener? With this kit, anyone can get their hands in the dirt–even if it's just indoors.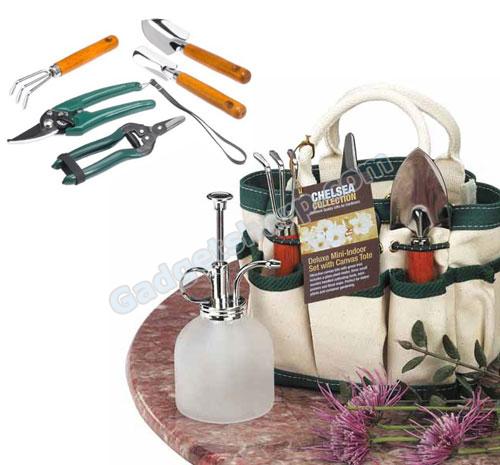 13. Sturdy Plant Twist with Cutter [amazon]
The 164' Plastic Twist is a practical, dependable, plastic-coated wire twist from California Plastic Products. It comes on a convenient reel with a built-in cutter that allows you to easily cut accurate twist lengths for any project. This sturdy twist is perfect for adding support to any kind of climbing plant or for aiding the upright growth of free-standing plants and trees as well as protecting plants from wind damage.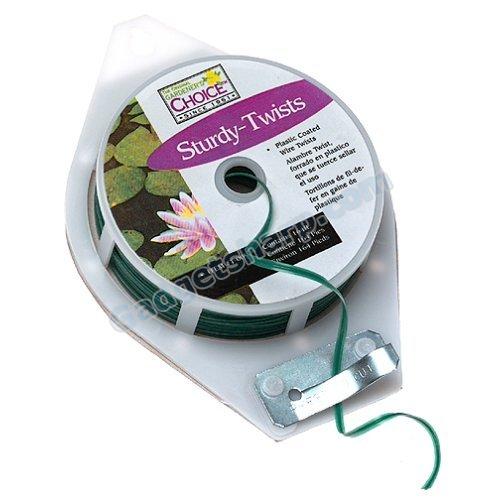 14. Atlas NT370 Nitrile Garden and Work Gloves [amazon]
Nitrile Touch Gloves by Atlas. The ultimate garden and work glove. The result of years of research with new materials. Seamless, breathable, and out-performs leather without the bulk. Machine washable. Tough nitrile coating over ergonomically shaped, seamless knit for unprecedented comfort, dexterity, and durability. Fits like a second skin, wears like iron, and out-performs leather.