Is there anything more beautiful than walking through a garden that is illuminated in the evening? Enjoy the shadows cast by moon, feel the cool evening breezes and listen to the ringing music of the fountain! With the addition of solar powered gadgets to your garden you can not only save time and money but you can add the artistic accent anywhere you like. You are no longer restricted by the cost and labor needed to power your garden.
1. Solar Powered Tulips [amazon]
Light Your Path With Stunning Eternal Tulips. Soaks up the sun by day and glows softly at night. Illuminates paths and gardens. Adds a beautiful accent during the day. Lights up at night…NO BATTERIES NEEDED. Saves Energy. No tools required: Long stakes go into soil. Set of 3 Yellow, Red and Purple.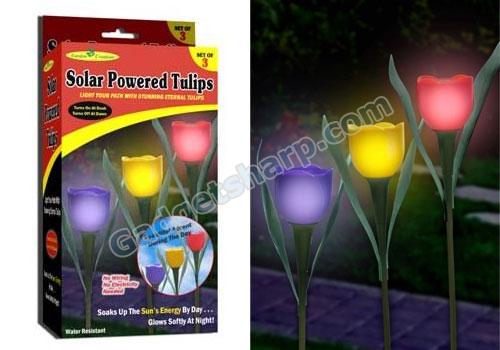 2. Decorative Garden Dragonflies Solar Lights [amazon]
When our family and friends saw these in the dark, they all wanted some. Thats just how spectacular they are. They really catch the eye. These lights work just like any other solar light, in the fact that they charge a rechargable battery (included) through the day when the suns rays are beaming, and at night the light globe (included) lights up and illuminates the Dragonfly with different colours.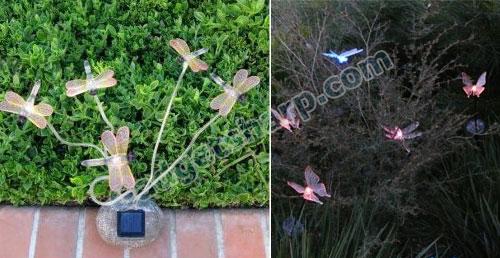 3. Solar Powered Turtles on a Log with Glowing Shells [amazon]
3 Turtles rest on log - shells glow amber at night. Great for any turtle lover.Solar fixture charges by day in the sunlight. Amber LED lights automatically glow at night. Made of durable Polynesian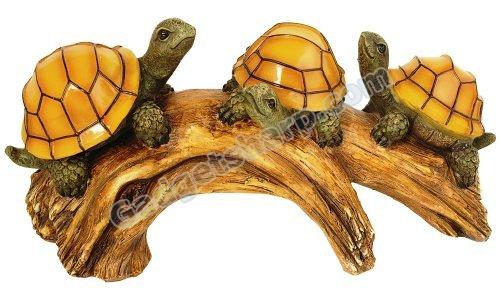 4. Wild Grass Solar Garden Lights [amazon]
Three sprigs of beautiful natural-looking Wild Grass LED Lights are powered by a solar panel and battery. Great product for your garden, patio and pavement decoration needs. They light up a lower angel of 1.2 ft tall. They also can work with regular solar garden stake light to make light showcase at night. Fiber-optic grass strands can easily be formed into different shapes. Make a bouquet by simply twisting the grass wire strands together. No A/C power needed. Self sustaining for years to come. Requires no maintenance. Great for holiday decoration and year round use. One year limited warranty from date of purchase.

5. Ladybug Solar Light Set [amazon]
Ideal for decorating shrubs, flowerbeds and outdoor areas
Powered by a separate solar panel allowing lights to be placed in shady areas
Automatically illuminates during darkness
Up to eight hours illumination when fully charged.
No operating costs. No main wiring, simply install and enjoy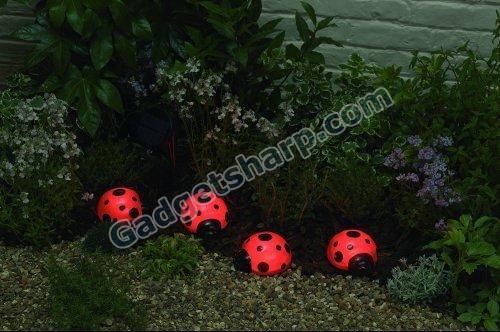 6. Solar Powered Ceramic Fish Fountain [amazon]
Creates a relaxing atmosphere on your patio, deck, balcony or in your garden
Powered by a separate solar panel (supplied) and includes 10 feet of 3 m cable to solar power
The low voltage water pump with filter, constantly recycles the same water
Includes optional AC adapter for indoor use.
No operating costs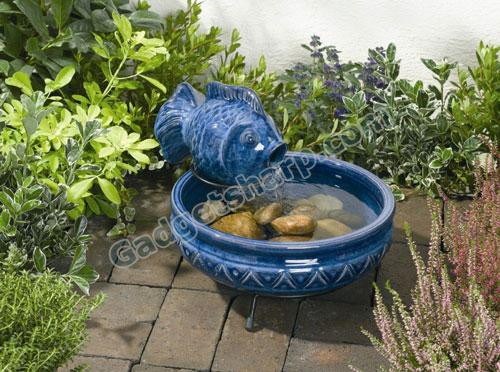 7. 4-Tier Cascade Fountain. Natural Terracotta Mosaic [amazon]
Natural terracotta solar powered 4-tier cascading fountain with mosaic pattern. Creates a relaxing atmosphere in your garden, patio or on your balcony.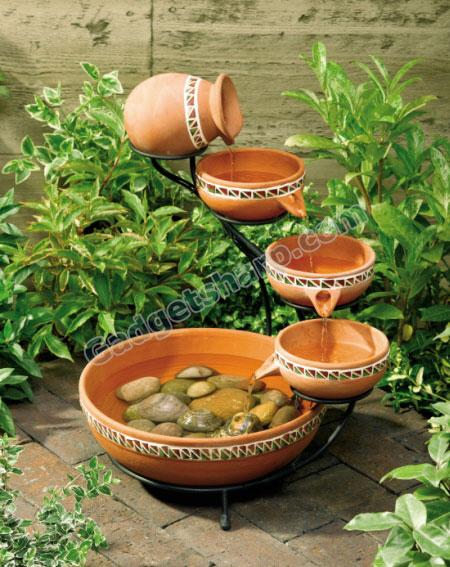 8. Solar Powered Flower Light, Pink Rose [amazon]
Add color to your garden during the day and accent light at night. Metal stake and Polynesian flower. 25-Inch above ground height.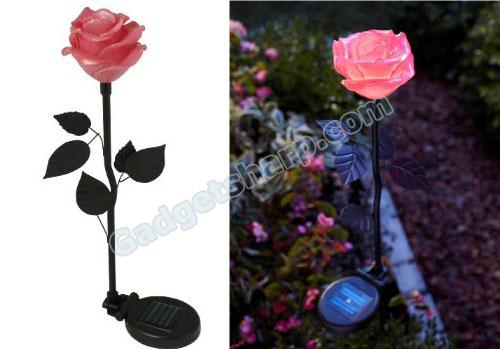 9. Encore Water Bell Fountain by Woodstock Chimes [amazon]
The Woodstock Encore Water Bell Fountain is a relaxing piece of art you will truly enjoy for years. Water bubbling up from the center of the fountain causes two floating bells to gently swirl around six fixed bells, ringing softly when they meet. The Woodstock Encore Water Bell Fountain is adapted from an original design by artist and musician Ron Snider. No imitation can match the beauty and quality of the original Woodstock Encore Water Bell Fountain. Only solid brass is used for superior performance and the very best sound.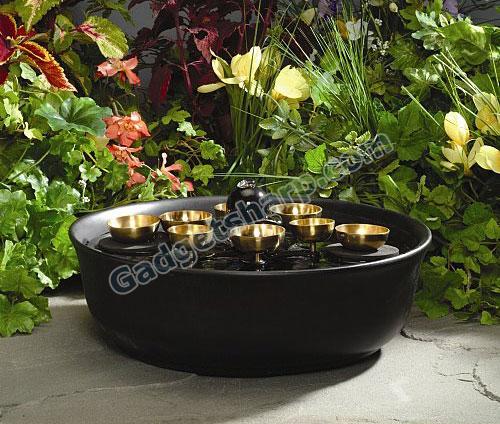 10. Frosted Dragonfly Solar Lantern [amazon]
This Frosted Dragonfly Solar Lantern is an attractive light for your garden, patio, or deck. It casts a Dragonfly pattern on any surface for a unique look. It has a galvanized steel frame with an antique brown finish. This light automatically illuminates during darkness and provides up to 8 hours of light with a full days charge from the sun.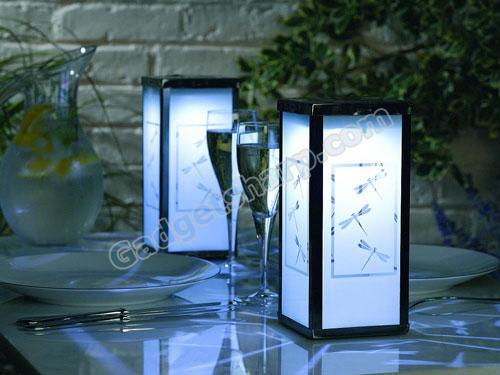 11. Glamorize Garden with Decorative Plastic Brick Edging with Built-In Solar Lights [amazon]
20 Feet ?Lets Edge It? Plastic Brick Edging with 4 Built-In Solar Lights and 24 regular plastic bricks. Lights and edges your yard with one product. Circle a tree in minutes. Product will automatically curve or go straight. Safety and security - lighting up a walkway. No hauling, digging, mixing mortar. Just Snap together & Press in ground. It's that easy.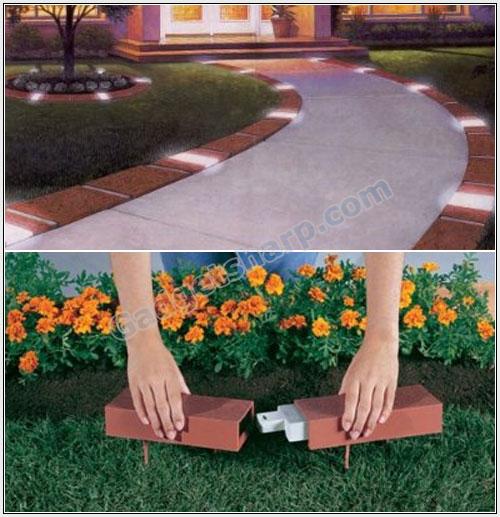 12. Solar Powered Glowing Dog Lamp Border Collie [amazon]
CCI Moonrays 91247 Solar Powered lamp border collie dog garden accent, 1-Pack. Man's best friend will now welcome visitors to your garden. This black and white border collie holds a lantern in his mouth that lights up at night. Color-changing LED automatically turns on at dusk.
13. Stonewall Borders [amazon]
Forms a realistic stonewall border around flowerbeds and gardens. The look of real stone without the weight, easy to handle. Easy 1-2-3 assembly, no digging or pounding. A fraction of the cost of real stone. Plastic 6 High Stacked Stonewall Sections.