The iPhone is a state-of-the-art, minimalist gadget where a lot of effort was put into the case design. These phones are as precious to people as Gollum?s ring and in order to avoid scratching them, many people have attached protective covers. In this post, we will present you with 9 unusual iPhone case designs…some of them are really creative and useful, like the one with rechargeable battery or the one has waterproof function. While some of them just go too further, like the first one with gold and diamond.
1. $20,000 iPhone Case [link]
I guess this one mihgt be most expensive iPhone case ever.
It is handcrafted with 42 diamonds (3.5 carats) set in 18K gold, embedded in a rare gold carbon fiber leather case. With VVS1 clarity and H color, these diamonds are superior in quality. Complete with an 18K gold emblem, the Case-mate Diamond Case is truly a one of a kind.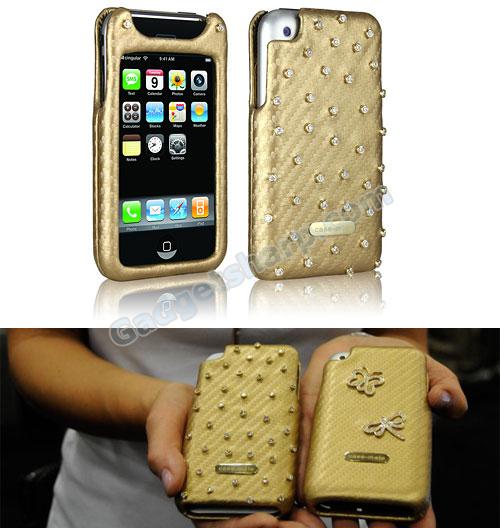 2. Sexy Steel Case For iPhone [link]
This Sheet Metal iPhone Case looks smoking HOT!. Sleek Steel on the outside is combined with silicon padding for the innards and clever cutouts tackle wireless signals and heat emissions. Only dilemma is that with the iPhone I opted for a candybar style, this cover makes it an awkward flip, if I walk the middle-path?apparently you needn?t flip open to talk. Essentially, the decision is on leather vs steel then!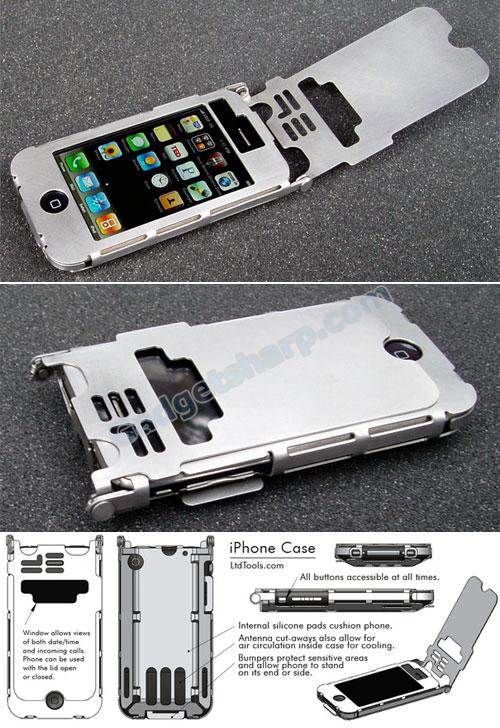 3. Vers Wooden iPhone Case [link]
In the hands of a craftsman, wood is simply the most beautiful material around. Crafted from select US hardwoods and Bamboo, each case has its own unique character. Wood is tough stuff - it?s nature?s version of carbon fiber. Naturally rigid and impact-resistant, when reinforced with steel pins, it?s serious protection for your iPod/iPhone.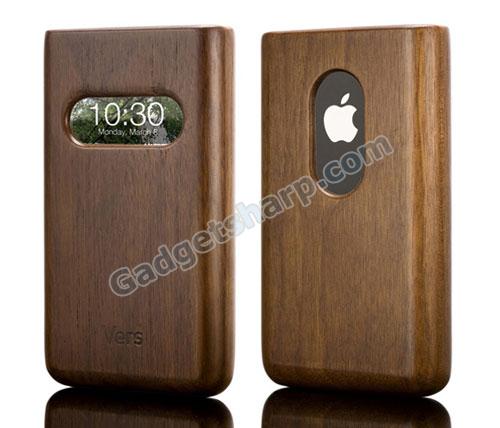 4. Sanwa's iPhone Waterproof Case [link]
Sanwa is a Japan's company, their iPhone Waterproof Case, features a sealing mechanism design to keep out the water and you can still touch your iPhone via the rear window of the case. It even still allows for you to listen to your music and use the camera and still keep the water out. And it comes with a lanyard so that you can wear it around your neck.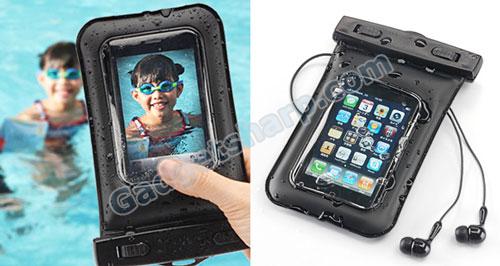 5. iClooly Clip Stand iPhone Case [link]
After iClooly Alumi Stand presented last Friday MaxiMobileShop announces the availability of support iClooly Clip Stand for iPhone 3G. i Clooly Clip Stand is a medium that allows you to keep your iPhone 3G in the horizontal or vertical. Ideal for watching a movie on the plane or train. The base also serves as a protective shell ultra light and ultra-resistant, and can easily slip into a pocket.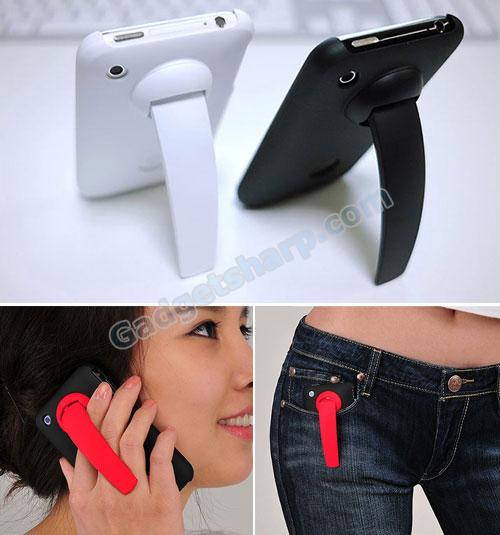 6. iPhone Case with Rechargeable Battery [link]
It is not only a iPhone case, this iPhone Case($25) built-in a high capacity li-ion rechargeable battery. The sheepskin case keeps the edges of your phone protected from wear and tear, while the battery provides you with a charge of juice when your battery is running low. You can charge the battery via the USB. Unfortunate it is just for the 1st Gen iPhone and iPod Touch. I don't know that would you check out it, but it is a really good idea.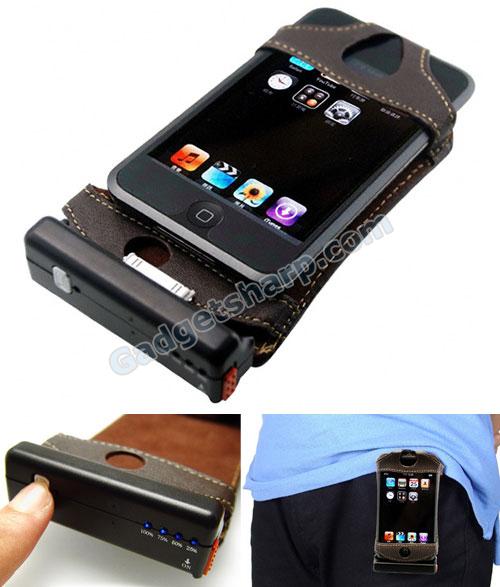 7. EXOVAULT - Metal Phone Case [link]
From the creators:
The EXOvault case is machined from solid metal stock in two pieces. Providing you with a distinctive beautiful handcrafted object that sets itself apart from the average modern plastic world. You have the choice of light aluminum, classic brass and aerospace grade titanium. All the materials will age and patina beautifully through use.
I just wonder, is that thing allowed on airplane?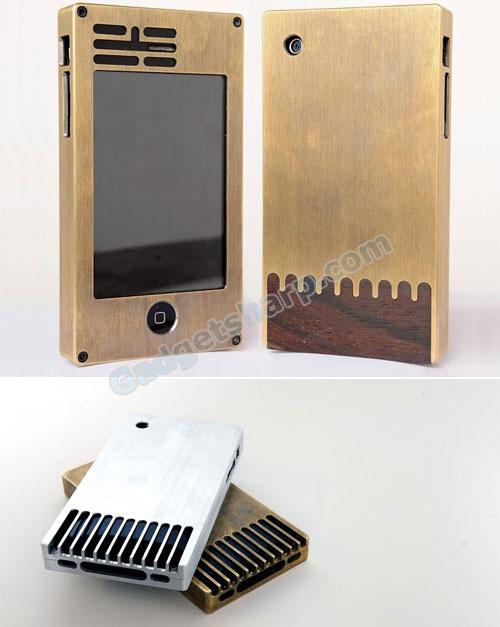 8. iwood cases: you and i(phone) up in the trees [link]
Another wooden case design for iPhone. Miniot?s form-fitting iWood cases are made from natural hardwoods including oak, cherry, mahogany, walnut and and padouk flavors. Very expensive indeed at $125 USD each, but it certainly beats the iPhone 3G's natural finish: the accumulated digital smegma of a thousand greasy fingerprints.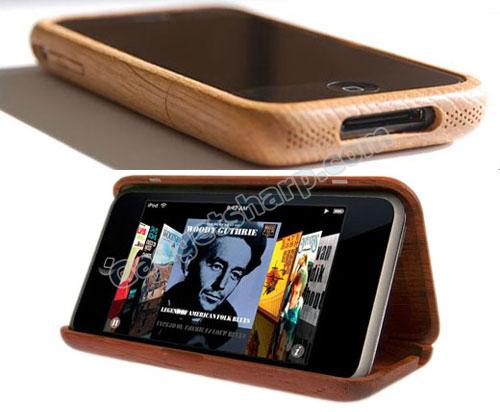 9. Factron Quattro case for iPhone 3GS [link]
For the ultimate in iPhone 3GS protection and to take advantage of its camera function, you could get the Factron Quattro for iPhone SP, a case made from leather, carbon fiber, and stainless steel. The case is just under $200, and additional lenses like the fish-eye, wide angle, and macro zoom are about $15-50 each.
I think this is only available in Japan though. But they do look pretty cool and cute for me.