iPods are the most popular players in the world at the moment. iPhones are too aim to become as popular in mobile phones world as iPods in players world. Designing an iPod dock become a ?must to do? for most leading companies in the industries. Most of modern docks are suitable for both iPods and iPhones and have remote controls. And some of them also have extra function like radio, alarm, clock. You can place it on desk, mounting on wall or even play it in bathroom via wireless speaker. There are plenty of good choices for every Apple lover. These products may not replace your home theater speaker system, but they do have great designs!
1. GoGroove MOVE Sleek Portable and Wall Mountable SonusMAX Speaker System for iPhone/iPod Touch/iPod/Nano [amazon]
Four independent directional SonusMAX speakers produce a wide and rich sound field to maximize your listening experience. A variety of mounting options allow you to display the attractive unit in a variety of ways. Mount the unit on the wall with the Quick-Detach Mounting System, or stand the speaker system on the table utilizing the Back Stand and its 90-Degree Adjustable Design for Movie Mode viewing.
The GoGroove Move is powered by the included AC adapter or can be taken on the road with 4 AA batteries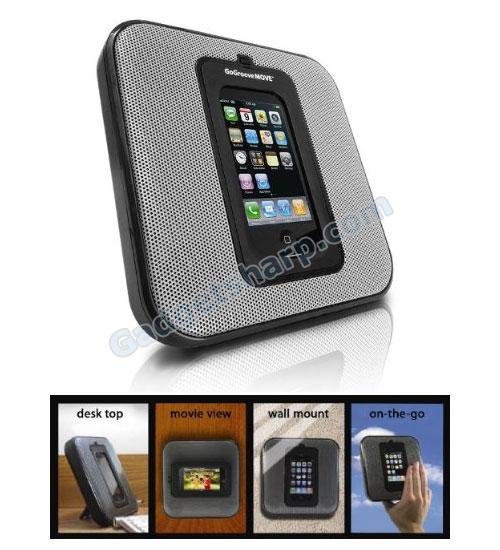 2. iHome iP90 Dual Alarm Clock Radio with AM/FM Presets and Dock for iPod and iPhone [amazon]
Dual alarm lets you set separate wake times, wake to iPhone/iPod, radio or buzzer
Easy Alarm Reset: press any button (except Snooze) to turn off alarm and automatically reset it for the following day
Gentle Wake feature peacefully wakes you with gently rising alarm volume
iPhone/iPod alarm backup: if iPhone/iPod is the selected wake to source and iPod is not docked, the buzzer alarm will sound
7-5-2 Alarm settings (everyday, weekdays, weekends) Programmable snooze feature with intervals from 1 to 60 minutes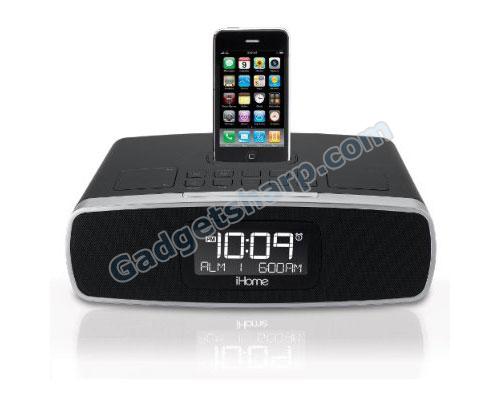 3. Smartak Audio Wireless Waterproof Shower Speaker With Dock Transmitter [amazon]
The 900Mhz wireless shower speaker system allows you to take your favorite tunes into the shower with you. This water resistant speaker is powered by 900MHZ PLL circuitry, which guarantees a strong, clear signal up to 150FT away. The transmitter delivers a powerful signal through walls or any other obstacles keeping your player safe from water. Just plug in your iPod, computer, stereo, MP3 player or any other device that has a standard 3.5mm audio output and enjoy high quality music where ever you want. Perfect for the shower singer in all of us.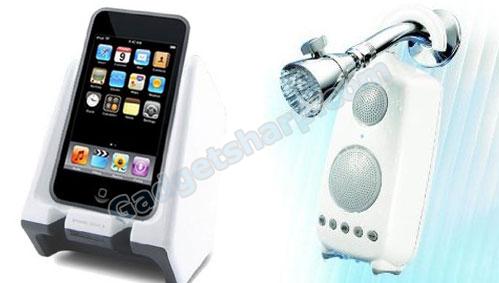 4. Black Portable Folding Stereo Speaker For iPod, iTouch, iPhone [amazon]
Brand new GTMax MP3 speaker. Lightweight and portable design for traveler in mind. Enjoy your music anywhere you
Comes with device holder fit all model of iPod, iPhone and other MP3 Player.
Crystal clear music with high fidelity sound from aluminum speakers.
Fold up design for stylish and easy to storage. ON/OFF power switch. Volume control.
Power this speaker with USB power cord (included) or go cordless with 4 x AAA batteries.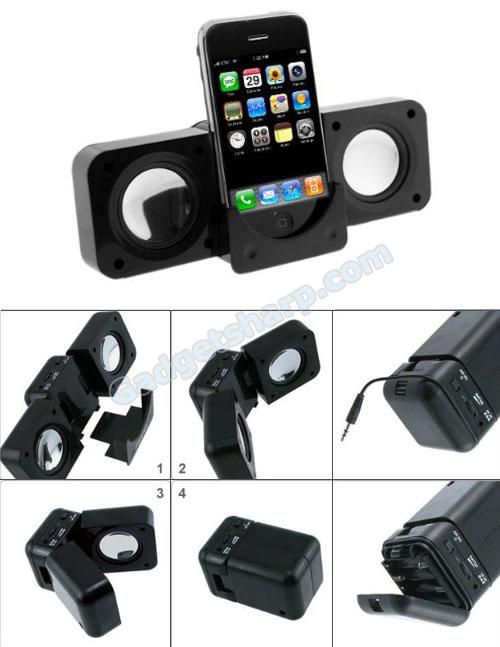 5. Altec Lansing inMotion MIX iMT800 Portable Digital Boom Box for iPhone and iPod [amazon]
The Altec Lansing MIX Digital Boombox Speaker System was developed for the "DJ lifestyle"–for those people who know music and like to pick the play list to liven their scene. Multiple people can jack in their iPhone, iPod or other music device, and the MIX lets you toggle between sources on-the-fly. There's a 30-pin dock connector for the iPhone/iPod and two front-facing 3.5mm jacks so everyone can enjoy their tunes. The result? A party!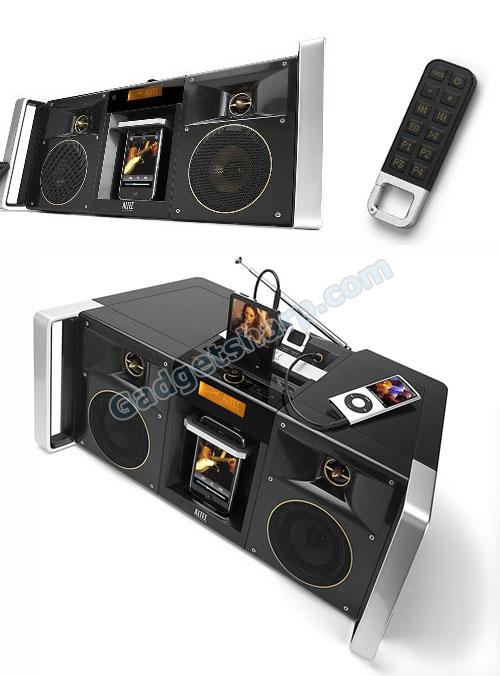 6. Pioneer Electronics Audition Series XW_NAS3-K Docking Station for iPod [amazon]
High-performance audio in an elegant, compact design. With rich 2.1-channel sound (with a separate dedicated subwoofer) tuned by Pioneer's EX Speaker Engineering team, and a double-isolated enclosure to eliminate resonance at high volume, the Pioneer XW-NAS3 redefines what's possible in audio quality from an iPod dock.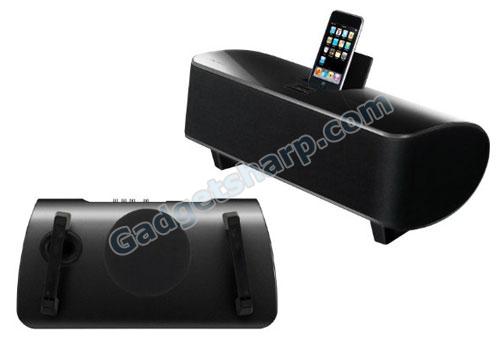 7. iHome iP41 Rotating Alarm Clock for iPod and iPhone [amazon]
The iP41 is specifically designed to take advantage of the iPhone and iPod's variable aspect screen. Place the iP41 on its side to watch widescreen video and the clock display will adjust to match. Compatible with most docking iPods.
iPod/iPhone or Buzzer Alarm
Landscape/Portrait Rotation
Programmable Sleep
Play and Charge Your iPod or iPhone
DST Switch
Big Sound, Small Package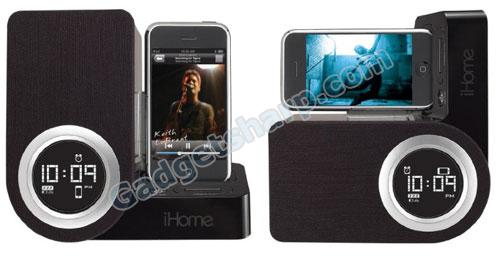 8. JBL On Stage IIIP Portable Speaker Dock for iPhone/iPod [amazon]
JBL On Stage 3 with IR (InfraRed) remote is a compact yet powerful high-performance sound system for iPod and other MP3 players. Fill your room with clear, accurate JBL sound and all the volume you (and your friends and neighbors) can handle. Use the wireless remote to control the music from up to 50 feet in any direction, even through walls. But whatever you do, rock on.
The JBL On Stage 3 will provide astonishing bass and clear, accurate sound. Odyssey Transducers The four aluminum-domed transducers are driven by powerful neodymium magnets for rich, deep sound that you wouldn't expect from such a compact, desktop speaker system Comes with 10-Button IR remote control - InfraRed technology requires line-of-sight between remote and device Does not include iPod or iPhone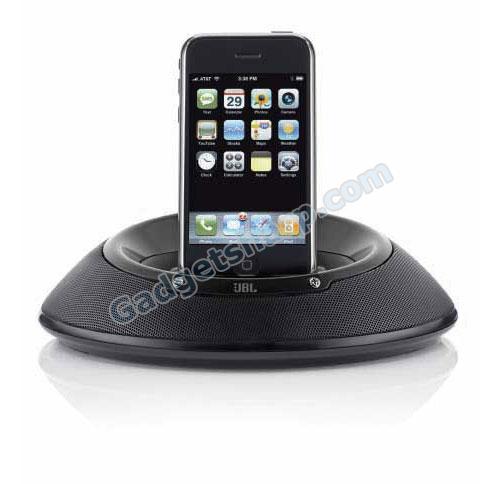 9. Bose? SoundDock? Portable digital music system - Gloss Black [amazon]
Proprietary Bose? technologies let you enjoy your iPod out loud in more locations-without compromising sound quality.A rechargeable lithium-ion battery (included) provides more power and longer playing time than most other rechargeable batteries. The rotating dock disappears for storage and protection during transit. And a molded handle makes it easy to carry the system from place to place. Just dock and play iPhone and iPod models featuring a click wheel, including all nano, mini, photo, and video models. The iPod charges as it plays for uninterrupted music enjoyment. A custom remote easily controls the system and basic iPod functions, including playlist navigation. Auxiliary input lets you play other portable sources, too.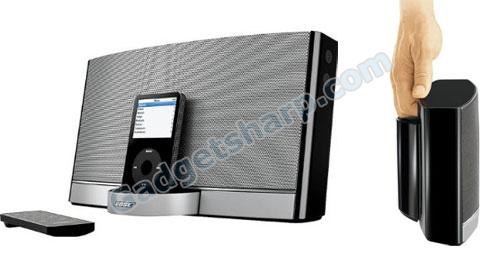 10. Sony Speaker Dock Clock Radio with 7-Inch LCD for iPod / iPhone [amazon]
Sony?s Multi-function FM / AM clock radio is the all-in-one bedside accessory for iPod1 and iPhone users. Set the 2-5-7 Day Alarm for waking to the radio, iPod, Nature Sounds, or a pre-recorded personal message, and view your photos and videos on the 7-Inch diagonal LCD screen. Charging tray for iPod1 / iPhone retracts when not in use.
11. Sony XDR-S10HDiP HD Radio with Dock for iPod/iPhone [amazon]
iPod compatibility: iPod mini; iPod nano 1G, 2G, 3G; iPod classic 4G, 5G, 5.5G, 6G; iPod touch 1G, 2G; iPhone 1G, 3G
iPod/iPhone compatible docking station with built-in digital AM/FM/HD tuner
HD radio for more choices, crystal clear sound, and no subscription fees
Alarm clock allows you to wake to radio, buzzer, line-in source, or iPod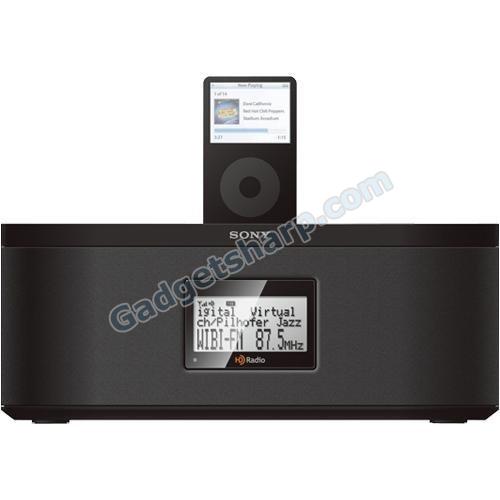 12. Philips DC315/37 Speaker System for iPod/iPhone with LED Clock Radio [amazon]
Start a pleasant day with your iPhone/iPod tunes on the Philips Docking entertainment system DC315 with dual alarms. Featuring multiple sources, the stylish system lets you wake up to music of your choice from portable devices and radio.
Compatibility: iPod mini; iPod nano 1G, 2G, 3G, 4G; iPod classic 4G, 5G, 5.5G, 6G; iPod touch 1G, 2G; iPhone, iPhone 3G
Play and charge your iPod or iPhone
Dual alarms with weekday and weekend settings let you wake to iPhone, iPod or radio
Gentle wake up with increasing alarm volume
Built-in FM digital tuner plus auxiliary input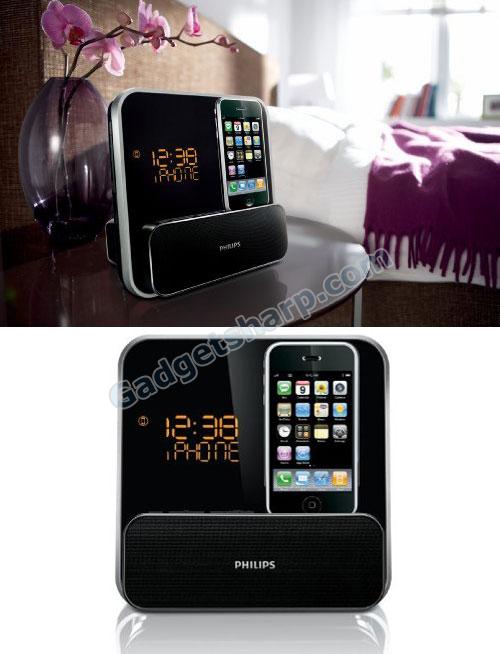 13. Sony SRSGU10iP 2-Channel Dock speaker for iPod and iPhone [amazon]
SRS-GU10IP - iPod Performance Speaker Dock made for the iPod range and is compatible with the iPhone. It charges your iPod or iPhone while it docks. In addition, with an output power of 20W, this 2 ch speaker provides great quality sound in an attractive and modern design.