The weather is getting colder and colder, while your laptop/notebook might heat up because the turn-on heating at home. Why not chill out and keep your laptop/notebook running trouble-free for longer with some proper cooling protection? In this poster, we rounded up 10 Most Popular Laptop/Netbook Coolers, some of them are USB powered and some of them just take advantage of ergonomic design to keep your device cooler. Except the cooling, those cooler always have some extra bonus like removable fans, speed controllable fan, LED lights, compact folding, non-slip design and so on. Take a look at these great cooler and a proper protection to your laptop.
1. Logitech Notebook Cooling Pad [amazon]
Cooling pad distributes air quietly and evenly under your laptop
Pad can be used on your desk or on your lap
Versatile design, with colors and shape of pad inspired by nature
Built for low-power consumption with minimal impact on your notebook battery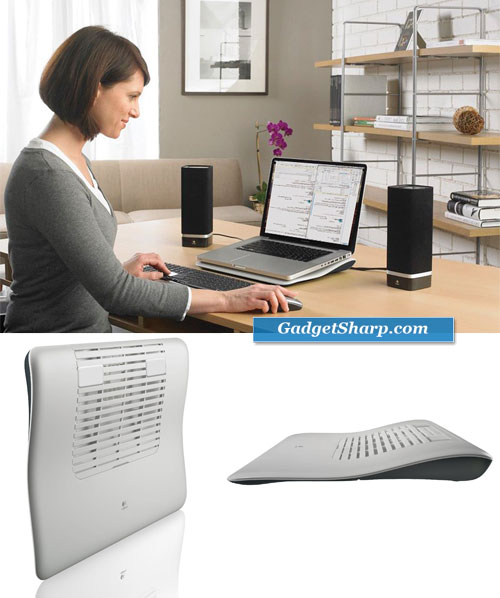 2. Thermaltake Massive23 LX Laptop Notebook Cooler [amazon]
Oversized 230mm ultra-quiet fan with blue LEDs removes heat from the notebook easily and effectively.
Built-in fan On/Off switch and LED light On/Off switch.
Handles designed into the cooler allows the unit to be carried to any where you go.
Hidden storage space enables USB cable or other small accessories to be stored when not being used.
USB connector : Gold-plated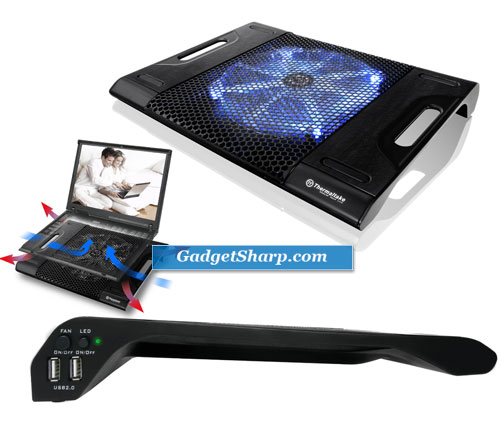 3. Non-slip Laptop Cooler and Heatshield [amazon]
Xpad Slim cools your laptop while protecting your lap from laptop heat. No Fans! 100% Passive Cooling & Heatshield Protection! Cool your laptop and protect your lap silently without having to use up a USB port to power a fan. Use this top-rated laptop cooling pad on your desk, on your lap, or on soft-surfaces such as your bed or couch. Non-slip interface helps balances your laptop while slim profile makes it unnoticable. A universal fit design accomodates up to 17" laptops.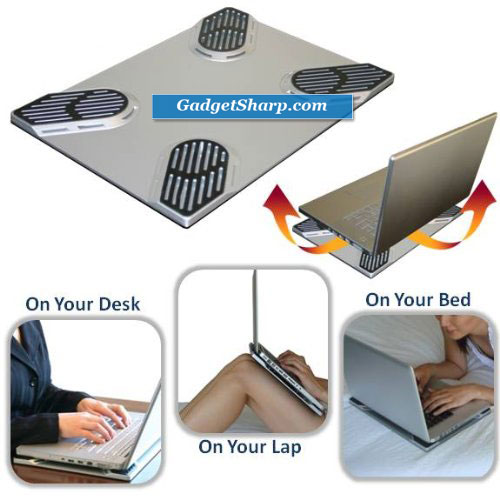 4. USB Powered Dual Fan Universal Folding Laptop Cooling Pad [amazon]
4 folding anti-skid rubber cushion glides adjust to fit all sizes notebooks
Built-in 2 quiet fans quickly dissipate the heat from underneath the computer
Compact and comfortable to carry
Folded Dimension: 7.5 x 3.5 in
Open Dimension: 11.25 x 8.5 in. or 13 x 6 in.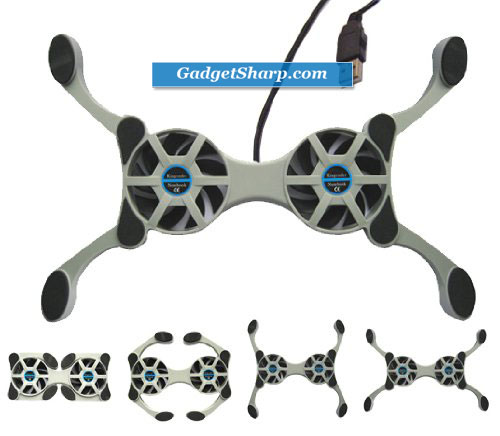 5. HeatShift Laptop Cooler for Laptops Up to 15" [amazon]
Performs better than USB fan cooling devices ; Cools entire laptop, not just certain sections
Uses no fans; Generates no noise
Grooved channels for enhanced airflow
No need for refrigeration Self-cooling
Uses no power so laptops last longer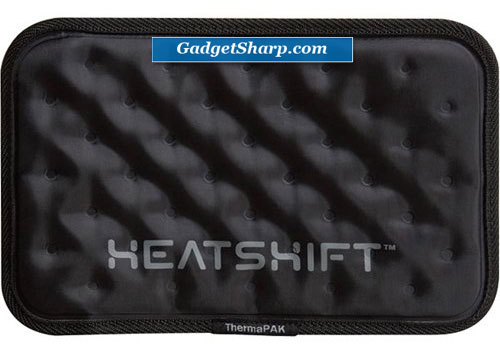 6. Targus Lap Chill Mat [amazon]
Protects lap or work surface from heat Dual fans help disperse laptop heat for improved functionality; extends the life of the laptop Soft neoprene exterior provides added comfort on your lap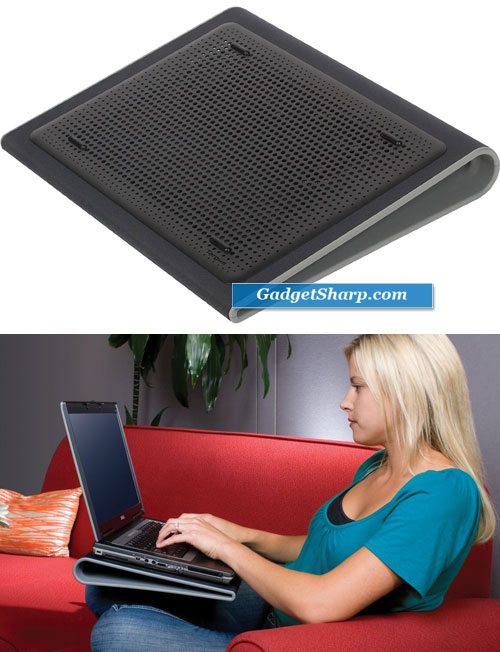 7. Antec USB-Powered Notebook Cooler [amazon]
Protect your valuable investment and reduce heat-related instability Works great with both Mac and PC USB-powered cooler (draw power from any USB port) No batteries or power adapter needed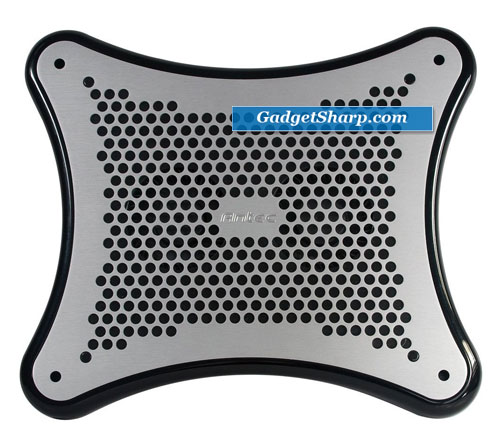 8. Ergostand Notebook Cooler [amazon]
Ergonomic design - 5 different height settings to ease strain on your neck and wrist.
Optimal cooling performance - Full range metal mesh surface, built-in 14cm silent fan with stepless speed control.
Great for all sizes - Adjustable anti-slip holders for 9" ~ 17", easy front I/O port access
Value-added features - 4 port USB, 2 rear cable clips, side handles for cable management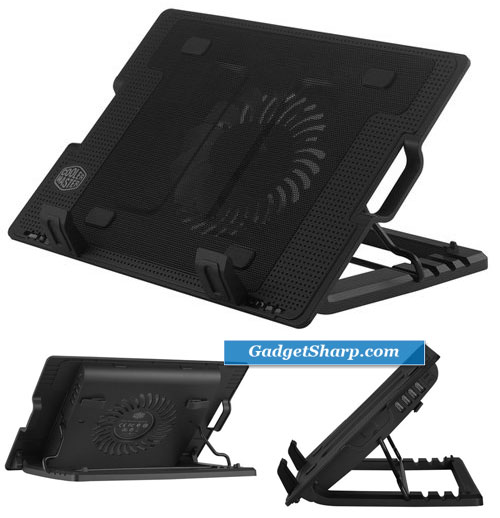 9. U2 Notebook Cooler with Two Removable Fans [amazon]
    Slim and light-weight design offers excellent portability.
    Unique sturdy structure for long-term desktop use.
    Great for protecting and storage.
    Accommodates 14"-15", up to 17".
    Ergonomically design for comfortable viewing angle.
    Excellent convection design to prevent overheating.
    2 Removable 80mm fans.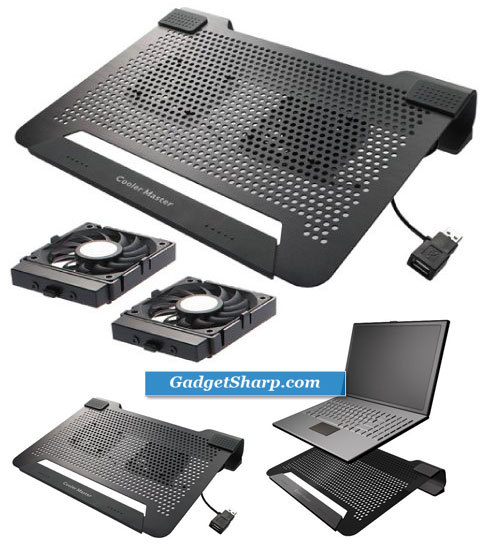 10. Targus Travel Chill Mat [amazon]
The Targus Travel Chill Mat provides a comfortable and ergonomic work surface to keep you and your laptop cool. The Chill Mat rests on your lap and disperses heat, using dual fans to provide ventilation which can be obstructed if the laptop is used on a pillow or comforter. The ergonomic tilt makes typing easy while the soft neoprene material provides cushioned comfort on your lap. The open design allows fans to run quietly and stimulates constant airflow. Four rubber stops on the face of the Chill Mat prevents the laptop from slipping during use.
The Travel Chill Mat is sized specifically for travel, making it easy to carry in a laptop case or backpack whether traveling for work, school or pleasure.