If you are one of those people who love to share their music, speaker is something can't be missed. A cool speaker should not only sound great but also looks great. Take a look at the 8 Cool Speakers that combine both style and function.
1. Kohler Moxie - Showerhead And Wireless Speaker All-in-One [amazon]
If you enjoy listening to music, podcasts, the news, or audiobooks in the shower, but find it impossible to hear the speaker, this is the product for you.
This ingenious showerhead has a magnetically removable speaker in the center that pairs wirelessly with any Bluetooth-enabled device. It not only blasts you with tunes while showering, it also properly blasts you with water from 60 angled nozzles that deliver full-spray coverage. It features an easy-to-clean silicone face that makes it easy to wipe away mineral buildup, a finish that is engineered to resist corrosion and daily wear, and plays for 7 hours of continuous play from its built-in rechargeable lithium-ion battery.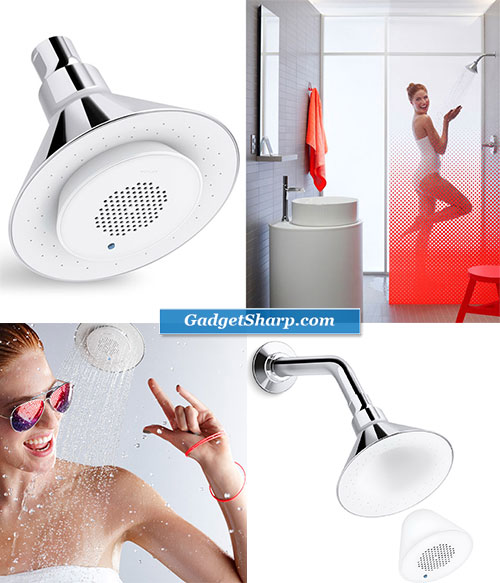 2. Megaphone - Passive Ceramic iPhone Amplifier [amazon]
This is the passive ceramic amplifier made in Italy that produces naturally resonant tones from an iPhone. Designed in Milan, it is handcrafted entirely of slip-cast ceramic fired in Vincenza, renowned since the 18th century for its traditional ceramics that have been compared to the finest Chinese porcelain.
Replicating the curvature and passive amplification of a horn, the amplifier augments sound from an iPhone without requiring auxiliary power or speaker components. The amplifier projects music or phone calls using authentic horn acoustics; simply place an iPhone or iPod in the amplifier's cradle. Its walnut base provides minimum contact with the horn for optimal acoustic performance. Compatible with iPhone 4, 4S, 3G, 3GS, iPhone, iPod touch 1-4th Gen, and iPod touch with cover. 17 3/4" L x 12 1/2" W x 13 1/4" H. (5 1/2 lbs.)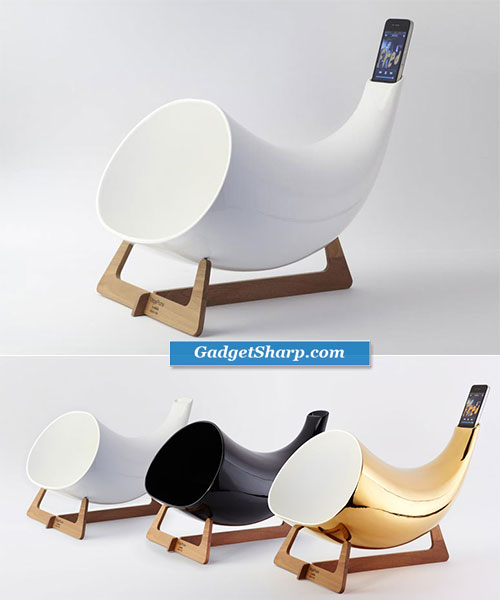 3. Portable Balloon Speaker [amazon]
The Music Balloon Speaker is an innovative external speaker for your portable electronic devices. Now you can easily share your music with friends anywhere or enjoy your tunes without being tethered to headphones. Each music balloon contains a 1.5 watt output amplifier powered by an internal rechargeable lithium battery. Match this with a small speaker incased in an colorful foam ball and you get a beautifully designed object yielding a surprisingly good sound.
In addition, the foam balloon casing won't scratch or ding the world around it. The music balloon is charged by plugging it into your computer's USB port. Two hours of charging gives you approximately 4 hours of play time. Each Balloon speaker is approximately 3" in diameter and comes with a USB charging cable, 6" audio cable and travel pouch. The music balloon easily plugs into to your iPhone, iPod or virtually any other portable electronic device. Float on to the sound!

4. Yamaha Portable iPhone Speaker [amazon]
AC and battery powered for maximum mobility Remote unit for easy operation Rugged Design in Four Colors Amazing Sound Quality Super-large 10 cm (4-Inch) woofer to ensure strong bass and beautiful mid-range frequencies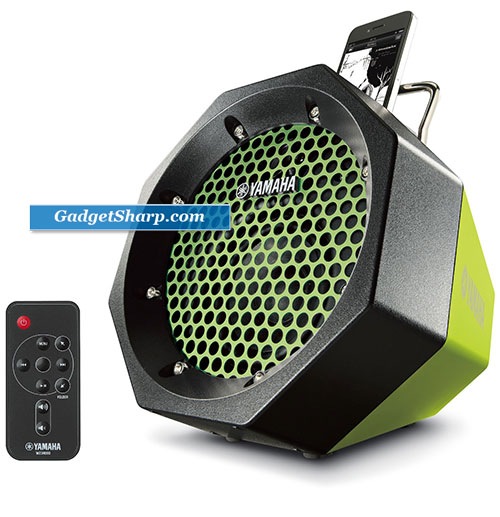 5. sonoro Universal Charger & Music System Troy white/green [link]
Troy is the one for (almost) everything. Unbelievably smart looking, stylish and as a USB charging station, Troy offers a permanent place for mobile devices from a digital camera to a web tablet.
Technology
powerful loudspeaker for playing music from all mobile devices Digital Sound Processor (DSP) for a perfectly balanced sound powerful bass reflex tubes power switch to save electricity and control charging
Input
2 USB ports (1.0 and 2.1 A) for charging a smartphone, web tablet, MP3 player, digital camera, etc. 2 Aux-In connections for external audio devices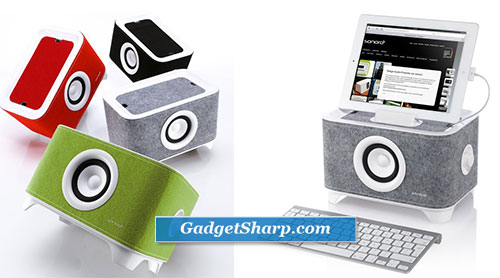 6. Puppy Portable Speaker [link]
The Puppy Portable Speaker is a cute and simple portable speaker made with wood. You can use the Puppy Portable Speaker with your iPad, iPod, or any electronics. The Puppy Portable Speaker contains a rechargeable li-polymer battery which can last 5 hours long. To recharge, simply plug in the USB cable to your computer. This product includes a charger, an audio cable, instruction, and a strap. The Puppy Portable Speaker also promotes natural products made with environmentally friendly materials.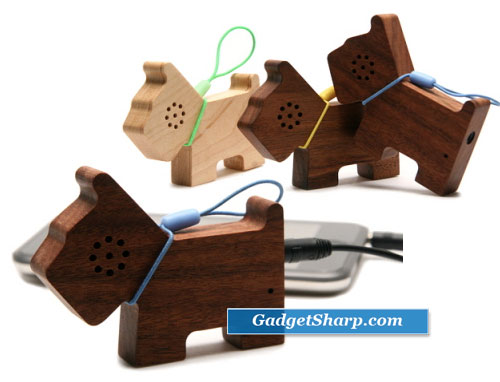 7. Scandyna The drop Speakers [amazon]
Multimedia speaker One 125-millimeter (5-inch) 4-layer long throw bass/midrange featuring a Kevlar piston and 25-millimeter (1-inch) diameter free-mounted high frequency driver Compatible with amplifiers from 10 watts - 100 watts output 2 speakers per package Available in white, yellow, black, silver, blue, or red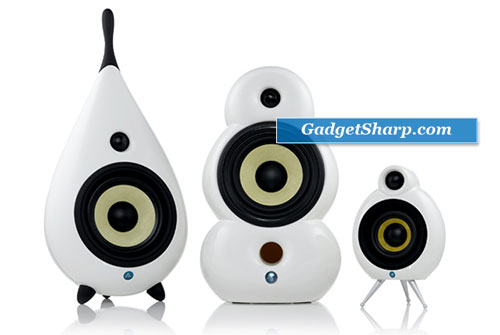 8. TOY BEARBRICK Speaker System [amazon]
Made by Medicom. Bearbrick Speaker System for iPods / iPhones Features: - Compatible with iPhone4, iPhone 3GS, iPhone 3G, iPhone, 1 ~ First Generation 5 iPod nano, iPod classic, 1 ~ first-generation 3 iPod touch, fifth generation iPod - Charging and music playback - Built-in high-quality speakers - (Width ? height ? depth) 130 ? 227 ? 170mm - Weight 530g