If you want to share your music/sound, if you want to immerse yourself in the sound/movie, You probably need a speaker. In this post, we will present you 15 Unusual and Creative Speaker Designs. From all water-proof to wireless control, from dancing with the music to mounting on the wall, hope you like those special but useful speakers.
1. Harman Kardon SoundSticks II Plug and Play Multimedia Speaker System [amazon]
This one has super cool looking.
Harman Kardon's SoundSticks II three-piece speaker system produces high-quality stereo sound for Music, MP3s, movies and gaming experiences. The SoundSticks II system encourages you to step out of the ordinary speaker world and offers sound in an original and unique package. The system, described as curvy, sleek and sexy, delivers sound that is loud and clear.SoundSticks II employs a new computer-optimized multi-band parametric equalization and Harman?s unique "capacitance touch" control buttons on the right satellite allow for direct access to volume control.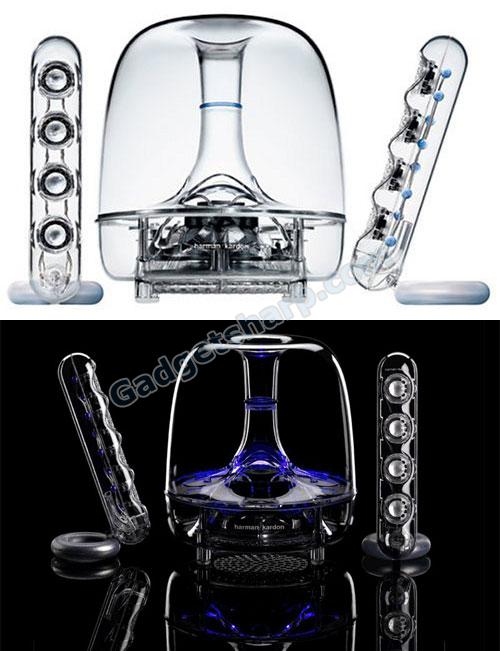 2. X-Mini II Capsule Speaker [amazon]
Small Compact Design, Maximum Sound
11hour Battery Life
Volume Control
Connect Many Together For Maximum Sound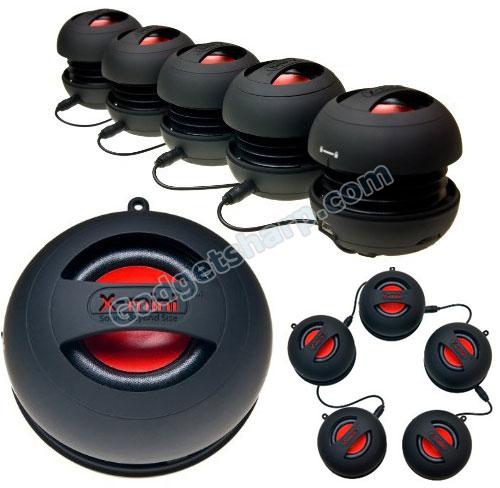 3. Fred 500xL Universal Portable Speaker [amazon]
Yeah, this speaker just looks like a big iPod earbud… So apple fans can stick to the shape they are familiar…
Brand New speakers with a built in amp for an unbeatable sound
Perfect gift for anyone
3-Way Power Runs on batteries, USB port, or simply plug it into the wall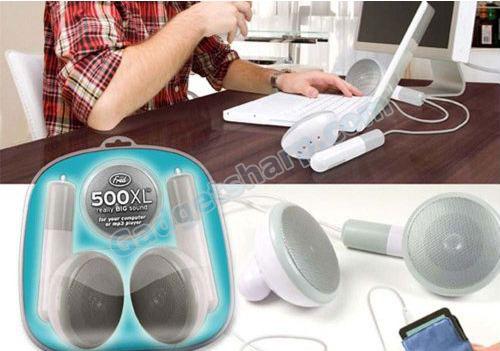 4. JBL Creature III Self-Powered Multimedia satellite and subwoofer system [amazon]
Featuring a striking design that is out of this world, JBL?s new Creature? III multimedia loudspeaker system delivers high-performance sound right from your laptop or desktop computer. The sound quality from the Creature III speakers is simply extraordinary. Flexible connectivity allows connection to other audio devices, including iPod music machines and MP3 players. So whether you?re checking the news or playing the latest game, bring unworldly style and exceptional sound quality to your computer experience with the JBL Creature III speaker system. It sounds as good as it looks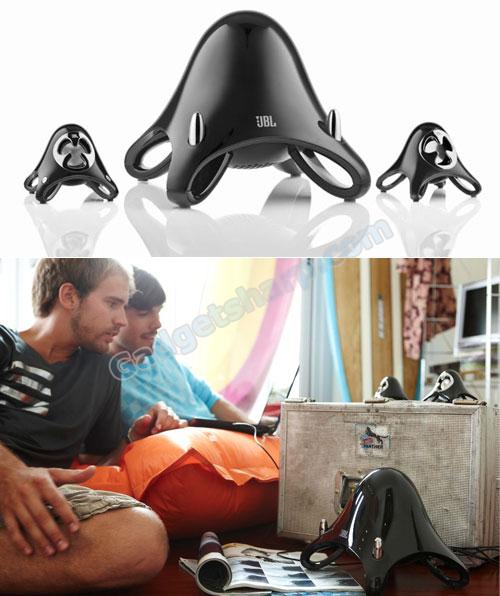 5. Pyle PL63BL 6.5-Inch 360-Watt 3-Way Speakers [amazon]
These 6.5-inch Pyle triaxials make a great replacement for your OEM speakers, with 360 Watts of peak power handling and the added definition of a coaxial system. Great sound and wicked looks in an affordable package.
Technical Details:
Woofer features blue poly injection cone with butyl rubber surround, ASV voice coil
One-inch neodymium film dome midrange and 3/4-inch Piezo tweeter
Includes grilles, cable and mounting hardware
Frequency response: 90 Hz - 20 kHhz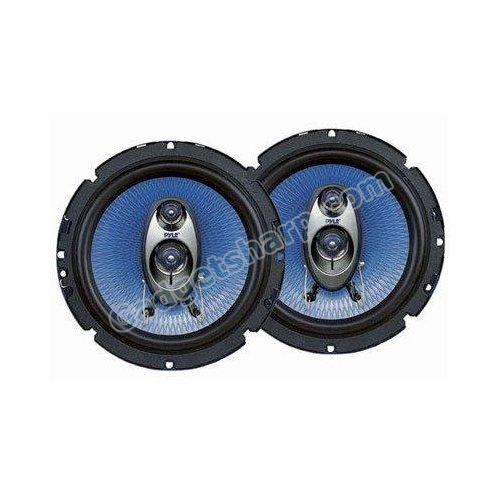 6. Altec Lansing BXR1220 2.0 Speaker System [amazon]
Ideal for desktops and laptops alike, this compact speaker system delivers clear highs and lows while helping to keep your workspace free from clutter. The speakers connect easily to any computer – just plug them into a USB port and you're ready to go.
Technical Details:
Connects easily through a USB port for power
Audio Alignment technology for balance and accuracy
Built-in power and volume controls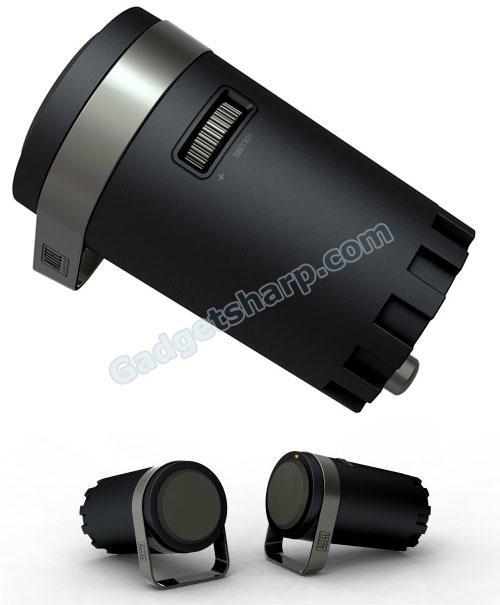 7. Polk Audio Atrium 45 All-Weather Speakers [amazon]
Incredible sound anywhere you want it! Atriums meet or exceed Military Waterproofing Specs: ASTM D5894-UV Salt Fog, Mil 810 Immersion and Mil 883 for salt and corrosion. A sealed enclosure with 4.5" woofer & 3/4" dome tweeter / 90? swiveling mounting bracket / Two speakers included per carton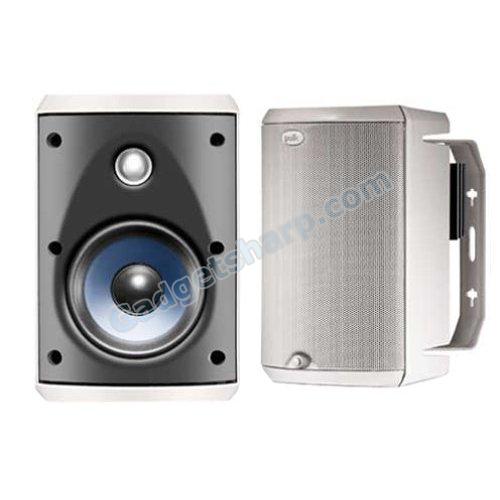 8. Logitech AudioHub Notebook Speakers [amazon]
Enjoy rich, premium sound on your notebook with a one-piece speaker system that also organizes your personal devices.
– Premium 2.1 audio: Experience pure USB digital sound with a custom-tuned three-chamber design and integrated subwoofer.
– Powered, integrated USB hub: Connect your speakers and other devices to your notebook with a single cable.
– Space-saving design: One-piece design elegantly combines a premium speaker system, USB hub, and cable control.
– Adjustable body: Adapts to your workspace. Telescoping speakers accommodate setup of most notebooks and LCD monitors.
– Webcam stand: Removable stand keeps your webcam at the optimal height.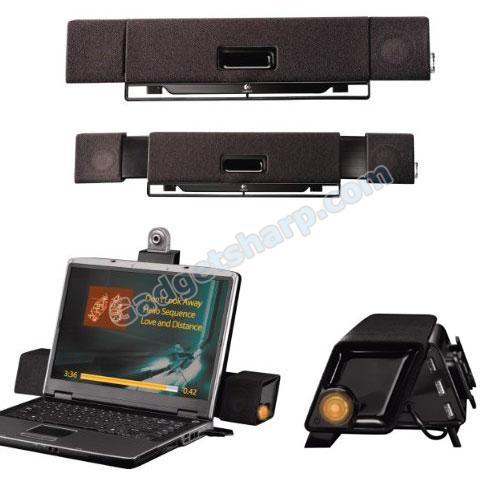 9. Cables Unlimited Audio Unlimited SPK-VELO-W (Wireless Indoor/Outdoor Speakers with Remote) [amazon]
Listen to music just about anywhere without the hassle of running unsightly speaker wire! The powerful transmitter uses 900 MHz technology to send music through walls and floors to the dual wireless speakers up to 150 feet away. These high-quality, weather-resistant speaker can even be used in wet areas. Enjoy the complete freedom of taking your music or other audio almost anywhere.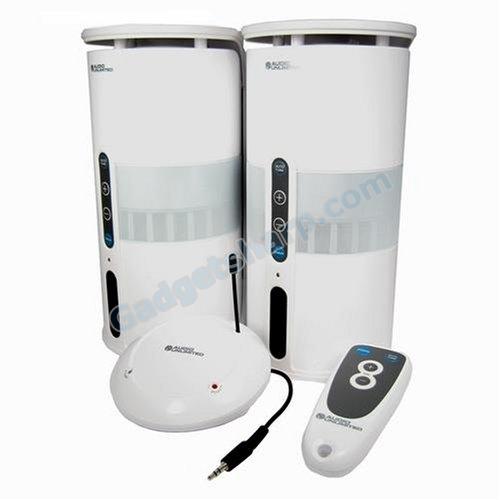 10. Laptop Speakers - USB, Portable [amazon]
Need better sound from your laptop? The stylish new B-Flex is a compact stereo speaker on a USB flex cable for laptops and desktops. Plug and play for PC and Mac with no batteries or wires. Easy to use, great for travel, mp3 players, DVDs, presentations, and gaming. Features dual 1 watt digital amps and 2 full range paper cone micro drivers for crystal clear sound. The B-Flex digital circuitry even works on computers without sound cards.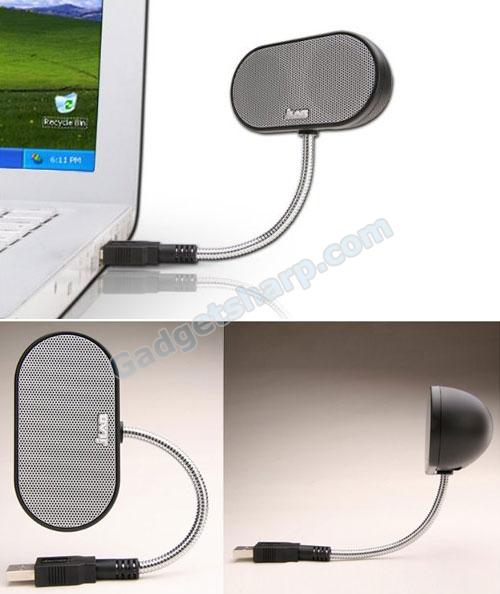 11. Audio Unlimited Shower Speaker - Listen to Your Music in the Shower [amazon]
Audio Unlimited's ShowerPod 900Mhz wireless shower speaker system allows you to take your favorite tunes into the shower with you. This water resistant speaker is powered by 900MHz Phase Loop Lock circuitry, which guarantees a strong, clear signal up to 150 feet away with no line of sight limitations. The transmitter delivers a powerful signal through walls or any other obstacles keeping your player safe from water.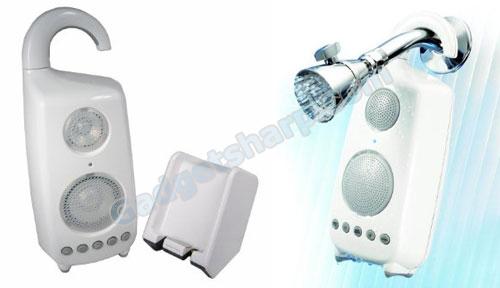 12. Sony Rolly Sound Entertainment Player [link]
Despite its small size and light weight, Rolly produces surprisingly clear sound. With 180-degree horizontal opposed stereo speakers, listeners can enjoy high sound quality from nearly anywhere.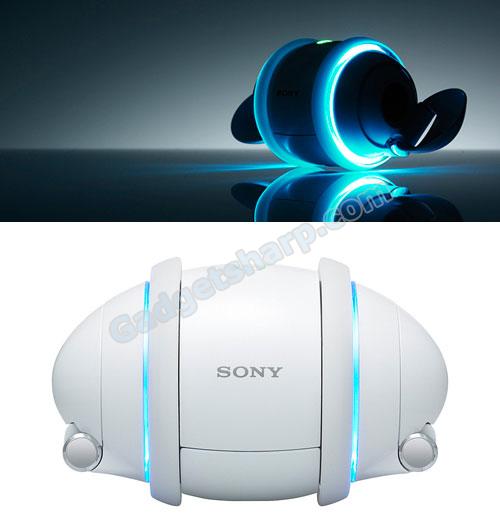 13. Hasbro I-CY [amazon]
Keep the music playing with this "performing" electronic penguin that plays back through its built-in speaker or your headphones! I-CY the penguin entertains you with electronic lights, movements and sounds based on the music you play!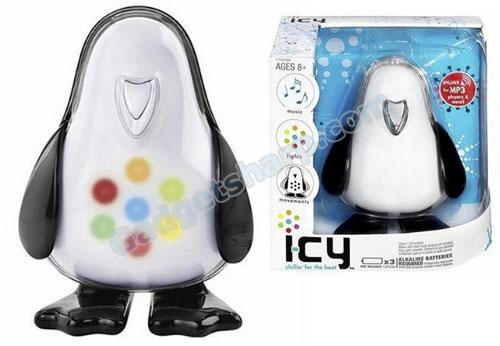 14. White-Hasbro i-Cat Robotic Music Loving Feline [amazon]
Meet I-CAT! This cool kitty puts on quite a performance as she sinks her claws into your favorite music! This feline is fond of rock, punk, rap, hip-hop, dance, techno, and more! Pay this kitten some attention, and she taps into her own cat-alog of riffs, melodies, tunes, and beats. Stroke her head to keep her happy! Watch I-CAT purr (depending on the kind of music you play), monitor her moods with her musical mewing, and watch her purr-form just for you! I-CAT works with most portable and non-portable electronic audio devices.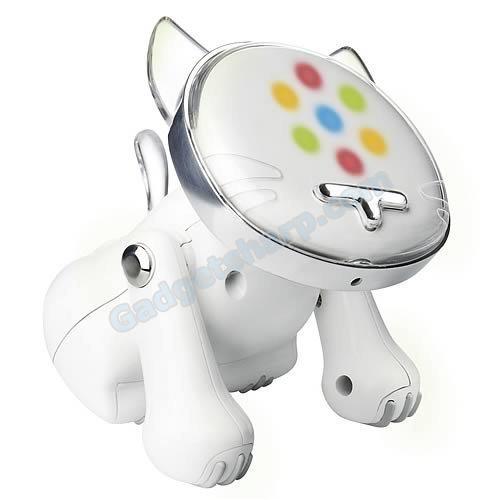 15. JBL Control Now Bookshelf/Wall Mount Speaker [amazon]
The JBL Control Now loudspeaker delivers the famous JBL sound as well as providing tremendous versatility in placing and mounting the speaker. It comes in black and is ordered in single units. Single units can be mounted horizontally or vertically. Control Now speakers can be combined into arrays of two, three, or four speakers that can be mounted from the ceiling or on the floor. It's as flexible as a speaker can get.