Yeah, I know there are lots of ipod, itouch, maybe ipad fans out there… It seems we don't need any other MP3 player at all. But is that true? For me, I would like to see some special and unique MP3 players which might only do one simple thing - play music and come with reasonable price! So, here is our topic today: 13 Unusual MP3 Player Designs. Some of them come with unusual shapes or special functions. If you are one of those anything but iPod, guess you might like to see it.
1. Big Ears Has Its Advantages [link]
The childish (yet cute!) player puts retractable earphones in the ogre?s ears. Here is a prime example of how a one can twist the odd shape of Disney?s bane into something constructive.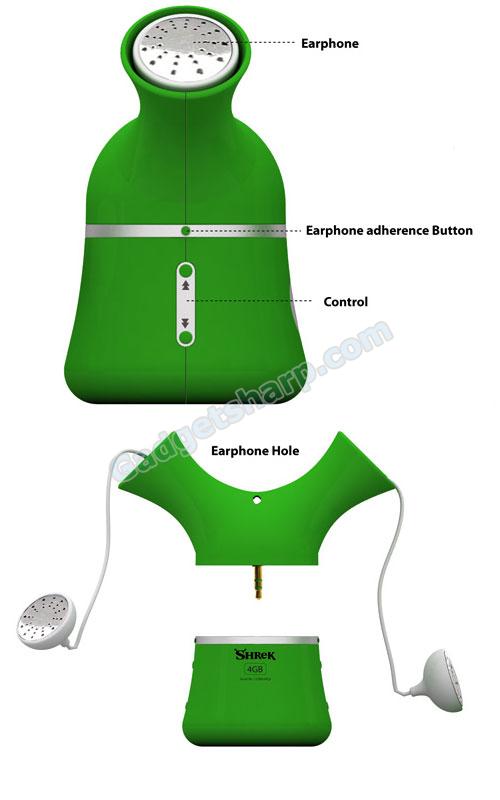 2. X2Gen X-EGG MP3 Player Dock [link]
X-Egg is a unique type of device. Shaped and sized like an egg, you can fold the egg open to listen through wide-phased internal stereo speakers. It's not an MP3 player by itself. The X-Egg is a dock for any music player from an iPod to a PC. It's portable and runs on 4 optional AAA batteries for up to 14 to 16 hours. The X-Egg also comes with an AC adapter. It has a line-in jack to accommodate virtually any player around. It also has an SD memory card slot to play music directly from your SD cards. It supports both MP3 and WMA files.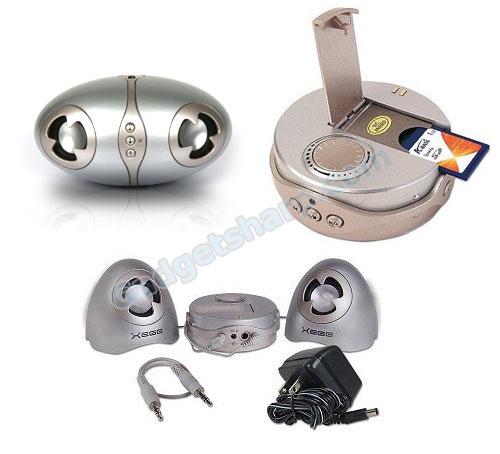 3. Swimp3 Underwater MP3 Player [link]
TheSwiMP3.1G is a waterproof mp3 player created with a unique innovative sound transfer technology that offers exceptional underwater sound clarity.
Standard players rely on the transmission of sound through air or water which causes the swimmer to perceive only muffled noise. Because the SwiMP3 uses bone conduction, the sound vibrations are able to be directly transferred from the cheek bone to the inner ear, giving the swimmer the ultimate sensory experience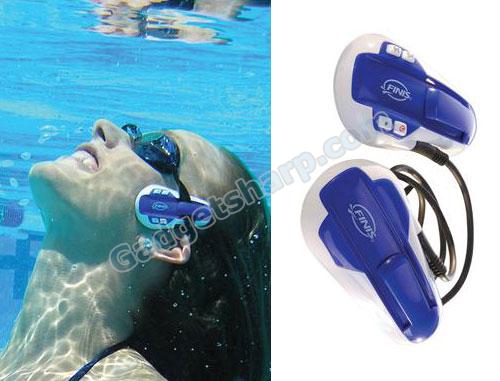 4. Dual Music Player That Plays Your MP3 Collection & Your CDs [link]
You want to enjoy your audio CDs while traveling but you also have a huge MP3 collection at home that you want to take with you. The ideal solution? DMP, a portable music player that supports CD and MP3 files. Use the MP3 player as you normally would, hang it around your neck, clip it on your jeans or place it in your pocket. Otherwise open both sides and insert your favorite CD and you got yourself a CD player my friend.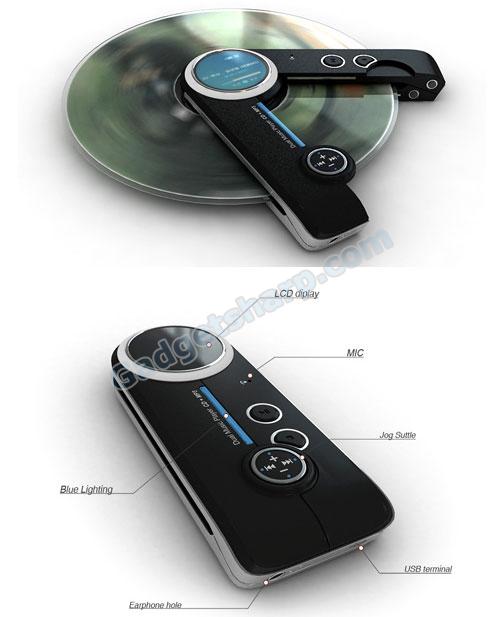 5. Lovers MP3 Player [link]
The interlocking Lovers MP3 players come together to form a single red heart, but can be played separately when you?re apart.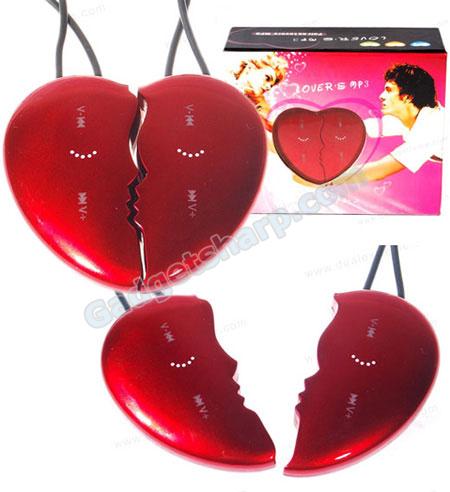 6. Tactile MP3 [link]
Why tactile? Simply because the 5 basic controls necessary to master your music are raised bumps, something like braille. The idea is you can control your music all by the sense of touch. Design wise, it?s pretty slick, like a dollop of shiny mercury backed by some creamy marshmallow puff.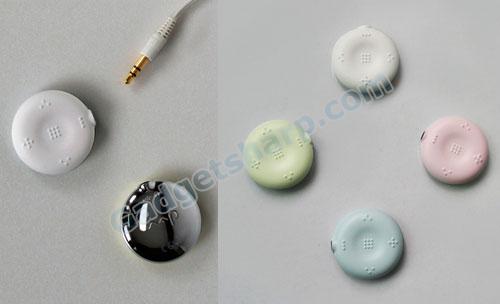 7. Rubik?s Cube Mp3 Player [link]
The idea is from Rubiks cube puzzle. The only way to activate the mp3 player on is similar to playing with the Rubiks cube puzzle, by solving each layer has a specific function such as play, pause, forward or back. And of course the only way to turn it off is by completing it. Users can now listen to the music while having fun.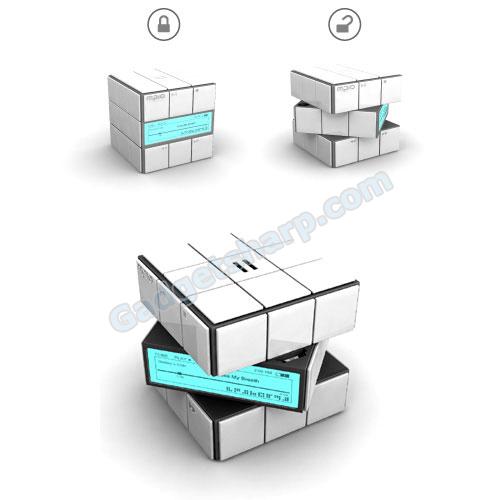 8. Mobiblu Nanum MP3 Player [link]
Mobiblu's known for their six-sided Cube MP3 players, but this Nanum is the first one we've seen that actually deconstructs from a cube into a cross. We're not sure what good having a flat cross-shaped MP3 player would be, but these things are seriously tiny. Seriously, it's so small that we can see someone being able to choke on it.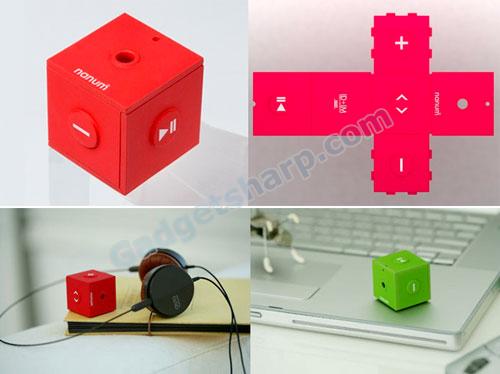 9. Saint B MP3 Player [link]
Cross shaped MP3 player with up to 13 hours of playtime when fully charged.
10. The Acorn MP3 Player [link]
The Acorn MP3 player from Evergreen, is shaped like an Acorn and encased in wood, its controls are at the top of the Acorn and you plug your headphones in the bottom. It comes with 1GB of storage and plays MP3, WMA and OGG files, and measures 28mm in diameter and is 35mm tall.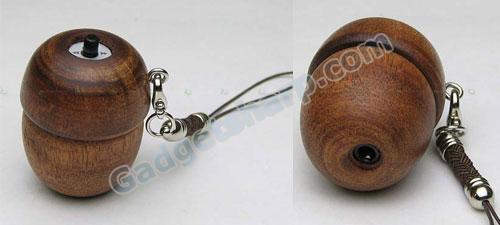 11. Taser mp3 player [link]
Taser, the world's leaders in delivering high-voltage shocks to the target of your choice, are releasing a handy all-in-one stun-gun and mp3 player carry case. The Music Player Holster's mp3 player can hold up to 1GB of music ? enough for 150 or so songs ? and the C2 stun gun can deliver 50,000 volts into your desired shockee, via a pair of darts. So, if you're looking for a perfect present for that music fan/electric shock enthusiast in your life, look no further.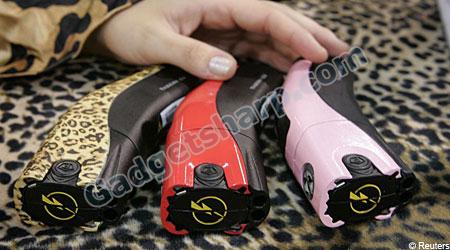 12. Tok Tak Plug Plays Music [link]
The entire device looks like a standard audio jack, in fact that?s pretty much what it is. The plug dangles from your earphones when used on the go. People might mistake you for crazy walking around with what looks like earbuds attached to nothing but they?d be wrong. The Tok Tak also comes with a base station in which you can plug it in to recharge, upload new music, and act as a joystic controller to listen to your turns externally.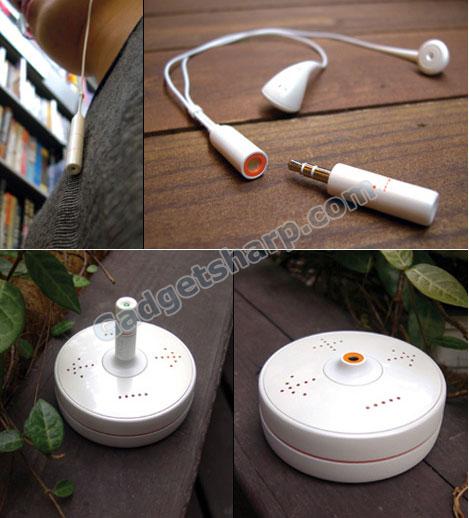 13. Ladybug MP3 Player for Child by Mark Honschke [link]
This is a childrens MP3 player which would also act as a voice mail pager. Parents would record a voice mail over the phone, which would then be sent and played as an mp3 file, through the retractable ear phones. The feet are also retractable, allowing the user to take the player off the belt clip and place on a desk for listening. The spring loaded wings open up to reveal a card slot for extra flash memory. Spare wings would come in a variety of colors and can be swapped to customize the player for each individual user.