The snake is one of nature's oldest and most mysterious animals. Most women understand the knack of making themselves stand out in a huge crowd by using different pieces of jewelry in snake designs. Over the years vintage fashion snake jewelry has gained tremendous popularity. Different kinds of metals and materials like yellow gold, white gold, platinum, beads, crystals and bright colored gemstones, etc are used in various designs in snake jewelry. Here is our collection of 9 Stylish and Unique Snake Jewelry Designs, hope you enjoy.
1. Adder Bite Alchemy Gothic Snake Ring [amazon]
Gigantic, venomous serpent spanning two fingers to sink its teeth into the third. Generally worn on the ring finger, with the snake biting the forefinger. This massive Alchemy Gothic pewter ring cannot be ignored! 3? across, 1 1/2? wide.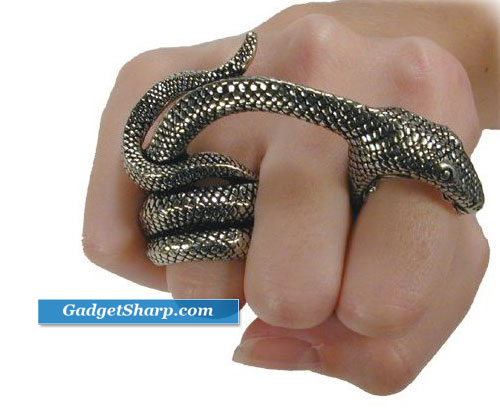 2. Gold Tone Upper Arm Snake Bracelet [amazon]
Gold Tone
Upper Arm Coil Cobra Snake Bracelet
Expandable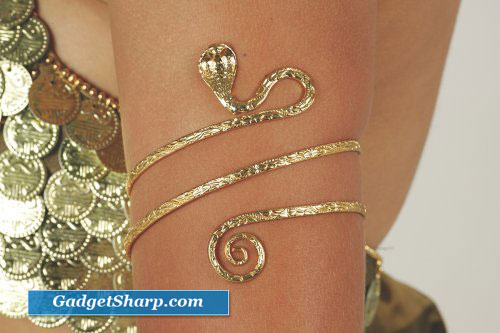 3. Trendy Gray Rhinestone Snake Earrings [amazon]
The snake trend never seems to go out of style. These gray rhinestone snake earrings add an edge to any outfit. Earrings are two inches long.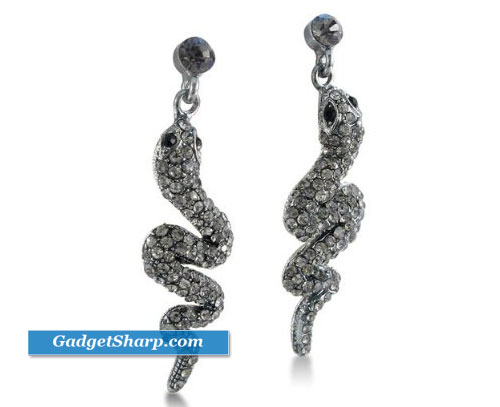 4. Mesmerizing Gold Tone Snake Choker Necklace [amazon]
Slither your way into the best dressed list with this sultry snake choker necklace. The mesmerizing snake choker adjusts to fit, giving the illusion of a gold toned serpent wrapping itself around your neck. Two jet black crystals are embedded in a marquise shape on the snake's head, giving a bit of sparkle to your serpent friend. The entire necklace measures 6mm in diameter and 46cm in length. Plus a gold tone construction provides an electrifying glow. Also check our store for matching bracelet.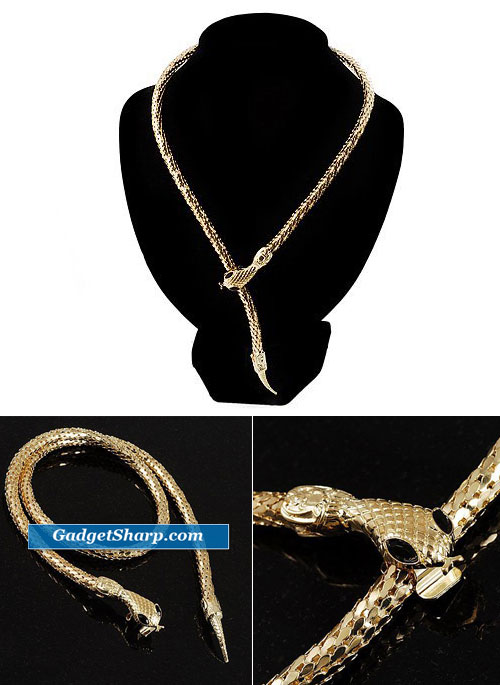 5. Sterling Silver Snake Charm [amazon]
The head of this intriguing snake charm is toned in red epoxy, with lime and pearl tones accenting the snake's body. The opposite side of the snake is stunning 925 sterling silver, ensuring that this is one snake you'll want to charm.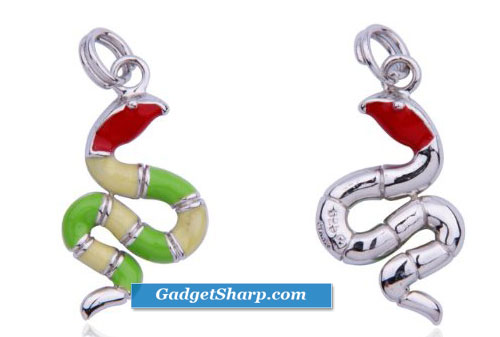 6. Silver Slithering Snake Cufflinks [amazon]
These Slithering Snake Cufflinks are a unique accent to your outfit. The slithering snake animal design is great for snake lovers and those looking for a different type of cufflink. Each pair measures approximately 3/4" x 1/3" and comes presented in a black gift box.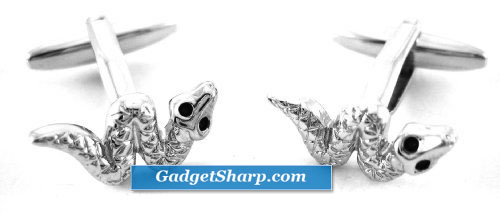 7. Snake Bangle Bracelet in Sterling Silver [amazon]
Sterling Silver Made in the USA, giving American's jobs. Fits standard woman's wrist A wonderful gift for someone special or a treat for yourself.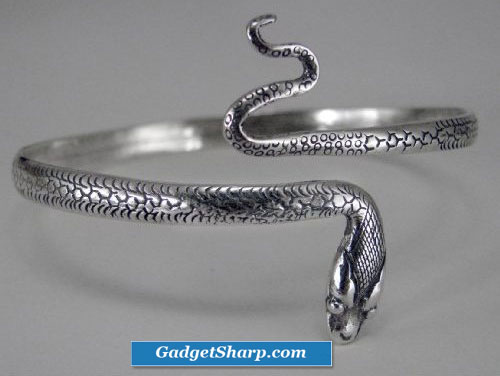 8. Fun Crystal Aurora Boreale Hissing Cobra Snake Keychain [amazon]
Designed in a silver-tone metal, this cute keychain features one semi-coiled cobra snake, encrusted with crystal aurore boreale rhinestones. It is simple darling!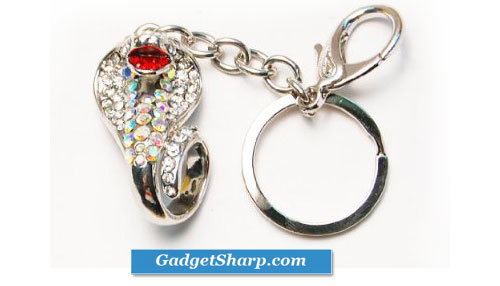 9. Pola's Silver Snake Bracelet [amazon]
Slither your way into the best dressed list with this sultry snake bracelet. Pola's Snake Bracelet stretches to fit, giving the illusion of a silver toned serpent wrapping itself around your wrist. Clear diamond colored rhinestones are embedded in a heart shape on the snake's head, giving a bit of sparkle to your serpent friend. The entire bracelet measures 2 inches in diameter and stretches to approximately 3 inches via strong, clear elastic. Rhinestones measure 0.10ct (3mm) each. Materials: Rhinestone, Lead free silver tone Measures: 7mm wide Weight: 22.8 grams