We have seen 18 Food Inspired Earring Designs in our last topic, I guess you began to get used to those unusual / bizarre earrings and probably won't be that surprised to see the earrings in this post. Really? For me, I am still amused/shocked when I prepared this list. Seriously, hanging scissors, knives, gun, bullet, handcuff and even poo and toilet paper… Em…pretty interesting? Check out the list by yourself, here is our 18 Life Object Inspired Earring Designs.
1. REAL Working Sharp Tiny Folding Knife Earrings [link]
You would look "sharp" in these earrings. They are adorable yet dangerous! When you put them on, they look like your standard dangle earrings from one side. From either side, you can see they are tiny folding knives.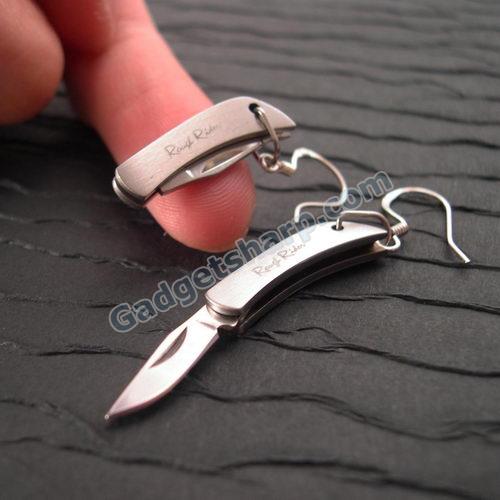 2. Antique Brass Scissors Dangle Earrings [link]
Antique brass scissors dangle earrings

Whimsical and unique; Great for every day

Size of charm - 3.5 cm (1-3/8 inch) in length

Earring hooks are nickel free, safe for sensitive ears

Includes a gift box without extra charge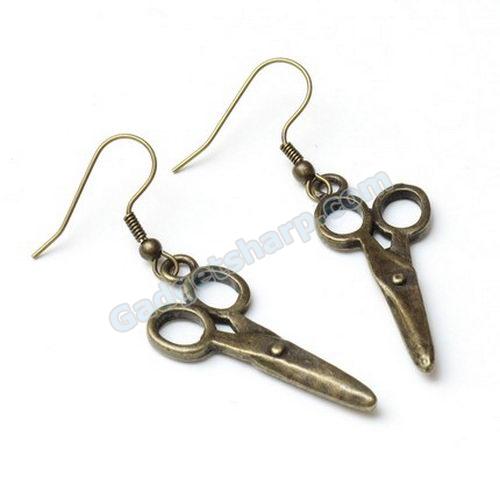 3. Bicycle Earrings [link]
Antique silver colored bicycle charms dangling from silver plated nickelfree hooks. The bicycles are circa 1.8 cm (0.7 inch) wide and tall. The total length of the earrings (incl hooks) is circa 3 cm (1.2 inch).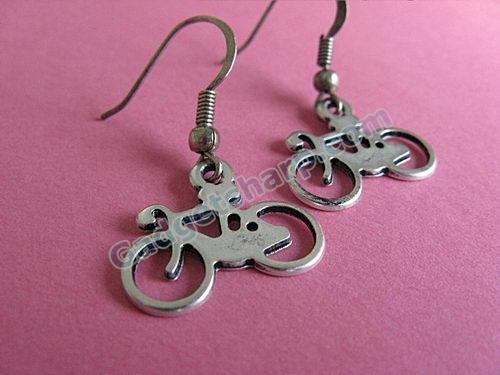 4. High Tea Earrings - Cupcake and Teacup Dangle Earrings [link]
You will have an acrylic baby pink heart and antique silver colored cupcake charm in one ear, and a heart and a teacup charm in the other. Both charms are dangling from silver tone chain on silver plated nickelfree hooks.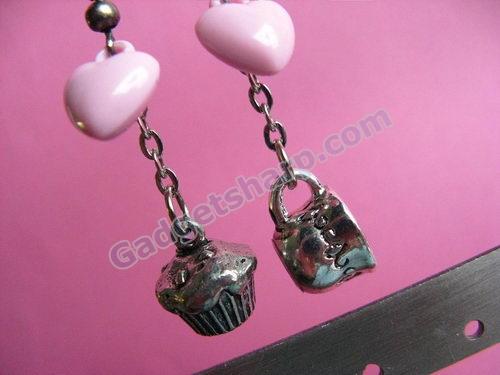 5. LIFE'S A DRAMA Vintage Theatrical Earrings on Oxidised Copper Ear Wires [link]
'LIFE'S A DRAMA', wonderfully theatrical and dramatic, with vintage brass comedy/tragedy masks and 1940s milk white glass beads strung on fine copper chains and artisan crafted natural copper ear wires that have been oxidised.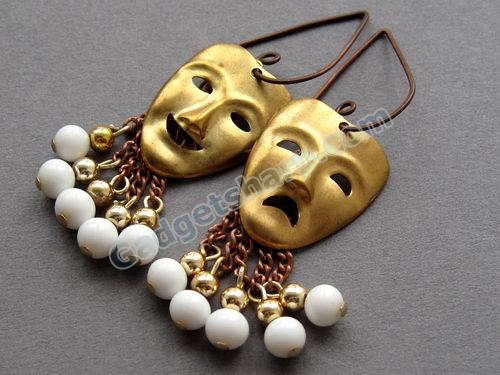 6. Gun on a Wire - Dangle Earrings [link]
Little metal guns dangling on a small chain. The earrings are circa 5 cm (2 inch) long, hooks not measured. The guns are circa 2 cm (0.8 inch) wide.
7. Bullet Earring [link]
Although the bullets used are real bullets & actual fired brass casings, all internal components have been removed to make them very lightweight! They are harmless - not dangerous in any way! Bullet earrings dangle approximately 1 3/4" (measured from top of earring hook to bottom of bullet).
8. Clothespegs Earrings [link]
It is designed to reflect the simple pleasures like hanging out the washing on a warm summer day.
9. Spoon Earrings [link]
These spoon earrings are perfect for someone who wants to stand out! They are hung on hypoallergenic french hooks, safe for even the most sensitive of ears.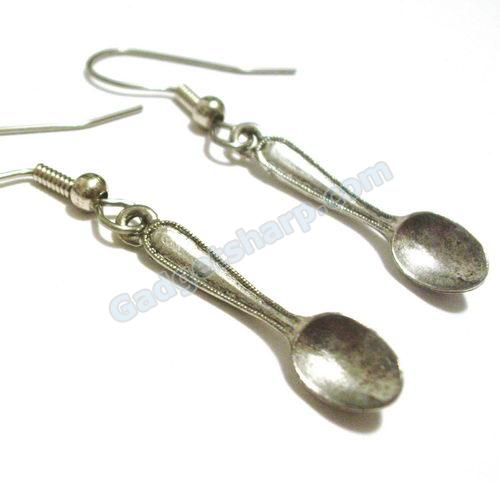 10. Queen of Hearts silver fish hook earrings [link]
Vintage style Queen of Hearts wood playing cards on silver plated fish hook earrings. All face cards and aces are available. These are a great gift for that special card player.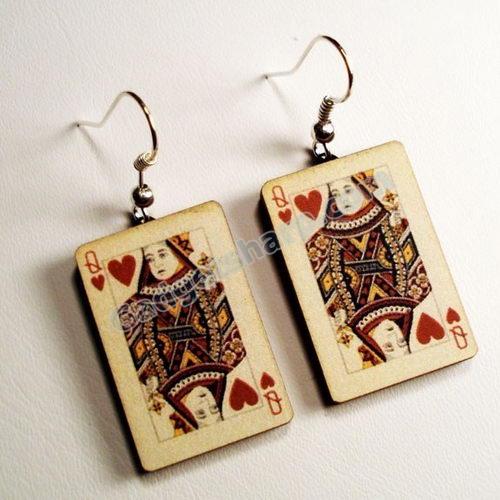 11. Lucky Dice Earrings [link]
These earrings bring the fun with them, no matter where you go. Whether you're placing bets at the casino or rolling doubles in monopoly, they can get you out of jail free!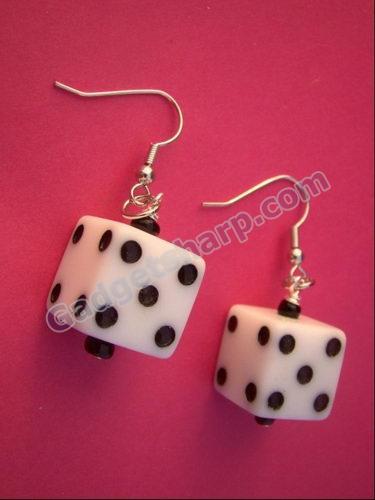 12. A Tourist In Paris Earrings [link]
Do you love Paris? Or do you dream of going there some day? These necklace is just the thing for you then! You will be the perfect tourist with an Eiffel tower in one ear, and a camera in the other.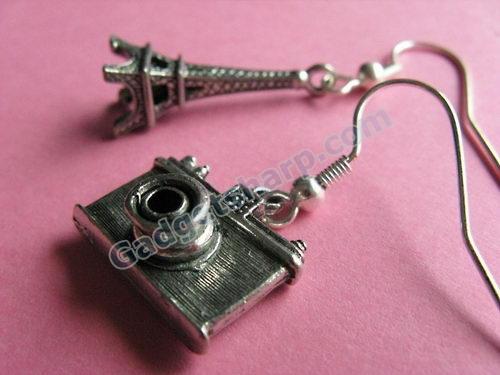 13. tighty whities earrings [link]
These cute little tighty whities earrings are a definite conversational piece and were fun to create. They measure at approximately 1 1/2 inches in height and would make a fun and playful addition to any earring collection.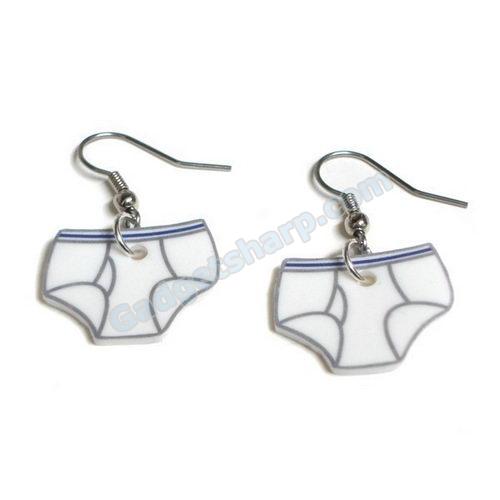 14. Measuring Up- Measuring Tape Dangly Earrings [link]
These fun earrings are made with blue measuring tape (in cm) turned into loops and silver-plated earwires. Each measures approximately 2.3'' (6cm) in length.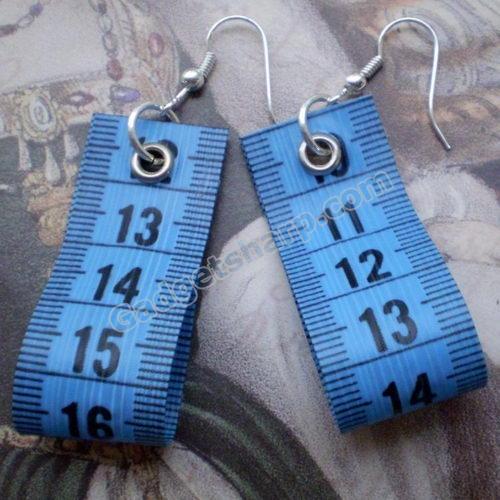 15. gold cuff earrings [link]
who said handcuffs are just for hands? A pair of gold plated handcuff charms, on gold plated earrings. so cute!!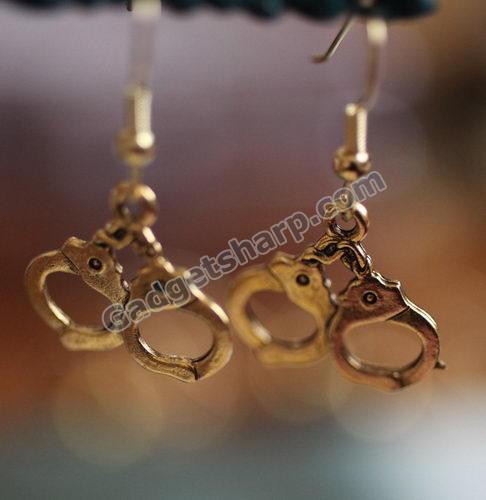 16. LEGO Video Camera Earrings [link]
Keep it rolling! These LEGO video cameras are perfect for all movie and film fans of all ages! They are hung on hypoallergenic french hooks, safe for even the most sensitive of ears.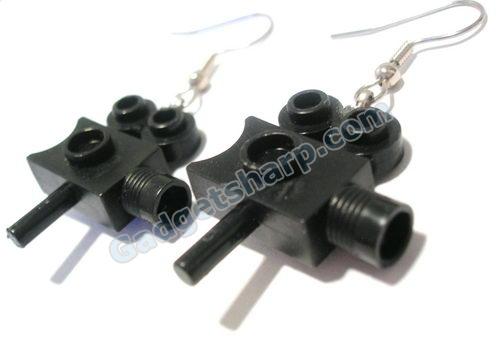 17. Steel 'Talon' Vintage Zipper Slide Stud Earrings [link]
These slides are an understated style manufactured Talon. They are made of steel and have beautiful lettering and lines engraved in the tabs. Slides similar to these were made for several decades, but these are most likely from the 1950s or 60s.
18. Poo and Toilet Paper earrings [link]
This is a kawaii inspired pair. They are hand sculpted out of polymer clay. Painted as well. They hang on silver tone metal earring hooks.