Not sure are those really gifts for photography, but they are definitely some interesting photography inspired products. The Film Canister Toilet Paper Dispenser is fun for everyone and the lens shaped mug is cool as well. Take a look at these photography-related design, and probably it does meets your special gift request.
1.The Coffee Mug in the Shape of Nikon 24-70 Lens [amazon]
Replica of Nikon 24-70 lens- stainless steel interior. This coffee mug is one of the most unique items that can be found for a photographer!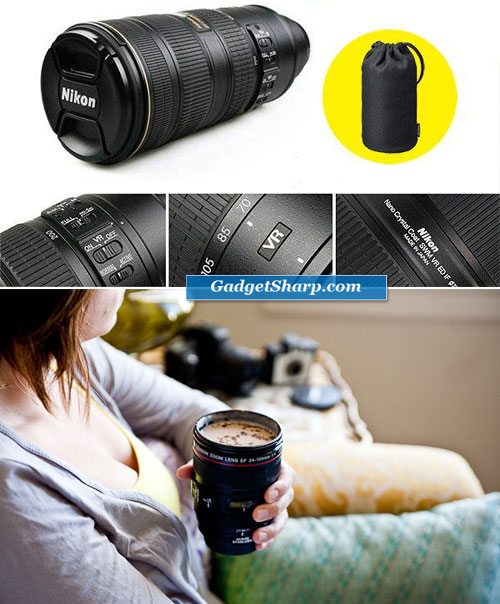 2. Fun Film Canister Toilet Paper/Tissue Dispenser [amazon]
This fantastic film strip toilet paper dispenser/tissue box adds some fun to your bathroom
Holds normal size toilet paper roll; Makes a great gift for any photographer
Size: 16.0 x 13.5 x 12.5 cm; Color: Brown
Package Contents: 1 x film canister toilet paper dispenser</
HDE? is a registered trademark and is the only authorized seller of HDE branded products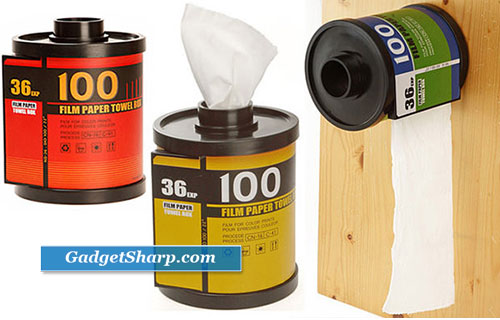 3. Camera Cookie Cutters [amazon]
Decorate or eat right out of the oven
Three Camera Cookie Cutters: SLR, TLR, Rangefinder
Both an outline cutter and a stamp
Made from high impact, BPA-free, food-grade plastic
Great for cutting sandwiches - traditional or ice cream

4. Camera Bank [link]
Give saving money a shot! Playful camera-shaped money bank Coin slot along the back Stopper at the bottom Lightweight design 3.75"l, 5.5"w, 3.5"h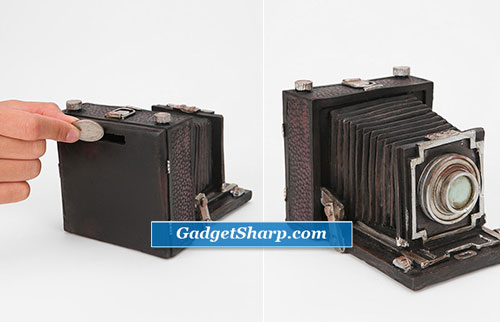 5. Vintage Polaroid SX-70 Land Camera Canvas printed photo Pillow [link]
All pillows are made from original photographs taken by in the seam's shop owner and photographer: Ronda J Smith. Printed on fine art canvas, hand stuffed, and sewn onto black cotton-twill fabric to create: "COUCH ART"!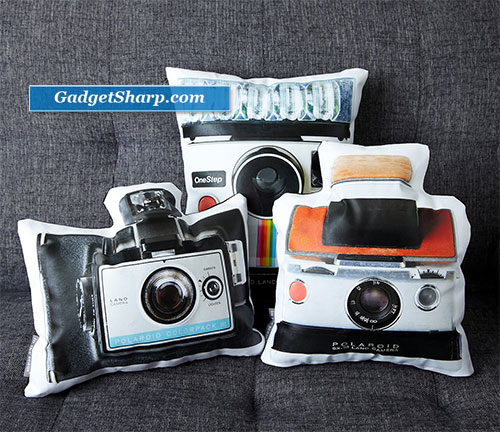 6. Vintage Camera Bookends [amazon]
Designed to resemble vintage cameras, these stylish bookends are a wonderful way to keep your books organized and decorate your shelves. Perfect for your favorite photographer or film enthusiast, these unique camera bookends are a great way to infuse a bare shelf with traditional style.
7. 4 GB Camera shape USB Flash drive [amazon]
USB Flash Memory Drive
Easy plug and play installation
nterface: USB 2.0; Capacity: 4 GB
Compatible with Windows 7, Windows XP, Windows Vista, Mac OS 10+ and Linux; Hi-Speed USB 2.0 port required for high speed transfer
canon camera shape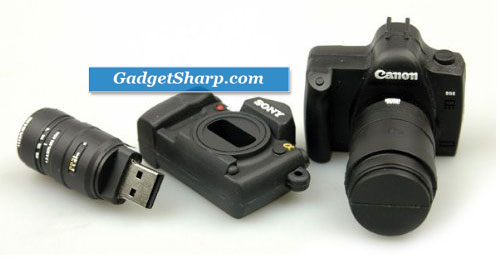 8. Kikkerland Camera Pencil Sharpener [amazon]
Don't be fooled, it's not a working camera, it's just a pencil sharpener. It can be adjusted to match the size of most pencil widths and has a handy tray for removing the sharpenings.