Solar power is the generation of electricity from sunlight, which is regarded as a kind of clean energy and welcomed by human. We have been seen lots of solar-powered products in our daily life, such as solar watch, solar calculator, solar lamp and etc. In today's post, we will introduce you some unusual and innovative solar-powered products like Solar Powered Tie, table, swimming suit. Hope you enjoy!
1. Solar Powered LED Bookmark Booklight [link]
READ functions as a bookmark and portable reading light. This is handy device that can be used for reading in a dark environment without disturbing others. It also functions as a reading aid to the elderly or those with poor eyesight. 6 LEDs provide a generous 8 hours of reading time. Simply leave the device in the sun during the day to recharge using its embedded Photovoltaic cells, removing the need to change batteries. When finished reading, the device functions as a slim bookmark and the light is turned off by a contact switch when the book is closed, and on once it is opened again. When not used as a bookmark, [LITE]READ could be folded in half and carried around easily.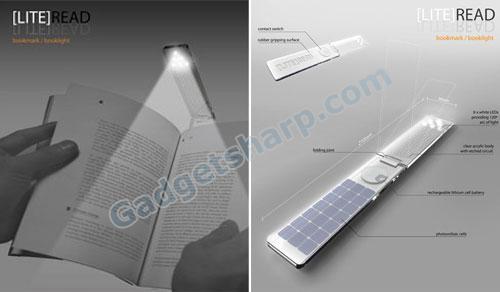 2. Solar Powered Tie [link]
Researchers at Iowa State University have glued solar panels onto the symbol of male corporate oppression and hooked it up to a Nokia phone, which sits in a handy pocket at the back of the tie.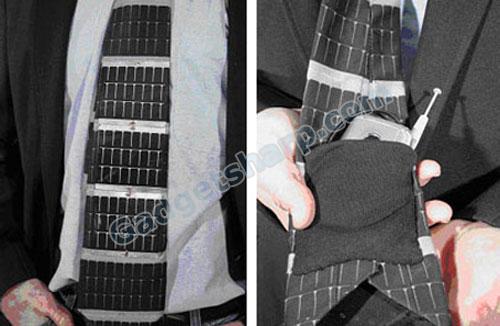 3. Sun Table [link]
Enter Sun Table, a project of Brooklyn-based Sudia Design Labs, as the happy medium. The outdoor table is small enough to take home with you, but attracts enough rays to power your laptop and various other home office peripherals, and even a television and DVD player.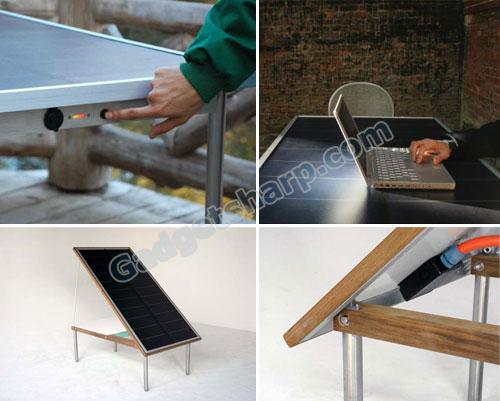 4. Solar Powered Solar Panel Sun Glasses [link]
The glasses themselves don?t need power to block the sun?s rays from your eyes. That?s power-free. The SIG, or ?Self-Energy Converting Sunglasses? are quite simple. The lenses of the glasses have dye solar cells, collecting energy and making it able to power your small devices through the power jack at the back of the frame. ?Infinite Energy: SIG?
The dye solar cell is described by the designers of the SIG as ?cheap organic dye [used with] nano technology [providing] cheap but high energy efficiency.? Inexpensive, light, and visible-ray penetrable. The lens turns sunlight rays, (rays that would otherwise harm the eye,) into electrical energy.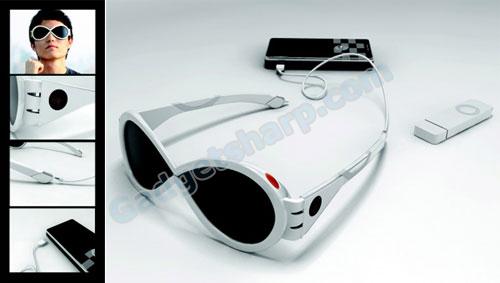 5. Noon Solar Bags [link]
These Noon Solar Bags that amazing us the solar bags can be made so stylish. The Noon Solar Bags($274-$412) integrates two-sided design allows solar panel to face the sun, the flexible solar panel that is capable of charging small electronic devices such as cell phones, iPods, or PDAs. The panel charges an internal battery pack that stores the power until it's used. And the bag's meterials made of biodegradable materials such as chrome-free leathers that are tanned with sustainably harvested materials like rhubarb and walnuts and naturally hand-dyed hemp/cotton fabric. The green stylish bags.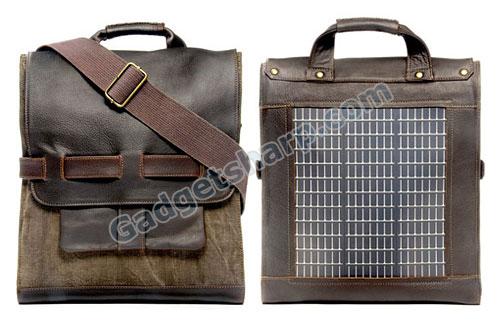 6. Scott Solar SeV Jacket [link]
If the number of electronic gizmos you carry makes you feel like Inspector Gadget, the SeV jacket?s ?Personal Area Network? will finally give you somewhere to store everything: concealed pockets (30 of ?em!) and channels let you keep all your devices connected without strangling yourself in wires. Cool. But it?s the solar version that gets the TH a-ok. The flexible panels on the back are perfect for days when you don?t feel like dragging your solar backpack all over town. With a middleman battery, they charge most USB-chargeable devices, including cell phones and MP3 players?direct sunlight will give a full charge in 2-3 hours, but the battery is usable as soon as it starts charging. The downside: won?t charge an iPod, which apparently has to be authenticated by a computer to be charged (they?re working on a fix). But with another player, the panels can be removed and used without the jacket?we?re thinking lazy picnic afternoons filled with solar-powered music.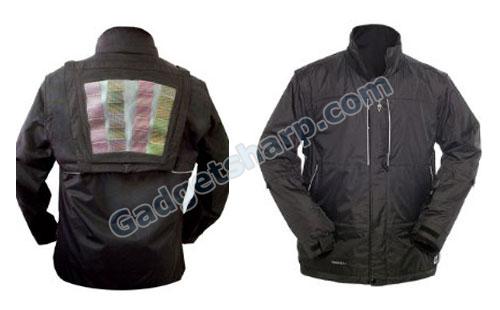 7. Triumph's Solar Swimsuit Powers USB Devices [link]
There have been prototypes before but this Triumph's Solar Swimsuit seems to be the first that is going to be commercially available. Created by lingerie and swimwear manufacturer Triumph and photovoltaic cell manufacturer Conergy, it will provide enough power to feed a cellphone or an iPod.
see another Solar Powered Bikini [link]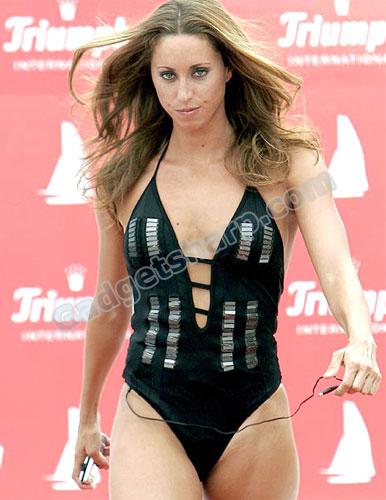 8. Solar Powered Headphones [link]
The Q-SOUND headphones would not only allow you to listen to music via any Bluetooth-enabled digital audio player, but also would let you take calls on any Bluetooth-enabled cell phone. If your player doesn?t support Bluetooth there is also a 3.5mm jack to allow for a wired connection. The headband is constructed of flexible plastic incorporating amorphous silicon solar cells, while each rubber-based earpiece can be adjusted to fit differently shaped and sized heads.
Two removable NiMH rechargeable batteries, with a capacity of 800mAh and operating voltage of 1.2V, are located within the headband, just above either earpiece, which keep the headphones charged for up to 40 hours.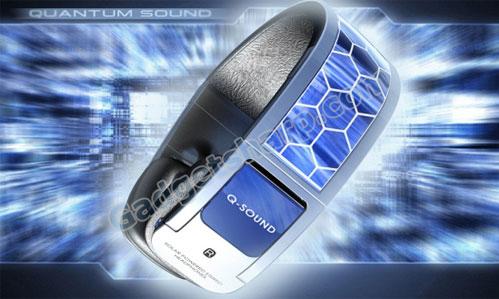 9. Solar Powered Plant Pot [link]
This stylish designer plant pot soaks up the sun?s rays in order to charge internal battery that powers several built-in LEDs.