Baby is one of those cutest creators in the world. We love me so much, hence we want to take well care of them. In this post, we rounded up some sweet goodies for your loved babies. From robe to mat, from swing to Projection Mobile, from bath tub to activity gym, we want to sleep well, dress well, bath well and play well. Take a look at those lovely but functional designs, maybe you can find something useful for your sweet angle.
1. Baby Aspen "Let The Fin Begin" Terry Shark Robe [amazon]
Mom and Dad are going fall for this terry-ific sea-inspired robe–hook, line and little stinker. After a refreshing bath time for baby, they'll want to wrap their wiggly, wet one in something cozy, absorbent and cute. Baby Aspen's Terry Shark Robe is reel-y fun and oh, so fin.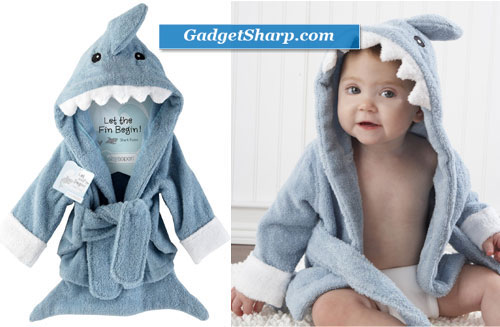 2. Fisher-Price Zen Collection Cradle Swing [amazon]
Part of the new high-end exclusive Zen Collection for Baby, sophisticated look has upscale materials and all the must have features moms look for
Features a seat that rotates 90 degrees to provide side-to-side cradle motion or front-to-back swing motion together with a range of speeds
Features two sound effect sound tracks and 14 songs in a unique Zen-like orchestration - 6 lullabies and 8 entertaining musical tracks
Beautiful accents and fabric design
Uniquely designed mobile with three fun patterned characters that moves gently and freely on their own to soothe and captivate baby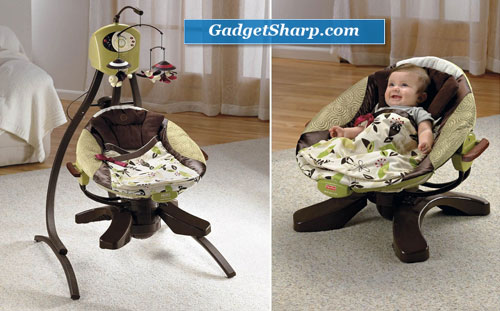 3. The Soft, Foldable Baby Bath Tub [amazon]
The NEW way to bathe baby!
Fits in any standard bathroom sink
Conserves water, energy, and space!
Cradles and protects baby allowing mom to wash with both hands
Made from a soft, non-slip, PVC- and BPA-free material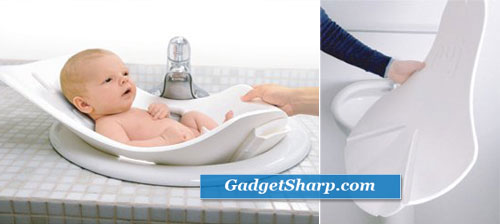 4. Fisher-Price Precious Planet 2-in-1 Projection Mobile [amazon]
Animal-themed mobile combines music, plush animal figurines and movement with light projection
Soft, colorful animal friends from around the planet twirl and smile down at your baby
Plays a full 20 minutes of music and nature and heartbeat sounds
Includes one remote control and 4 plush animals
To see more information click the "watch it in action" link below the main product images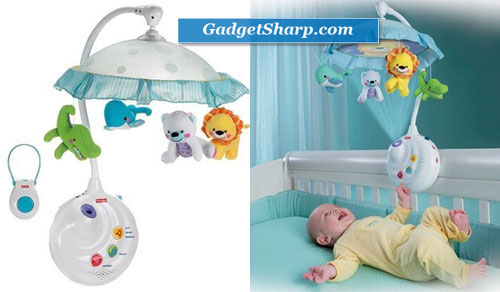 5. Cloud b Sleep Sheep [amazon]
4 Soothing Sounds: Mother's Heartbeat, Spring Showers, Ocean Surf and Whale Songs
Velcro tab to secure Sleep Sheep to the outside of a crib
Removable sound box with adjustable volume and on/off controls
Automatic time-out after 23 minutes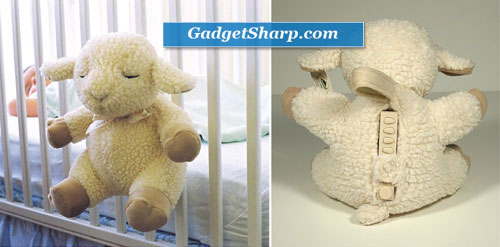 6. "My Little Night Owl" Snuggle Sack and Cap [amazon]
Enchanting, owl-inspired snuggle sack and cap with plush, ribbed fabric outside and comfy-cozy 100% cotton inside
Snuggle sack is ribbed, camel-colored polyester with rich-brown jumper-like fit at the top, an applique that says My Little Night Owl,a round, gold tummy with white, diamond-shaped accents and a plush, green wing on each side
Easy open-and-close snaps at the shoulders and zipper on the bottom for quick access
Matching cap has owl-like ears, two wide eyes, an orange beak and crest and braided-fabric ties with fuzzy balls on the ends
Snuggle sack and cap arrive on a tree branch-shaped cardboard hanger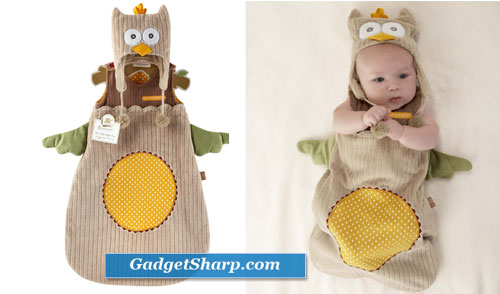 7. Cloud b Twilight Turtle [amazon]
Comforting and adorable, the Twilight Turtle nightlight projects a complete starry night sky onto the walls and ceiling of any room, making night-time less scary and more fun. Choose from three soothing color options to create a magical, tranquil environment that helps children from age three and up to ease into restful sleep.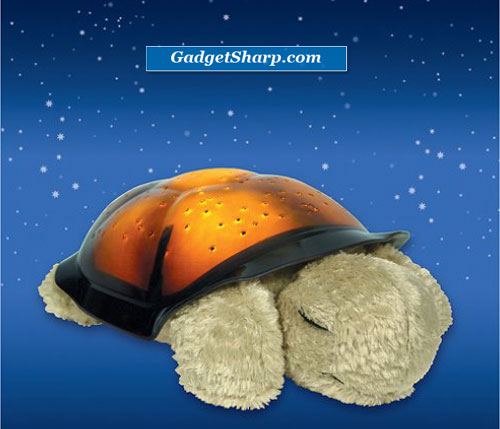 8. Skip Hop Treetop Friends Activity Gym [amazon]
Lots to do and see in the Treetop! Our adorable, ACTIVITY GYM has soft, linen and patterned arches and a matching supportive Tummy Time pillow. 13 easy-to-hang loops and 5-hanging toys offer irresistible multi-sensory play for baby at every stage of development. A mirror and sounds on the mat surface add to the fun! MIRROR APPLE has baby-safe mirror and tuggable stem CHIMING OWL with felt-ruffled tummy for tactile play RATTLE BIRDIE with see-through rattle and crinkle wings NUTTY SQUIRR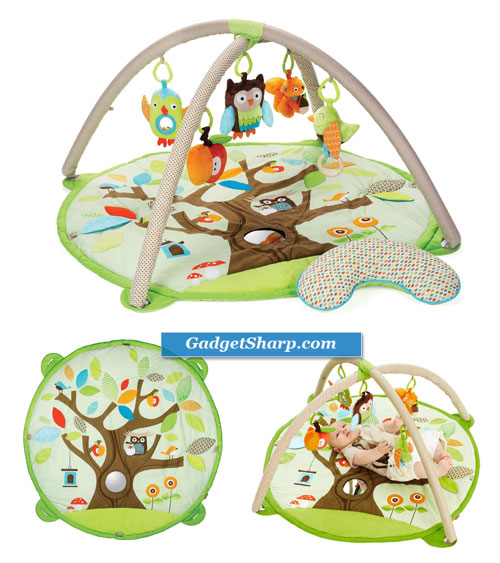 9. Ergo baby Ergo Baby Carrier [amazon]
Ergonomic design
400 threads per inch cotton poplin lining and hood
100% cotton batting in body of carrier to soften edges
One inch, high density foam in shoulder straps
Quarter inch high density neoprene foam in waist belt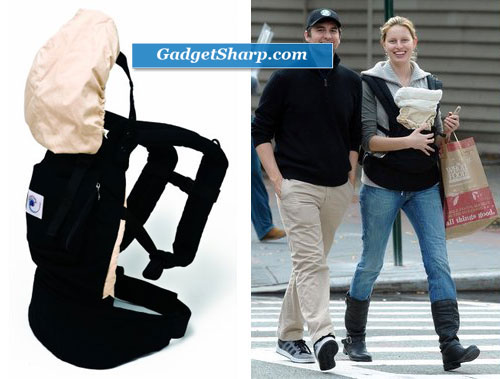 10. Carter's Tree Tops 4-Piece Crib Set [amazon]
The Tree Tops Crib Set includes a quilt, bumper, dust ruffle and fitted sheet
Natural colors of greens, tan, browns, blues and russet
36" x 52" quilt is 100% cotton (exclusive of decoration) with a 100% polyester fiberfill, the 100% cotton fitted sheet measures 28" x 52" and is designed to fit standard crib mattresses
The 4-sided bumper is 11" high with a long side length of 51" and a short side length of 27", each portion of the bumper has double corner ties and the longer sides have 2 sets of additional ties along the top and bottom
Dust ruffle has a 14" drop and is a 65% cotton and 35% polyester blend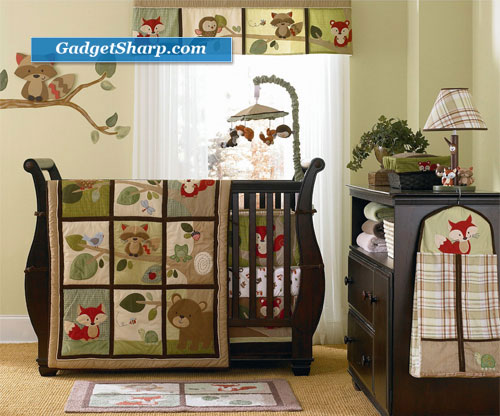 11. Bestever Baby Mat [amazon]
This adorable giraffe is silky smooth and snuggle perfect for tummy time, naptime, playtime, anytime. These large mats make an ideal floor cushion for baby and is a cute and convenient way to protect baby from the floor either at home or out visiting family and friends. Each animal mat has a non skid backing so it won't slip or slide and is stuffed at the head to act as a pillow. The 31" mat provides plenty of cushy comfort while baby naps or plays and is easily rolled up for those little ones