Being a mother is a life changing experience, and making sure that the health of the baby is a primary concern for many mothers to be, but taking care of yourself should also be a concern. There are many items that an expectant mother needs during this special time in her life. In order for expecting mothers to have the most comfortable experience possible, there are a few items help to give the quality of life needed for the mother to endure a healthy pregnancy. Moreover, being pregnant doesn't mean not being fashionable anymore. We also include some interesting designs in the post, which might cheer up Expectant Mothers a bit.
1. Nuvo Ritmo Pregnancy Sound System [amazon]
The Ritmo advanced sound system by Nuvo is the most advanced and complete system for delivering quality and safe sound to prenatal listeners. Ritmo allows you and your baby to share the sensory and emotional experience of bonding through sound and music, while being supportive, safe, and stylish at the same time.
* easy care: washable, quality fabric - the specially woven spandex material continues to look great after multiple cleaning cycles. 

* Convenient: convenient side pockets hold the Ritmo audio controller and your personal mp3 player, enabling you to enjoy a completely hands-free sound experience. 

* Safe controlled sound for baby: plug your Mp3 into ritmo's micro audio controller and Ritmo takes care of the baby's safe listening, continuously adjusting the volume to optimal fetal levels. 

2. The Perfect Pregnancy Workout [amazon]
The Perfect Pregnancy Workout video is a 43 minute pregnancy exercise video: 5 minute warm-up, 33 minute workout, 5 minute cool down. There is also a 12 minute instructional section explaining proper technique for pregnancy exercise.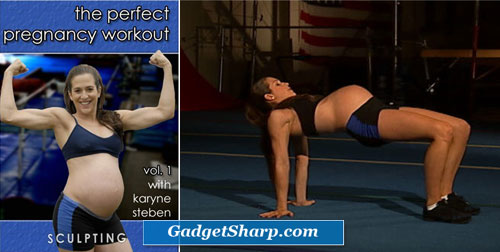 3. Motherhood Maternity: Secret Fit Shaper Panty [amazon]
The secret fit shaper panty is a new patent pending body shaper that smooths hips thighs bottom and belly for a sleeker look Soft waistband and knit in panel that relieves pressure and provides back and belly support Can be worn as support underwear every day and remains invisible under clothing Nylon/spandex shaper with cotton gusset.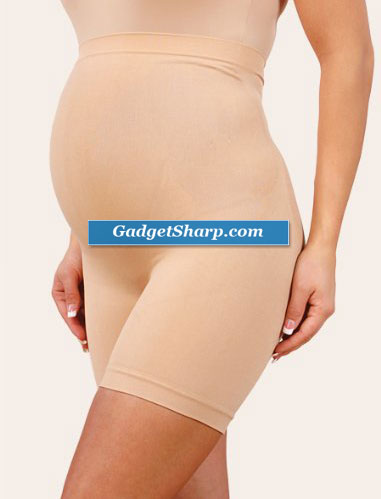 4. BabyPlus Prenatal Education System [amazon]
* Infants who have used BabyPlus are born more alert and responsive, nurse better, sleep better, and later in life, enjoy improved school readiness
* Audio lessons allow baby to discriminate the simple rhythmic sounds of BabyPlus from those of the mother and learning begins
* A progressive developmental tool that gets results
* Tracks usage time starting at 18 - 32 weeks of pregnancy to track your usage goal of playing for one hour twice a day
* Comfortable for prenatal mother to wear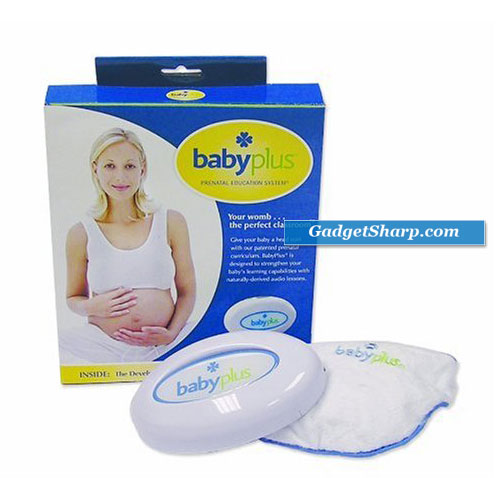 5. Snoozer Full Body Pillow Hypoallergenic Synthetic Fiber Filler [amazon]
* Pregnancy pillow from Snoozer measures 66 x 14 in
* Includes Full Body Pillowcase
* Maternity pillow is filled with a Synthetic Down made from a siliconized polyester cluter fiber
* Maternity body pillow is 100% hypo-allergenic
* Patented ergonomic design of this pregnancy pillow from Snoozer promotes proper spinal alignment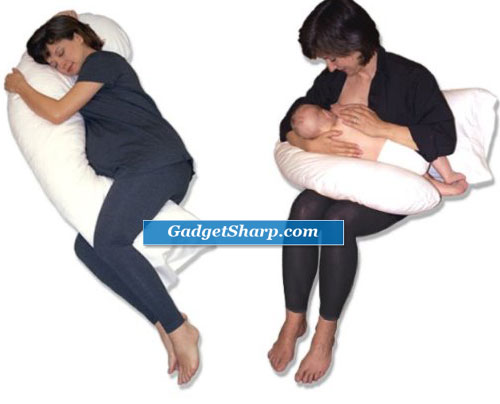 6. ProudBody Pregnancy Belly Painting Kit [amazon]
* FDA approved, water-based paints are easy to apply and remove
* Contains 8 different colors of paint (black, white, red, blue, orange, pink, yellow & green)
* Left-over paints can be stored for future use
* Belly painting brush, belly painting sponge, painting tips & design ideas sheet and sheet of colorful temporary belly tattoos included
* Kit easily paints 20 pictures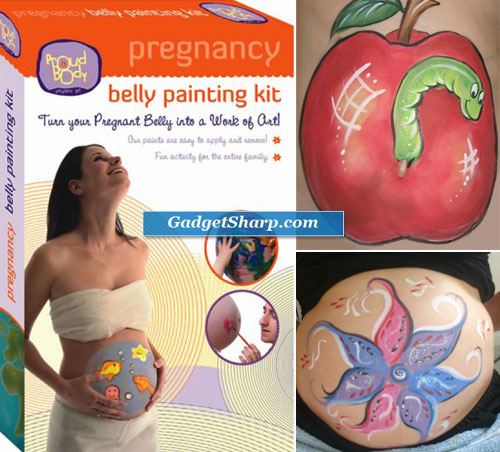 7. Complete Prenatal Vinyasa Yoga & Short Forms 2 DVD Set [amazon]
This 2 DVD set provides you the most flexibility to tailor your yoga practice to meet your busy schedule and your energy level. It Features:
** 15, 30, 45 & 75 Minute Practices Choose the length of your practice each day based on how much time you have and how your body is feeling. Each practice is different, so you won't get bored
** 5 & 15 Minute Relaxations Prepare your mind and body for labor by training your body to relax using this 5 minute relaxation, a great way to end your yoga practice
**Safe Modifications for all 3 Trimesters All 3 trimesters are modeled so you can modify your practice as your baby grows and your body changes
**10 Minute Partner Routine with Doug Swenson? Connect with your partner and baby using this informative and fun partner yoga segment
** Bonus Labor Poses Yoga can be really helpful in labor and childbirth, learn some tips for bringing yoga into the birthing process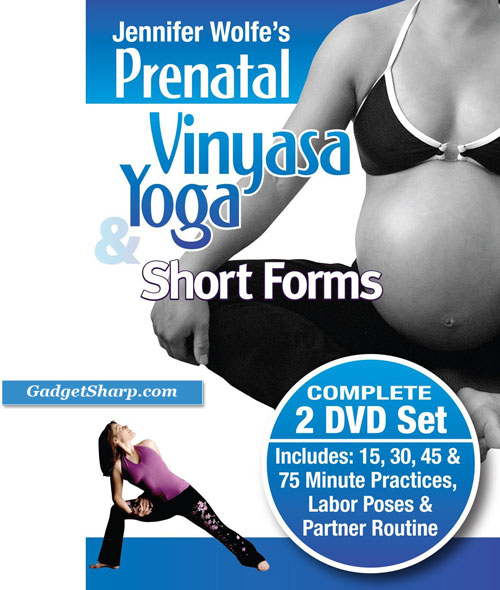 8. Bellybuds - Pregnancy Bellyphones [amazon]
* For those parents-to-be who desire to start the bonding process in utero
* (1) set of bellybuds bellyphones
* (2) sets of hydrogel adhesive rings
* (1) set of bellybuds buddons
* (1) one neoprene storage pouch with belt clip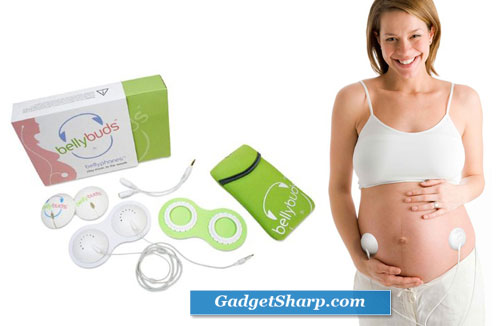 9. Boppy Pregnancy Wedge with Cotton Slipcover [amazon]
* Position pillow
* Luxurious soft pima cotton slipcover
* Cover removes for easy washing
* It can be used for a back support
* Takes up less room than other full-sized body pillows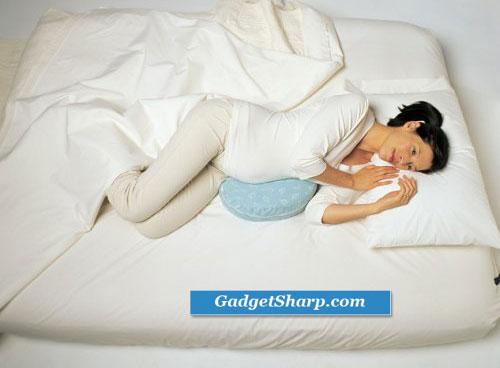 10. I Dream of Sushi Labor & Delivery Gown [amazon]
This labor gown is designed to be disposable thus environmentally friendly. The 100% cotton fabric is absolutely amazing and a million times better than the paper gown you'll be handed at triage. The ties are strategically placed so that fetal monitors and iv cords. The back is low for epidural placement without being to revealing (but let's face it childbirth is revealing. This gown is not suited for nursing due to the ties that are featured on the front of the gown.