Christmas ? Holiday Season and of course, shopping season? For most of you, you might speak to yourself I would save money after Christmas, just like me (lol). So an engaging and interesting coin bank might be a good gift for you as well as your friends. Of course, it is also good for children. Moreover, different style unique decorative coin banks can also be a great part of your home accessories. Sounds good? Let?s check our today?s post, 9 creative and unusual coin banks.
1. Coin Lamp [link]
Coin Lamp is based on the concept of values and reward, it subtly heightens awareness of consumption through design.
Turned on by a coin-operated switch, the lamp is set to predetermined time by an internal mechanism. Developed with the assistance of a NESTA training programme.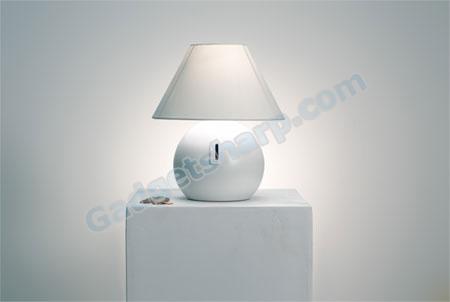 2. Save Money Clock [link]
If you want to save money, then make sure you do it in time. Clock. White ceramic. Quartz movement. 30 cm diameter.
NO NEED TO BREAK IT. CAP AT THE BACK TO PULL OUT THE COINS.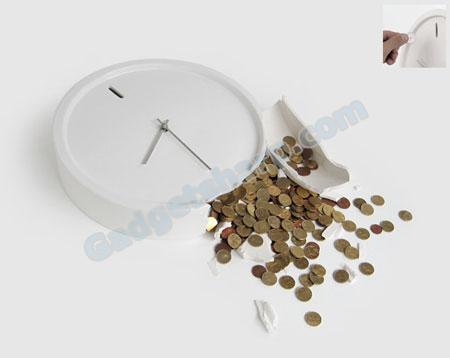 3. coin bank [link]
If you are getting bored by the conventional piggybank, you should start seeking for new method of saving your coins. Here is a solution shared by Revol-Design. They have created what they called ?Coin Bank? to save your coins, and at the same time to show how coin-rich you are by turning your coins into a room divider.
The only down side is the way of removing the coins from the bank. There is a lock at the bottom side and once you unlock the lock, thecoin will start down fall like a waterfall!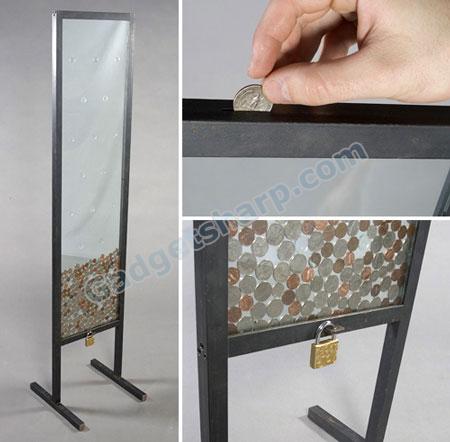 4. Coin Factory Bank [link]
Coin Factory Bank - shows a mesmerizing display of mechanical wonder every time you drop a coin. It is so addicting you won?t be able to stop dropping coins into this machine. You can insert up to 3 coins at a time, press the Start Button and watch as each coin travel individually. Once the coins are safe, the electronic brain automatically shuts off the bank, waiting for the next coin to be deposited. Uff, it sounds like a lot of work for a dime!
http://www.amazon.com/gp/product/B001LR0H5Y?ie=UTF8&tag=oddee-20&linkCode=as2&camp=1789&creative=390957&creativeASIN=B001LR0H5Y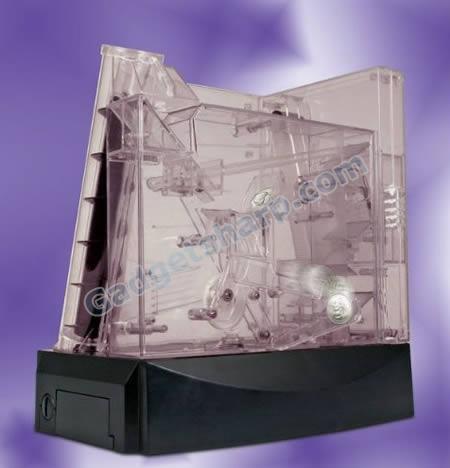 5. Fanny Fart Bank [link]
This is a funny moneybox gadgets called The Fanny Fart Bank. The Fanny Fart Bank comes with six different long fart sounds. Everytime when you drop some coins in, you will get different long fart sounds. It has a cap located at the bottom that can be removed, so that you don?t need to break it to get the money. It is powered by AA batteries and measures about 6-inch wide and height and has an on/off switch.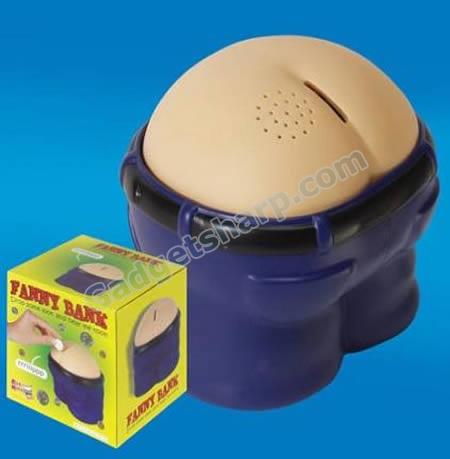 6. Face Bank - it is literally eating money!!! [link]
The Face Bank is a money eating piggy bank robot which features an object-sensitive sensor to distinguish between coins. And when I say 'money eating' I mean like it actually eats money. It moves its mouth and everything. Although I can't figure out if this thing is supposed to be cute or horrifying or what. Let's just go with…erotic.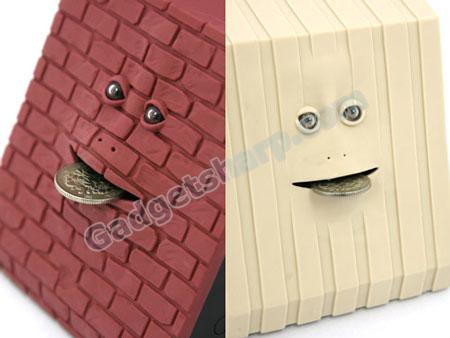 7. Banclock [link]
Banclock - the working of this clock is simple - unless you feed in some change, the clock will keep yelling its guts out. The positive aspect of this is that if you end up losing your job due to oversleeping, you at least have all that money that this clock guzzled while you slept. However, the flip side is that if you do not have any change in the morning to shut this thing up, your only option would be to silence it permanently. My advice - skip this one and stick to your basic alarm.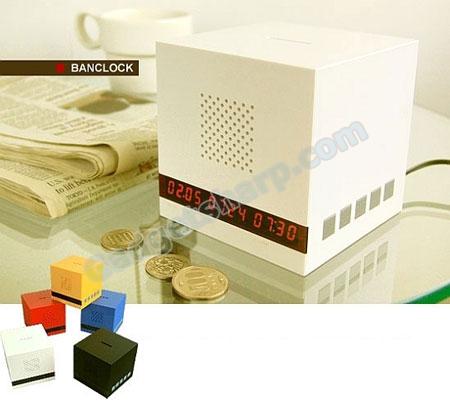 8. Digital Counting Money Jar [link]
The lid has a slot and a digital LCD screen. Every time you put a coin in, the money jar counts it and updates the display to show the total amount of money inside the jar. The piggy bank has a reset button so you can set the counter back to zero. A great gift to teach kids how to save and learn to handle money.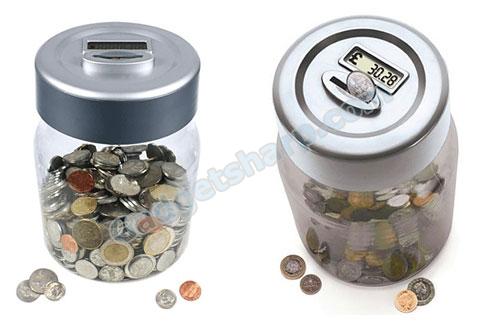 9. Piggy Bank That Helps You Save & Spend [link]
Spend/Save Coin Bank is like a slot machine that never loses, making an exciting game of collecting your change by rewarding you one way or another with every deposit. It will randomly place your change into one of two compartments, spend or save. That way, you'll have only the bank to blame when you don't have enough money for rent.