Special occasions often call for a certain type of mancessory, and cufflinks are the best way for a man to put his wrist at the forefront of his fashion statement. From ballin? boot cufflinks to tech friendly geek cufflinks to memorable movie-related cufflinks, this post will showcase 24 creative and funky cufflinks.
1. Power Black Keyboard Keys Cufflinks [link]
These Power Black Keyboard Keys Silver-plated Cufflinks will help you stand out! Perfect for any businessman or office worker! These cufflinks are made from brand new, never used keyboards, all keys will be clean and in mint condition.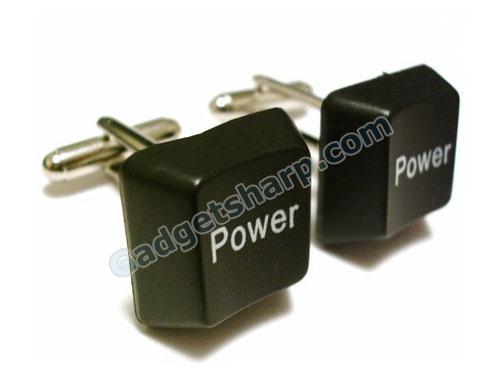 2. Facebook Me Cufflinks Cufflinks [amazon]
This Facebook Me cufflinks will have to be a reminder for those who still have to create their facebook accounts, and start updating the virtual in you. With this Facebook Me cufflinks, you are a certified netizen who does not need any urging to update your profile and shoutout. Meet and create your own network of friends by sporting this Facebook Me cufflinks as you attend meet ups with other Facebook users, host a party, usher other guests, or even just to serve a drink to the sexiest lady you've ever set eyes on in the room.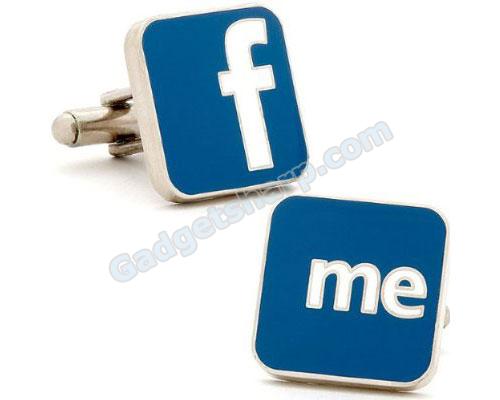 3. Jigsaw Puzzle Piece Cufflinks [amazon]
Unique pair of cufflinks set in rhodium, silver mount. Clever design features a jigsaw puzzle pieces set on a classic t-back cufflink. Conservative enough for the office; but far from boring. Each cufflink is miniature puzzle piece and a BIG conversation piece. Pair with any classic shirt and pull out similar or complementary hues in a shirt or tie. Each pair is finished by hand to ensure a quality.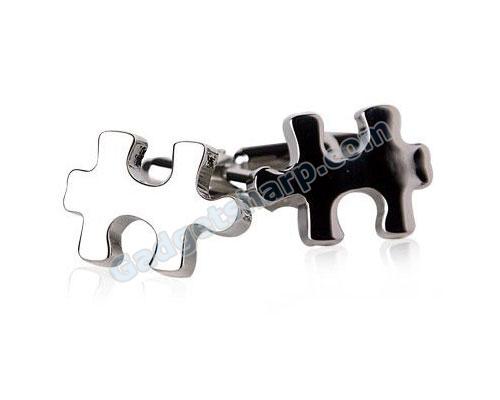 4. Skull and Crossbones Cufflinks [amazon]
Skull and Crossbones are definitely the rage these days in fashion so why not get some cufflinks with this popular design? Many of the styles aren't half as beautiful and detailed as these. Made from stainless steel, these are as durable as they get. Give these as a gift for a friend and they'll be able to treasure them for a lifetime.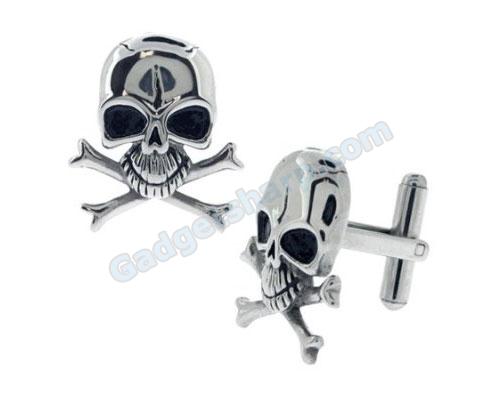 5. Star Trek Phaser Cufflinks [amazon]
Who could forget the futuristic movie Star Trek and their lists of even-more futuristic weapons? These Star Trek Phaser Cufflinks are meant for fashion, fun, and personal finesse. First impressions surely last! With your one-of-a-kind cufflinks, people would surely find it easy to remember you as the sexy-guy-with-the-phaser-cufflinks-on-his-arms!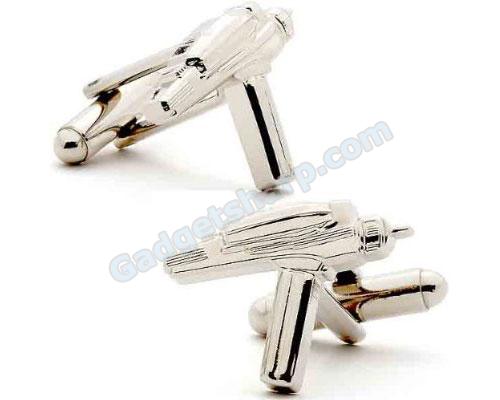 6. Light Switch Cufflinks Silver/Gold [amazon]
At a quick glance these cufflinks might look like any other cufflinks; however, they are not. These unique cufflinks are miniature light switches! It is pretty funky to me…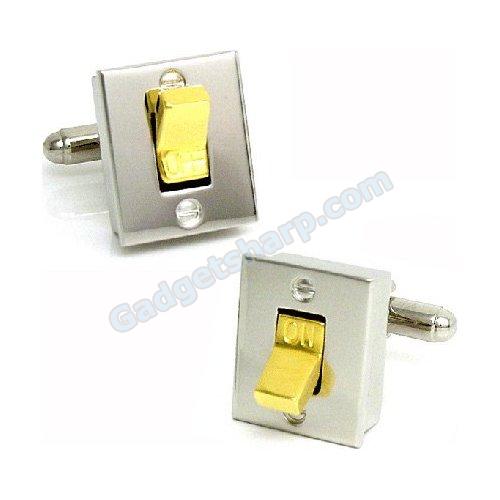 7. Video Game Cufflinks [amazon]
Whether it's Xbox or Playstation, replica video game controller cufflinks give you a great way to bring up your high score. Also make for a great winner's trophy. Engrave the backing for subtle personalization or to commemorate an event.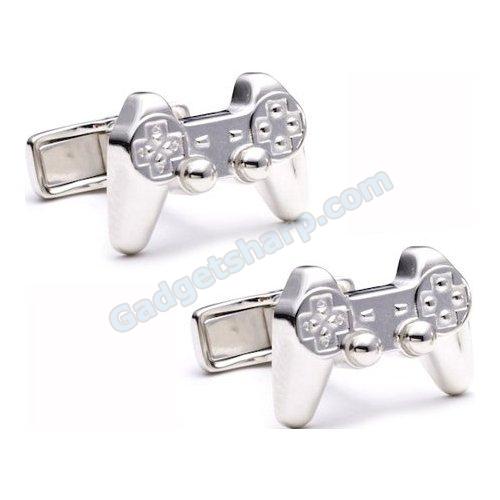 8. Space Invader Cufflinks [amazon]
These pair of cufflinks sure bring back some memories. 80s, video arcades and endless hours of space invaders.If you are looking for a special gift for geeks and non-geeks, you just found it! The cufflinks are handcrafted. The base has a mirror like polish, the space invader has a matte finish.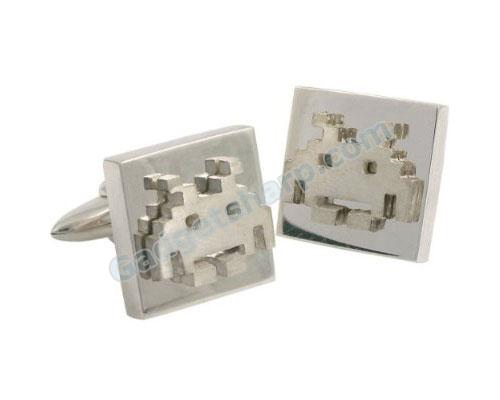 9. Domino Silver Cufflinks [amazon]
Unique domino cufflinks set in rhodium; silver mount. Conservative enough for the office; but far from boring. This is the perfect pair of cufflinks for the true Domino champion. Each cufflink is a miniature replica of an actual domino game piece. Pair with any color shirt for a distinctive look.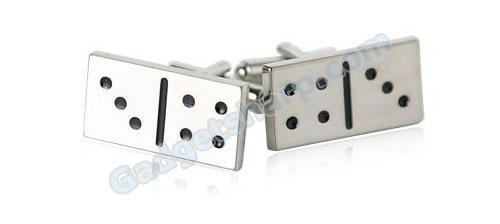 10. Lady Bug Silver Cufflinks [amazon]
hese are Silver & Enamel Ladybug Cufflinks. The links make a perfect gift for any Ladybug fan. Each pair is set in a silver setting with enamel overlay and designed to ensure the highest quality.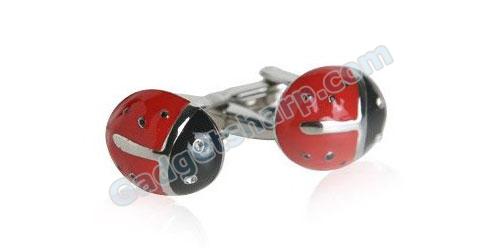 11. Classic VW Beetle Car 3D Diecast Cufflinks [amazon]
These Chrome Diecast Classic VW Beetle cufflinks are perfect for the classic beetle lover.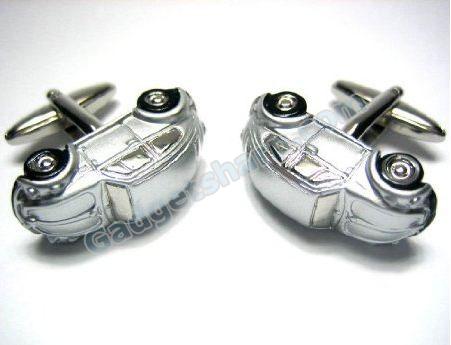 12. Real Soccer Football Game Silver Cufflinks [amazon]
You will never be bored in your office with these babies on your wrist. Small ball bearing rolls to stop in one of three dimples in each cufflink. Have fun playing with these cufflinks designer with the world's most popular sport in mind.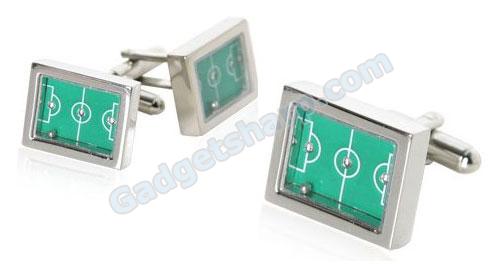 13. Funny Superman Cufflinks : Superhero Cufflinks [amazon]
This classic "S" is symbolic of the man who can do everything. Show your strength when wearing this Funny superman set that can be worn for both work and play.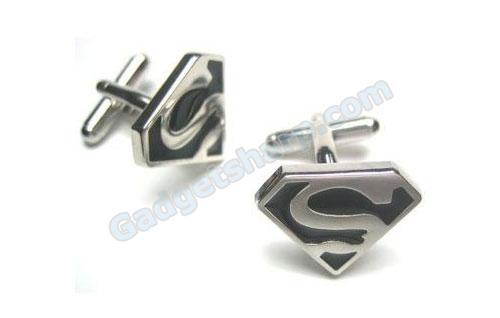 14. Paris Manhole Cover Cufflinks [amazon]
Only a true Parisian would recognize Paris's manhole cover. Show off the beauty of France that hasn't made its way onto a postcard.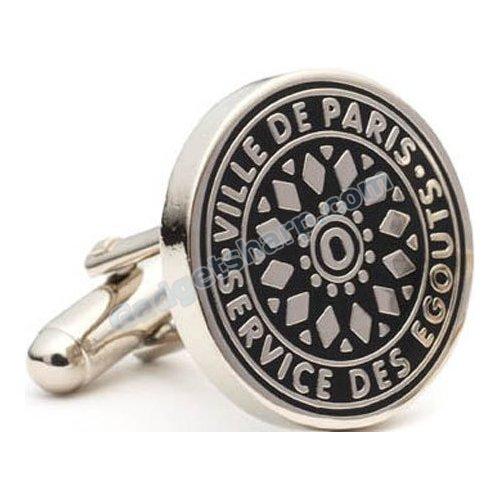 15. Vintage Watch Cufflinks [amazon]
Yellow gold plated wide bezel cufflinks set with vintage manual watch movements. These cufflinks measure 7/8ths of an inch in diameter. A useful and highly stylish way to reuse watch movements and honestly, what cufflink wearing man isn't into watches? The warmth of the gold palted setting works so well with the cold metal of the movement.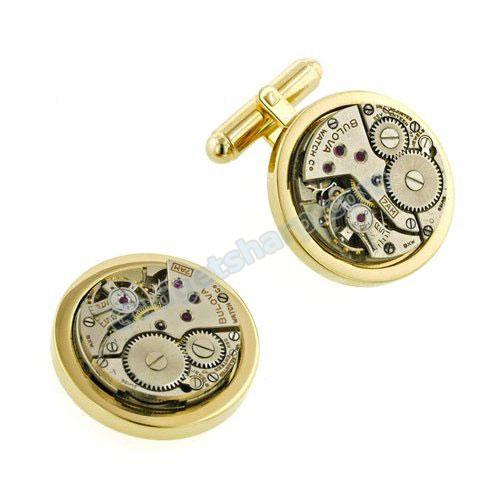 16. 2GB USB Flash Drive USB Silver Cufflinks [amazon]
Now introducing the perfect pair of cufflinks for work. 2GB USB Flash Drive Cufflinks are not only engravable, but feature functional USB drives making it possible for you to keep all of your must-have presentations and important documents with you wherever you go. Never be without functional fashion again.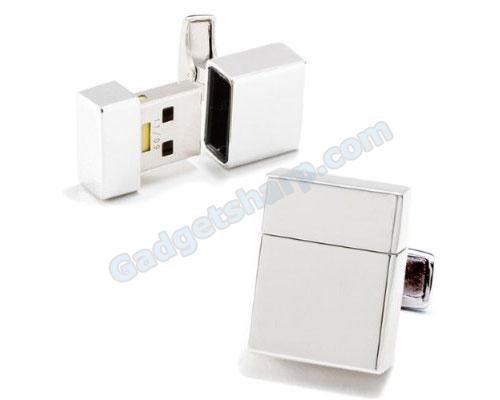 17. Green Bay Packers NFL "Retro" Logo'd Executive Cufflinks [amazon]
Retro look Green Bay Packers helmet cufflinks are perfect for the lifelong Cheesehead. Detail down to the 70's style, double bar facemask.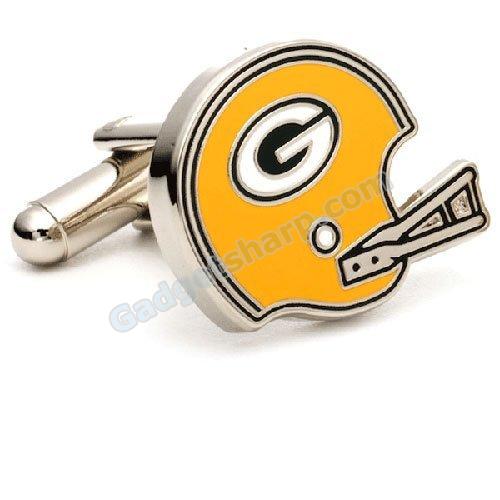 18. Wiimote Cufflinks [amazon]
For those times that you are away from your beloved gaming system, at least you can pretend to be fighting your evil nemesis. The gaming cufflinks are inspired by the popular Nintendo Wii video game revolution. The double sided cufflinks features the wiimote on one end, and the nunchuk on the other.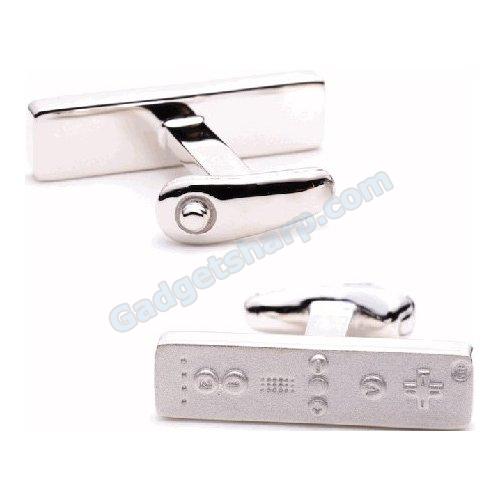 19. Artist Palette Cufflinks [amazon]
Whether you love to paint by number or mix together your own colors, you?ll appreciate these Artist Palette cufflinks. The palette looks so realistic that you?d think you could actually dip your brush in and paint! Nickel-plated and easily accessible with a bullet back closure, these Artist Palette cuff links are one-of-a-kind.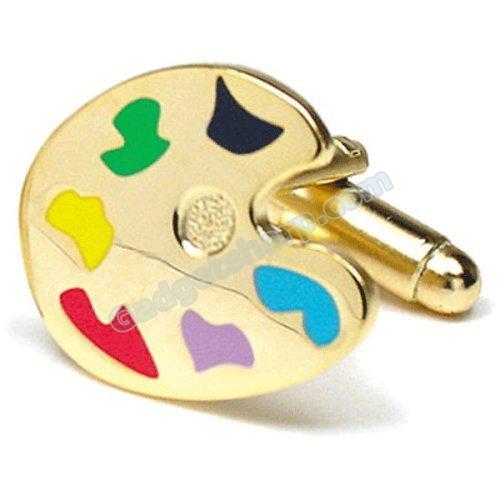 20. Salt and Pepper Shaker Cufflinks [amazon]
If people say you have a salty personality or maybe a little pep in your step, then these are the perfect cufflinks for you! Approximately 3/4" x 1/4", these cufflinks are featured in black and white enamel with a silver plate and a bullet backing. Perfect gift for any cooking lover!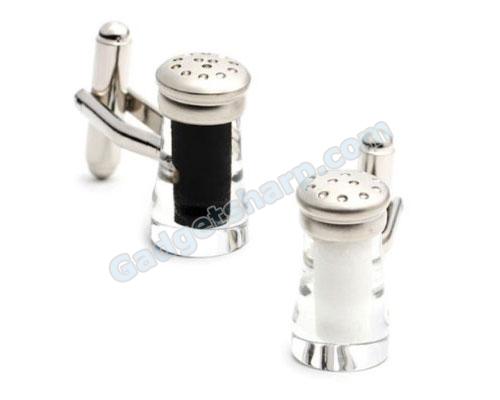 21. Crab Cufflinks Silver [amazon]
This cufflinks are in shiny sterling silver. Amazing detail down to the 5 pairs of legs. The crab is a symbol of great strength and power based on its unwillingness to let go.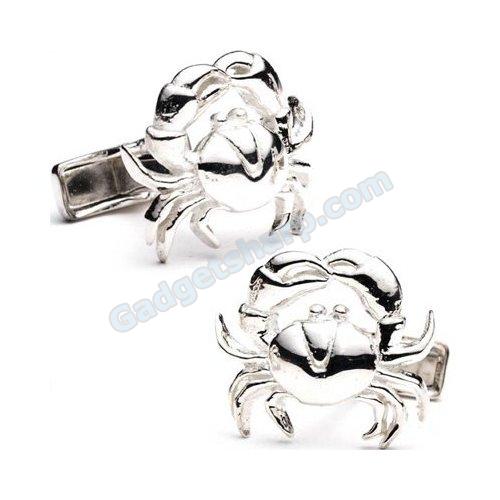 22. Enamel Clover Cufflinks - Gambling Themed Formal Wear [amazon]
Dress up in style with these stylish cufflinks. If you are wearing a nice shirt, you should wear nice cuff links also. These stylish "links" will let you show a little attitude….have fun.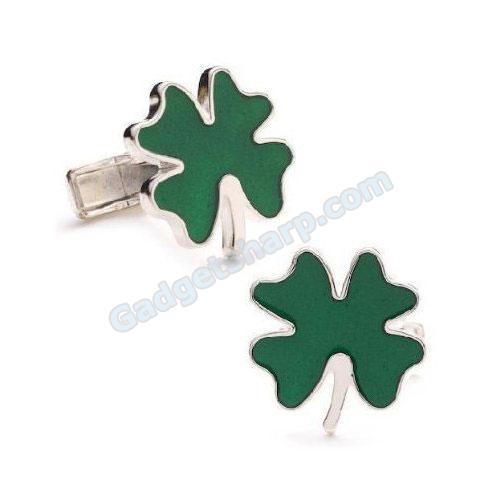 23. Sterling Guitar Cufflinks [amazon]
Acoustic guitars in shiny sterling silver. Heavy, solid feel and awesome detailing down to the frets.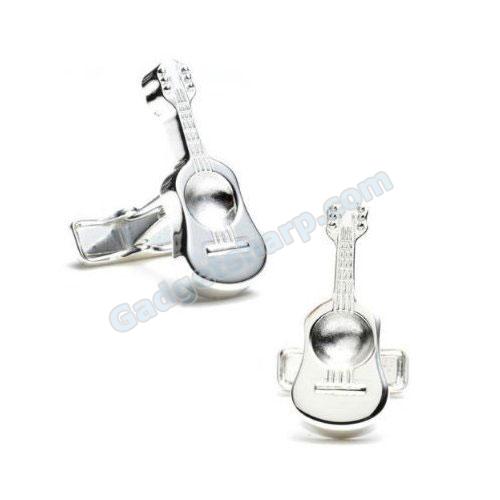 24. Functional Working Compass Silver Cufflinks [amazon]
Never lose your office or cube again with these working compass cufflinks. These are a great conversation piece and can actually help you find your way! These are very versatile and a true staple to anyone's collection.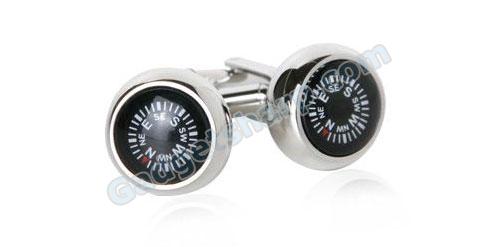 Thanks for dropping by. Hopefully I have inspired you to make or at least wear some funky cufflinks. If you liked my lens, I would be grateful if you ranked it (top of the page), dugg it, or favorited it. Also, please feel free to leave me a note if you have cufflinks that I should review…just make sure they're funky!