Today, we will talk about some creative and unusual bag design. Compared with normal bag, they either have unusual looking like Xposed Handbag, or have some practical function such as Solar Bags that is capable of charging small electronic devices such as cell phones, iPods, or PDAs. Interesting bags, creative design, hope you enjoy!
1. Xposed Handbag [link]
XPOSED! Get in touch with your inner stuff. bags subtly reveals the real you, as well as your spiked collar and snub-nose revolver. Xposed comes in two styles ? a handy zip-close cosmetic bag and a grocery tote. Durable non-woven plastic fiber. Uhhh, not recommended for airline carry-on.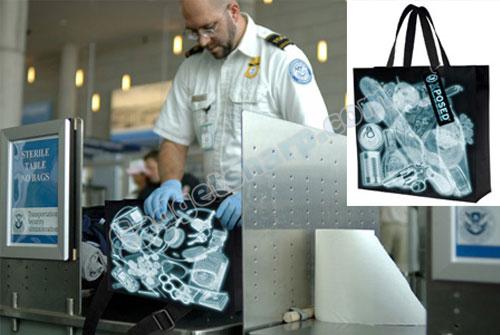 2. Noon Solar Bags [link]
These Noon Solar Bags that amazing us the solar bags can be made so stylish. The Noon Solar Bags($274-$412) integrates two-sided design allows solar panel to face the sun, the flexible solar panel that is capable of charging small electronic devices such as cell phones, iPods, or PDAs. The panel charges an internal battery pack that stores the power until it's used. And the bag's meterials made of biodegradable materials such as chrome-free leathers that are tanned with sustainably harvested materials like rhubarb and walnuts and naturally hand-dyed hemp/cotton fabric.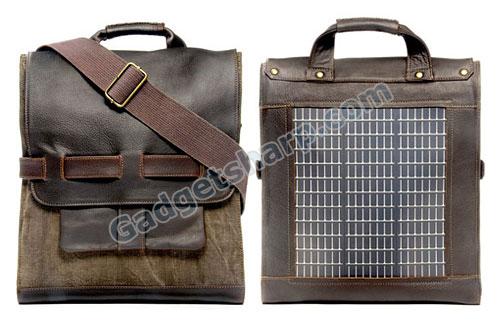 3. Paul Smith Ghetto Blaster Bag [link]
If you wanted a ghetto blaster as a kid, but this time you can have a bag with a ghetto blaster. Men's fight bag made with canvas printed with a picture of a ghetto blaster. This Paul Smith Ghetto Blaster Bag(GBP 190; about $380) featured styled with smooth chocolate leather trims and an adjustable shoulder strap, and is zip opening.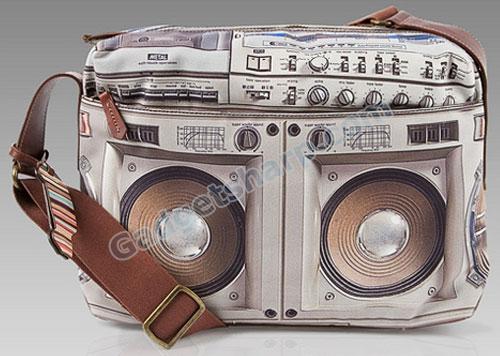 4. Keybag by Joao Sabino Studio [link]
Keybag, is a ?container? built with 393 keys from computer keyboards. There is the intention to generate a shape from fragments (keys), altering their order without loosing the bond to the primitive object. This lack of order allows the singularity of each object, which becomes itself, a communication vehicle that can be configured to act as a message, encoded or not. Is shape suggests a lady?s handbag like a ?pochete?.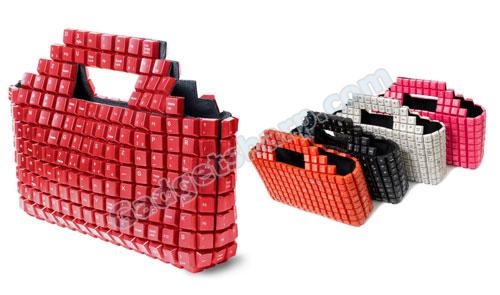 5. Bag for All Occasions [link]
The Arrow Backpack keeps up with all your activites; gym, work, and school. The plastic structure collapses and expands to suit your baggage needed. It?s uniquely shaped to support your spine and the large neoprene straps relieve weight and stress on the shoulders. At its smallest, you can divide the bag into 2 separate modules.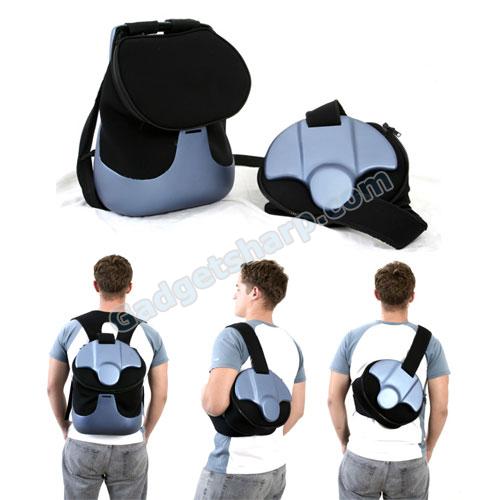 6. Pursuader Bag [link]
For the girl on the move the Pursuader features a handy cell phone compartment in this clip. Constructed by inter locking laser cut leather this handbag has no stitching. This is a combination of old-world craftsmanship and high technology. Create the look no one can refuse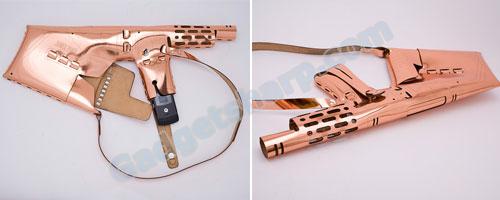 7. Cassette Tape Bag [link]
Full-color printed flexible plastic cassette tote bag, complete with handles that look like the tape is unraveling.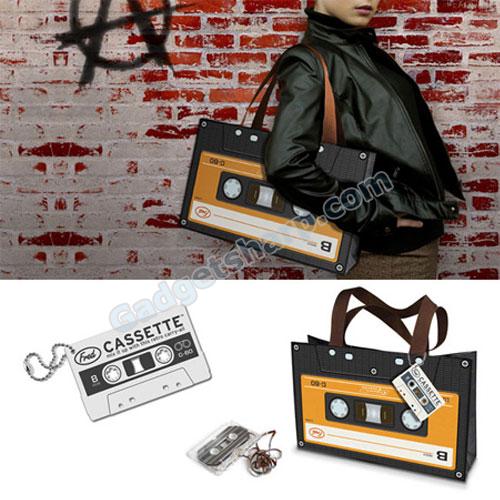 8 UrbanTroll - A unique handbag that doubles up as a trolley [link]
Designer Gilli Kuchik has designed a dual-purpose ladies handbag, which also doubles up as a trolley. The handbag can be conveniently held and chosen to turn into a trolley in case you are carrying something heavy. This could be of special use to women who travel a lot. Thanks to the UrbanTroll, they do not need to carry a separate handbag and a trolley. This however was designed for the urban woman who needs to be mobile always. We feel it can also be used by those who travel for business or recreational purposes. With beautiful floral designs, UrbanTroll looks exquisite and elegant at the same time.