Halloween is on the way. Have you got your plan settled? We?ve gathered some of the coolest stuff probably need in your coming Halloween party. Skull shot glasses, zombie blood drinks, body Parts Lollipop and skeleton cake… so many cool stuff you can have to spice up your party and impress your guests.
1. 'Crystal Skull' Shotglass [amazon]
Holds 2.5 ounces
Hand blown crystal clear borosilicate glass
Individually packaged in a colorful giftbox.
Fun and Easy to use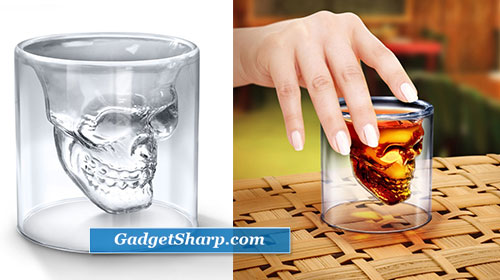 2. Gory Body Parts Lollipop Set [link]
Suck on a finger, eyeball, brain, or heart - because that's what lollipops are for!
Set includes one of each part.
Perfect for treats at any party: from Halloween balls to retirement parties.
Flavors: watermelon brain, cherry heart, apple finger, and fruit punch eyeball.
Dimensions::
    Brain: approx. 2" x 1.5"
    Heart: approx. 3" x 2"
    Finger: approx. 3" x 0.75"
    Eyeball: approx. 2" diameter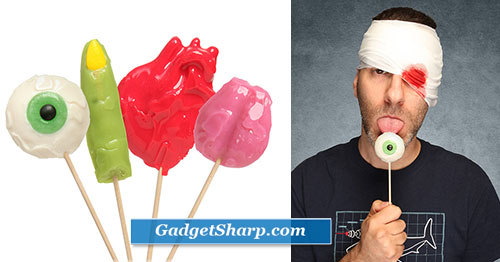 3. 3D Halloween Skull Cake Pan [amazon]
Even heat distribution
Easy release and cleanup
10 Cup capacity
Finished cake 6-1/2-inch by 5-1/2-inch by 7-1/2-inch
Baking instructions and recipe included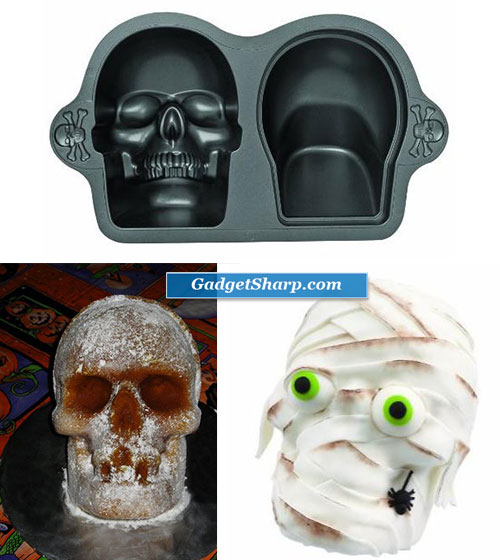 4. Zombie Cookie Jar Head [amazon]
Ceramic cookie jar, perfect for cookies, Halloween candy, brains Lift off the top of his head to reach in for cookies - if you dare! Possibly scary enough to keep your kids out of your stash Dimensions: About 9" tall, 7" wide (at widest point)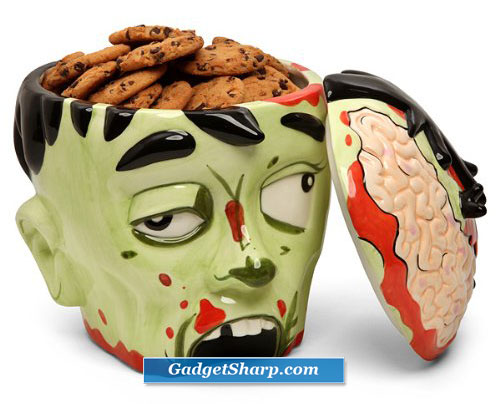 5. Blood Energy Potion [amazon]
The world's first synthetic blood beverage
The fruit punch flavor packs 4 hours of energy along with iron, protein, and electrolytes.
Get real blood nutrients without that real blood taste!
The re-sealable transfusion bag style pouch provides the convenient delivery of fluids for vampires

6. Monster Mash Eyeball Magnetic Salt and Pepper Set [amazon]
Grasslands road monster mash eyeball magnetic salt and pepper set with striped tray
Ceramic with high gloss finish
Hand wash only
Three pieces
Acetate gift box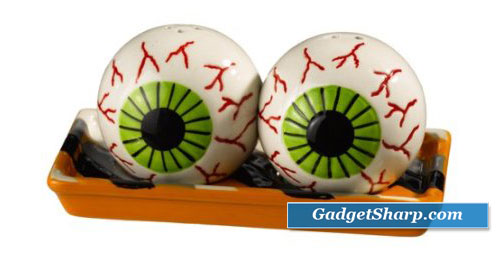 7. Glitterville Halloween Spider Cake Stand with Glass Dome Cover [amazon]
3 pieces: Spider stand, ceramic cake plate, and glass dome cover. Ceramic with "ceramic look" nonbreakable resin legs for durability Measures 12.25" diameter Cake Plate is removable for easy clean up.