There is probably nothing more traditional or connected to Halloween than the skeleton. People just must have this fellow hanging around the house, worn as a costume, or part of the indoor/outdoor Halloween decorations. Either way, there is never a loss of true representation of the skeleton on Halloween, and there are seemingly endless ways to enjoy and present the skeleton to friends and family at your Halloween party or celebration. To celebrate the coming Halloween, we rounded up 16 Cool and Unusual Skeleton/Skull Inspired Designs which might help to spice up your Halloween party and impress your guest with those special decoration.
1. Skeleton Hand W/Glass Votive [amazon]
A skeleton hand cradles a clear glass votive holder creating a unique way to bring a little mystery to your haunt. Measures 6.5 inches high. Votive candles not included. Cool Idea: Set it near a wall with some blank space and watch how the 'skeleton fingers' seem to flutter right on the wall!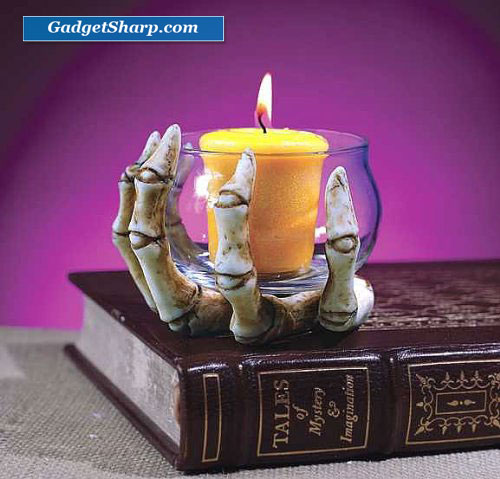 2. Sinister Skull With Lantern [amazon]
* Give visitors a greeting they'll never forget
* Two AA batteries not included
* Some Assembly Required
* Measures 11" x 6 1/2" x 13" high; lantern measures 3" diameter x 6 1/4" high
* Made from polyresin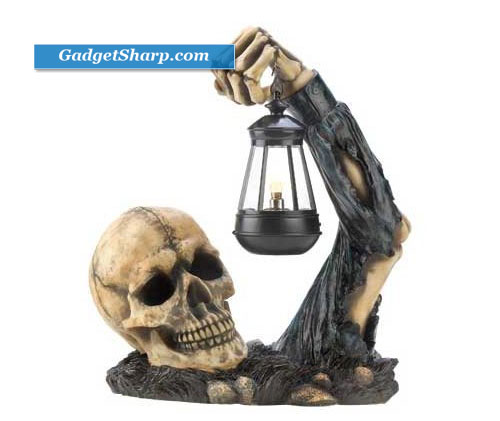 3. Spooky Skull Toilet Paper Holder [amazon]
This bony fellow's grinning every time the paper's spinning. Spooky toilet paper holder is a most unexpected addition to your bathroom; a daring decorator's dream come true! Weight 1.7 lbs. Polyresin. Toilet paper not included. 8 1/4" x 4 1/2" x 8 3/8" high.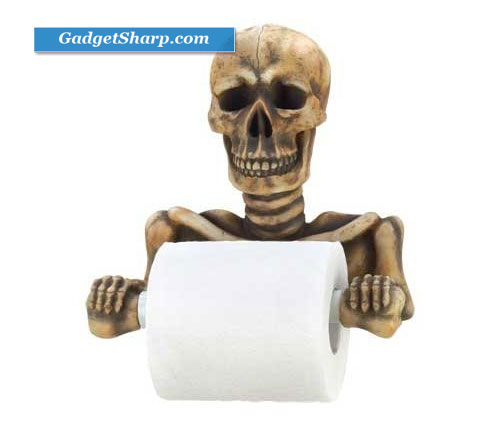 4. Creepy "Catacombs" Human Skull Accent Lamp [amazon]
Made of solid cold cast resin, this awesome accent table lamp, of multiple skulls partially buried in the walls of a cave, is a great conversation piece throughout the year. Measuring 13 inches tall, 8 1/2 inches wide, and 6 inches deep, he's perfect for anyone with a taste for the macabre. The lamp uses a standard nightlight bulb (included), and the top skulls act as a lampshade.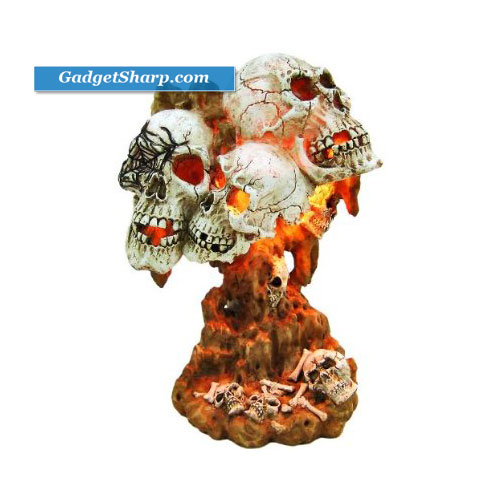 5. Battery operated Bleeding Skull Fountain [amazon]
The oozing skull fountain is 7.5" tall and is sound activated. Create the desired effect with water and food coloring. Runs on 2 AA batteries.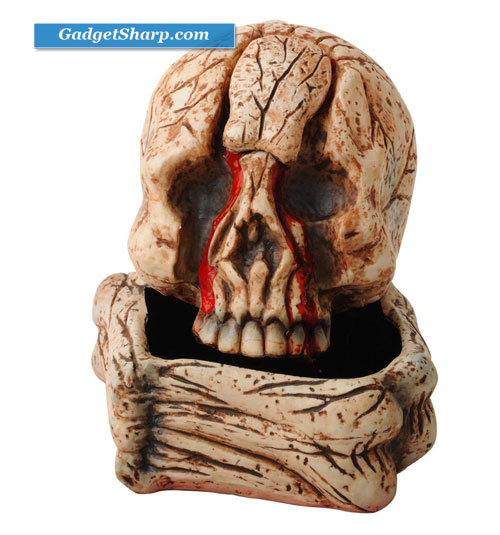 6. Skull & Bones Mask [amazon]
You'd think this guy would Rest in Peace but he just keeps on going! This Skull and Bones PVC mask is the perfect start to your night of endless haunts! Sized to fit most teens and adults. Be sure to check out our capes and cloaks sections for an even more frightening look. Just be sure to 'bone' up on your scares, you're sure to 'rattle' up some fun when you wear this mask!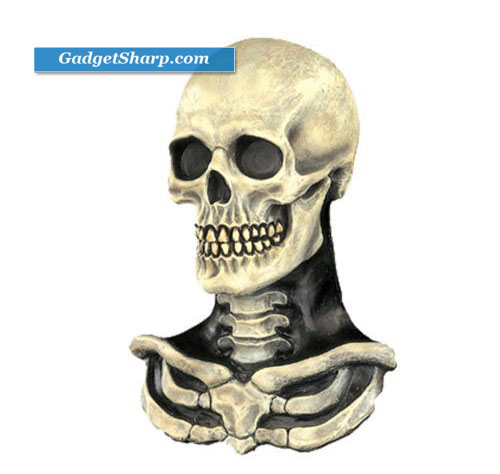 7. Skull Head Ashtray/Container [amazon]
This gorgeous Skull Head Ashtray/Container - Collectible Statue Figurine Smoke has the finest details and highest quality you will find anywhere! Our team prides ourselves on finding the best prices without reducing quality, and in this Skull Head Collection, we have definitely done just that! The craftsmanship of this lovely Skull Head Ashtray/Container - Collectible Statue Figurine Smoke is truly remarkable.
8. Creepy Human Skull Salt & Pepper Shaker Set [amazon]
This wickedly awesome human skull salt and pepper shaker set makes a perfect companion for Halloween table decorations, or for people that like gothic, creepy decor. Made of cold cast resin, the holder stands 6 inches tall, is 7 inches deep, and 5 inches wide, and the glass salt and pepper shakes are each inches tall. It makes a great gift for any skull lover.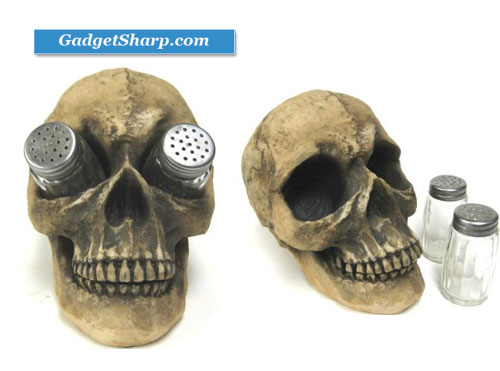 9. Celtic Knotwork Human Skull Bookends Stash Boxes [amazon]
Made of cold cast resin, this awesome pair of Celtic knotwork covered skull bookends are great conversation pieces, and they do a good job holding books up too. Measuring 5 1/4 inches tall, 3 1/4 inches deep, and 5 1/4 inches wide, they show excellent detailing, and demonstrate several different knotwork patterns. The top of each skull comes off to reveal a stash area for incense cones, small trinkets or other things you want to keep hidden.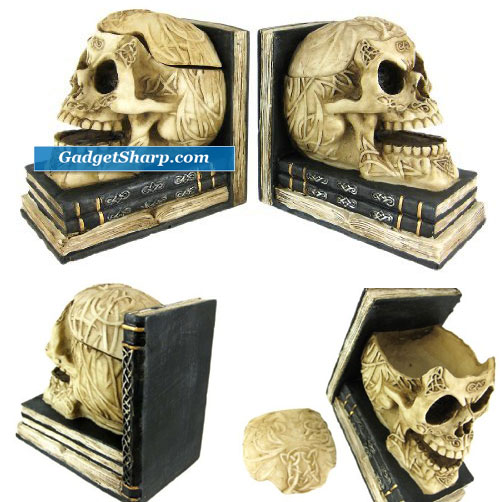 10. Cool Ceramic Skull Bowl W/ Bone Spoon [amazon]
This super cool skull shaped ceramic bowl is great for soups and cereals, and makes an awesome candy dish. Standing 4 3/4 inches tall, 5 3/4 inches deep and 4 1/2 inches wide (including the bone shaped handle), this bowl easily holds a 16 ounce can of soup. It is hand-glazed, and no two bowls are exactly the same. It comes with a 6 1/4 inch long ceramic spoon shaped like a skeletal hand and arm.This cool bowl and spoon set makes a great gift for any skull lover. We have a limited number of these, so don't miss out.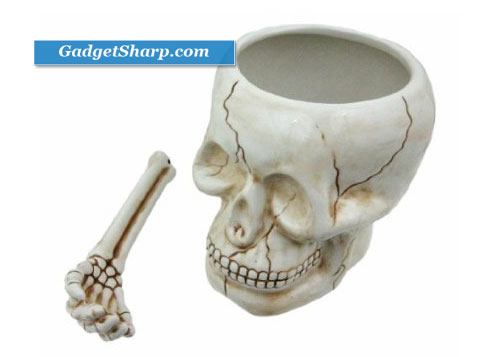 11. Skull USB Device 4 High-Speed Hub Desk Supplies [amazon]
* Works with Windows or Mac
* USB cord included
* 2 USB ports on each side of its jaw will keep all of your gadgets connected simultaneously.
* 4 Port High Speed 2.0 USB Hub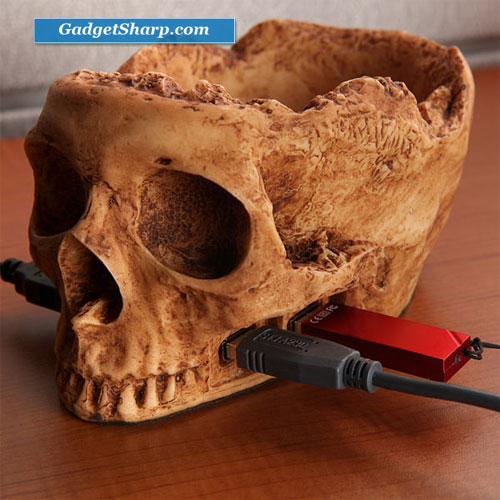 12. Fred & Friends Nomskulls Cupcake Mold [amazon]
* Perfect for Halloween parties
* Zeros right in on the cupcake craze
* Appealing skull design
* Attraxtive printed gift box
* A brainy frosting recipe is on the box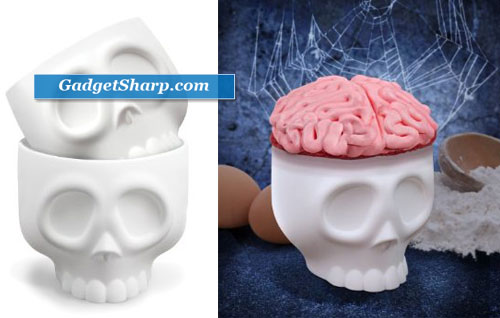 13. Gothic Tribal Skull Tankard Coffee Mug Cup [amazon]
This cool ossuary design drinking tankard has a relief image of a tribal skull on the front and back, small skulls encircling the rim, and a bent spine for a handle. The stainless steel inner liner keeps your drink cool or hot,and washes easily. The cup measures 4 1/4 inches tall, and is 3 1/2 inches in diameter (5 1/2 inches wide with the handle). It holds 12 ounces of your favorite beverage, and is made of cold cast resin.This tankard makes a great gift for family and friends who love skulls.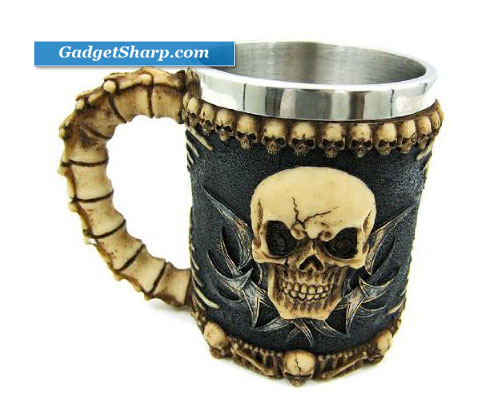 14. Cybo Skull Dice Holder [amazon]
This resin skull is half cyborg, and fully cool. With a human half and a cyborg half the Cybo Skull is a great addition to any dice collection.
* Fun dice holder
* Includes 6 specially designed 6 sided dice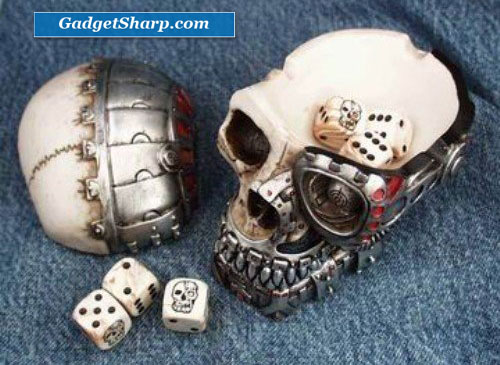 15. Skull Head Toilet Brush Holder [amazon]
* Skulls and Skeletons
* Skull Head Toilet Brush Holder
* Cold Cast Resin
* 15" Height
* 3.88 lbs.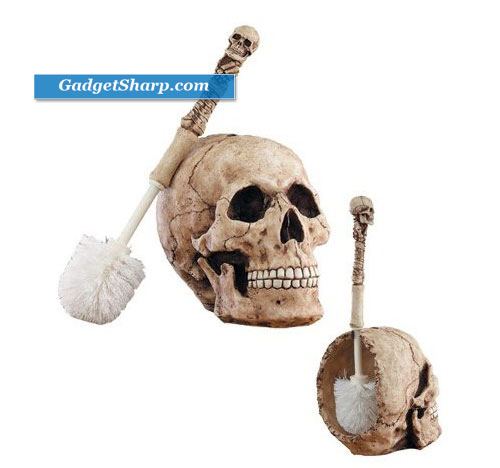 16. Ghoulish Glamour Skull Toothpicks with Holder [amazon]
Grasslands Road Ghoulish Glamour skull toothpicks with holder 1.75-inch by 2-1/4-inch