The sword is said to be the emblem of military honor and should incite the bearer to a just and generous pursuit of honor and virtue. It is symbolic of liberty and strength. In these days, it is still beloved by many people and there are many sword inspired products designed to meet the need of holding a sword in hand. Here, we rounded up 7 Cool and Funky Sword Inspired Products Design, from bookends to chopsticks, from umbrella to toothpick. Take a look at these interesting designs and hope you can find your favorite sword.
1. Katana Sword Bookends [link]
As far as bookends go, these cool new Katana Bookends are probably more interesting than most. These unique bookends create the illusion that a deadly ninja warrior has stealthily entered your home and impaled a katana sword through your ancient bound-paper literature. It's very cool, but I think I would prefer a real katana sword slid into a fake row of books.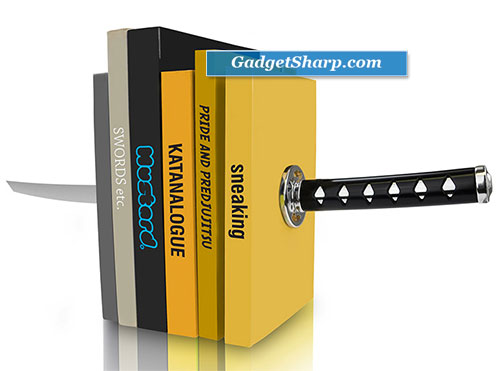 2. Japanese Sword Chopsticks [amazon]
Every samurai knows that you shouldn't fight on an empty stomach! These unique chopsticks are designed to look just like the sword of Maeda Kenji, the famous samurai of the Sengoku Period Japan. Wield this deadly weapon and combat your hunger! With the chopsticks you will receive the transparent chopstick rest with golden crest of Date Masamune.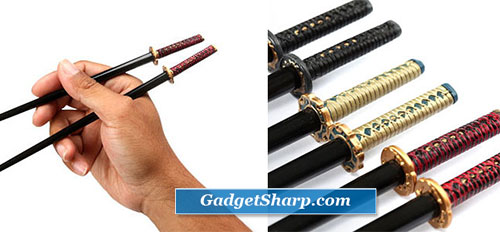 3. Samurai sword Katana umbrella [amazon]
Ninjas have no need for umbrellas, since precipitation usually avoids them, but you can pretend you're an ancient warrior when you wield this cool new Samurai Sword Umbrella. Although it seems like an ordinary umbrella at first glance, when its unleashed from its nylon scabbard sheath and the button is pushed to automatically extend the canopy, a samurai sword handle is revealed. It's definitely a great choice for a handle, but it's too bad a real samurai sword wasn't disguised inside an umbrella instead.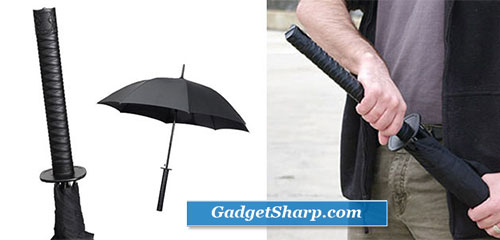 4. Dci Bbq Sword For Grilling [amazon]
Comes with free pop out musketeer mask Strong steel construction with real wood handle for comfort Balanced for ease of use Euroslot for hanging or can stand free on shelf Measures 19-inches long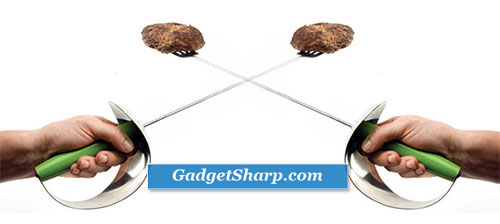 5. Medieval Weapon Push Pins [link]
Whenever you need to tack up a note or memo, just go to your office supply armory drawer and select from this set of ten weaponized push pins that include two of each: Sabres, Single Handed Swords, Broadswords, Katanas and Axes. I wouldn't enter into battle with these, but they'll still get the point across.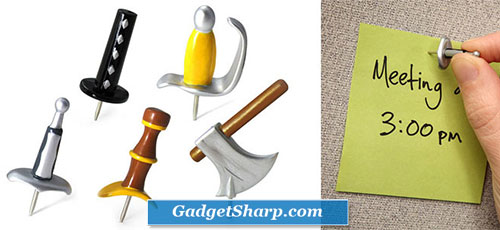 6. Swords Box Trick Toothpick Holder [link]
Never again will you have to clean your teeth with a mere pointy wooden stick, but with a metallic silver plastic sword pulled from the brave audience volunteer trapped in a magic wooden box.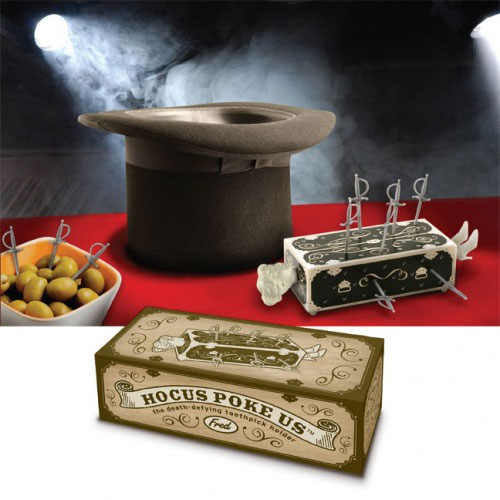 7. Fighting Man?s Frying Pan [link]
A fully assembled and kitchen ready teflon coated 10" pan. So you've killed some monsters, cooked some omelletes, and generally feel confident in your skills, then it's time to upgrade to this solid adventurers aide.