Wood, as the material mostly used in furniture, is not commonly seen in our daily appliances any more. Usually, we will use plastics because it is cheaper, easier to produce or steel because it is more durable. Technologies of producing beautiful things from wood suffered greatly. While in this post, we will bring up some interesting designs which are made out of wood. If you want to have something unusual and natural, take a look at following items and hope you enjoy.
1. SHOSH BUD VASE [link]
Get swept up in the natural beauty of your next bouquet with this sculptural vase. Inspired by the shape of antique fans, it is crafted from a series of cherry wood blocks arranged at sequential angles. Fitted into each block is a glass test tube large enough to hold a single flower, creating a dynamic sweep of color. The test tubes are watertight, so your blooms stay fresh longer, and are removable for easy cleaning. Handmade in Georgetown, Texas.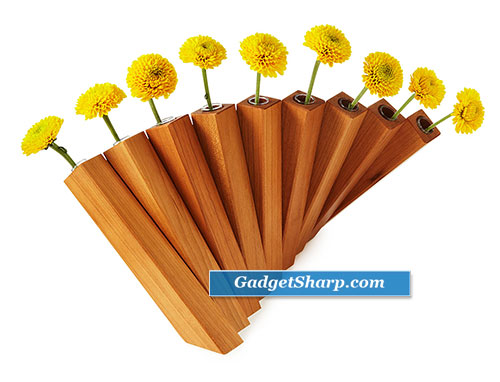 2. Kikkerland Rockin Wooden Spoons [amazon]

Acoustic and electric guitar shaped wooden spoons Set of 2 spoons made from durable beechwood Great for use with salads, sauces, soups and batters Heat resistant and safe on non-stick cookware Measure approximately 3.25 by 10.5-inch
3. Cubix Lamp [link]

The cool new Cubix Lamp adds a stylish twist to the traditional table lamp. This unique sculptural lantern is made up of eleven geometric wooden frames that rotate along a single access, offering unlimited adjustable light and decorative designs.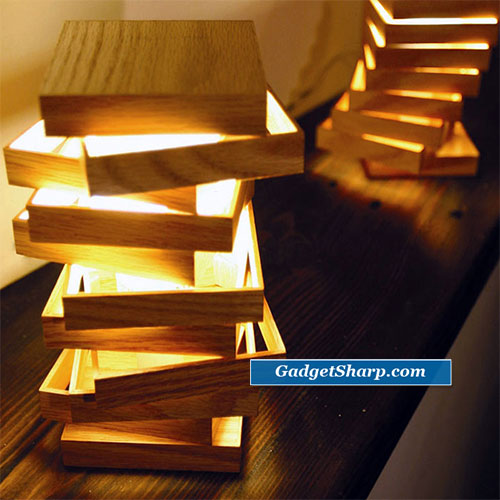 4. Triple C Glam Green Boom Portable Mini Speaker [amazon]

This adorable portable speaker is made from 100% natural wood. It has a high quality audio system and is compatible with any devise that plays music. It is great for work, school, travel and will go anywhere you do! It has a rechargeable Lithium battery.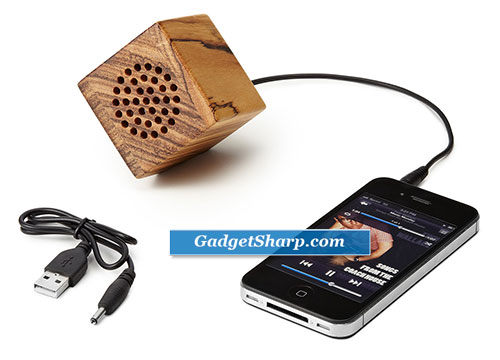 5. Wood Whale Desktop Organizer [link]

The Wood Whale holds all of your desktop belongings so they don't stray. Pens in the spout, phone in the mouth, letters in the tail. Service with a smile…

Each Wood Whale is hand-crafted in Michigan using reclaimed or sustainably farmed wood. Please note: No two whales are alike, as they are handmade and crafted from various wood pieces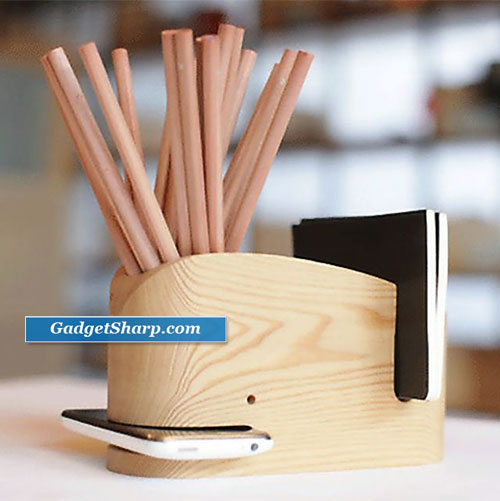 6. WOODEN BOTTLE STOPPER & STAND [link]

This elegant wine bottle stand represents the best of both worlds: a creative, perfectly functional tool that doubles as an impressive piece of modern design (and a serious conversation starter)! The stand seems to defy physics in offering the most unique possible way to display your finest reds and whites. There's a very good reason that artist Gregg Palm of G3 studios chose to arrange the bottles at this unusual angle: Storing wines upright can compromise their quality, so a tilted bottle ensures that the flavor will be fresher and better balanced. The set also includes a beautiful wood bottle stopper complete with handsome, multi-colored grains and a high-gloss, epoxy-like finish to add a little extra sparkle to any well-made kitchen. Made in Michigan.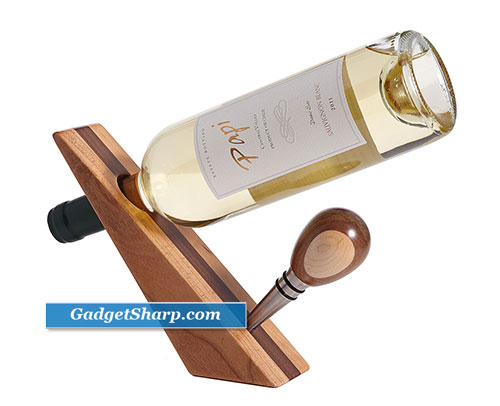 7. Wooden Bulb [amazon]

Laser cut plywood lamp designed by Barend Hemmes It's a bulb, but not as you know it… This clever, little lamp is shaped like a giant light bulb and houses a, erm, lightbulb. It's made out of laser cut wood which leaves a crisp burned edge.