In this post, we will introduce your 12 wooden electronics… wooden + electronics?? Yes, usually, we see our electronics in metal, plastic and rubber. But in today's post, we will see them covered with natural coat - wood. The idea behind the products are to get the maximum out of natural materials and make them as close to nature as possible. Most of them are handcrafted… Yeah, I guess it is not easy to manufacture those things in wood. My favorite one is the wooden keyboard that looks really awesome.
1. Wooden iPod mini [link]
The Wooden iPod Mini by Australian Josh. It's handmade from Australian red cedar, Camphor Laurel for the clickwheel, brass plates, brass screws and the body of the wooden iPod mini. This design requires no glue(uses the screws), save for the Click Wheel is attached to the sensor via double-sided tape.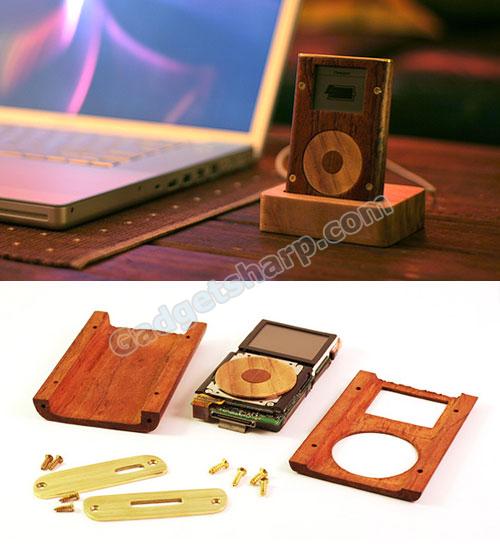 2. Wooden Radio [link]
This handmade Wooden Radio is adorable and nostalgic. Designed by Indonesian designer Singgih S. Kartono, is made from the scrap lumber generated from the production of Java ebony. It is 18cm width, approximately 820 grams. It saled in the Japan .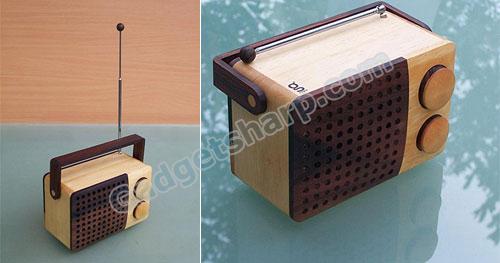 3. David Burel Plywood Headphones [link]
Made of nine layers of varnished plywood, each pair is a unit example of form meeting technology.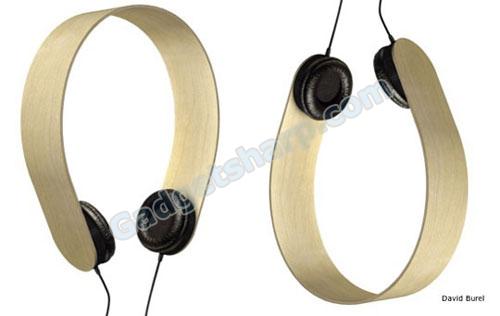 4. wooden speakers [link]
Korea?s I-Dear speakers measure in at less than 1-cubic inch and hook up to your favorite media player to provide stereo sound wherever you go.
They?re made from natural hardwoods so they really stand out from the plastic crowd. Each speaker has a built-in rechargeable battery that gives you about five hours of tunes after a USB charge. With just 1.5 watts per channel, they won?t blow your eardrums, but I think these were designed more for looks and portability than than for sound.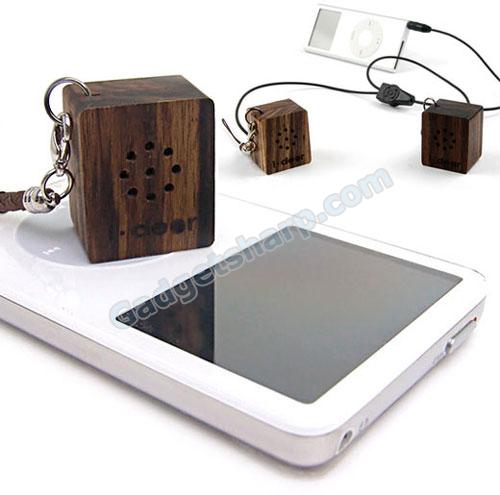 5. Wooden Clamp USB Flash Drive [link]
This unique USB Flash Stick was designed to look like an ordinary wooden clamp.
It can be easily fastened to clothes, thus forming an amusing decoration both for women and men. This item combines both tradition and modernity and such combination was an important consideration during design phase.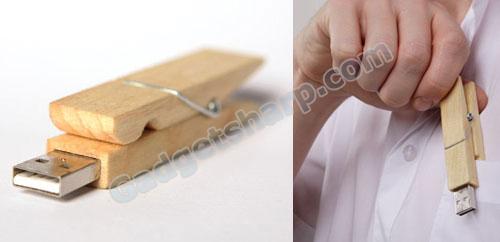 6. AlestRukov Wooden Computer Mice [link]
These beautiful computer mice are made from exotic woods by Russia?s AlestRukov. Each of these wooden computer mice is handcrafted from cultivated sustainable woods and carved, sanded and polished to a shiny finish with linseed oil and carnuba wax. The mice is using finest electronic components, and features an optical resolution of 1600 dpi, and with microswitches rated for over 1 million clicks.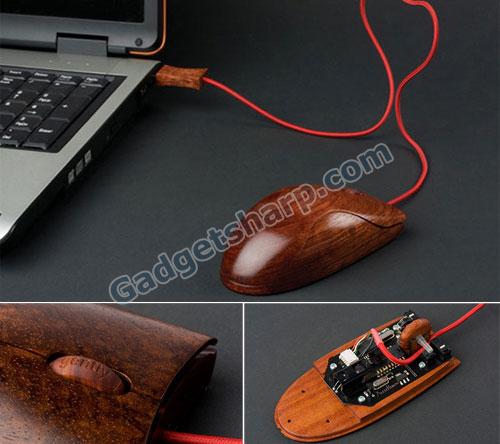 7. Wooden LED clock [link]
Minimalist wood block + high-tech LEDs = one fabulous combination. We love the simplicity of this Japanese clock design: when the clock is turned off it resembles little more than a wood block. When turned on, the LED numbers shine through the wood, transforming the simple block into a seventies-style alarm clock (oversized numbers and all).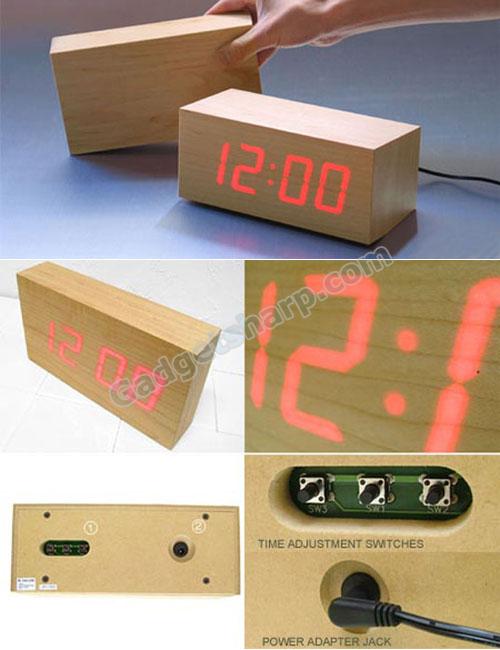 8. Wooden Camera MP3 Player [link]
This little pendant might look like a tiny camera, but it?s secret identity is a digital music player. The handmade wooden mini-cameras have an embedded Motz Music Box at their core, letting them play MP3, WMA and OGG files. The only real downside to the player is that it only has 256MB of memory, and doesn?t look like it?s expandable. Still, it?s a fun conversation piece.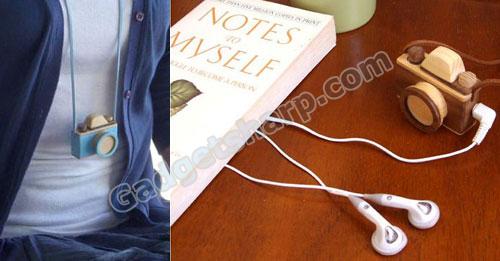 9. Wooden Computer Keyboard [link]
Keyboard from Japanese electronics company Marubeni Infotec. It is made from some delightful natural materials.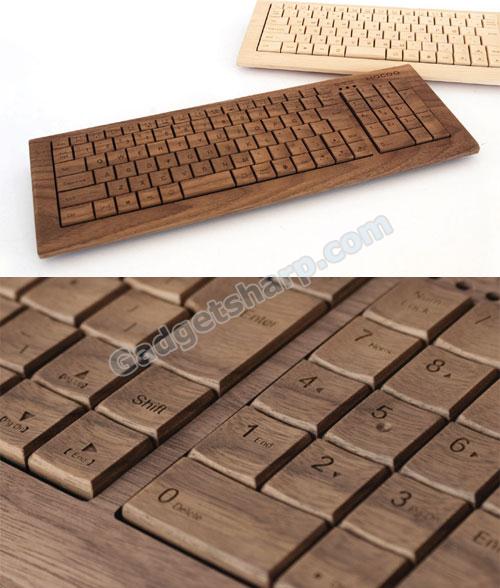 10. wooden electronic ruler [link]
Designer Shay Shafranek?s concept for an electronic ruler manages to retain the familiar look of the analog instrument while making it easier to use.
Using the electronic ruler is as simple as using its analog ancestor. Press the power/reset button on the ruler and the LEDs light up, waiting for your input. The wooden cover conceals what the pencil in the image above is touching: a line of metal points jutting out from the inner edge of the ruler. The ruler uses the change in voltage induced by touching one of these points to calculate the distance.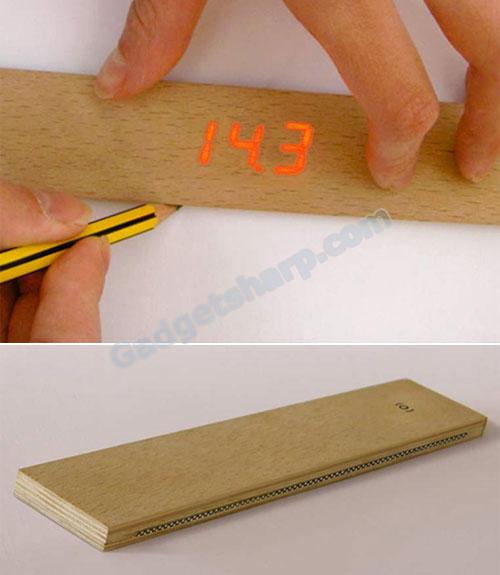 11. music orb: portable music goes back to nature [link]
The Music Orb is a perfectly smooth wooden globe that contains a tiny mechanical music box. Artisans on the fringes of Germany?s Black Forest handcraft natural oak wood into a 3.5-inch diameter spherical player. While it won?t connect to my computer, stream digital files, or even play the music I want, I still want one.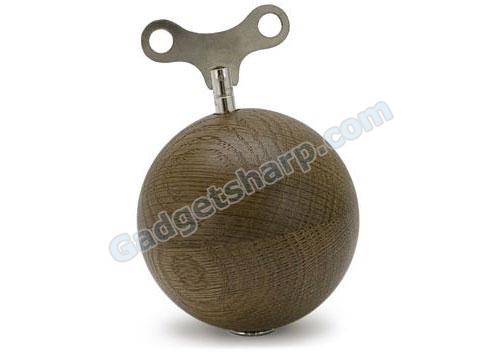 12. custom cover steampunks your imac [link]
This steampunk guru from Old Time Computer will sell you a hand crafted wooden cover for your iMac.
The cover is available in a cherry shaker style with optional marble base or a maplewood style. Both designs leave the screen and ports available and still let the webcam work.