Usually, there are nothing exciting about trash can. It is something you have to deal with it everyday, since you need to show your garbage anyway. It sure would be a great pleasure to manage household waste if we could get some appealing to look at and easy to use trash can. Here are four cool trash cans we came cross and want to share with you.
1. Wesco Spaceboy XL - Rocket Ship Trash Can [amazon]
This cool new Wesco Spaceboy XL wants to make a permanent landing in your kitchen, home theater, office, or Mission Control room to take trash collection to a whole new orbit of fun and futuristic style. This retro-styled metal receptacle is shaped like a miniature sci-fi rocket ship and comes in variety of bold otherworldly colors.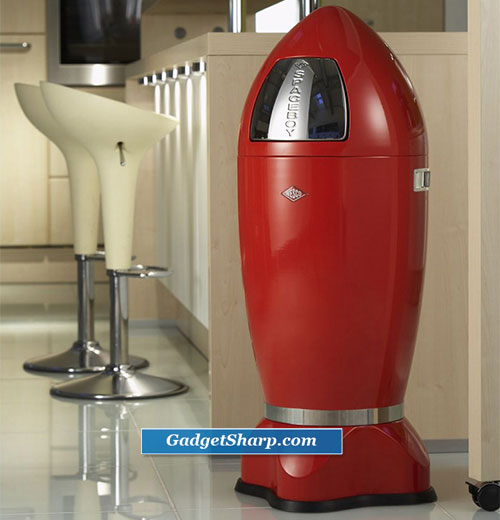 2. Simplehuman Sensor Can [amazon]

40-liter fingerprint-proof stainless steel trash can with touch-free technology for opening and closing Multi-sense adaptive sensor technology adapts to your tasks, modulating the sensor range and automatically changing behavior Removable, easy-to-clean bucket; built-in odor control in the lid; nylon discs on the bottom make it easy to slide Efficiently powered by 6 C-sized batteries for up to a year (optional AC adapter available) Measures 17-3/8 by 12 by 25-1/8 inches; 5-year limited warranty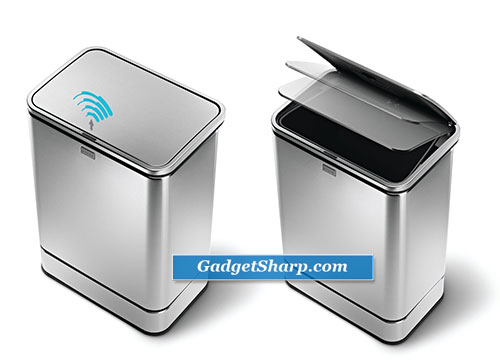 3. SMUSH CAN [link]

Show garbage who is boss with this innovative trash can. Specially designed to expand and collapse, the lid is used to compact trash, thus allowing the can to hold two times more garbage than a normal trash can, which means you'll save on garbage bags, take out the trash less and send less trash (in volume) to the landfill. Plus, you'll never have to smash the trash down with your nice shoes or bare hands again!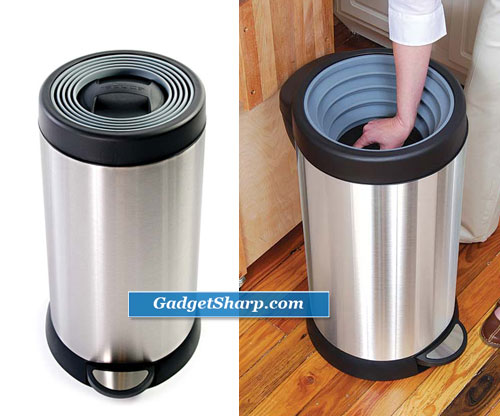 4. Trash Can Cherry Bin [link]

The Trash Can Cherry Bin also has a funny gimmick: the stem is attached to a plate, which displays the level of trash. When the trash can is empty, the stem is short - but as more trash is accumulated, the stem becomes longer. Additionally, the plate also creates more space in the trash can by pressing the trash down.