Love gun but fear of its violent employment? As a symbol of power, of dominance and of masculinity, the gun has been idolized in entertainment media and even infused in modern design. Of course, we don?t condone violence; we still can be fascinated by those creative designs inspired by the gun, from Hairdryer to Liquid Shooter, from coat stand to bed lamp? If you share that fascination, read on?we have collected 19 most creative and unusual gun-shaped designs from world. Hope you enjoy today?s fascinating exploration.
1. Alcohol Shot Gun [link]
Shoot the alcohol into your month or the mouths of others. A Cool drink gadgets!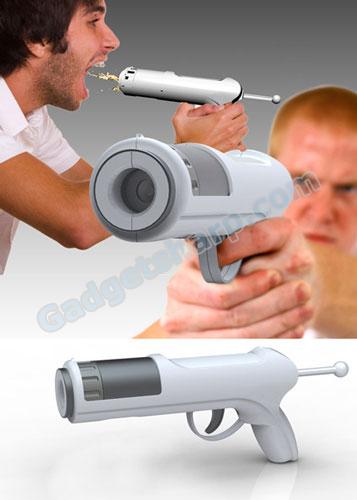 2. Shots Gun Drink Dispenser [link]
The Shots Gun Drink Dispenser allows you to impress the ladies with your sharp-shooting skills! Build up your reputation as a saloon outlaw by wildly serving drinks to all who deserve it - with this fine piece of hardware by your side you can't miss! I love this shot gun, shoots shots of booze!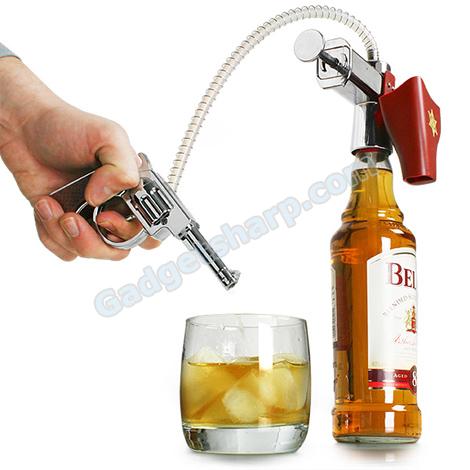 3. Beer Blaster Liquid Shooter [link]
When you were a kid, one staple of summer was the water gun. Well, you've grown up, and so have your beverage proclivities. Now you like soda and beer. The Beer Blaster Liquid Shooter really is your water gun of old . . . all grown up.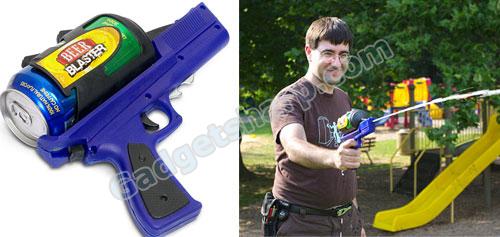 4. Annie Get Your Coat [link]
Inspired by the film Annie Get Your Gun, Annie Get Your Coat (you?ve pulled) is a humorous take on a coat/hat stand. Manufactured from laser cut steel, Annie takes the form of four stylized rifles leaning against each other to create a coat stand.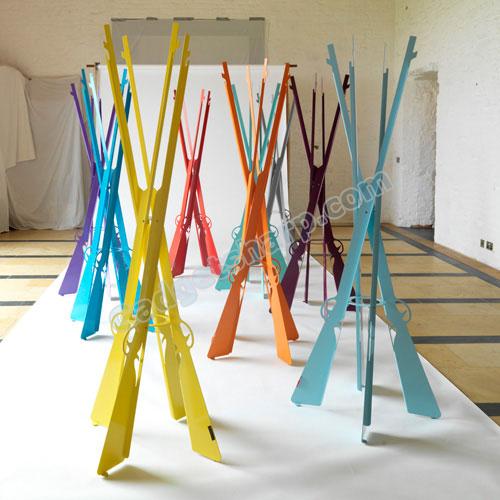 5. Gun shaped lighting [link]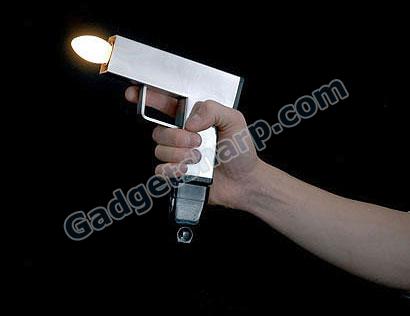 6. Big Gun Brush [link]
Put your hands up!! This Big Gun Brush comes from Japan's Cactus design. The Big Gun Brush removes everything from lint on your clothes, dust on your keyboard, to eraser sha vings. This Gun is made of wood with a matt finish.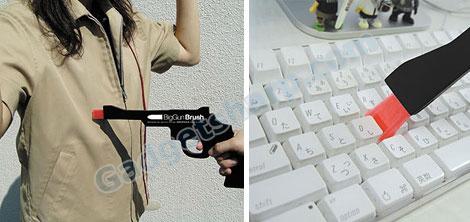 7. Wash by shooting - Gun Soap [link]

8. Gun Notepad [link]
Shop or I'll shoot! The Gun Notepad by Urban Trendhk. I like the gun-shaped objects! Ok, you can use it shoot your boss, don't use it rob the bank!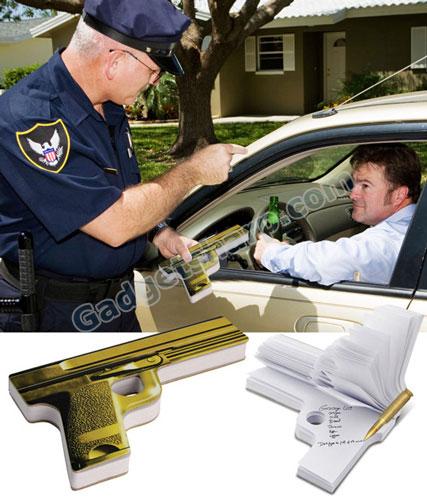 9. Gun Shaped Digital Camera [link]
Creative gun shaped digital camera by Franziska Dierschke makes taking pictures even more fun - just point and shoot!(Notice, this one is still a concept. I am really looking forward for the real one.)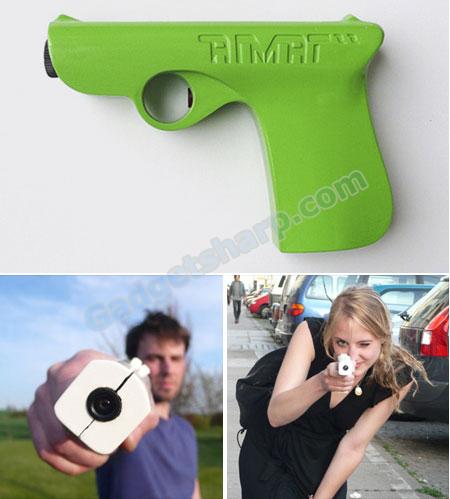 10. Meat Grinder Gun [link]
The food lovers and gun lovers will love it, the Meat Grinder Gun. "The NRA developed a functional-and-funny gagdet that grinds meat and looks really great stuffed into the pocket of an apron.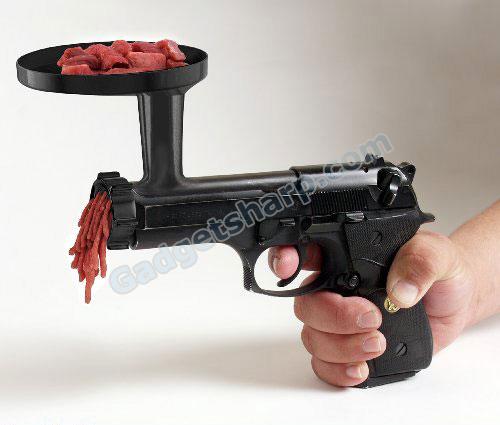 11. Gun Lamp [link]
If you feel not safe when you sleep, might you need a Gun Lamp. If you still not safe, with a AK47, Tommy Gun lamp. It is modern and cool. They features made of gold-plated die-cast aluminum alloy, accommodates one 150 watt halogen bulb.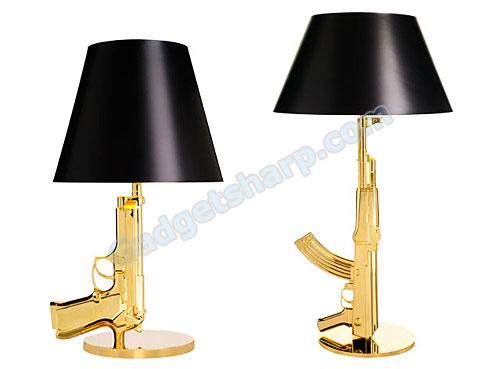 12. Gun Coin Purse by James Lassey [link]
I love these soft Gun Coin Purses by French Designer James Lassey. They are really Cool! James also designed many soft toys for children.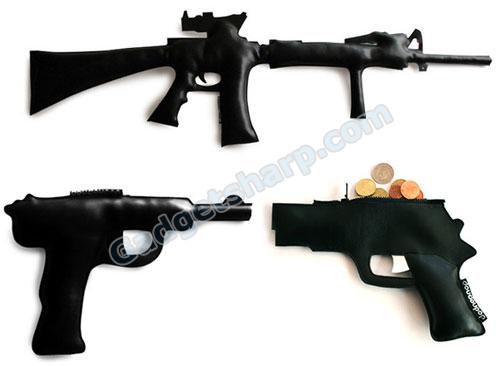 13. Chocolate Weapons - Chocolate Guns and Ammo [link]
The chocolate guns, chocolate bullets, and chocolate grenades from ChocolateWeapons.com will let you satisfy your sweet tooth, while reaffirming your Manly appearance. Cool!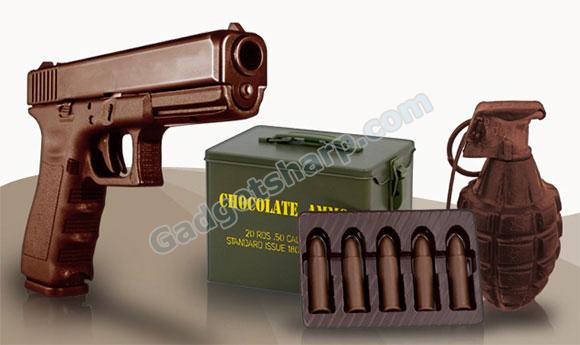 14. Comb Shaped Like a Gun [link]
Gun Comb promises to add some fun and excitement to your morning ritual. Do remember that styling your hair in public with a comb inspired by a gun can be a little dangerous.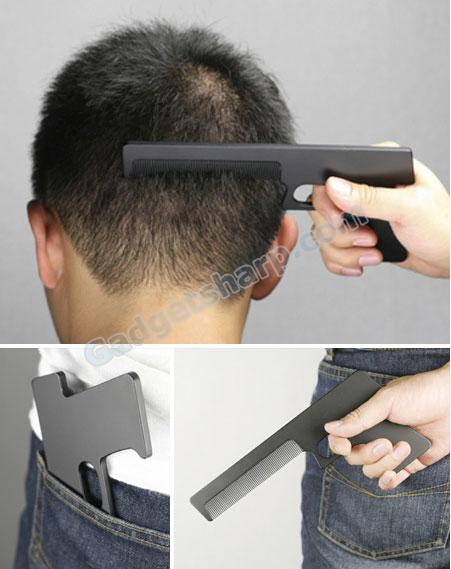 15. The Suck UK Gun Vase [link]
There?s nothing feminine about flowers when they?re being shot out of a cluster of pistols. For those that want to bring a cool sense of irony to their coffee or dining table, we suggest the Suck UK Gun Vase, a ceramic vase in the shape of three barrel-to-barrel pistols.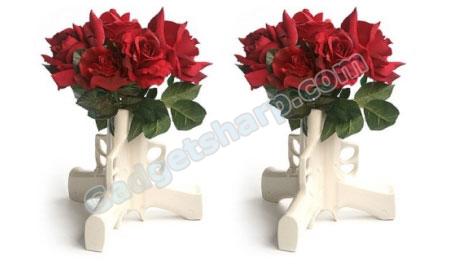 16. Vintage Novelty Pistol Gun Hairdryer [link]
The Vintage Novelty Pistol Gun Hairdryer, I really love this gun hairdryer, funny! A working, fantastic condition, rare vintage novelty hair dryer, complete with white plastic holster. No electrocution worries, the silver gun material is plastic as well. Pull the hammer (on top) to the desired heat setting, squeeze the trigger and let'er rip.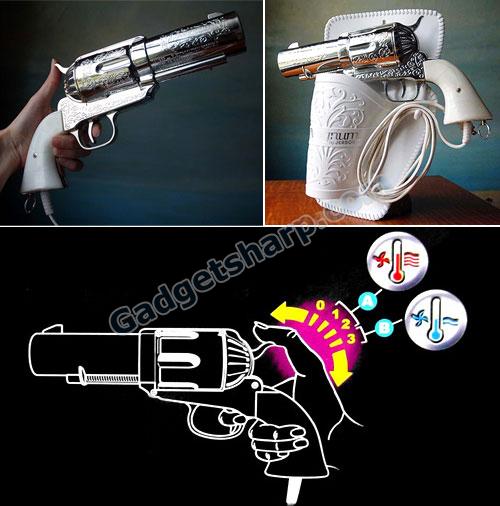 17. Gun Ruler [link]
Creative hard wood ruler that is shaped like a handgun. Must be loved school boys.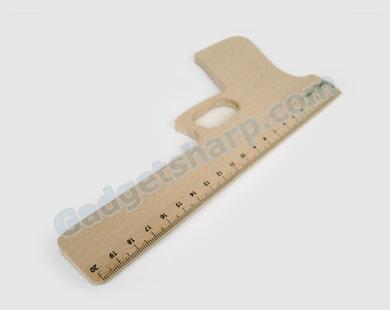 18. Garden Hose Gun [link]
This Garden Hose Gun, called Garden Gun 5.1 by Design Reaktor Berlin. It is a design that you make fun while you watering in the garden. And it is perfect for a game of water flighting with the kid as well.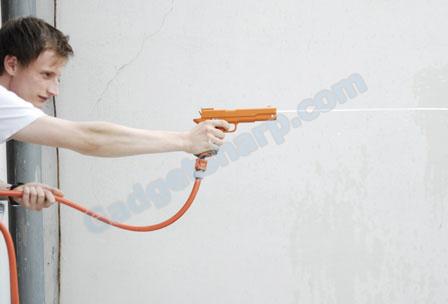 19. Ketchup Gun [link]
This brilliantly ridiculous sauce dispenser looks just like a comedy cartoon six-shooter and it?s ideal for anyone who loves squirtable condiments such as ketchup and mustard.