Scissors are ordinary hand-operated cutting instruments. Generally, they are used for cutting various thin materials, such as paper, cardboard, metal foil, thin plastic, cloth and hair. Since scissors are really handy, these days, they are also be used to cut can also be used to cut food (seafood, herbal and even pizza). scissors also have different looking/style basing on its different function. Want to know more about our daily friend? Just check this 17 Innovative and Unusual Scissors.
1. Progressive International Seafood Scissors [amazon]
lways on the cutting edge with fun, inventive kitchen tools, Progressive International offers seafood scissors that perform a variety of tasks for the seafood enthusiast all with one easy-care tool. The tool features a sharp curved blade to de-vein shrimp, and a built-in shell cracker. The tool easily cuts through crab and lobster shells. It's comfortable to use, too, with a santoprene-covered handle and sharp stainless-steel blade. Perfectly safe to clean in the dishwasher, the seafood scissors are a great gift idea for the foodie in your life.
2. Silvermark Toss and Chop Salad Chopper [amazon]
Silvermark Toss and Chop is a hand held cutlery device specifically designed to chip and dice directly in a bowl. Use the Toss and Chop to prepare salads, vegtables, fruits, nuts and more. High-quality, heat-treated blades with micro-serrated edges that will never require sharpening.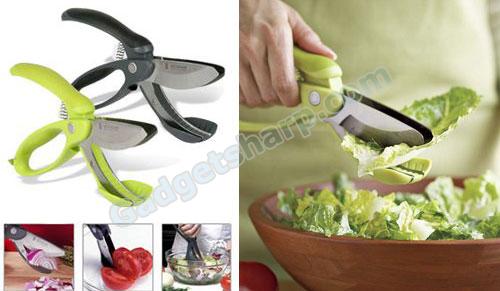 3. Lobster Shears By Nantucket Seafood [amazon]
This stainless steel lobster shears will make a great addition to any kitchen. Perfect for seafood, poultry, flowers and much more. The shears comes with a safety lock. 7 inches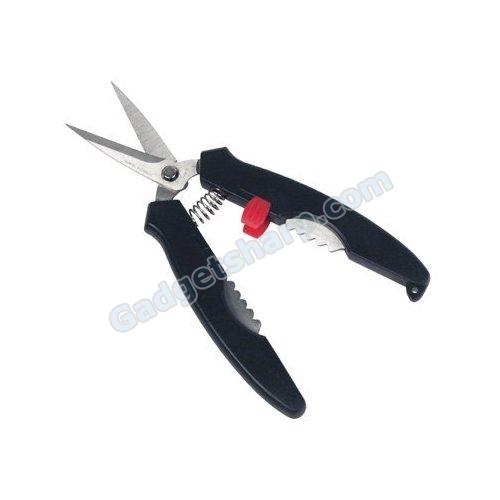 4. Norpro Triple Blade Herb Scissors [amazon]
Snip the herbs you need quickly, neatly and right where you want with Norpro's herb scissors. The unusual blade design features 3, sharp stainless steel blades that allow you to cut, chop or mince herbs directly into a pan or over a plate for garnishing. Large nonstick ergonomic handles for the most comfortable grip. 7-1/2-inch long overall.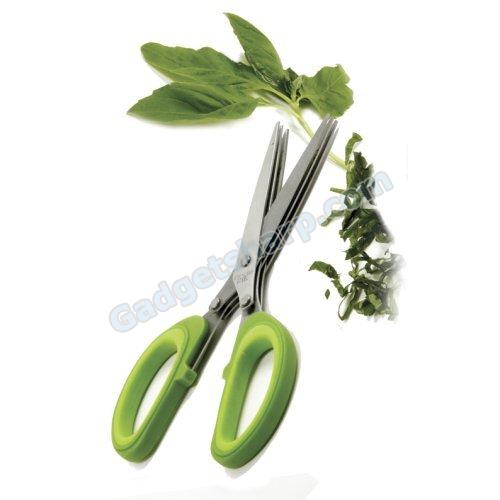 5. Progressive International Pizza Scissors [amazon]
Clever designed "Pizza Pro" combines kitchen shears with a wedge-shaped spatula so you can cut and serve perfect slices, one handed every single time, without losing toppings! These innovative pizza scissors feature sharp stainless-steel blades, a contoured soft grip that works for both left and right handed people and wont damage or scratch your pizza pans. Stop messing around with those goofy rolling pizza wheels and rocking blades, because this is the real hardcore pizza slicing solution!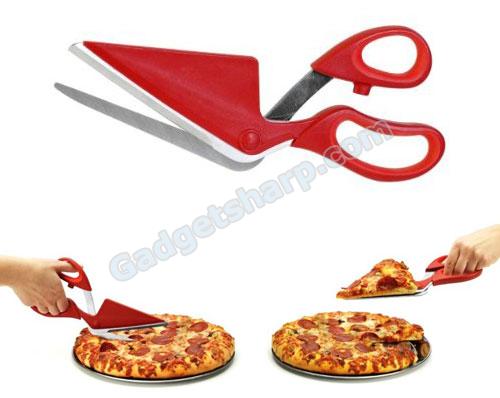 6. Laser Guided Scissors [amazon]
Built-in red laser helps you get perfectly straight cuts every time.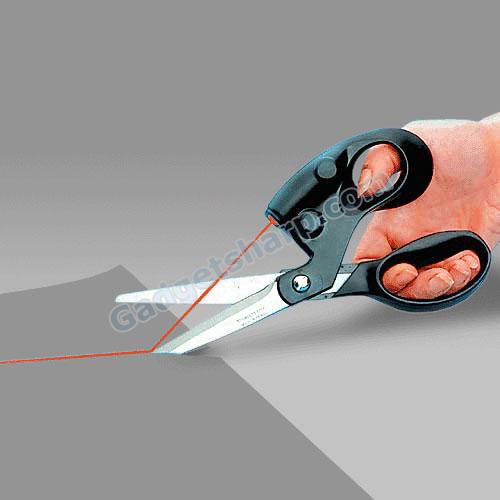 7. Fiskars Softouch Scissors, Left/Right Hand [amazon]
No.5 Softouch Micro-Tip Shears cut leather, upholstery, vinyl, cardboard and more. They are ideal for jobs that require precise cutting. The Micro-Tip blades give increased visibility for precision cutting and the SoftGrip material on smooth contour handle offers more comfort and less slipping while cutting.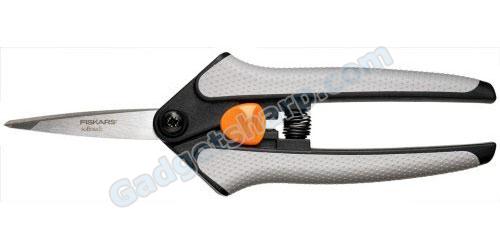 8. Westcott Stainless Steel Office Snips [amazon]
Effortlessly cuts through materials such as rugs, tile, rope, canvas, sheet metal, linoleum and wire. The angled snips with serrated, stainless steel blades make the toughest job seem easy.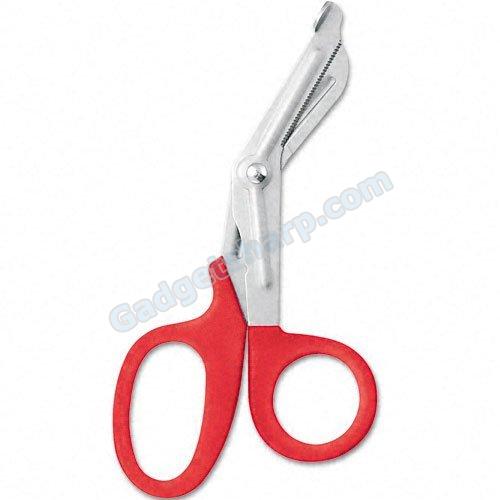 9. Easy Shredder Multi Blade Scissors [amazon]
asy Shredder Multi Blade Scissors Protect your personal information with these incredible Multi-Blade Shredder Scissors. Made of sturdy stainless steel and equipped with 5 sharp blades, these scissors easily shred credit card slips, bank documents, receipts and more quickly and quietly at home, office or buisness travels. Used just like traditional scissors, this shredder utilizes all of the blades to completely shred your papers, much like a larger shredding unit. The extra large handles provide more comfort than other models.

10. Fiskars 9911 Spring Action 8-Inch Multi-Purpose Scissors [amazon]
Softouch Multi-Purpose Shears cut leather, upholstery, vinyl's, cardboard and more. SoftGrip material on smooth contour handle offers more comfort and less slipping while cutting.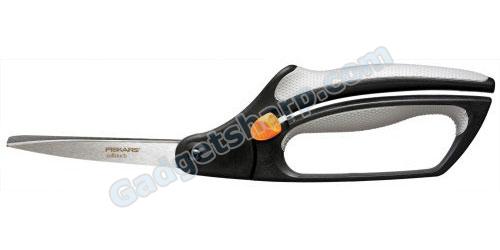 11. Fabric Stainless Steel Scissors [amazon]
Quality cutting instrument in impossible-to-find 14" length for school, hobby and professional use
All stainless steel construction with ergonomic thermo-plastic handle
Blades are precision-ground to razor sharpness for clean, full-length cuts in paper, light fabric
Adjustable blade tension, easily re-sharpened; 14-1/2" length-overall, maximum cutting throat 9"
Great for scrap-booking, newspaper clipping, long fabric cuts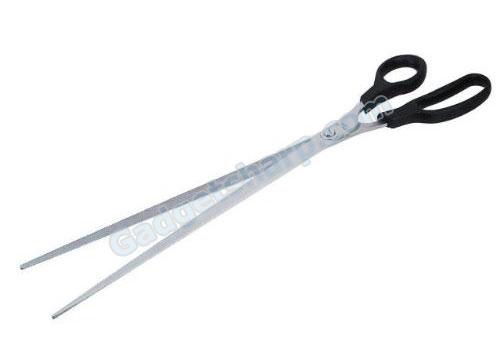 12. Pet Nail Scissor [amazon]
Our high-quality stainless steel pet nail scissors feature black vinyl-coated handles for a comfortable and secure grip. These Master Grooming Tools? Small Pet Nail Scissors are ideal for cats and birds, and feature a finger rest for added leverage. Scissors can be used by left- or right-handed groomers. Use in your shop or resell to customers for use at home. Master Grooming Tools? Pet Nail Scissors are packaged for resale.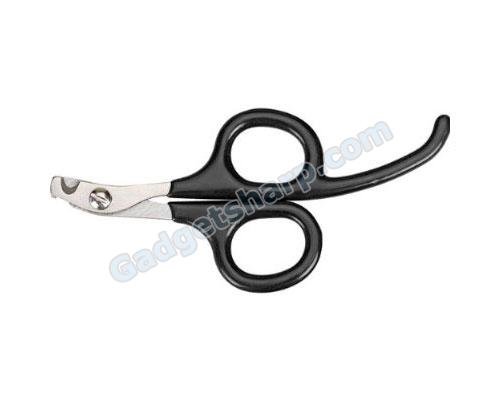 13. Total Control Scissors [amazon]
Extra finger loop for better control while cutting. Non-rust blades are rounded with a blunt tip and include shorter blades for safety.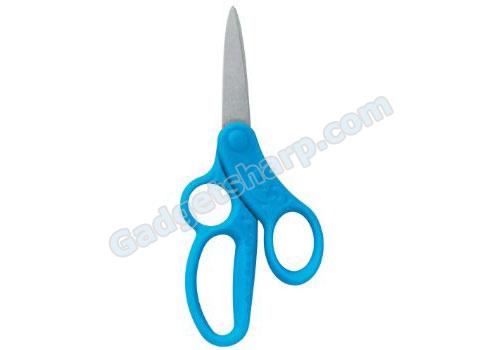 14. Costumes For All Occasions Scissors Ribbon Cutting [amazon]
Looking for the best selection of Costumes for any occasion -then you've come to the right place. Choose this item made by the premier manufacturer for costumes, props, and theatrical wear. We supply ice shows, circuses, TV, amusement parks, Broadway, and almost every major Hollywood movie studio with all their theatrical needs. From funny masks and accessories, to unique life like mascot and animal costumes we have them all. Satisfaction Ensured. Metal scissors with wooden handles. 24 inches long and 10 inches across, will actually cut ribbon.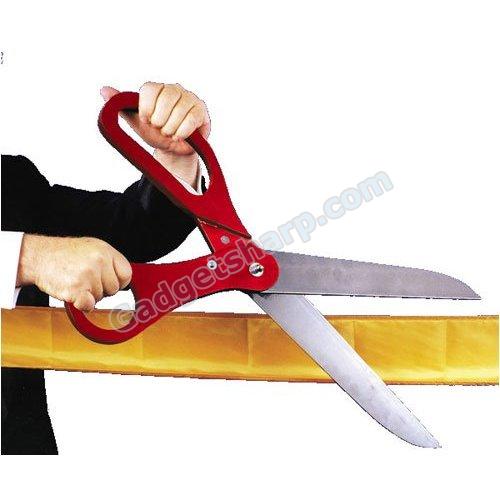 15. Koziol Design Edward Scissors Whimsical Scissor holder [amazon]
Bring splashes of color in your kitchen or desk with these great items from Germany. Koziol brings design in the home in a fun and whimsical way. Some scissors have feet but get an eyeful of Edward here! Let your scissors stand proud sentinel on your desktop with a little alien watching over them 2 by 2 by 7 inches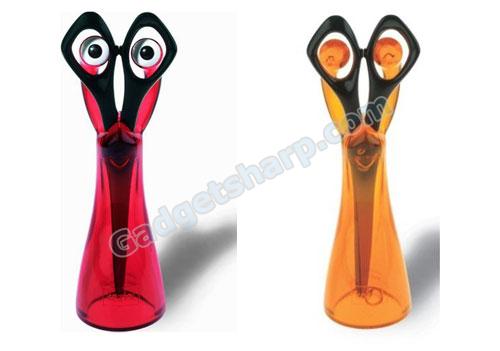 16. Olfa OLO Rolling Scissors [amazon]
An easier way to cut. These red rolling scissors cut gift wrap paper film and vinyl. Comfort-Cut by rolling instead of squeezing. Reduces hand cramps and fatigue. Also makes cutting easier for people with arthritis or carpal tunnel syndrome. Safety-no pointed blades, no sharp edges and safety grip prevents slipping. Precision built-in guide assures accurate cuts at any length. Unique roller bearings make clean straight smooth cuts. Glides through many plastics and multiple sheets of paper. Flexibility contoured handle for right and left handed use.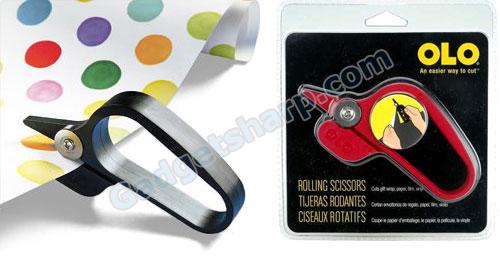 17. Scissors - Rabbit Gray [amazon]
With sturdy flat feet and big ol' sharp ears, this rabbit's got his work cut out for him (and he begrudgingly works with hands on his hips!). Choose a pink or white pair of rabbit scissors, sure to stand out on any desk!