Jigsaw puzzle can tap people's intellectual resources and the interesting patterns also inspired some innovative products at the same time, like the 16 Jigsaw/Puzzle Inspired Product we will talk about in today's post. Alarm Clock, Serving Board, table, lamp and bookshelf, you will find there are so many products, and they are not only in Jigsaw/Puzzle shape, but also have some useful function associated with the shape.
1. Puzzle Alarm Clock [link]
Alarm clock turns off only after you?ve returned pieces to the base in the appropriate position. Fancy models fire pieces into the air, scattering them on the ground. Simpler models let you scatter the pieces before going to bed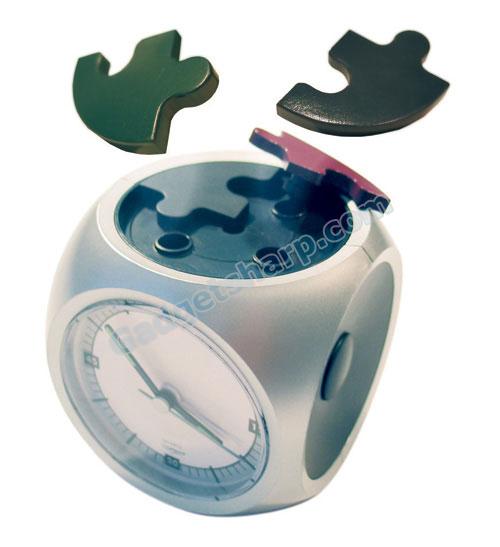 2. Puzzle Serving Board [link]
Why give yourself extra work by pulling out tons of plates, when you could do it all with the puzzle serving board. Cut up your meats and cheeses and serve your party guests separately because the board splits into 6 pieces. Clean and handy, perfect for showing your boss you have the right pieces to the puzzle.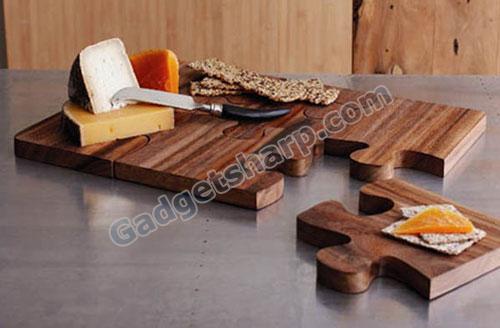 3. Puzzle Rug [link]
With the Persian Puzzle Puzzle by Katrin Sonnleitner you can puzzle your own floor or wall decor. The collections includes classic PuzzlePersian with 9 persian rug colours, the PuzzlePersianBW with black&white pieces. The PuzzleGreen with four green tones is ideal for a botanical wall decoration.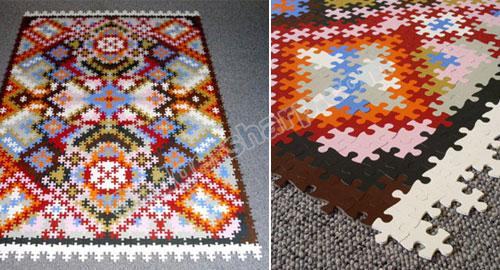 4. Jigsaw Cookie Cutter [link]
Little ones will love helping out in the kitchen with this exclusive, metal, jigsaw piece cutter. Especially as they?re allowed to play with their food! It provides endless fun for kids and is popular with adults, too. Imagine the effect of pieces running down the centre of a party table, or individual jigsaw piece biscuits being decorated with different children's names.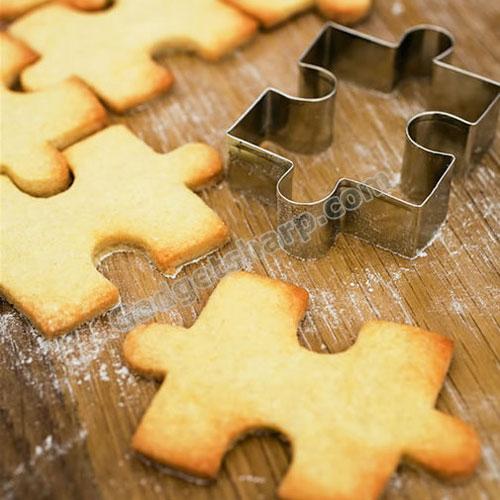 5. 2GB JIGSAW FLASH DRIVE [link]
Why carry around dull and boring USB Drives? Use the Jigsaw Puzzle Piece USB Flash drive and be the envy of all your friends (okay, some of your friends!). A perfect Gift for the jigsaw nut!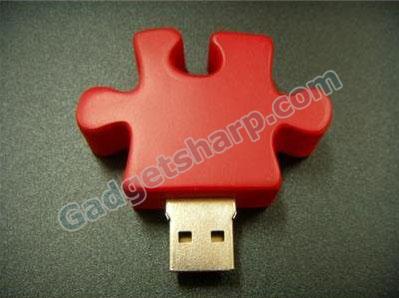 6. Jigsaw table [link]
Made entirely from solid beech, the Jigsaw Puzzle Table consists of individual jigsaw shaped pieces that fit together to create a unique occasional table.
Available in two sizes, this clever and imaginative piece of furniture is great fun to put together and, once assembled, is both an attractive and unique table that fits comfortably within a wide range of room settings.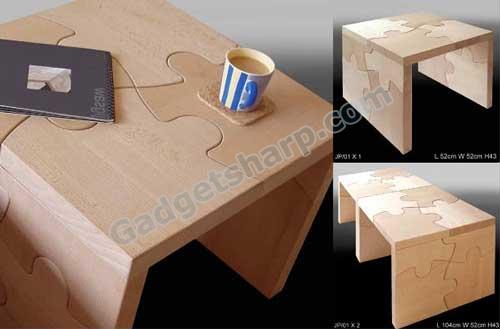 7. Puzzleboard [link]
The Puzzleboard by OOOMS can be used in more ways than one: each board can be used on its own as a cutting board or serving plate, or put some boards together and you have super-sized your workspace. It?s ideal for cutting those long baguettes! But the best thing is that any wineglass can be fitted into the blank spot of a board. Using the boards at parties allows guests to enjoy both wine & delicacies, while still having one hand free to greet other friends.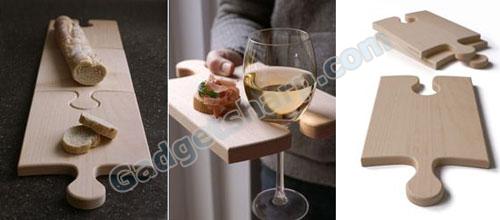 8. Jigsaw Puzzle Piece Cufflinks [link]
Unique pair of cufflinks set in rhodium, silver mount. Clever design features a jigsaw puzzle pieces set on a classic t-back cufflink. Conservative enough for the office; but far from boring. Each cufflink is miniature puzzle piece and a BIG conversation piece. Pair with any classic shirt and pull out similar or complementary hues in a shirt or tie.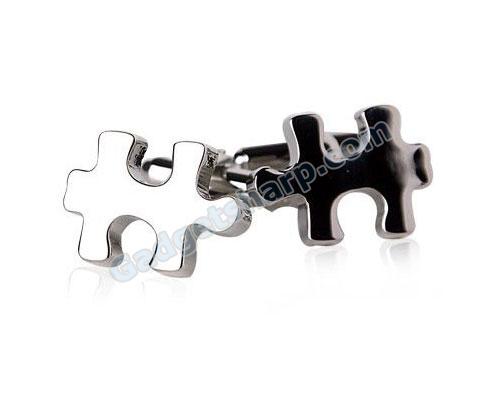 9. Puzzle Sandwich Cutters [link]
The cutter is higher than a regular cookie cutter so it easily cut through two pieces of bread without flattening the sandwich. You can create single sandwiches pieces measure about 3.3 inches X 2 inches – or build an amazing interlocking puzzle pieces measuring about 2 inches square.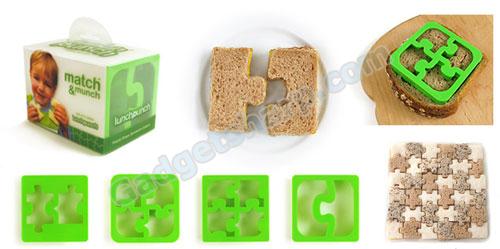 10. Puzzle Shaped MP3 Player [link]
The vast majority of MP3 players are either ultraslim or touchscreen, but Aigo is offering a unique puzzle-shaped device to the masses.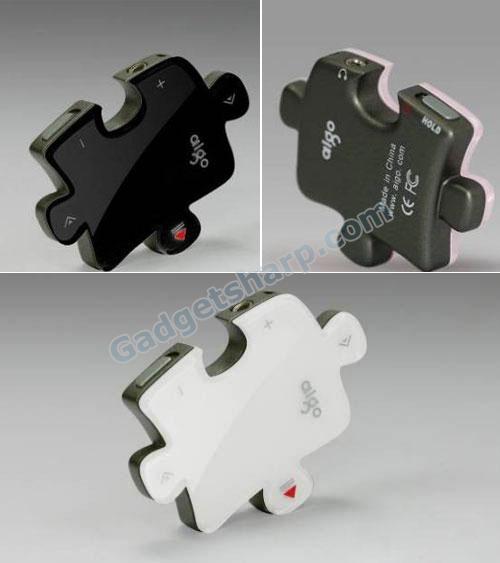 11. Pop - Puzzle lamp [link]
Pop is a luminous multifunctional lamp with a whimsical design inspired by jigsaw puzzles. It can take on a variety of forms to suit your needs and imagination.
Turn your living space into a puzzle which will enchant young and old alike!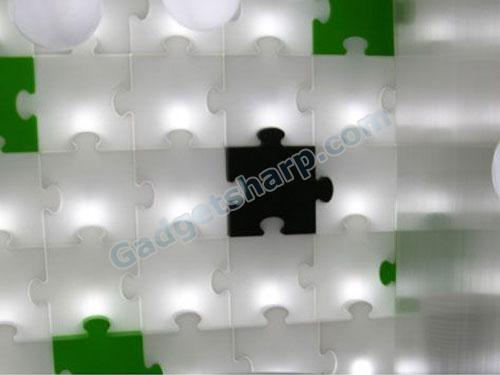 12. Jigsaw Puzzle Stool [link]
Precisely die cut to fit together as snugly as the pieces of a jigsaw puzzle, these cleverly designed sheesham wood stools can be combined for a multitude of uses. In any arrangement, they provide impromptu seating, a novel surface for plants or magazines, and ample material for jump-starting conversations. Chain-link two or more to create a table or bench of any length.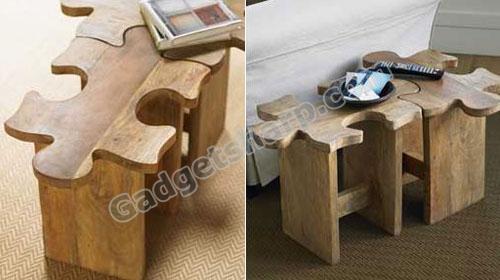 13. Puzzle Bookshelf [link]
The Primary Puzzle Bookshelf from KidKraft has a playful design that will compliment the rest of your child's room and grow with your child's needs. A great bookshelf for your playroom!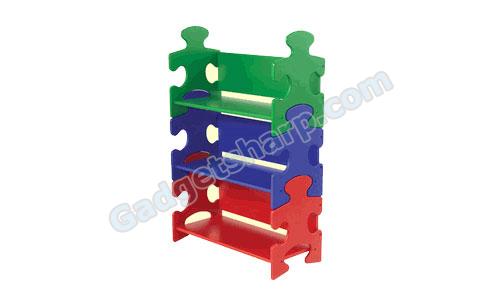 14. Anodized Aluminum Puzzle Menorah [link]
We just love this menorah made of individual, brightly colored anodized aluminum pieces that can fit together into a variety of arrangements. One puzzle piece is taller for the shamash. Included is a wooden travel/storage box. Made in Israel.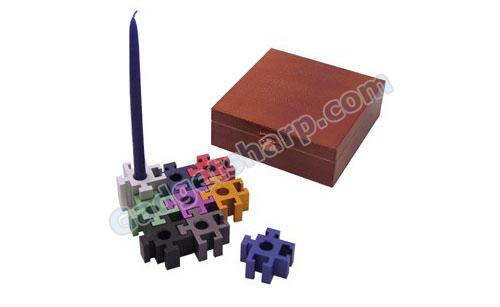 15. Puzzle Wall Mount Fish Bowls [link]
Piece them together! Create interesting, live wall art with these Puzzle Wall Mount Fish Bowls (set of 2). Hang these acrylic fish bowls on your wall for decoration and to save space.

16. Puzzle Mirror [link]
Your reflection will fit perfectly in these playful puzzle pieces. Mirrors can be hung vertically or horizontally. Connect multiple mirrors for the ultimate giant puzzle! Wood frames. Available in Black, Blue, Green, and Pink