A traditional trivet is usually a small three-legged metal tray placed on a dining table to protect it from hot food containers. Trivet designs can range from the purely functional to the ornate, although they all perform the same duty. In this post, we will present you with 15 Stylish and Functional Trivet Designs with different materials: steel, wood, bamboo, ceramic and silicone. We are sure you will find many uses for these quality trivets, function-wise or decor-wise.
1. CIRCULAR WINE CORK TRIVET [amazon]
Circular wine-cork trivet converts wine corks from special bottles into a functional conversation piece. After enjoying wine continue the fun by screwingeach cork onto the sturdy eight-pronged metal frame. Serves as a unique decorative piece for the table, ready to hold hot dishes at any meal. Makes a great housewarming gift. Metal, 6 1/2 x 1/2".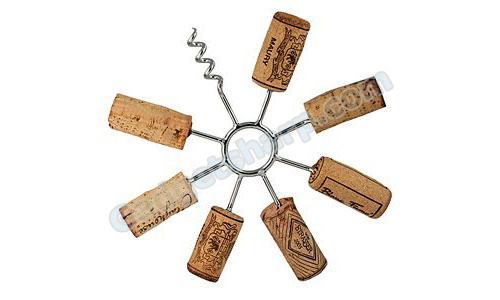 2. DCI Hot Man Trivet [amazon]
Trivet
Made of metal
Hand wash
This is a funny looking trivet holding your hot pot.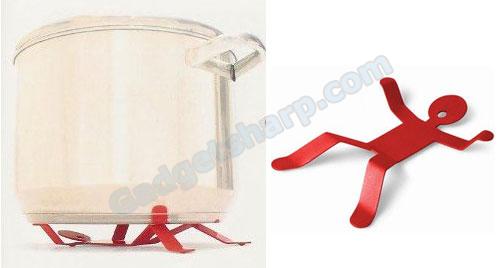 3. Black and White Cow Set of 2 Trivet Hot Mats [amazon]
These trivets are heat resistant to 475 degrees f. They are stain resistand. They are water repellant with a non-slip back. They would make a cute addition to your kitchen. They are about 6 inches by 8.5inches.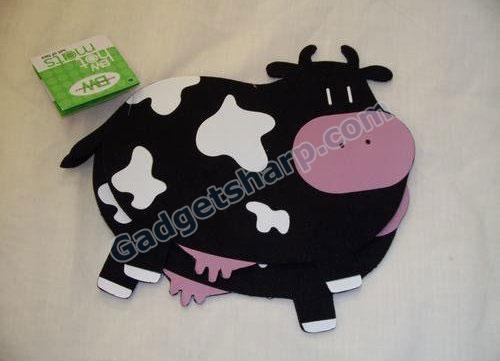 4. Chocolate Mint Spiral Trivet Twist Set by Berryware [amazon]
These colorful trivets are sure to brighten up your kitchen, interlock together or individually, or use them for decoration in an unexpected place. Food safe & designed for fun, use them individually, or with collection for a perfectly coordinated table!
Sprinkle from the bottom. Trivets are dishwasher and food safe, handpainted, made of ceramic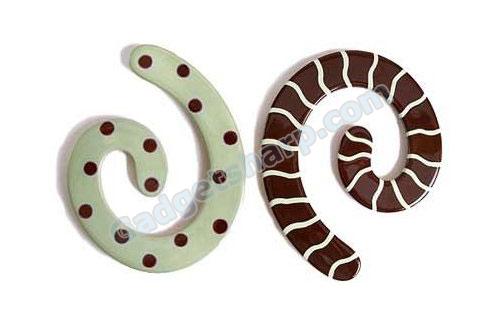 5. Orka Silicone Heart Shape Trivet [amazon]
Whimsical shapes are highly safe and multi-functional. Can be used as a trivet, pot holder, jar-opener, or even an iron rest. Non-slip surface keeps dished secure.
6. Umbra Floret Trivet [amazon]
Set your table in style with the Floret Trivet from Umbra. A retro flower forms this whimsical trivet, attractive enough for kitchen, breakfast nook, or dining room! Heat-resistant up to 500 degrees Fahrenheit, this trivet is dishwasher safe and comes in black or purple. Measures 8-inch in diameter. Designed by David Quan for Umbra - the worldwide leader in casual, contemporary, affordable design for the home.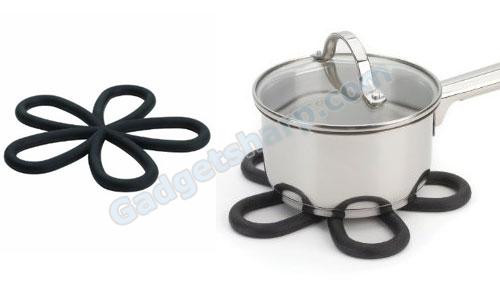 7. Totally Bamboo Lattice Trivets, Set of 2 [amazon]
Protect your counters and tabletops with these attractive and durable bamboo trivets. Set of two. Lattice Trivets by Totally Bamboo have the same design but come in two different shapes; round trivet measures 8-inch in diameter and square trivet is 8-inch squared. Each trivet is 1/2-inch thick. Made of strong, eco friendly bamboo. Each Totally Bamboo piece is distinctively attractive, super strong, and totally -inchgreen!-inch The benefits of using bamboo are numerous. For example: bamboo is 16 percent harder than maple, it?s naturally anti-microbial and it?s eco friendly; it holds the promise of a sustainable, cost effective, and ecologically responsible alternative to the widespread clear cutting of our old growth forests.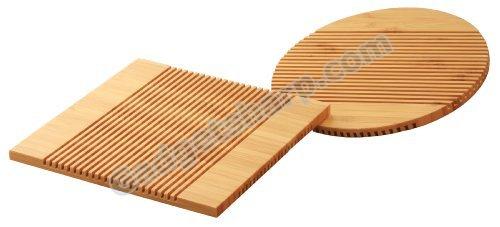 8. Oggi Stainless Steel Expandable Trivet with Rubber Feet [amazon]
With innovative designs and contemporary finishes, Oggi?s kitchen, bar and bath wares are truly tomorrow?s house wares today. Oggi?s Expandable Trivet is no exception. This sturdy trivet expands to fit most pans or dishes ? expands from 5-1/2-inch to 24-1/2-inch. Made of stainless steel. Trivet also features non-slip rubber feet. With its attractive design and stainless steel finish, this trivet compliments most kitchen and tabletop decors.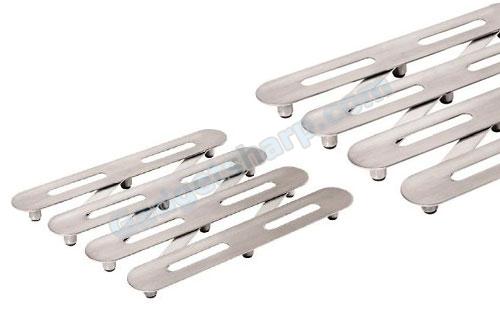 9. DII Moose Black Cast Iron Trivet Set of 2 [amazon]
Bring the Great Outdoors, indoors with a Moose Trivet. Each trivet is cast iron with matte black paint finish and rubber feet. A fun way to add a rustic feel to any table or kitchen. Measures Approx. 8 x 6.5". Shaped like a moose.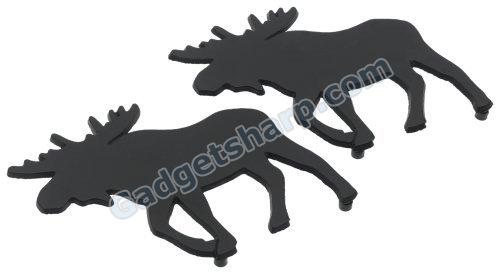 10. Black Trivet Heat Resistant Up To High Temperatures [amazon]
Spice up hot treats with a dash of color. This floral table decoration has a hidden talent, doubling as the perfect platform for plates, bowls, dishes and pots on your table. Combine them in fascinating patterns for large pots. Heat-resistant up to 220?C/425?F.
11. Umbra Splat Trivet [amazon]
Umbra brings affordable design to an everyday item with the Splat Trivet. This molded-rubber hot pad features a whimsical curvy edge and helps protect countertops and tables from burning. Heat-resistant up to 500 degrees Fahrenheit; easily wipes clean. Available in an array of fun colors. Measures 8-1/2-inch in diameter by 0-1/4-inch thick. Designed by Alan Wisniewski exclusively for Umbra - a worldwide leader in casual, contemporary and affordable design for the home.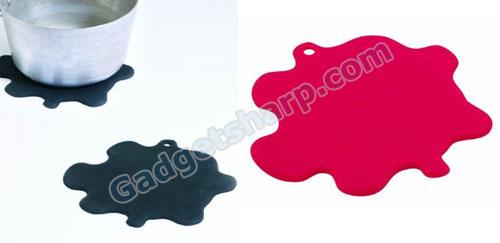 12. Cork bread-shaped trivet [link]
Those aren?t slices of bread under the pot and cups! The loaf of bread is actually Toast It; a cork bread-shaped trivet / coaster that adds a dash of humor to your mornings! Ligthen up! Have some fun at the breakfast table, will ya!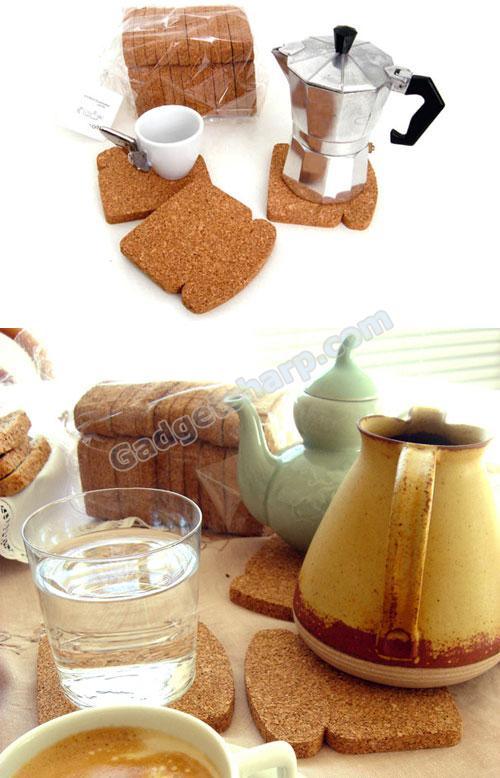 13. Range Kleen 8 Inch Range Kleen Swirl Red Trivet [amazon]
High Quality Enamel Coating
Stylish Design
Stylish colors
Non-skid rubber feet
Easy to Clean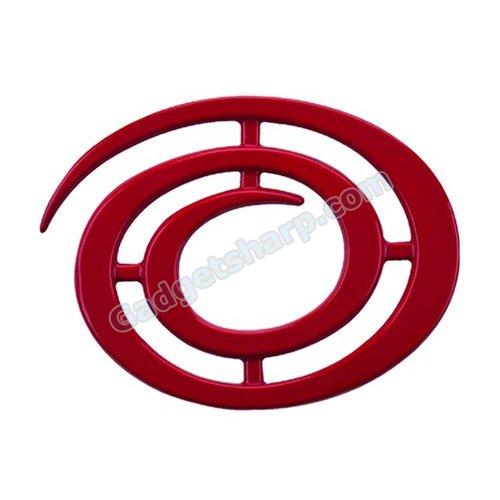 14. AGATE TRIVETS - SET OF 2 [amazon] [link]
These small plates, which can be used as trivets or for hors d'oeuvres, are made of beautiful polished Brazilian agate with a natural concentric ring pattern. Slip-proof treads protect surfaces. Set of two. Made in USA.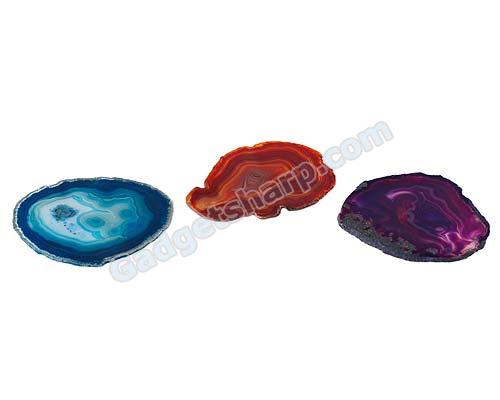 15. Wine Cork Trivet Kit - Natural [amazon]
Love the various flavors and tastes of wine? Then try out this unique wine trivet kit, it is the perfect way to store all those wine corks and memories from your favorite wines in a clever wine cork trivet that makes a great decoration and will also protect your surfaces from hot pots or dishes! With a great kit like this, half the fun is in the making! You just supply the wine corks! A wonderful gift for birthdays, house warming parties, bridal showers, or the wine connoisseur. Measures 9 x 11 Gift Boxed.