Whether polished obsidian, bronze or metal-backed-glass, we have been gazing at our reflection for thousands of years. Who knew this seemingly common decorating item would in time become so popular and take so many shapes? Here are 15 Modern and Stylish Mirror Designs and hope they can help to add some interest to your living room, foyer, or bedroom wall. Enjoy!
1. Nexxt Emile 17-1/4-Inch-by 26-Inch Mirror [amazon]
3 mirrors offset by dark brown Wenge-finish veneer frame
Contemporary styling offers both style with function
No assembly required; mounting hardware included
Also available in a larger 5-mirror version
Measures 17-1/4 inches wide by 26 inches high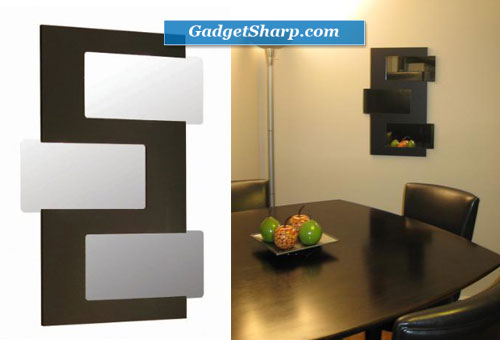 2. Lot 26 Studio ADD-HERES Adhesive Reflections-Mirror [amazon]
Instant d?cor provides accents for home, dorm, office, or anywhere
Includes 1 sheet of mirrored elements
Easy to apply and remove without damaging surface - just peel, stick, and lift off
Works best on smooth surfaces such as painted walls, doors, etc.
Sheet measures 10-1/4-inch by 15-inch and wipes clean easily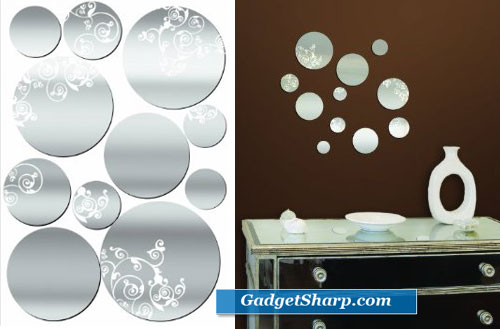 3. Lighthouse Wall Mirror [amazon]
A sunny lighthouse scene complete with seagulls and a rocky coastline makes up the frame for this oval wall mirror. Alabastrite. 10 5/8'' x 1 1/8'' x 13 3/8'' high.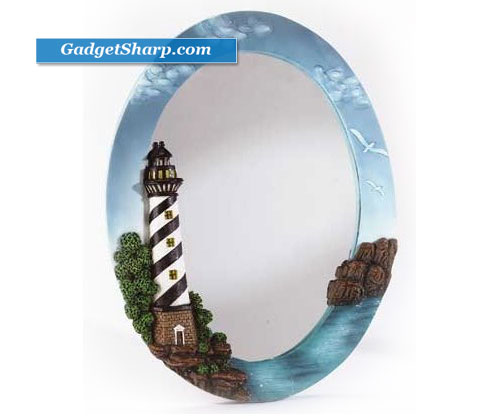 4. Splashes Out of Puddle Mirror 50cm x 45cm with 6 Splashes [amazon]
Splashes Out of Puddle Mirror 53cm x 45cm with 6 Splashes
Made from 3mm thick shatterproof lightweight safety acrylic mirror
Has the same reflection as a normal mirror
Comes with strong adhesive fixers
Cleaning Instructions: Please clean with a micro cloth only, do not use any abrasives or abrasive sprays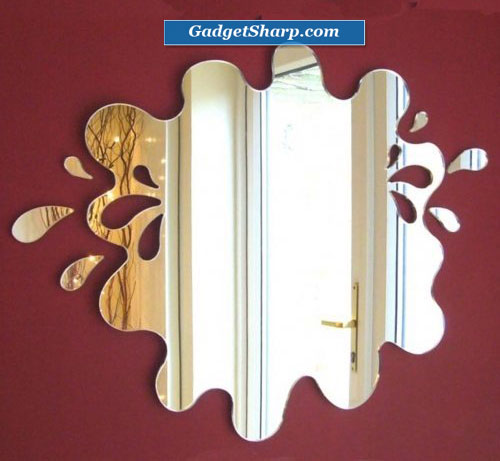 5. Grasslands Road Indian Summer Smile Bronze Metal Wheat Motif Mirror [amazon]
Metal frame/glass mirror with hanging hardware on back
Embossed wheat pattern with beaded edging
Message reads: smile
12-1/4-Inch square
Patina finish

6. Victorian Wall Mirror [amazon]
Ornate scrollwork lends the lovely look of handmade lace to this alluring wall mirror, framing your reflection in a halo of nostalgic romance. A wonderful centerpiece that dresses up any wall with the picturesque artistry of yesteryear! Hole on back for hanging. Iron and glass mirror. 10 3/4 inches diameter x 1/2 inches thick.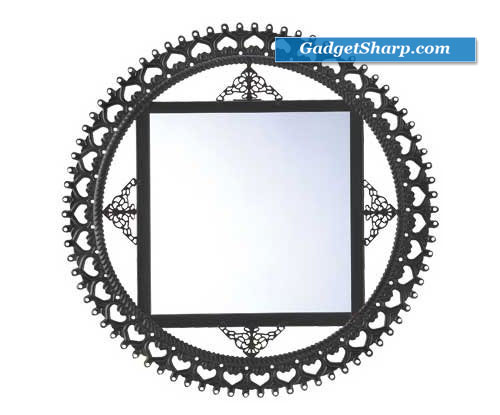 7. Umbra Chrysalis Wall-Mount Mirror [amazon]
Oval mirror with butterfly detail
Constructed of glass with silk-screened mirror finish
Mounting hardware included
Size: 22 by 17 by 1 -Inch
Design: Adin Mumma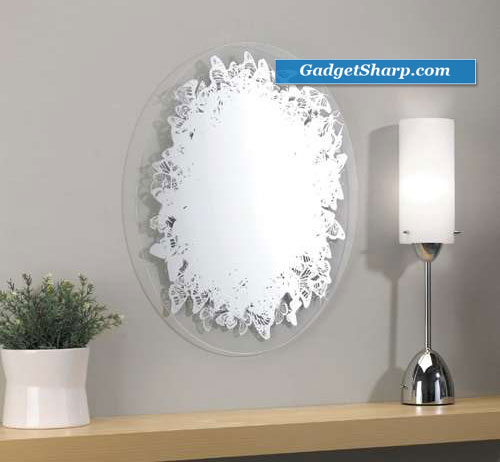 8. Umbra Strip Wall-Mount Mirrors, Set of 7 [amazon]
Set of seven narrow mirror panels mount at varying heights
Constructed of mirrored glass
Mounting hardware included
Three 24 by 2 by 1-Inch, three 24 by 3 by 1-Inch, and one 24 by 5 by 1-Inch panels
Design: Umbra Design Group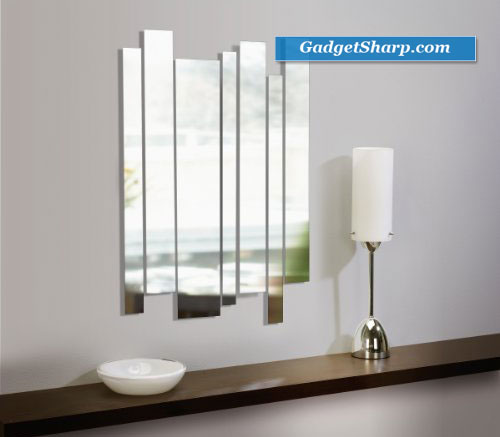 9. Ashton Sutton 20" Metal Wall Mirror [amazon]
Ashton Sutton 20" Metal Wall Mirror - STM118 This elegant wall mirror is made of a solid metal frame with a genuine glass mirror in the center. The metal frame is hand finished with a black matte coating. The design is 3 dimensional. DIMENSIONS: 20" x 1" x 20" 5-Year Manufacturers Warranty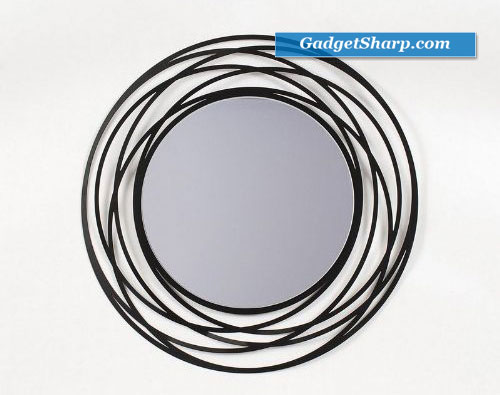 10. Gilmore Swerve Wall Mirror [amazon]
-Gilmore collection. -Aluminum and glass construction. -Oval contemporary wall mirror. -Hand-crafted and hand-finished. -Can be hung vertically or horizontally. -Overall dimensions: 47'' H x 28'' W.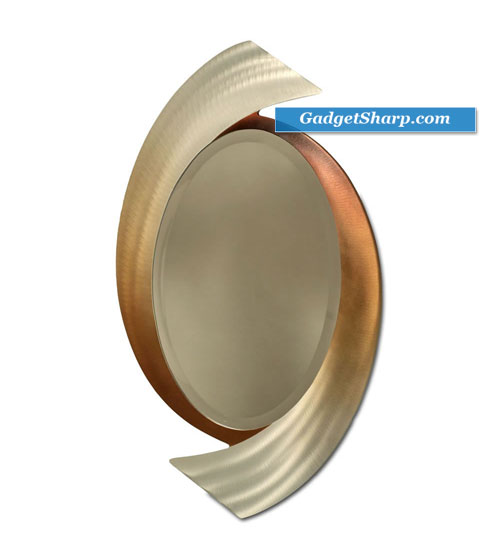 11. Puzzle Piece Mirror [amazon]
Lightweight black molded plastic construction.
Fits together with other puzzle mirrors.
Hang vertically or horizontally.
19" high.
14" wide.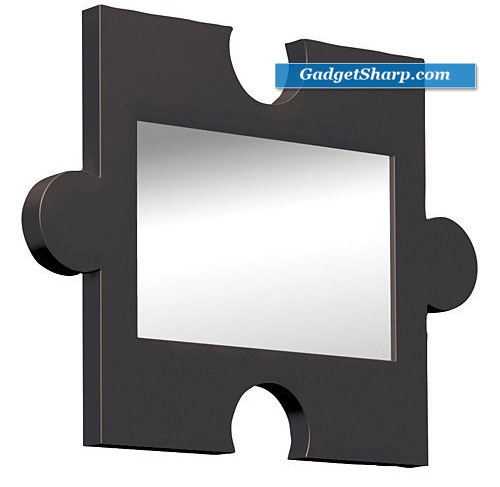 12. Ashton Sutton Wall Mirror, Bubble Design [amazon]
A unique combination of wood and round glass mirrors creates this wall piece. It is practical for use as a mirror while being artistic in its design. Made of genuine wood and glass mirror.
13 individual mirrors
Wooden frame
Glass mirror
Black matte finish
Unique design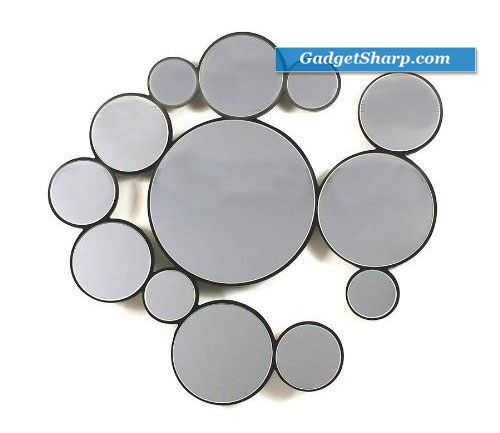 13. Grasslands Road Villa Cherub Grape Leaf Convex Mirror [amazon]
Cement resin mix/glass mirror
Kraft paper box
Indoor/Outdoor use
Classic European styling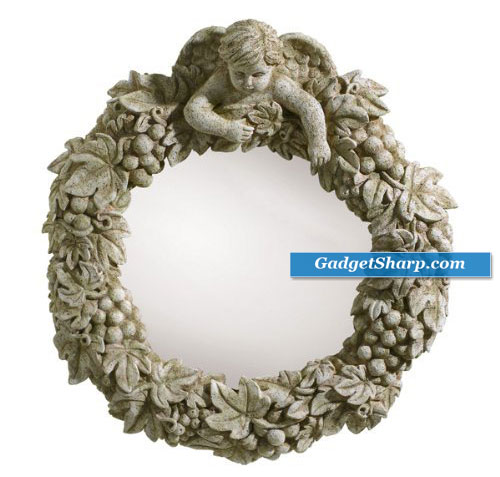 14. Contemporary Elegance Mirror Wall Sconce Decor Candles [amazon]
Mirror Wall Sconce brings a touch of contemporary elegance to any room or entryway. ?10 Metal sconces are ready to hold your tea lights. 18 Individual, wood-framed mirrors reflect the candlelight for a dazzling effect. ?Measures 37" x 26-1/4" x 5". ?Some assembly required; assembly hardware included. ?Add extra dimension to a living room or bedroom.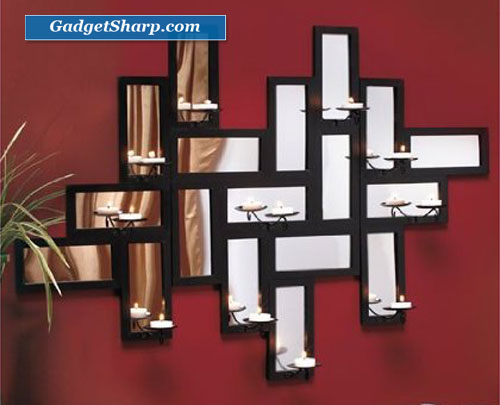 15. Southwest Candle Sconce Wall Decor Set [amazon]
Our sconce set coordinates beautifully with the Sante Fe Mirror (Sold separately - see item 24822). Superb carved detail. Each holds a 3"Dia. pillar candle (not included). Keyhole notch on back for hanging. Wood, iron. Each sconce 4"L x 5"W x 16"H