Watches can be different shapes, with different mechanisms and functions, case and dial, and, of course, may have different cost. They serve not only its primary function - to show time. Watches talk about its owner - taste, allegiances, the rhythm of life, and even mood. In this post, we will present you with 10 modern watch designs; each one has its unique and special design with some modern even futuristic elements. Hope you enjoy the post.
1. ZAZ from nooka [link]
the Nooka Zaz. The most prominent and unique feature of the Zaz is its transparent face.
Utilizing the popular ZenV face, the wearer's skin is fully visible beneath the four vertical bars, giving the illusion that time is being displayed directly onto the individual's wrist.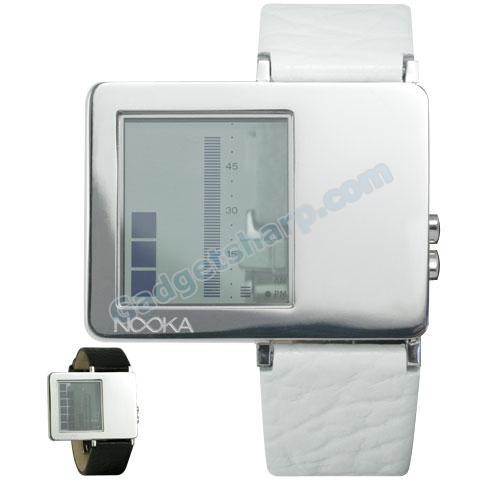 2. Diesel DZ4160 -Freak of Nature [link]
Your eyes are not playing tricks on you, no photoshopping here, this is the actual watch! A Frankenstein timepiece cross-breeding two entirely different watches into one. A hybrid wristwatch fusing a steel oval case with a gold square surrounding a split-faced multi-colored chronograph dial.
Best of all, check out the half leather strap, half metal bracelet.
Stitched together, it's one kick-ass Freak of a watch!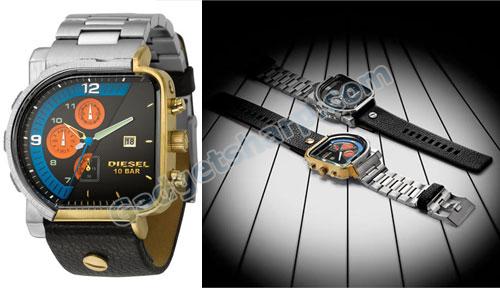 3. Faceless LED Watch [link]
Part of apertures of metal band became digital display screen. Metal band and digital figures mingle together in proportion naturally. Without the face of "timepiece", it displays figures only when needed but also quite vague existence, "time"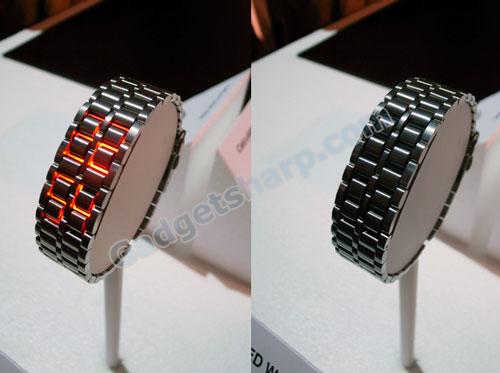 4. The Average Day by Mr Jones Watch [link]
This watch eschews the conventional division of a day into 24 hours, instead it divides into units of median daily routine.
The dial shows a breakdown of what average people do on an average day, so you?re able to see what you yourself should - on average - be doing at any time.
The outer loop on the dial represents the AM and the inner loop the PM.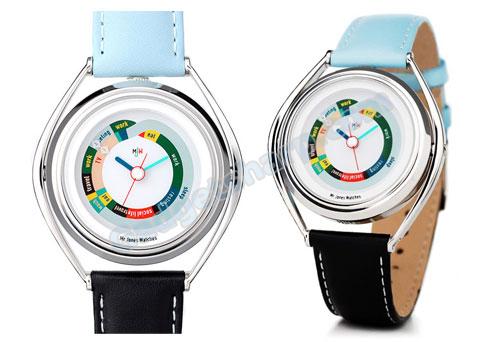 5. Nooka UNDRCRWN Watch [link]
Nooka and UDRCRWN have come together to create a fun and colorful collaboration. The watch features a striped polyurethane band with a black ZenV display.
Functions Date, Time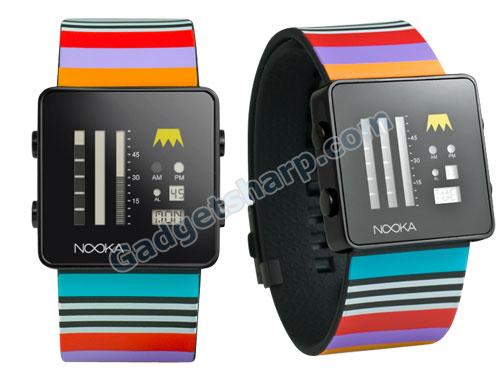 6. DIESEL DZ9044 - no face [link]
At the glance, the Diesel DZ9044 has no watch face, but turn your wrist sideways, it has four tiny watchs on left and right sides that can tell time in four time zones. Other features include water resistant up to 10 ATM (about 330 feet), genuine black leather strap and high polished top surface.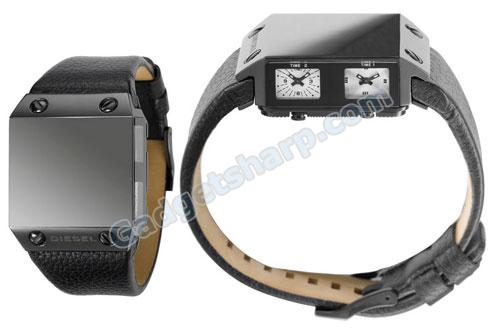 7. Icelink Bikini Watch [link]
Icelink Bikini 6Ttimezone Watch, which is more than one face. It can display the time of six city, other features water resistance 3 ATM.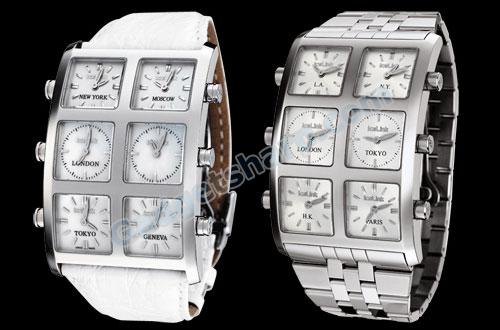 8. Harry Winston OPUS 8 Mechnial Digital Watch [link]
DEVELOPED WITH FREDERIC GARINAUD & CSH Limited edition of 50 pieces. Movement: Mechanical, elliptical, with mechanical digital display module, manual windingDisplay: Hours, minutes (every 5 minutes), AM/PM. Frequency: 3 Hz, JEWELS: 44, Components: 437, Segments: 138. Power Reserve: 48 hours. Functions: On the face: Digital display indicated by segments: hour (AM/PM) and minutes (every 5) . On the back: Digital display indicated by discs: hour (AM/PM) and minutes (every 5). Power reserve also indicated on the back of the watch.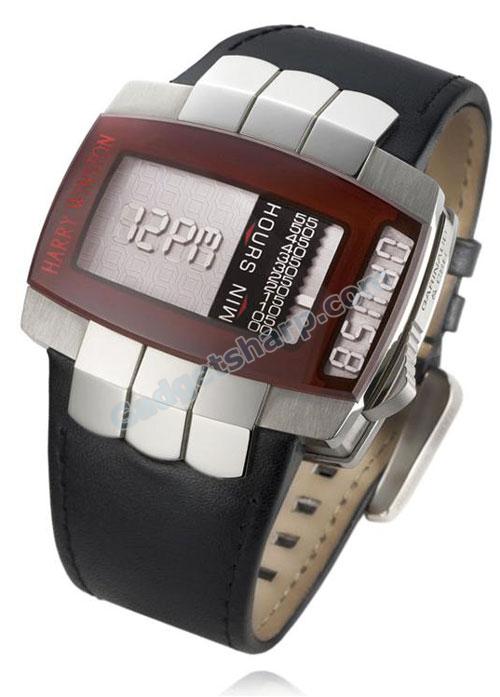 9. MK2 Circuit LED Watch [link]
The Storm MK 2 Circuit Mirror watch is ultra futuristic and breathtakingly enigmatic. It is complemented by an unusual LED time display with hours on the left and minutes on the right. Both band and case are made from hyper-allergenic high grade stainless steel and is water resistant to 50 meters.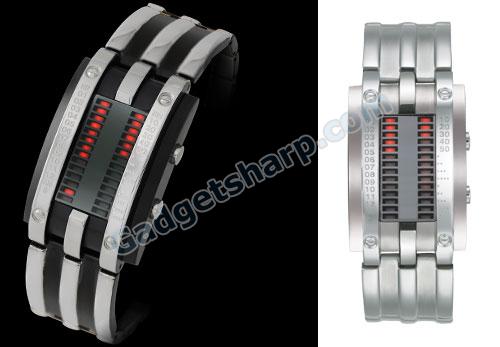 10. 0Hundred Timepiece [link]
he 0Hundred Timepiece harmonizes modern uniqueness with the appeal of vintage military masculinity. This design is inspired by the strong relation of shape in tandem with function. The polycarbonate lens further embraces this idea by 3 dimensionally framing the inner components.