Are you looking for creative Modern Wall Clocks? Do you want to own distinctive and modern wall clocks? In this post, we will showcase 12 Modern and Contemporary Wall Clocks. They come in various materials and different shape. and colors. Delicate design of these Modern Wall Clocks make them not only a timepiece in the room, but can also be an art work on your blank wall. Personalized appearance will let your home become colorful and chic. Hope you like this collection and find a nice one for your home.
1. George Nelson Mirrored Starburst Clock [amazon]
This mirrored starburst wall clock is inspired by our silver Starburst Wall Clock Retro Eames Danish Modern,' striking starburst wall clock measures approximately 19 3/8"across and is in new condition. The style is very atomic with the energetic radiating "protons," alternating mirrored sunrays and metal spindles with ball on the top. 1220-MIRROR Features: Reproduction of a vintage clock High quality quartz movement requires one "AA" battery (not included) Finish: Silver Dimensions: 19.375"(W) x 1.75"(D) x 19.375"(H)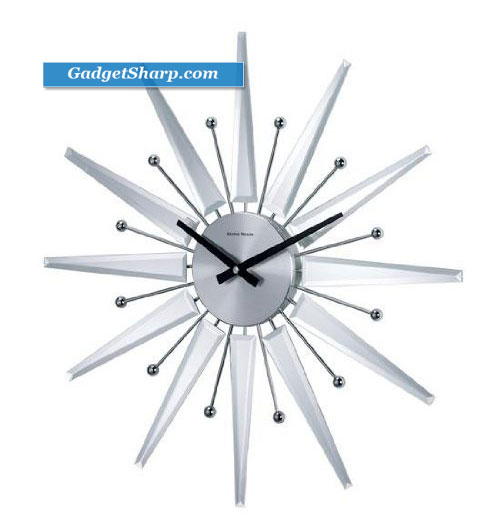 2. Ashton Sutton Wall Clock, Under the Sea With Fish [amazon]
A school of differently sized fish swims across rhe wall while telling the time. The black matte, wooden case supports various frosted glass cut outs of fish. The dial has black numbers and is easy to read. Requires one AA battery.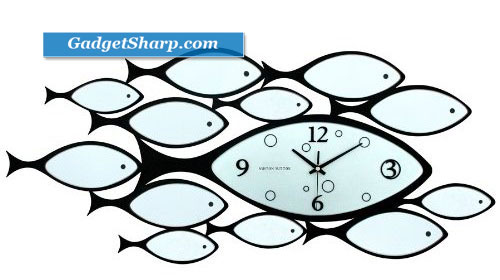 3. Infinity Instruments Kaleidoscope- 32" Metal Wall Clock [amazon]
This impressive 32" diameter iron wall clock features black antique hands and a quartz movement. The colorful panels at each hour will go with a variety of decors
Metal Case
Quartz movement
Arabic Numbering
Black antique hands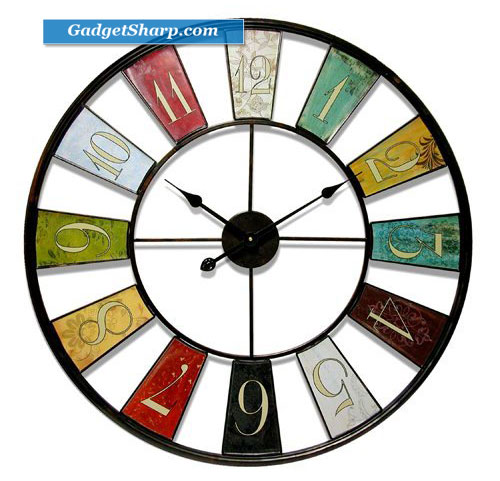 4. Present Time Wall Clock Silverware Steel Utensils [amazon]
Stainless steel wall clock
Round center dial
Kitchen utensils extend out from center
Measures 17-Inch diameter
Requires 1 AA battery (not included)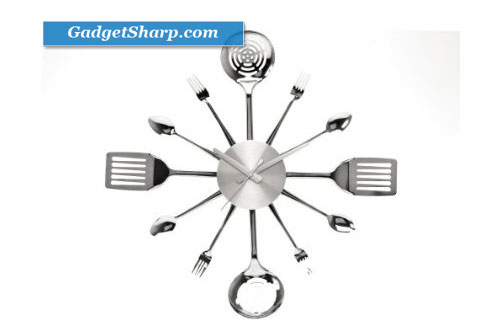 5. Morning Birds Wall Clock [amazon]
Multiple birds sit on tree branches in this charming wall clock design. The sandblasted mirror dial features arabic numbers at 3, 6, 9, and 12 while leaves mark the remaining hours. Black finish. Sandblasted mirror face. Takes one AA battery (not included). 27 1/2" wide. 21" high. 2 1/4" deep.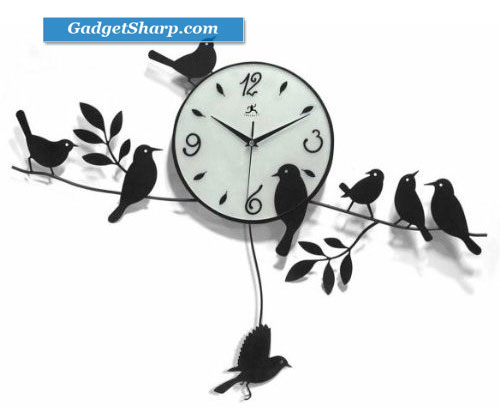 6. Kikkerland CL23 Ultra Flat Wall Clock [amazon]
Grayscale face designed by Thomas Buchheim
Accurate whisper quiet stepping movement
One of the thinnest clocks in the world
14.2 inches diameter, 0.55 inches wide
Uses one button cell LR1130 battery (included)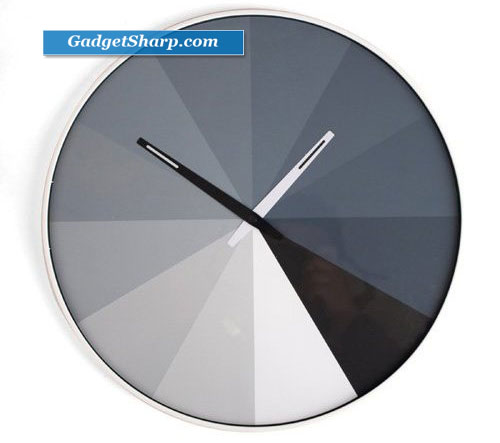 7. Kikkerland Big Wheel Revolving Wall Clock [amazon]
Design by Wil van des Bos
Great Center Piece for home or office
Large wheel turns
Time is indicated at the top position
Takes D Batteries (Not included)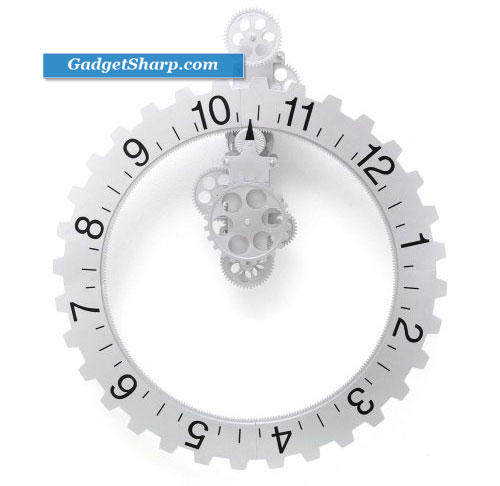 8. Umbra Ribbon Stainless Steel Wall Clock [amazon]
Steel ribbons mark the hours of this modern wall clock
Formed stainless steel
Battery operated (batteries not included)
Size: 12" D
Design: Michelle Ivankovic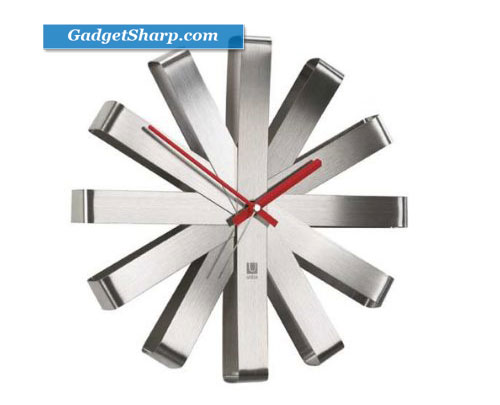 9. Geneva 12-Inch Metal Wall Clock [amazon]
This metal, contemporary 12-inch wall clock will spruce up any room.
Metal case
Glass lens
Metal hands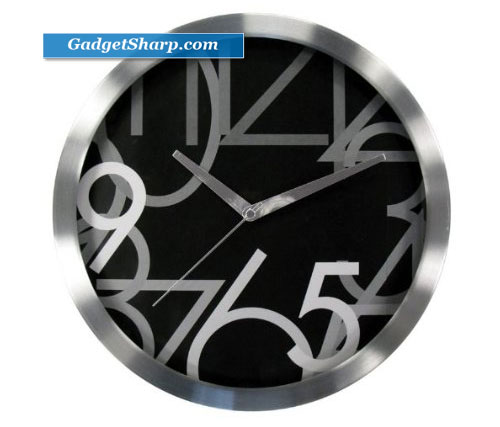 10. Kikkerland Gear Wall Clock, Nickel/White [amazon]
Wall Clock with moving gears
Gears move independently of the Clock
Engineers love this clock
Plastic and metal parts
Takes D Batteries (Not included)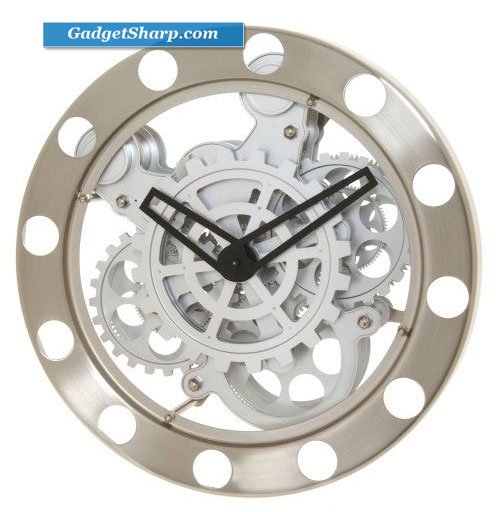 11. Starburst Retro Wall Clock [amazon]
A burst of polished silvertone discs are attached to rods of polished metal to create this spectacular wall clock with a mirrored dial. Requires one AA battery.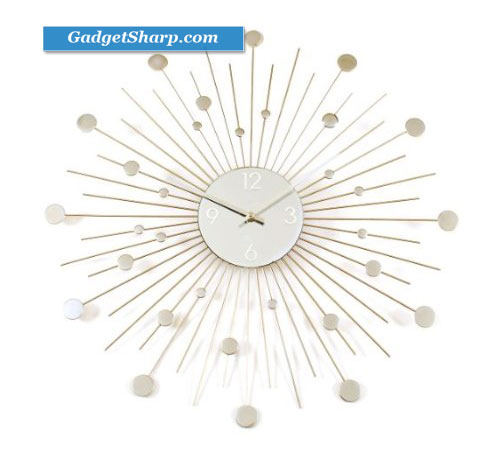 12. Nextime Wall Clock, Dropped Numerals [amazon]
Looking for something creative yet simple? This Nextime wall clock combines the simplicity of black and white while adding some chaos with its dropped numerals.
Glass wall clock
13.8" in diameter
Requires 1 AA battery (not included)