Sticky notes are well known by every one, they are these small and humble yellow pieces of paper that constantly strive to remind us about the tasks we need to complete for the day, and once they serve their task they usually end up in the trash can. Today, we will look at some different designs for those litter yellow pieces. They either have interesting shape or beautiful pattern or extra function. I am glad to see the effort our creative designer put in these daily supply and make our life full of inspiration.
1. Knock Knock Sticky Note Pad Cube [amazon]
Knock Knock Sticky Note Pad Cube, Trees Were Killed combine desktop decoration with repositionable wit that stays fresh through 700 uses?proving once and for all that it?s hip to be square.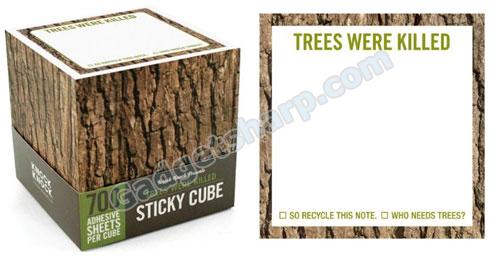 2. Fruit Memo Pad: Pear [amazon]
What?s in the box? sliced apple and pear? No, they are Memo Pad Pear/Apple which are made up of 150 pear slice sheets. Pretty intersting design.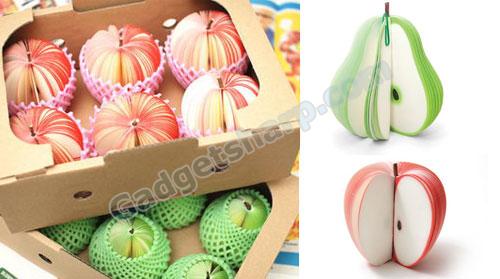 3. AquaNotes Waterproof Notepad [amazon]
We all know the frustration of having an incredible idea hit you in the shower only to have it slip away before you could write it down. Now you can jot down those ideas with the AquaNotes Waterproof Notepad. The waterproof pad features 40 perforated sheets so you can take your ideas, lists, and plans for fixing the government wherever you go.Using the included suction cups, stick the AquaNotes Waterproof Notepad and water-resistant cedar wood pencil on the wall of your shower. Made in the USA of non-toxic and recyclable waterproof paper.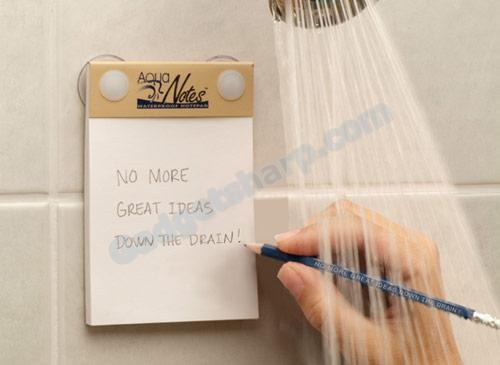 4. Origami Sticky Notes! [amazon]
A little something for those dull moments at the office. Re-cycle your old sticky notes and turn them in to fun 3D models! Each pad has instructions for 10 different shapes, including: pig, penguin, boat, crane, butterfly, squirrel, lily and water bomb. For beginners or advanced paper folders!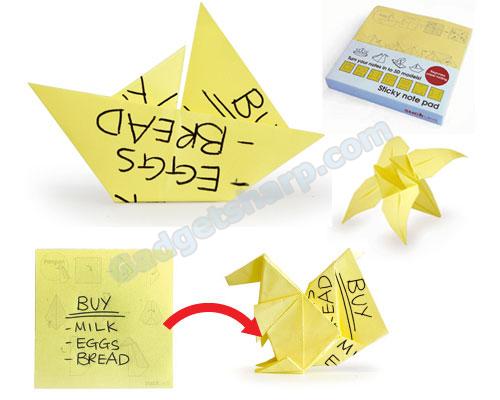 5. Cavallini Sticky Notes Set - Birds [amazon]
Beautiful and functional. They are great for everyday reminders, personal correspondence, journals, embellishments, a quick escape from all-digital life. Superb quality from Cavallini. Enjoy these yourself or give them as gifts to anyone.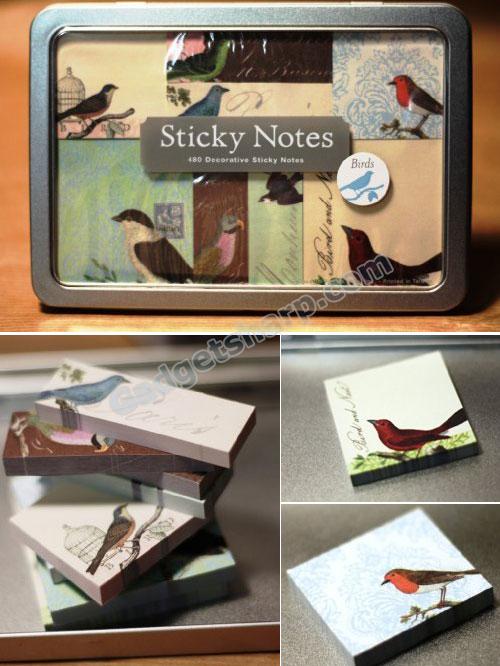 6. Sticky Notes: Talking Bubbles [amazon]
Three pads of sticky notes in the shape of speech bubbles. Perfect for adding captions to photos, or your thoughts to pretty much anything! 50 sheets in each pad.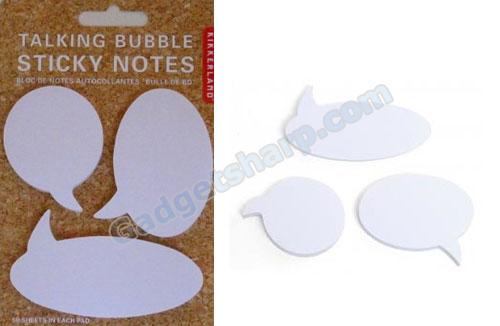 7. Lipstick Pen and Notepad Favors [amazon]
Pucker up and pen a love note to your sweetie with this lipstick pen and sticky notes set?each note on the bright pink lip-shaped notepad is always sealed with a kiss! Also makes a fun bridal shower favor or sweet 16 party favor.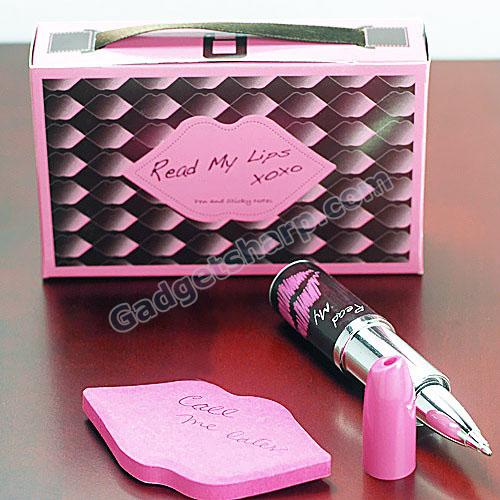 8. TALK TO THE HAND [amazon]
Did you just leave a message for one of your friends on a boring old yellow sticky note? Oh, no you di-n?t. Next time, Talk To The Hand because the hand commands respect! You have 300 chances to get your point across in each pad. High Five!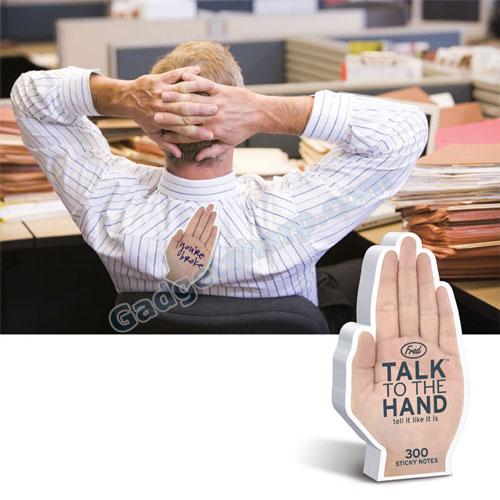 9. Little Book of Sticky Notes [amazon]
Leave your own clues at the crime scene with these new sticky notes! An assortment of notes inside each book. When closed, the books measure 3 1/4" X 4 1/4" and will fit nicely in your purse or back pocket!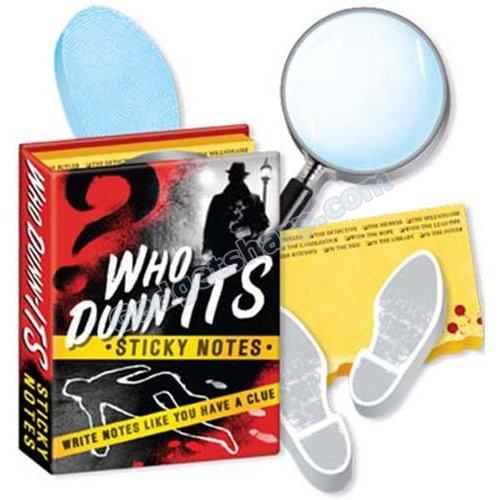 10. Murder Ink - deadly serious sticky notes [amazon]
Murder Ink - deadly serious sticky notes is perfect for poison pen notes, letters of resignation, hit lists, and office to-do's. It comes complete with blood spattered pen, so its sure to make a statement on your desk right beside that suspiciously sharp letter opener.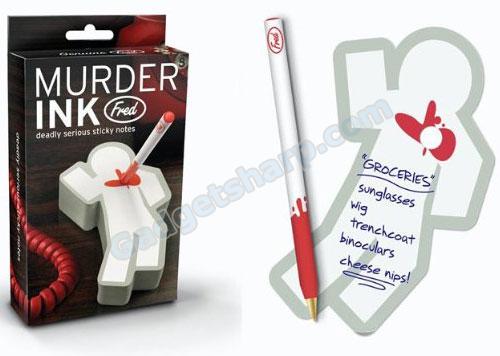 11. Toasted Notes - the hot buttered desk accessory! [amazon]
This piping hot slice of toast is pretty hard to miss on your desktop. You'll always be able to put your fingers on a buttery little self-stick note when you need one. Toasted Notes comes with 5 handy-pads in each pack.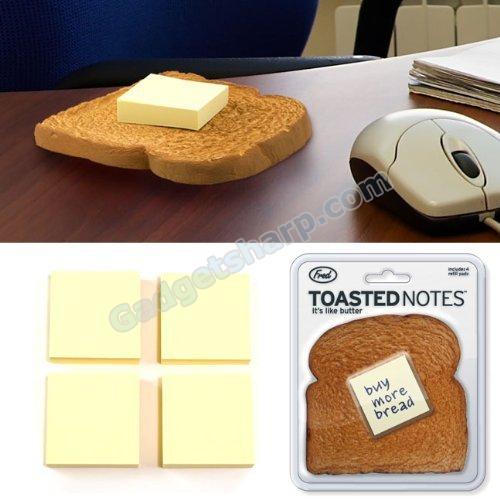 12. Nasty Notes Ultra-witty Novelty Gag Sticky Notes [amazon]
Nasty Notes For the bitchy, bitchier, and bitchiest! Now that "bitch" is an affectionate term (mostly), you can tell the bitches in your life exactly what kind of bitch they are. OR, you can bitch to them about work hassles, love issues or life in general. Whether they're your bitch or you just feel like bitching, allow your inner bitch to roar. Express yourself the fill-in-the-blank way, then make it stick. Bring functional humor to the workplace. Get noticed with the most effective and colorful form of communication - profanity. Your notes will never get lost in the shuffle again.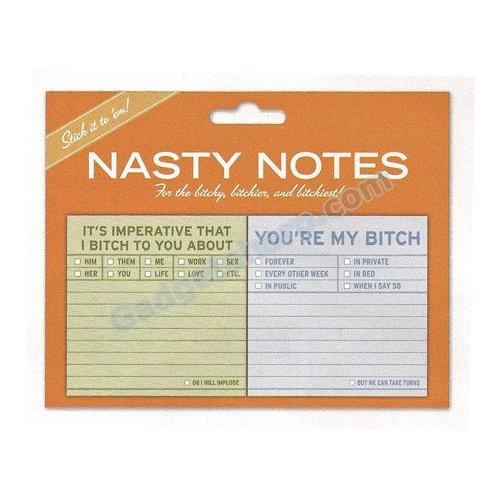 13. Post-it Notes, Flower Shaped [amazon]
Pop-up notes can add a bit of life to your home or office?especially if they come in a unique flower shape. These notes are specially designed for use with Post-it? Pop-Up dispensers (sold separately). After you've written your message, simply place the note in the most visible spot so you won't forget. Package comes with one pad of each: orchid, wild cherry, peach azalea and apple blossoms. 75 sheets per pad. Global Product Type: Self-Stick Pads-Pop-Up; Pad Type: Pop-Up; Paper Color(s): Apple Blossom; Orchid; Peach Azalea; Wild Cherry; Number of Sheets per Pad: 75.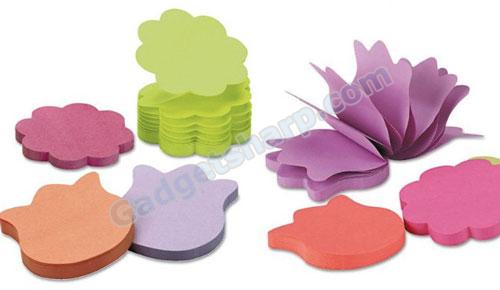 14. Zip Notes Administrator Dark Blue Battery-Operated Dispenser [amazon]
Create sticky notes of any length with this automatic, battery-operated dispenser. Featuring a 150-ft. roll of extra sticky repositionable paper, you can customize notes around the office, school, or at home with just the push of a button. Can be mounted on wall.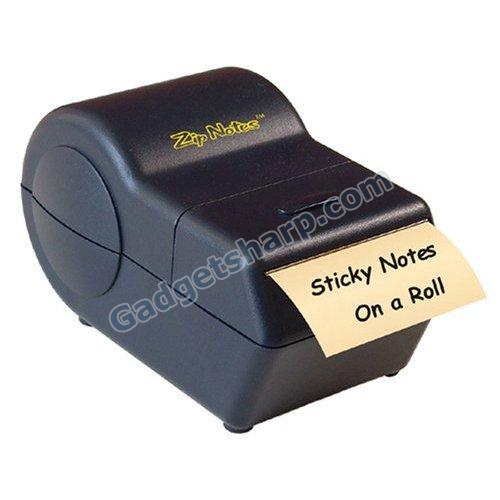 15. Bob's Your Uncle Punctuation Page Markers [amazon]
"Bob's Your Uncle" is a British expression used to indicate that a given task is very simple. Possibly inspired by Victorian Prime Minister, Robert Cecil who appointed his nephew to a ministerial post, therefore to have Bob as your Uncle was a guarantee of success. The Punctuation Page Markers include a pad of 250 sticky page markers. There are 50 each of five different designs. Each sticker is 1 inch by 3 inches. Paper is derived from responsibly managed forests.