Cute and adorable stationary can always add a bit of spark to your desk. While our today's topic, paper clip holder, can not only keep you paper clip tidy, but also adds a bit wit to your desk. From butt station to kitchen basin, from birds to nest, there are so many interesting creation of paper holders.
1. Devil Paper Clip Holder [amazon]
The devil made me clip it! Let your co-workers know that you have a naughty side. No more goody-goody office supplies for you!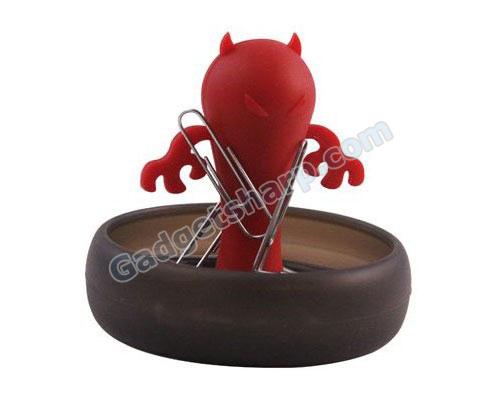 2. Koziol Design Curly Paper Clip Holder [amazon]
Bring splashes of color in your kitchen, office or any place with a desk with these great items from Germany. Koziol brings design in the home in a fun and whimsical way.Seventh Sense Design Studio in Milan, Italy was the creator of this whimsical practical guy that will make you smile! Paper Clips find Curly's magnetic personality too strong to resist. The clips will always be conveniently on hand too!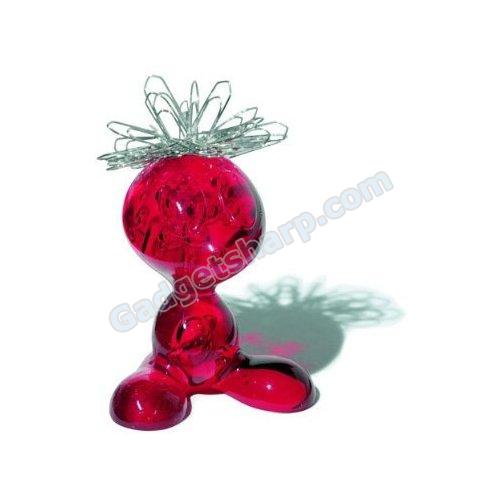 3. Butt Station Tape Dispenser, Pen & Memo Holder, Paper Clip Storage [amazon]
A fun art deco desk accessory that includes a pen holder, tape dispenser, memo/card holder, paperclip holder and a great conversation piece all in one! Sits about 5" high and comes in a variety of colors including: neon green, neon orange and bright blue. When you need to keep yours in the desk, get a butt station to keep you company!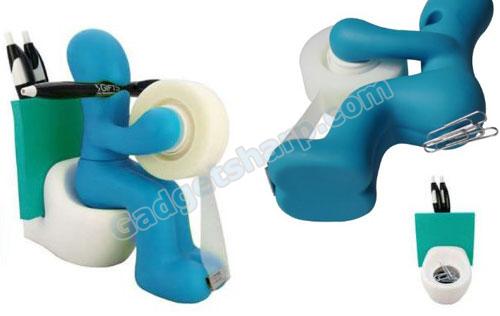 4. RolodexTM 3-Tier Wire Mesh Swivel Tower Paper Clip Holder [amazon]
Swiveling tower design holds three round wire mesh dishes for paper clips, binder clips and more. Each dish swivels for easy access to contents.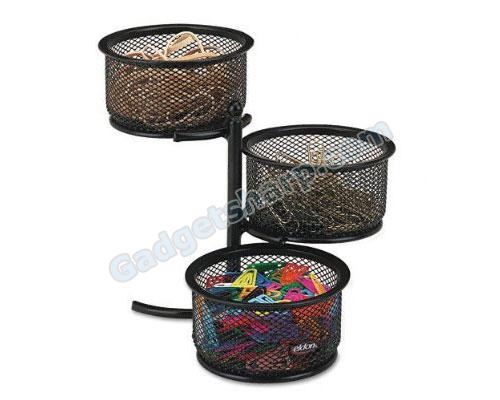 5. Officemate Designer Paper Clip Dispenser with Heavy Duty Magnet [amazon]
Frosted clear clip dispenser holds 100 #1 or 50 giant clips within easy access. Powerful magnetic top holds clips even outside the dispenser. Top unscrews for easy loading.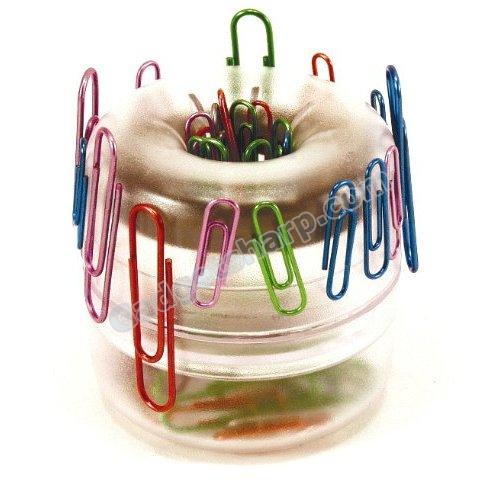 6. Basin Paper Clip Holder Sink Faucet [amazon]
Cute and adorable stationary that add a bit of spark to your desk. And this one is just too pretty for words. It is basically a paper clip holder that is shaped like a kitchen sink. Not only can you place all your clips in that ?sink? but you can hang one in the faucet.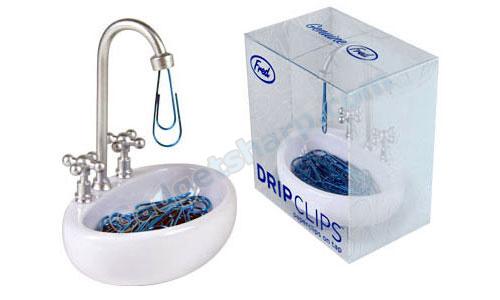 7. Dozi Paper Clip Holder [amazon]
This Dozi Paperclip Holder is cute. This clever porcupine creature, by young Korean designer Mika Kim, lets you collect them neatly, and adds a touch of wit to your desk. Made by Alessi of PMMA plastic and magnetic steel.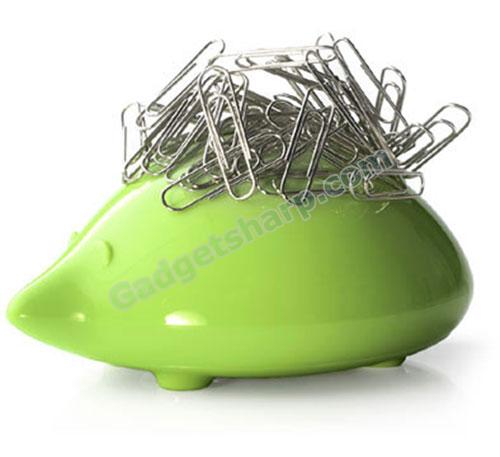 8. Alessi - chip, magnetic paper clip holder [amazon]
A first Rodrigo Torres work for Alessi. "Chip" is a chrome-plated zamak clip holder. The internal magnets grasp the clips, and so doing endow them with a plumed look. Despite it's elegance, "Chip" is exceptionally solid and can also be used as a desktop Paperweight. Design: Rodrigo Torres, 2009 for Alessi, Italy.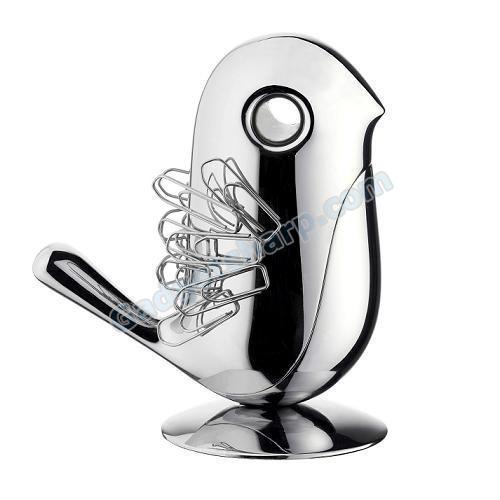 9. Akto Magnetic Clip Holder [amazon]
63203 Get organized with bold desk accessories. Perfect for keeping paper clips tidy, this magnetic clip holder makes sure no clips will stray from the tray. Designed in stainless steel, it's perfect for any home or office.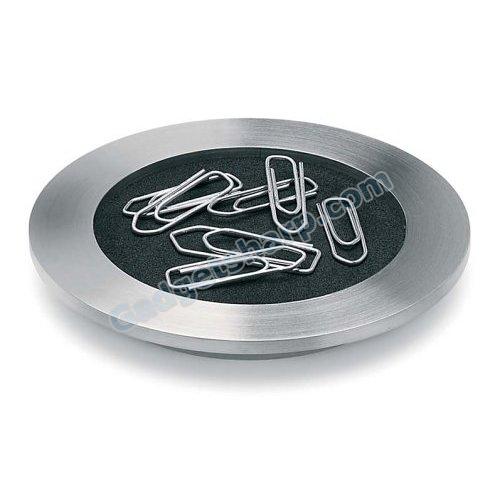 10. Singing Bird Magnet [amazon]
We heard from a chirping bird that it can hold paper clips on your desk. It also chirps when you touch it. Comes in an assortment of colors.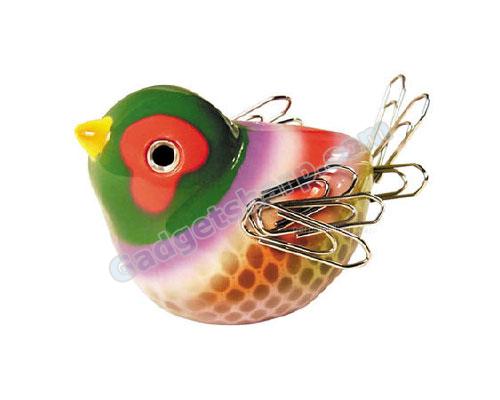 11. Make A Paperclip Nest [link]
The aptly names Nest is a magnetic shaped egg you need to coddle and care for by building a nest of paperclips. Keeps it stable and like any good mother, you may get a wonderful surprise after a few months. I?m totally kidding about that although if anything hatches, please write me.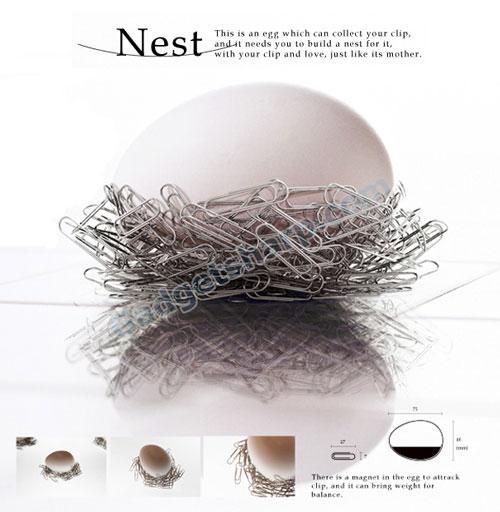 12. Koziol PIP Paper Clip Holder Rasberry Red [amazon]
Every bird needs to be build a nest. This Thatched nest rests on your desk, collecting paperclips on its magnetic base and keeping papers in order.