Still a pencil lover but try to get rid of boring-looking pencil sharpener? As a part of office supplies and ordinary stationary, pencil sharpeners go unnoticed and has no much importance attached to them. But if you wish to change it, here are a collection of creative and funny pencil sharpener that are sure to attract attention and make the needed difference.
1. ?Stab me in the back?pencil sharpener [link]
Have you ever felt?? Everyone knows you work hard?Except the boss? Each brownnoser gets promotions but you don?t? One day you get fired but you just don?t know why? The only person who can comfort you is Dilbert? Bingo! You really were stabbed in the back! And that?s why we?re here! We know sometimes life is so hard it nearly kills you. But actually you deserve better! Now throw away your needle-filled Voodoo doll! You are no longer a victim! Now it?s your turn! SB?BS will bring you a colorful and happy life!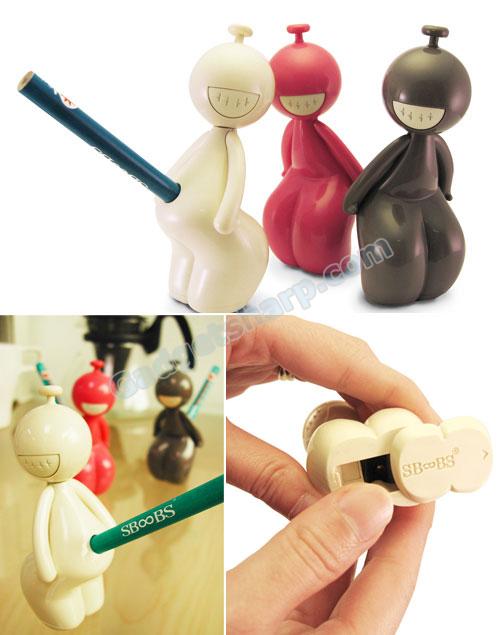 2. Robot Pencil Sharpener [link]
Sharpen your pencil on this robot sharpener and you will see the robot move around at your desk. The turning motion of sharpening a pencil is used to wind-up a clockwork mechanism causing the robot to moves. If you can?t get your self a pencil, no worry, this robot sharpener also includes a winding key to keep it moving.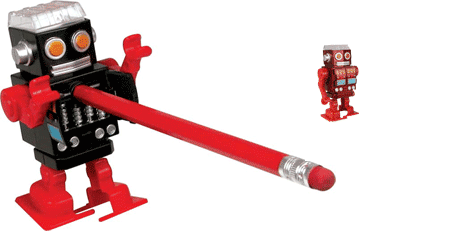 3. Doggy Style Pencil Sharpener [link]
This is defenitely not a office suitable pencil sharpen. But may be a don't-want-miss collection for someone. And we don't know who ever designed this.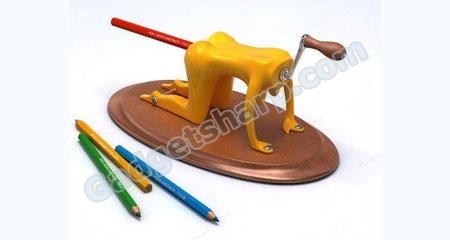 4. Hedgehog Pencil Sharpener and Holder [link]
The Hedgehog Pencil Sharpener not only sharpens pencils, but it can also hold 7 in its head. This cute desktop companion features a non-skid bottom and a sizable compartment for neatly storing pencil shavings.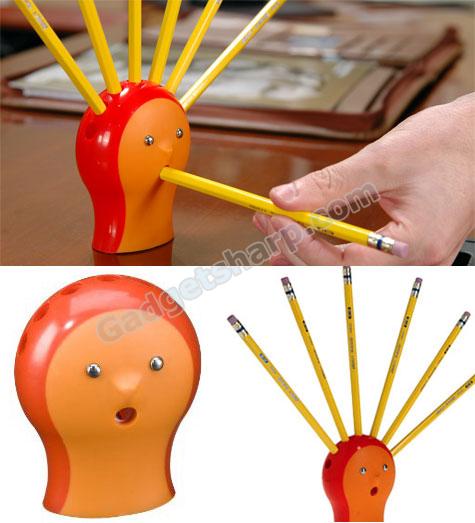 5. "Living Dead Dolls" Sadie Pencil Sharpener [link]
This "Living Dead Dolls" Sadie Pencil Sharpener is the artist Matthew James Taylor favorite pencil sharpener. It will caught your eye, because the methods of the pencil sharpening. It's a dolls head and you stick the pencil into her eye to sharpen it. You can check out "Living Dead Dolls" Sadie Pencil Sharpener we search from web. And don't buy it for your kits!

6. Nose Pencil Sharpener [link]
The nose can sharp the pencil? This idea-Nose Pencil Sharpener by the UrabanTrend. "Every kid needs one of these in their desk! Stick a pencil up the nose and twist till it's sharp!"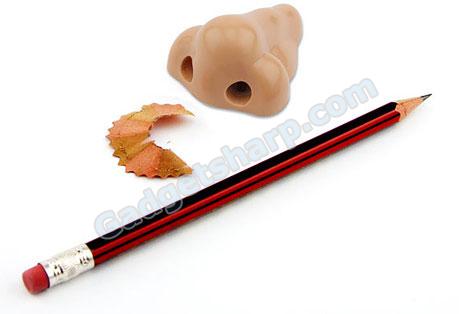 7. Wooden iPod Mini Speaker with Integral Pencil Sharpener [link]
Whilst this mini external speaker for iPods and other Mp3 players is by no means the first wooden speaker system we?ve come across in our daily trawl of the net, it is certainly one of the most curious in that it comes complete with an integral pencil sharpener ? though quite why you would want such functionality in an external speaker unit wholly escapes us.
Apparently based on a gramophone, this handmade external iPod speaker is small enough to hang from a bag or around your neck via a strap.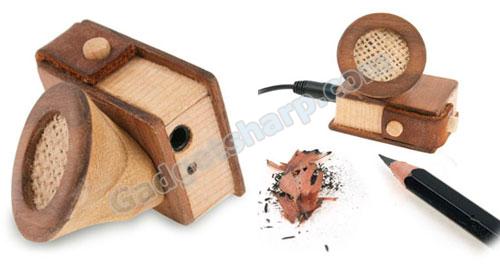 8. pup pencil sharpener [link]
Suction cup this little pup to your desk, and you'll find yourself grinning each time you go to sharpen your pencil. Woof!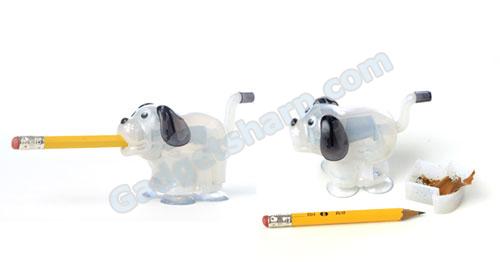 9. Sharpener RING [link]
Sharpener RING, the luxury tool for architects, designers, artists, ilustrators, ? etc.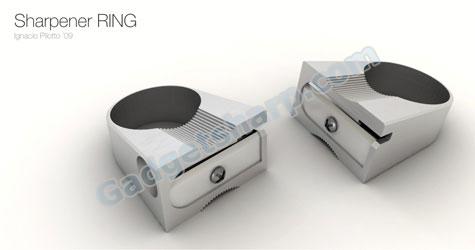 10. Wind-Up Triceratops Pencil Sharpener [link]
Like his robot counterpart the Triceratops can be used to sharpen a pencil which at the same time winds up a mechanism allowing him to lumber across your desk. There?s also a key provided for winding him up when all your pencils are sharp, or if you?re like me and live in the 21st century and haven?t seen a pencil in over 5 years. It also has a built-in reservoir for holding pencil shavings that can be emptied by simply opening his head.