Stress management training and therapy are great long-term helps, but most folks are looking for quick pick-me-up or calm-me-down resources. There are countless products made for stress and the following eleven are the ones we thought funny and playful. Hope those designs can help you get your blow off steam and relieve your stress.
1. Dead Fred Pen Holder [amazon]
Possibly the best pen holder of all time, Dead Fred is a comic silicone rubber man who has just had the most tragic of "accidents"
We don't know how it happened but have a number of possible suspects including Miss Mont-Blanc, Professor Parker and Bic the Butler!
Dead Fred measures 12.5 cm in length and holds most types of pen firmly in place
Not only a practical hand, Dead Fred also serves as an amazing stress reliever for those days in the office when everything seems to go wrong.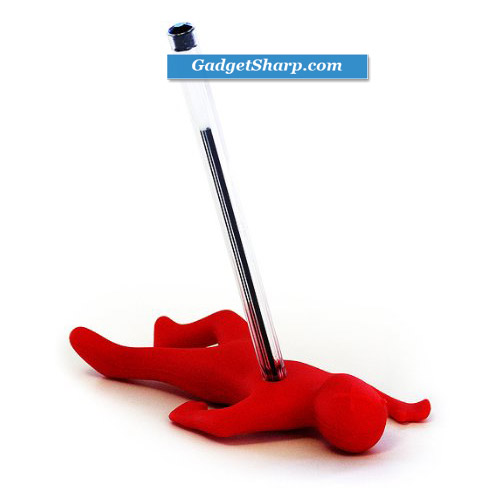 2. Murder Ink Sticky Note Pad and Pen Set [amazon]
Murder Ink sticky note pad and pen set This 300 page sticky notepad Perfect for poison pen notes, letters of resignation, hit lists and office to-do's Murder Ink comes complete with blood spattered pen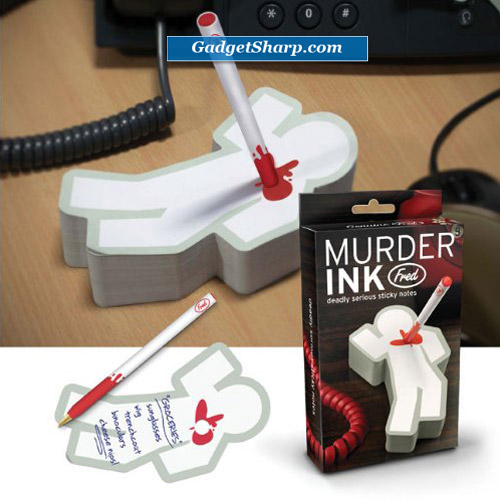 3. Barbuzzo Throwzini 6-Piece Knife Set with Block [amazon]
Whether you have a zeal for throwing steal or you?re a cutlery connoisseur, Throwzini's Knife Block is for you! In 1938, the Wheel of Death introduced a spinning target! Decades later, knife throwing still lives on in the modern day circus and it can live on in your kitchen with the Throwzini's Knife Block. Made of hand crafted wood, it comes complete with 5 stainless steel razor sharp professional chef knives. Each knife is held securely by magnets in individual protective sheathes. Just give it a spin. It?s stylish, versatile and functional. The Throwzini's Knife Block is a cut above the rest.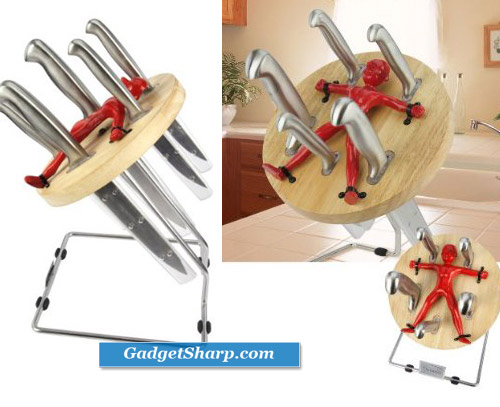 4. Hotman trivet [amazon]
need a red hot man? don't we all?!
Material: powder-coated steel Size: 8" x 6"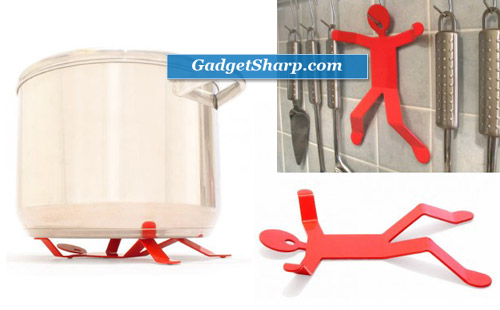 5. Splat Stan - Silicone Drink Coaster [amazon]
Stan was happy and completely oblivious to the dangerous conditions. There were heavy drinks being hoisted and lowered all around him, yet he always felt perfectly safe. Then Stan got splatted by a giant pint. Now the only thing he can do is protect your table top from tea and coffee stains. He was never the smartest fellow but now he's a clever coaster for your mugs and glasses.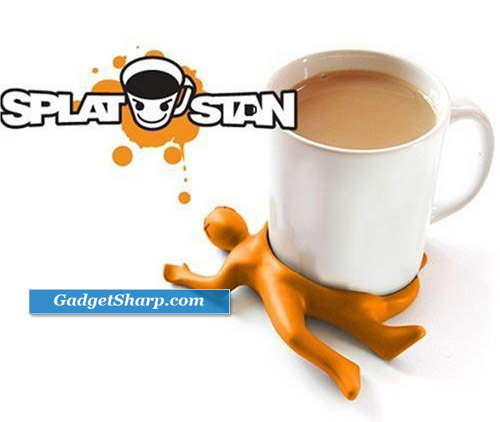 6. Suck UK Hanging Harry Light Pull [amazon]
You can't help Harry to see the light, it's too late. Harry is already dead! But Harry can help you to switch on your lights. Hangman's noose and 2m of rope included so you don't have to know how to tie your own knots! Just replace the whole cord of your light pull.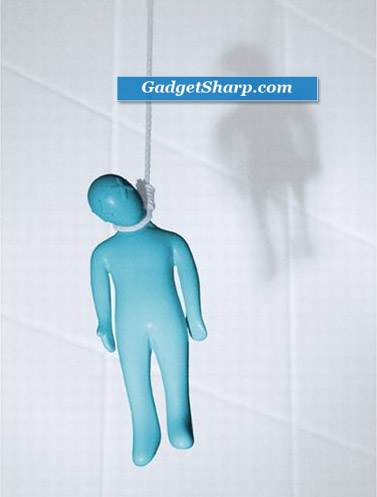 7. Fred Ouch Toothpick Holder [amazon]
Make your next party painfully amusing by inviting OUCH!, the voodoo-it-yourself toothpick holder. Perfect for finger food, emergency hexes, and jump-starting the good times. With Ouch, olives will never be boring again!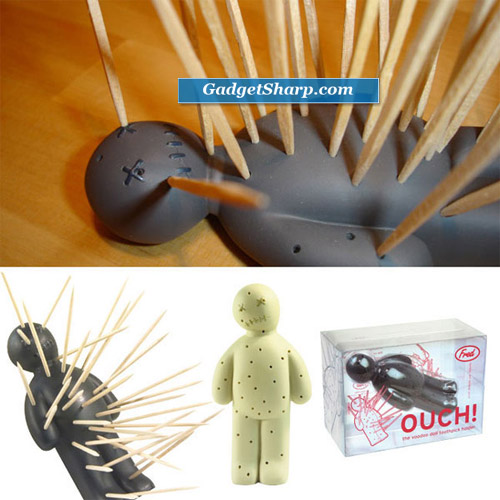 8. SBBS Healing Toys [link]
The basic form of the SBBS products uses a balloon-like head with a sneaky grin to portray the sense of someone who is full of themselves and full of hot air, and ties that into a toy that gives everyone the chance to ?torture? their office nemesis.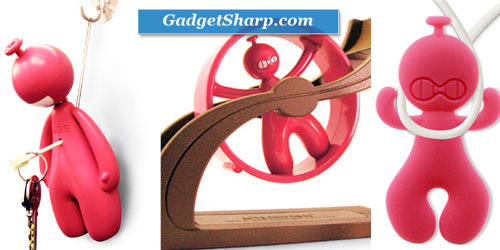 9. Dead Mark Squashed Flat Book Mark [amazon]
Poor Mark! He has met a sticky end, a squishy end to be more precise, his floppy body trapped within the pages of your book, scrabbling to get out, all the while happily keeping your place. You know, keeping the page of that point in the story where the man gets crushed by a giant encyclopedia. Forget pressed flowers and old receipts, Mark is the future and what else will he do now he's dead!
10. The Ex Tray [amazon]
A radical alternative to the typical serving tray,The Ex Skewer Set is the most unique way to serve your hors d'oeuvres. The Ex is a guaranteed conversation piece and a great gift Holds 10 high quality stainless steel skewers (included) Removing the figure and setting it on your table exposes a well in the tray for dips. Tray measures 12 inches x 9 inches x 8 inches
11. Fred and Friends Sharp Act Knife Sharpener [amazon]
Keep your kitchen knives razor sharp with magic, mystery, and a lovely assistant! Draw your blade across Sharp Act Knife Sharpener?s sharpening grooves for precision slicing. Knife sharpener is 8 x 2.2 x 2.5 inches; shipping weight: 1 pound.