A thermometer is a device that measures temperature. It can be used in lots of place, indoor, outdoor, cooking, refrigerator. Except telling us the temperature, modern thermometer also has some extra function like weather forecast, timer, clock and decoration. We rounded up 15 Cool Thermometers in this post, hope you find useful.
1. La Crosse Technology WS-7014CH-IT Wireless Weather Station [amazon]
The La Crosse Technology WS-7014CH Wireless Weather Station transmits the remote temperature via a wireless 915 MHz transmission from the outdoor sensor to the indoor display unit at a range of up to 330 feet. The forecast icon is controlled by changes in the barometric pressure history for the past 36 hours, to generate a forecast for 12-20 hours in advance. Also displayed are indoor temperature and humidity, and time and date, which is set by the U.S. atomic clock.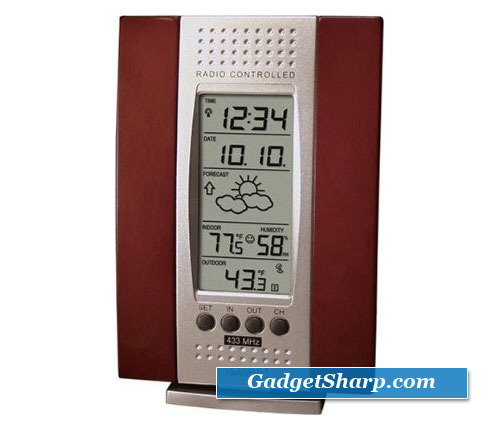 2. Polder Original Cooking All-In-One Timer/Thermometer [amazon]
An ultra handy and high tech thermometer, the Polder takes a lot of the guesswork out of cooking. It has a pre-settable alarm that works simultaneously with temperature as well as time. Set the alarm to automatically go off when it reaches the temperature you set, or set it to go off when your set amount of time has elapsed. The pre-settable alarm temperature range is from 32 to 392 degrees F, and the alarm is a loud 5-minute alarm. It comes equipped with a longer probe wire measuring 43 inches long. The unit requires one AAA battery for power, and one battery comes included. It also comes equipped with memory for frequently used settings.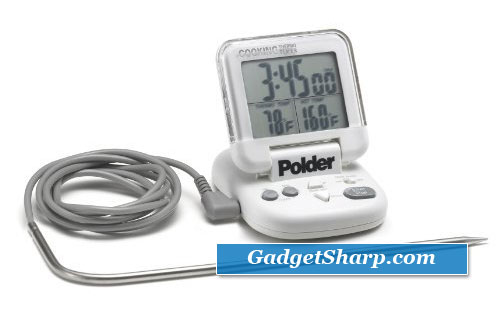 3. Super-fast Water-resistant Digital Pocket Thermometer [amazon]
The sealed body of the thermometer features rubberized switch panels, a robust LCD window, and it withstands temperatures to 190?F so you can record peak temperatures in commercial dishwashers using the Min/Max feature.
5 to 6 second response time
Dishwasher safe to 190 degrees F
On/Off switch
Max/Min function
C/F Switchable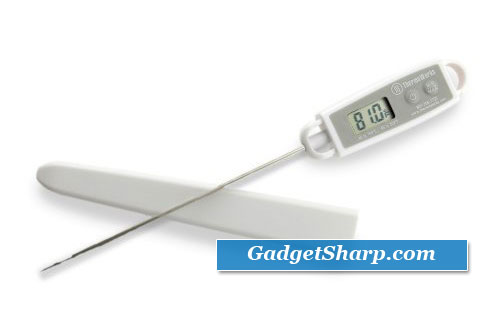 4. Digital Window Thermometer [amazon]
Digital outdoor window thermometer from La Crosse; mounts flat against window with adhesive strip for outdoor temperature reading
Weather-resistant construction with UV shield protection; clear screen with easy-to-read digital display
Displays current, maximum, and minimum temperatures to the tenth of a degree; min and max temperatures reset daily
With readings from -13 to +158 degrees F with accuracy of +/-1.5 degrees F; requires separate purchase of 1 AAA battery
Measures 4 inches wide by 3/4 inch deep by 3-3/4 inches high; limited 1-year warranty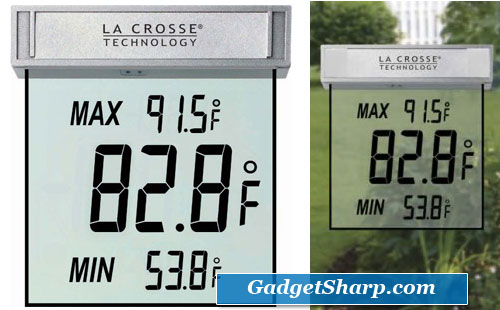 5. Big and Bold Low Profile Patio Thermometer [amazon]
This large, wall-mount thermometer features large scales, measuring temperature in both Fahrenheit and Celsius, with bold, easy-to-read markings and a precision pointer to eliminate any ambiguity in the readings. Springfield offers this same thermometer in a variety of decorative faces. This, however, is the down-to-business, black-and-white precision-scale model–for those who just need to know the temperature, without any extra embellishments.
6. Grill Right Wireless Talking Oven/Barbeque Thermometer [amazon]
Oven/barbeque wireless thermometer with digital LCD screen for perfectly cooked meat
Stainless-steel 6-inch detachable probe; temperature display from 32 to 572 degrees F
8 entree programs; 4 doneness selections; 2 verbal and 3 audio alert options
Transmission range up to 330 feet away; low-battery indicator; batteries included
Main unit measures 5-3/5 by 2-3/4 by 1-1/2 inches; remote unit measures 3-2/5 by 3-2/5 by 1-1/5 inches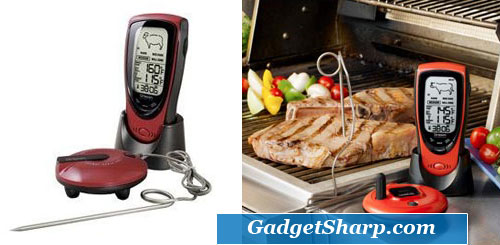 7. Taylor Food Service Classic Series Freezer-Refrigerator Thermometer [amazon]
Refrigerator/freezer thermometer registers temperatures from between -20 to 80 degrees F
Extra-large 3-1/4-inch dial lets users get an accurate reading at a glance
Constructed from durable stainless-steel, the thermometer is NSF listed
Easy to hang or stand, so it fits where it's most needed in any fridge or freezer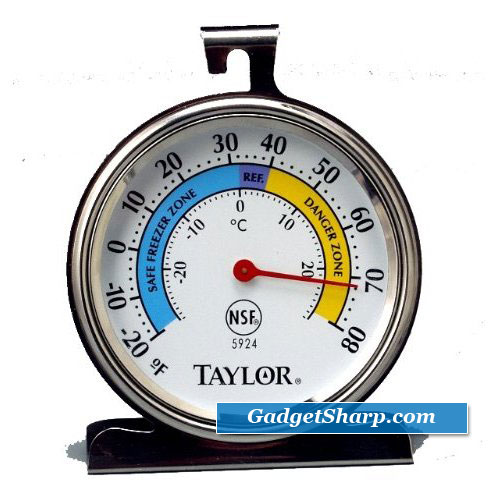 8. Chaney Instrument Galileo Thermometer with Glass Globe Barometer [amazon]
Cylindrical thermometer and barometer set; inspired by Galileo?s instruments
Interprets temp and weather based on principles of buoyancy and air pressure
Colorful, liquid filled spheres descend and ascend with atmospheric changes
Barometer features the world globe etched in the glass
Mounted on a wood base; approximately 8 inches long and 8 inches high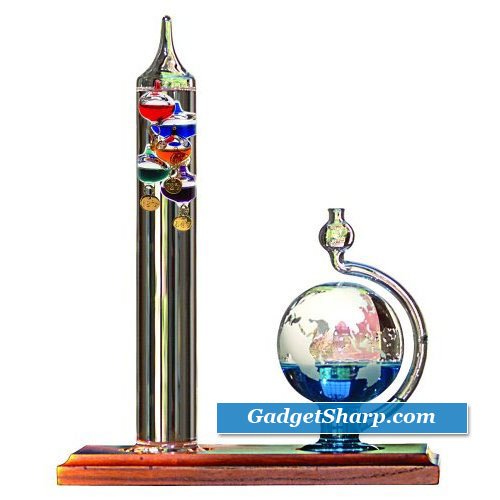 9. Wireless Sun/Moon Forecast Station with Oscar Outlook [amazon]
Wireless weather station with remote sensor and atomic clock for wall or tabletop
15 forecast icons Oscar Outlook character dressing for the weather as an example
Sunrise/sunset and duration for 99 North American cities; moon phase display
Radio-controlled atomic time and date mechanism auto-updates for Daylight Savings Time
Wireless sensor transmits up to 330 feet away; displays indoor and outdoor temperature and humidity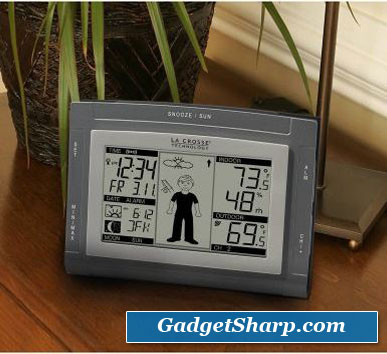 10. Splash-Proof Super-Fast Thermapen - Instant Read Thermometer [amazon]
NSF Approved
3-second readings!
Improved accuracy and durability
Water-resistant design with Biomaster anti-bacterial additive
Fahrenheit or Celsius readings - 0.1 degree resolution for the full range - 572 degrees F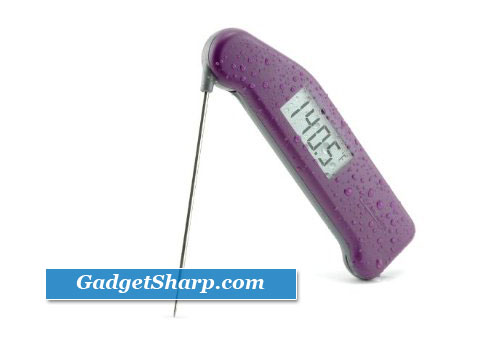 11. Mini Temp Non-Contact Thermometer Gun with Laser Sighting [amazon]
Large, easy-to-read backlit display! Give instant non-contact readings, just point and shoot. Unlimited automotive and other uses! Measure in Celsius or Fahrenheit with an ultra-fast response time.
Has a temperature range: 0 to 750 Degrees F (-18 to 400 Degrees C)
Has a backlit display, and laser targeting distance-to-spot: 8:1
Features Selectable degrees C or F
Includes optional wrist strap and soft carrying pouch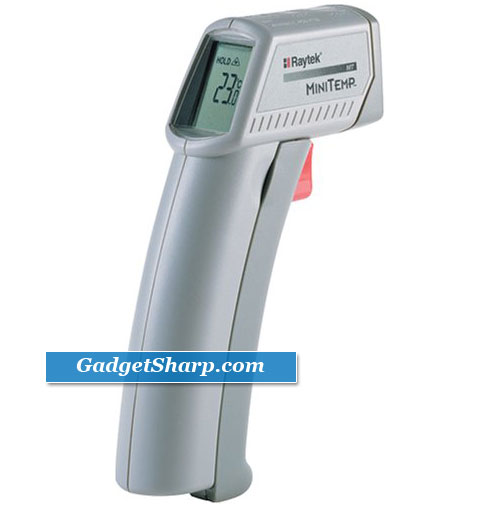 12. Indoor/Outdoor Gecko Thermometer with 3-Inch Bi-metal Thermometer [amazon]
Enhance your Kitchen, Office, Den, Guest Room, Patio, Poolside with this colorful and creative Indoor/Outdoor Gecko Thermometer. This delightful design is beautifully hand painted and cast from durable polyresin with a 3 inch bi-metal thermometer, making it both functional and decorative.
13. Chaney Instrument Oak Finished Weather Station [amazon]
Weather station thermometer, barometer, hygrometer
Wood base with oak finish
Brass bezels with black bands
Fahrenheit and Celsius temperature scale
Hangs horizontal or vertical; measures 14 inches in length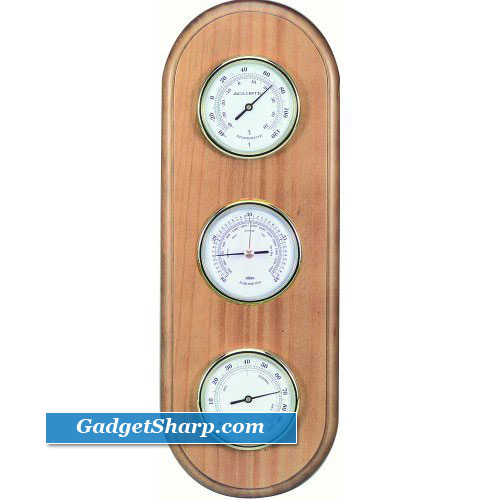 14. Indoor/Outdoor Thermometer Clock with Wired Probe [amazon]
Wired digital indoor and outdoor thermometer and clock from Oregon Scientific
Easy-to-read LCD display with blue LED backlight; with Celsius or Fahrenheit readings and 12- or 24-hour time for convenience
Weather-resistant 10-foot cable with probe runs outside to monitor temperature; alarm feature with 8-minute snooze
Requires separate purchase of 2 AA batteries; wall mount or stand alone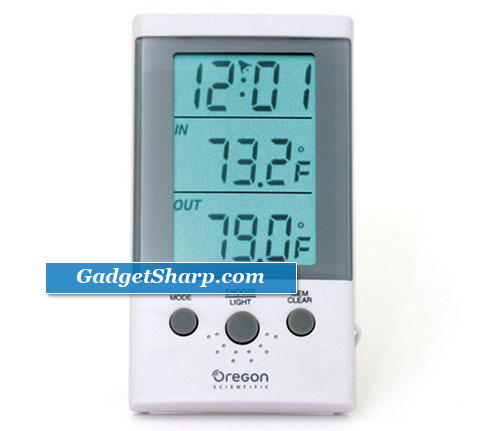 15. AcuRite Digital Outdoor Window Thermometer [amazon]
Digital outdoor window thermometer from Chaney AcuRite; suctions to window for outdoor temperature reading
Weather-proof metallic mount with rubber weather seal over on/off switch; rubber window suction
Digital temperature displayed in 3/4-inch-high numerals; with translucent green LCD frame
With readings from -4 to +158 degrees F to the tenth of a degree; includes 1 L1154 cell battery