A zipper is a popular device for temporarily joining two edges of fabric. It is used in clothing, luggage and other bags, sporting goods. However, today, we will explore some creative and bizarre zipper styled designs. In this post, you will see some innovative ideas/designs definitely blow your minds away, such as 120-Zipper Dress or a lamp turn on/off by zippering down/up. Hope you enjoy this zippering world.
1. Silver Zipper Shot Glasses and Wine Glass [link]
Half-empty or half-full? Half-opened or half-closed? These zippered shot glasses will certainly get the conversation started. Features hand-painted zipper teeth up the side and an actual zipper-pull affixed midway. Frosted exterior. Machine-made of lead-free glass. Hand wash only.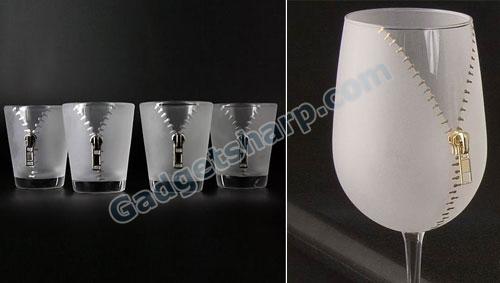 2. 120-Zipper Dress Design [link]
This convertible dress design by Sebastian Errazuriz is nothing short of stunning in any of its possible stylistic configurations. The wearer can simply zip and unzip along any of the horizontal zipper lines to convert their clothing in a matter of seconds.
What might be most remarkable about this design is how quickly it can shift from elegant to sexy, a full-length, single-piece dress one could potentially wear to work into a skimpy, short-cut, two-piece number that could put some bikinis to shame. In between there are any number of other options for shortening the top or bottom or even leaving some zippers partly on and partly off.
Despite the obvious benefits in terms of variable style, temperature and so on there are some clear drawbacks to this design as well. How much cold metal can you, after all, take on your skin?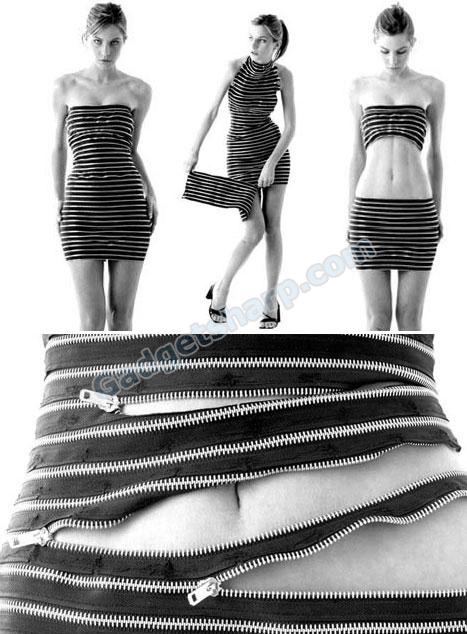 3. Cache-Cache zips up to turn off the lamp [link]
The ?Cache-Cache? (meaning ?hidden? in French) by Paris-based designer Victor Boeda is an innovative lamp that as reflected by its name conceals the light behind a zipper made of a flexible material. Users are required to unzip to switch on and increase the glow of the lamp, while you may zip it up switch off the lamp. Cool! The glow or brightness of the lamp can be controlled by the movement of the zip. The more you unzip the lamp, the more the light of the lamp will shine. The Cache-Cache can be used both as a desk as well as floor lamp, making it functional lighting for your home d?cor.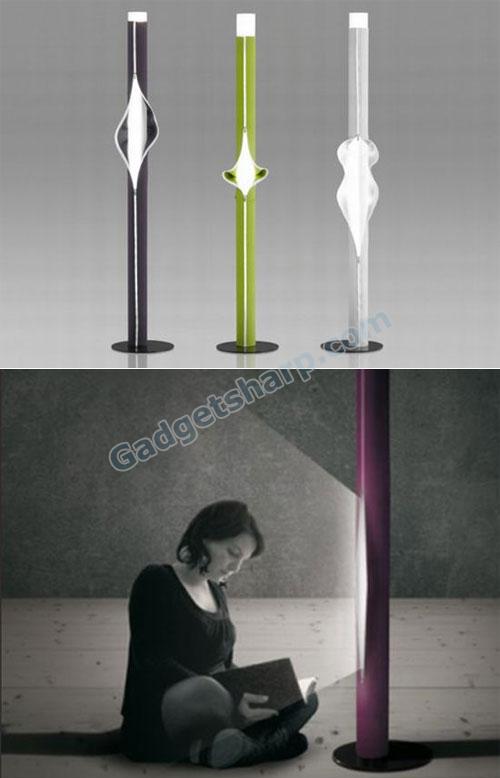 4. Eclosion Sofa, Couch with a Zipper [link]
?Eclosion? comes from Olivier Gr?goire, believed to be one of the most promising young designers in France at the moment. This out-of-the-box inflatable sofa can be shaped in more than one ways by simply maneuvering a strategically placed zipper: release it for extra comfort on your back and simply pull from it to pack the couch back together when you need more space.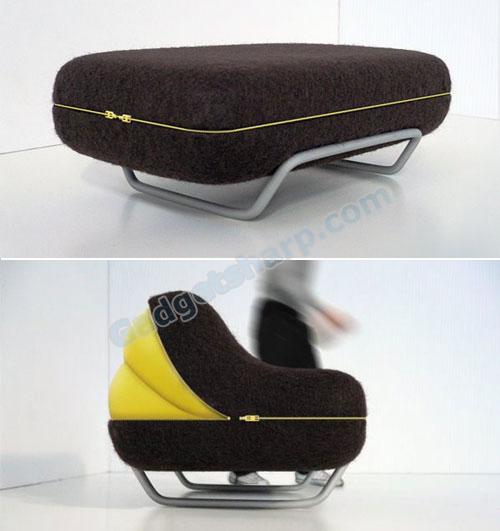 5. Zipper Pond [link]
This is a creation of Taiwanese sculptor/artist Ju Ming and is called the ?Zipper Pond?. This creative lotus pond is now one of the feature attractions of the Juming Museum, located in Taiwan, and I?m pretty sure that a lot of pictures were made in this place. Finally if you were looking for a really cool pool design and you couldn?t found one to impress you, then I hope that this one at least inspired you.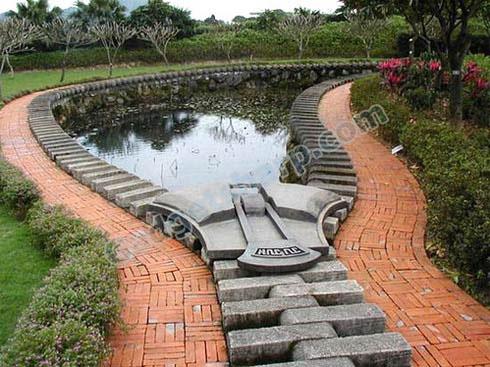 6. zipper vase [link]
The zipper vase can adjust itself according to your flower arranging needs. Whether a single stem or a large bouquet, this vase can contain.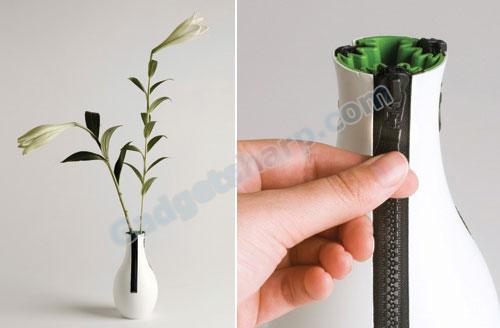 7. Zipper Necklaces by Kate [link]
The zipper is a device designed simply to function but Kate shows us that the zipper is more than a fastener. Instead, it is flaunted in kaleidoscope patterns that spiral in unexpectedly playful directions. The fastener becomes the feature.
Each Zipper Necklace is unique and hand-sewn by Kate and features her signature inscribed on the metal clasp. Variations on certain styles are occasionally repeated, but, in general, no two necklaces are identical. Each Zipper Necklace is copyrighted.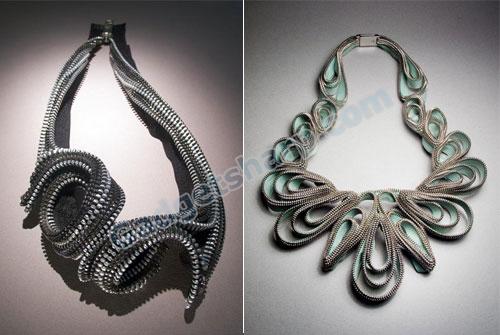 8. Zipper Building [link]
Creative building design that looks like it is being unzipped.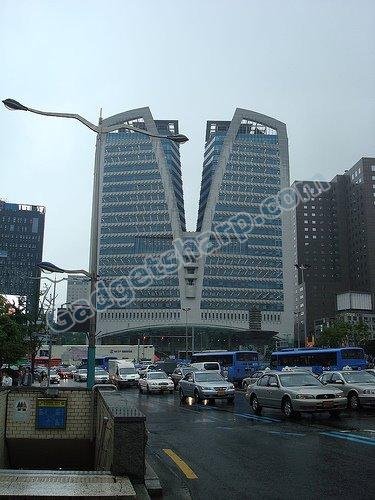 9. When earphone meet zipper [link]
This one is still a concept design. Simple thought process and application! If pants can have a zipper to hold in the essentials then why the idea can?t be used on earphones to manage them when not in use! Zip then open when you want to use them; zip them shut when you want to store them.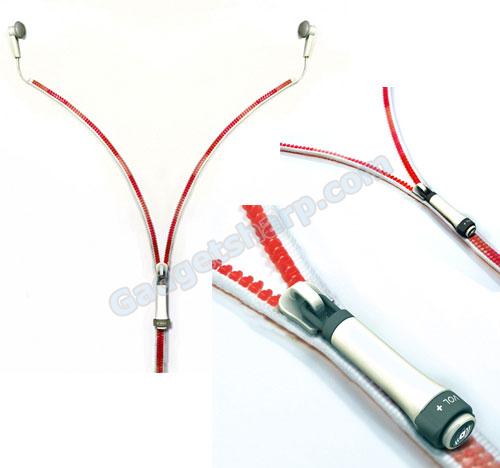 10. From hightops to flipflops - Unzip it [link]
You?re walking along in your high-top running shoes heading for the basketball court, when suddenly there?s a BEACH! The tide is coming in. You?re going to have totally soaked footwear for the game, unless you?re wearing MODULAR SHOES! With this stylish, versatile product, boat shoes turn to jungle boots instantly! Rubber sandals become stiletto pumps! Loafers turn to cowboy boots!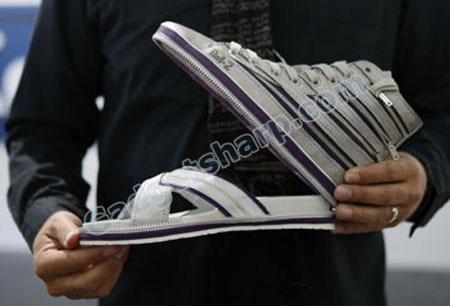 11. bowl with zipper [link]
A flat-pack bowl that zips into shape.
Materials: aircraft plywood, wool felt, zippers

12. Floor Cushions with Zippers ? ZipZip [link]
Designed by Sternform Produktgestaltung, Ping Collection?s ZipZip is basically a collection of upholstered cushions which come with zippers on all four sides to connect in any configuration you like and can imagine. They?re made of Loden, which is 100% new wool, and come in four colors ranging from light gray to dark sand. A great modular lounging furniture that you can easily transform from bed to chair to couch with just a couple of zips. You have countless possibilities to build nearly every situation of sitting or laying down comfortably are the result, and I?ve got to admit they do look kind of comfy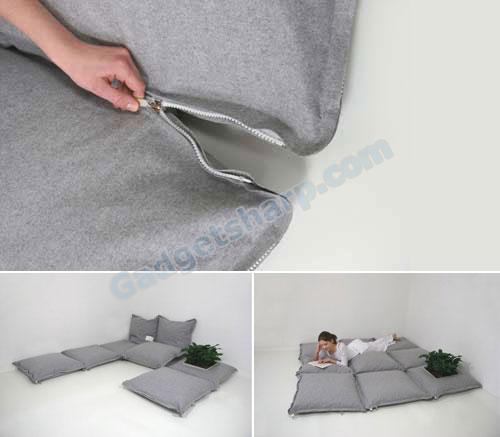 13. Panels Furniture by Sebastien Wierinck [link]
Among the vast array of seating seen at 100% Design London, the Panel series by Belgian designer Sebastien Wierinck certainly had visual interest. The panels fit together like the teeth of a zipper or puzzle pieces to form a table and matching chair.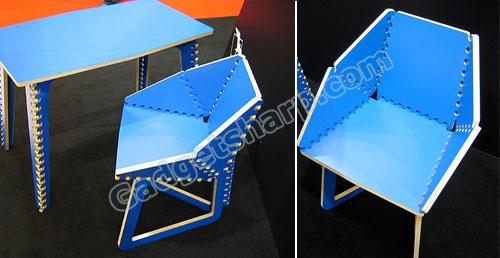 14. Zipper Bag [link]
Not only can clothes increase their flexibility with zippers, bags could also make it. With zippers on, these bags can be totally unfolded into a flat. So it won?t take up too much space to keep them.