Usually, we use cup to drink coffee or tea. But for someone has too much loving for cup, they want to have it everywhere. They would like to sit on it, wearing it, carry it, smell it, hang it, turn on it or plant flower inside it. Check this interesting post about 14 Cool Cup Inspired Designs. Hope you will be amazed by how many cup shape designs can be found in our life.
1. Butterfly Teacup Planter [amazon]
Perfect accent for your deck or patio
Playful oversized cup and saucer
Just add a plant and enjoy
Features a bright butterfly print and drain hole in bottom
Cup Measures 9.25 x 7.5. inches high and saucer is 9.25 inches diameter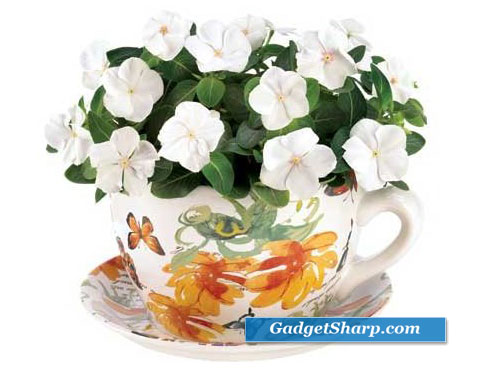 2. Teacup Napkin Rings [amazon]
Teacup Napkin Rings by Cindy Houot Sold in sets of 4. Just the sweetest for any table in pastels colors with mini polka dots and little gold handles.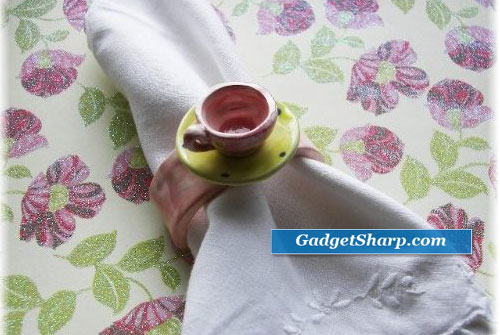 3. Infinity Instruments Dreamy Cappuccino Wall Clock [amazon]
Warm cappuccino cup on dial
Arabic numbers at all hours
Gold metal hands
Operates on a highly accurate quartz movement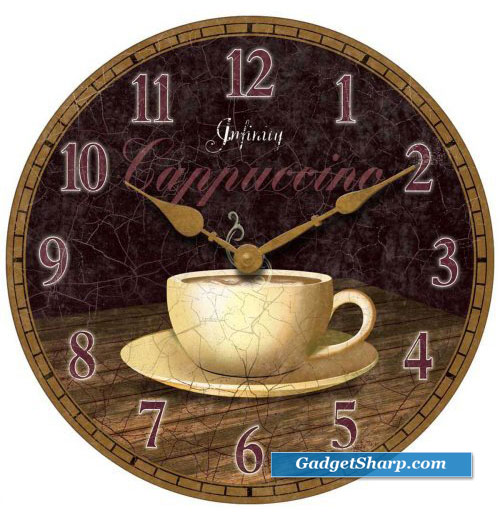 4. Stained Glass Teacup Accent Lamp Tea Cup Saucer [amazon]
This beautiful stained glass tea cup mini table lamp adds the perfect accent to your desk or nightstand. Measuring 4 1/4 inches tall, 6 inches wide and 4 1/2 inches deep, the lamp uses dozens of small pieces of stained glass and mercury glass to complete a beautiful flower pattern. It comes with a five foot cord with a toggle switch.The lamp is brand new, never used or displayed. It uses one nightlight style bulb.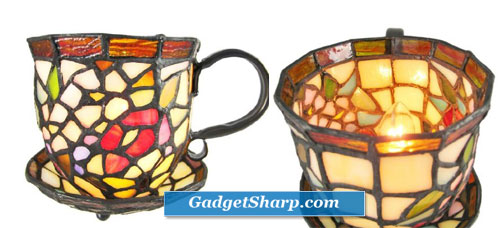 5. Ivory Tea Cup Candle [amazon]
"Ivory Tower" colored demitasse tea cups - filled with all natural Soy candles that will burn for over 12 hours!
Cups come attractively boxed and measure 4.5" x 4.5" x 2.5"H.
Set of 4 complete favors in each lot.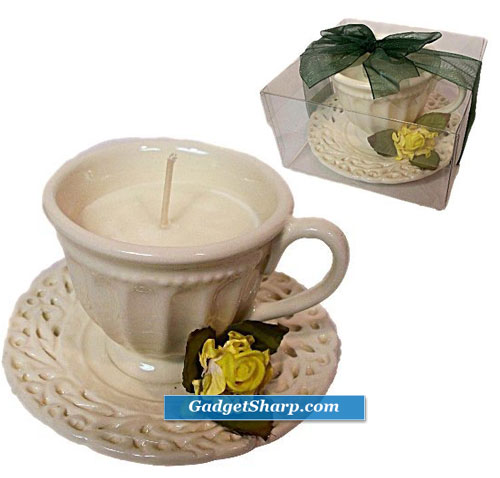 6. Fred & Friends Teacup Cakes Cupcake Mold [amazon]
Fred & Friends Teacup cake is a set of 4 small silicone cupcake molds with handles to bake cupcakes.
Extremely cute
Innovative design
Functional
Great for parties
Invites multiple sales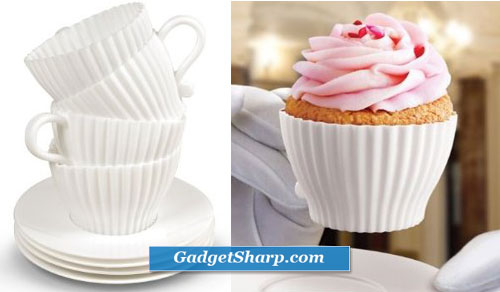 7. "BookCup" Japanese Designer Mug Shaped Book Cover [link]
Protect your books in style with this original book cover designed in Japan. It?s neon pink, it?s shaped like a teacup and it comes with a page marker that looks like a tea bag.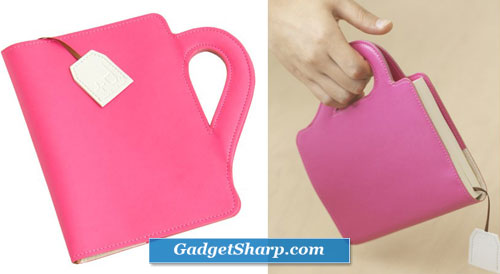 8. Pink Tea Cup Earrings [amazon]
Glitterland Glistering Pink Tea Cup Earrings with Pink CZ is a brilliant ornament that goes well with clothing of any styles. You will look so trendy like the models in fashion magazine. This Item comes with high quality pouch and elegant gift box.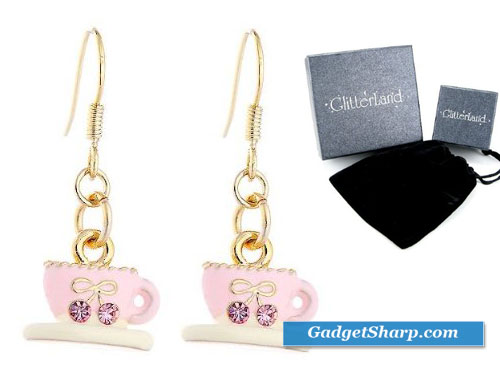 9. Coffee Cup Wall Clock [amazon]
Peppy mixed-media coffee cup clock
Carved in wood and embellished with metal circles, a red heart and a cast pewter clock face
Vibrant complimentary blue, green and burnt sienna colors
16" tall x 10" wide x 1" deep; Requires 1 "AA" battery
Individually carved, adorned and painted by hand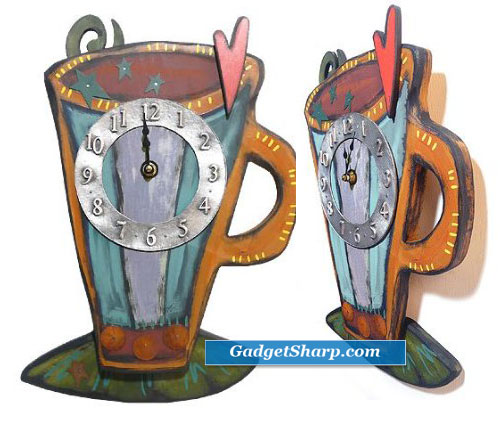 10. Teacup Tile [link]
Hookmaker ? Teacup Tile is a witty wallmounted storage system for small things. The teacup appears to merge into your wall, making for a completely surreal effect. Tile several together or cover a whole wall to create a beautiful storage system that brings inspiration to any space. They come as individual tiles that are perfect for keys and change, or pencil and scissors. You can create a different use in any room and be inspired!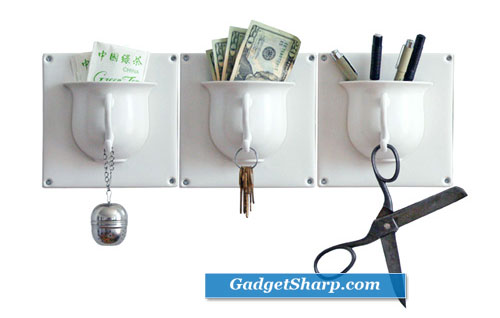 11. Laura Ashley PXX166 Teacup Mini Pendant [amazon]
Mini pendants are perfect for powder rooms, a girl's bedroom, children's rooms, or even walk in closets. Turn a space from ordinary to extraordinary by installing a mini pendant in place of a flush mount ceiling fixture. The Teacup mini pendant features a white ceramic inverted teacup design. Perfect in a cozy kitchen or breakfast nook!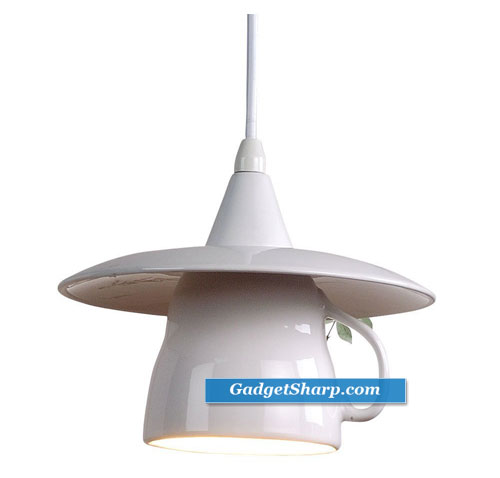 12. Tea Cup Stool [link]
Tea Cup Stool is a playful and unique stool design inspired by the images and ideas in the story of Alice in Wonderland. Design: Holly Palmer
Original stool designed to look like a giant tea cup
Designed and manufactured in the UK
Roto-molded MDPE plastic
Modern furniture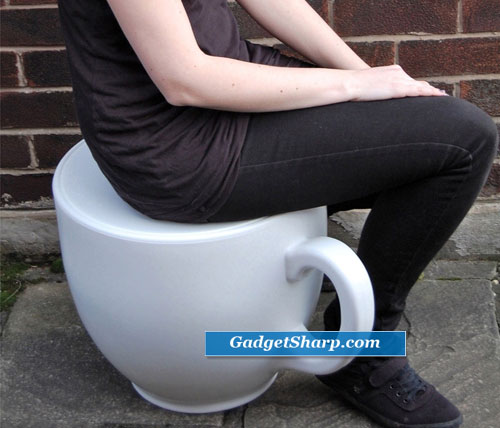 13. Art basin Cup [link]
Bring some pizzazz to the bathroom with a chic, artistic washbasin by Artceram. The art basin Cup, designed by Meneghello Paolelli Associati, is indeed a unique basin design inspired by a simple coffee cup. But this sink is anything but simple. This modern one-piece, freestanding washbasin boasts a cup-shaped base that flutes out at the top, forming the rim. And the looping handle makes a great towel hanger.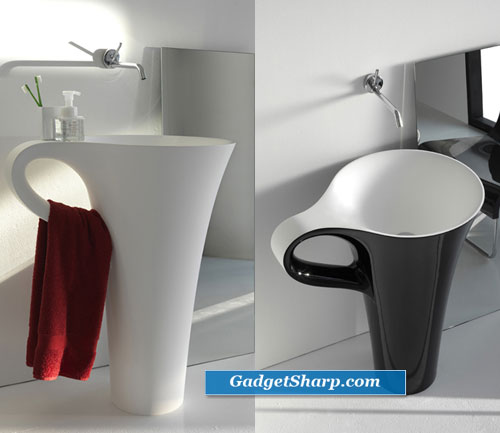 14. USB Cup Style Anion Humidifier [amazon]
It is not a cup of Coffee, but a mini coffee cup mist air humidifier that?s powered by USB. The unique and adorable coffee cup design blends into your office environment perfectly. Super quiet operation gives you refreshing relief from year-round dryness. It is personal air purifier in dry air room, for who always face to the computer all day. Each cup of humidifier lasted up to 8 hours. Portable and lightweight for frequent travelers accommodate in hotel room.