Try to keep your sink area tidy and neat? Check the 12 Sink Organizer Designs in this post. These well designed sink organizer can keep your sponge, dish brush, detergent in place. There are also to over-sink shelf, which not only reduce clutter but also add some storage room for your kitchen. With some handy organizer, your guests will definitely be impressed.
1. OXO Good Grips Stainless Steel Sink Organizer [amazon]
Keep your sink area neat and your cleaning brushes handy with our Stainless Steel Sink Organizer. The slim design fits in tight spaces and won't take up valuable counter space. The Sink Organizer features separate areas for long-handled brushes, palm brushes, pump dispensers and even a sponge. The perforated base keeps sponges and tools dry and the drip tray is removable for cleaning.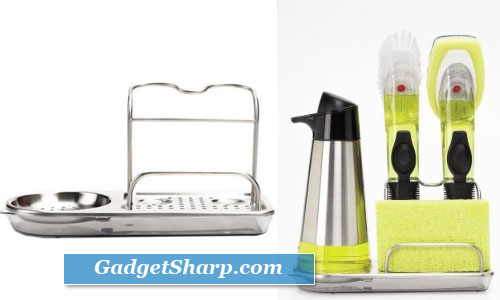 2. Adjustable Dish Brush and Sponge Holder [amazon]
Casabella Sink Sider Sponge Caddy Features Bright white plastic sink caddy with a soft and flexible gray rubber lining. Adjustable neck strap fits on most any size kitchen sink faucet. Offers two unique compartments to keep your favorite dishwashing brush and sponge or scrub convenient while you wash the dishes. Bottom drain holes prevent water from accumulating and help keep dishwashing tools clean and dry. Organizes essential dishwashing accessories without consuming a single inch of countertop space. Can be easily removed and utilized in the RV while traveling or taken on extended vacations to the family cabin.
3. Everloc Kitchen Sink Tidy [amazon]
Easy to assemble. No tools, drills or glue. Comes with everything you need
Suction Lock Kitchen Sink Tidy. Holds everything you need neatly and conveniently!
Approximate Dimensions 8.75 by 3.5 by 3.25
Suction Lock Kitchen Sink Tidy hangs in or above your sink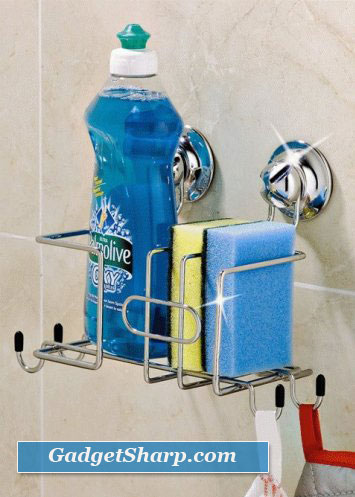 4. Umbra SADDLE Style Sink Caddy for double sinks Large White [amazon]
Keep kitchen sponges and scrubbers clean and contained with the handy Saddle caddy from Umbra. The caddy's two pockets securely straddle most standard kitchen double-sinks, keeping counter and behind-the-sink space clean and clear, and giving your sponge the opportunity to dry out between uses. Constructed of easy-to-clean molded rubber.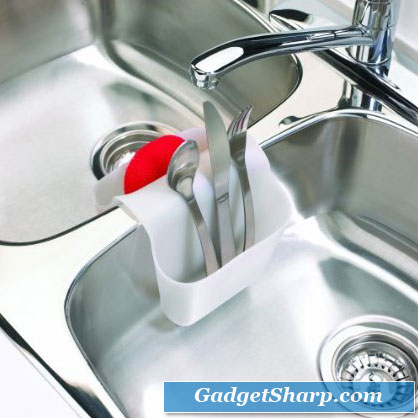 5. Formbu Sponge & Ring Caddy (Bamboo/Clear) [amazon]
Keep your kitchen scrubbers organized with this handy Formbu Bamboo Sponge and Ring Caddy. Constructed of durable Resipreme plastic, with bamboo accents, this hub will hold your scrubbers in style! Did you know that improper storage leads to an overgrowth of mildew and bacteria on your cleaning supplies? So stop leaving scrubs in the sink, and get this soap dish today! This sponge holder also has a ring post - no more losing your rings while you clean dishes or wash your face. The Formbu Bamboo Sponge and Ring Caddy comes with a small loofah sponge.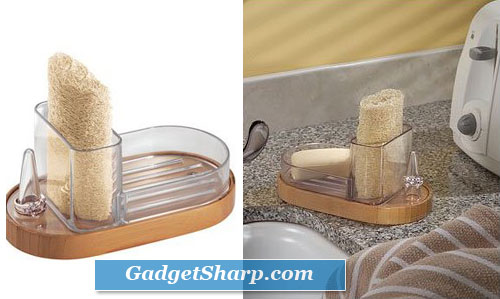 6. Umbra Lattice Stainless Steel Single Sink Caddy [amazon]
Hang this Lattice caddy from Umbra over your sink to keep sponges dry and mildew free between uses. It features stylish stainless steel construction and a rubberized coating that helps keep your sink protected from scratches.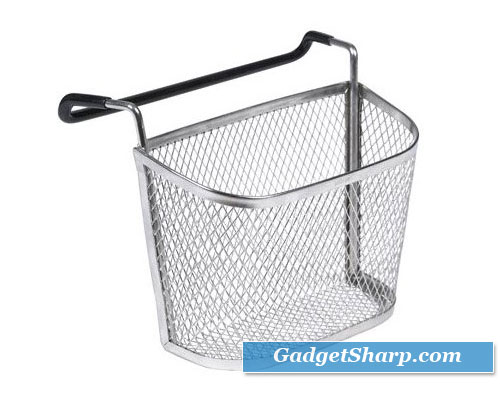 7. Power Lock Suction SinkWorks Sponge and Scrubber Combo [amazon]
Make kitchen clean up easier and your sink more organized with the Power Lock Suction SinkWorks Sponge and Scrubber Combo Resipreme. Attach this organizer anywhere in your sink that is convenient with the suction cups. Each compartment drains, ensuring that water can't get caught. With two separate compartments, this is a great kitchen storage solution. Made of clear resipreme.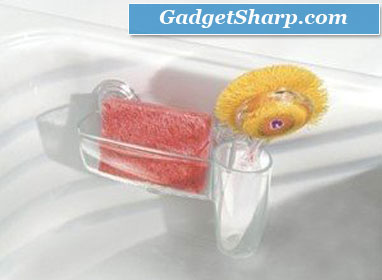 8. MIU Stainless-Steel Steel Sponge Holder [amazon]
Help keep your kitchen, bathroom, or utility room organized with this sponge holder from MIU FRANCE. It is made from 18/10 stainless steel and measures 3" high by 5" long by 2" wide. It will hold almost any size sponge designed for kitchen, bathroom, or utility room use. It is finished with a bright polished stainless steel finish.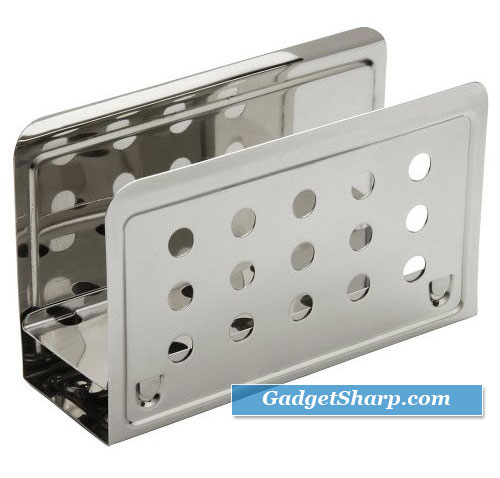 9. Lipper International Bamboo Over-The-Sink Shelf [amazon]
Add storage and reduce clutter in the kitchen with this simple yet smart over-the-sink shelf from Lipper International. Crafted from harder-than-maple bamboo, the piece is an ecologically responsible unit that frees up counter space and organizes handsoap, potted herbs, and cooking accessories. Its straightforward construction and generous width are also nice for the hobby area, mudroom, or workshop. Standing 30 inches wide, the shelf is 6-1/4 inches deep and 9 inches high.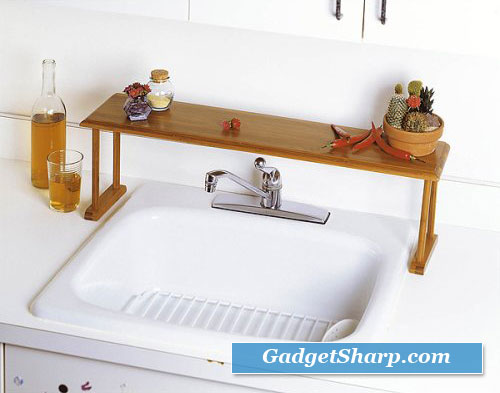 10. InterDesign Formbu Ceramic Brush Caddy, White/Bamboo [amazon]
Keep your essential sink accessories organized in eco-friendly style with a Formbu Ceramic Soap Pump and Sink Organizer by InterDesign. This versatile sink caddy features two storage compartments to hold a sponge and brush, and a large 19 ounce soap dispenser for either hand or dish soap that is accented with bamboo, a highly renewable natural resource and environmentally friendly. This storage caddy is crafted of heavy duty ceramic with a high gloss white finish. A pair of storage compartments accommodate a dish sponge and scrub brush to keep dishwashing tools organized and handy near the kitchen sink.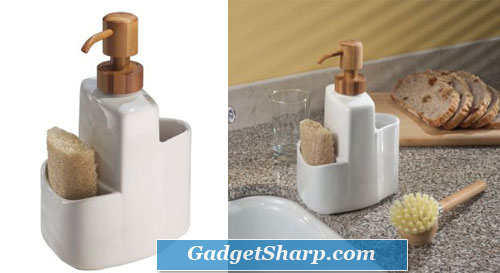 11. Blumz Divided Sink Organizer [amazon]
Constructed with a clear and flexible PVC vinyl material.
Unique design straddles the center of a divided kitchen sink to provide a storage basket for both sides.
Great for keeping dish scrubs brushes or sponges clean dry and organized on a divided kitchen sink.
Also ideal for allowing washed flatware and cutlery to dry.
Corner drain holes allow items to dry more easily.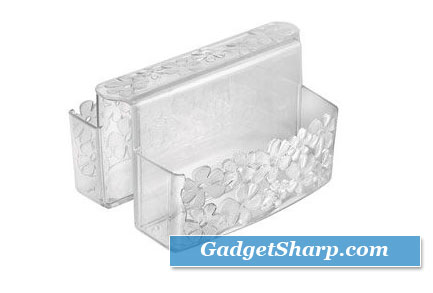 12. Over the Sink Kitchen Center [amazon]
Over the Sink Kitchen Center Clean off your countertops and keep everything within reach! Natural hardwood shelf features a wire basket for sponges, paper towel holder, cutting board & knife holder. Fits most single and double sinks. Measures 38 1/2"W x 6 3/4"D x 9"H.