As you can know from the title, our today?s topic is napkin. Napkin? You might wonder except wiping your mouth while eating, what other function it will have to make it interesting or unusual? Just check this post, you will find some funny and practical functions add to these modern napkin, such as ?hello napkin? which helps you break the ice and get right to the point; ?Cabbie Napkins? which helps you find your way home after you get drunk? and also funny napkin like ?dress up? napkin or ?Mustache??. Sound interesting? Let?s begin?.
1. I Like You Napkin [link]
I like you. Do you Like Me? []yes []no []maybe
What more can you ask your crush… your sweety-pie ? Bring on this Valentines day with a secret note to pass along to your very own main squeeze.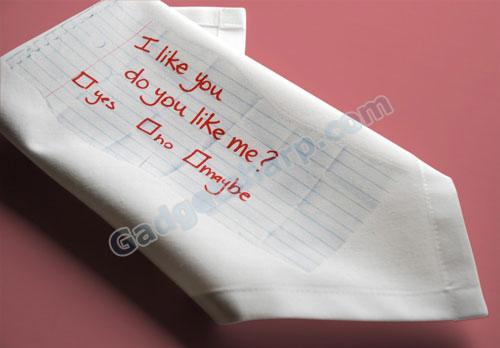 2. Pop Art Napkin [link]
Pop Art Napkin set of 4 napkins. 100% white cotton napkin with four different screen printed lips on each corner. Depending on how you fold it determines which image is facing up.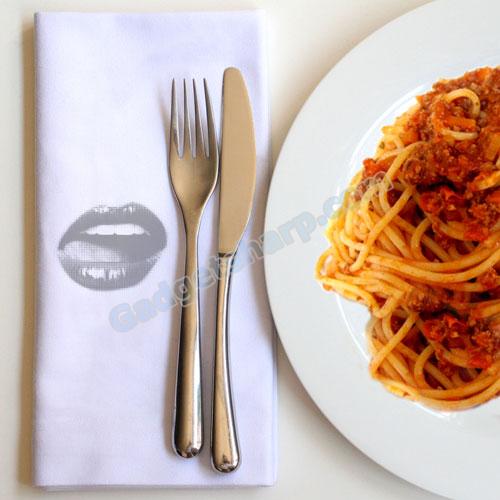 3. Kissy Cocktail Napkins [link]
Are they kisses or did someone have to blot their lips?!
Each cotton/poly sheet comes with a kissing print on it (a heat transfer, through I did initially wonder how it was done).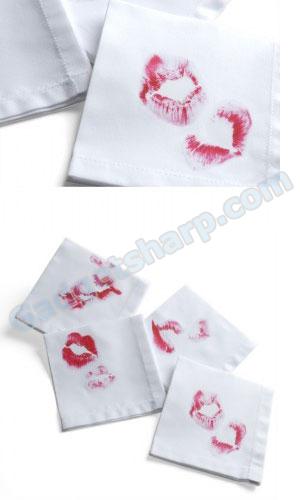 4. Mustache Handkerchief [link]
This goes out to all the mustache lovers!
The Mustache Handkerchief has 4 prints of mustaches inspired by Salvador Dali, Tom Selleck, The Classic Handlebar, and some baseball player from the 80s!!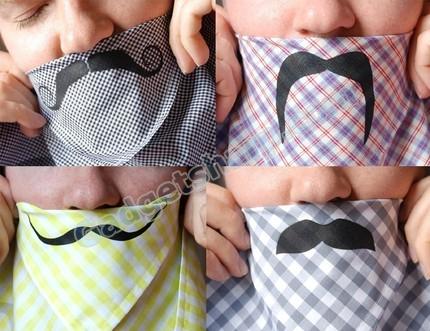 5. Graphkin Napkins [link]
Next time you doodle and sketch your ideas on your paper napkin, do it with real accuracy with these graph-paper paper napkins!
made by: Recycled Paper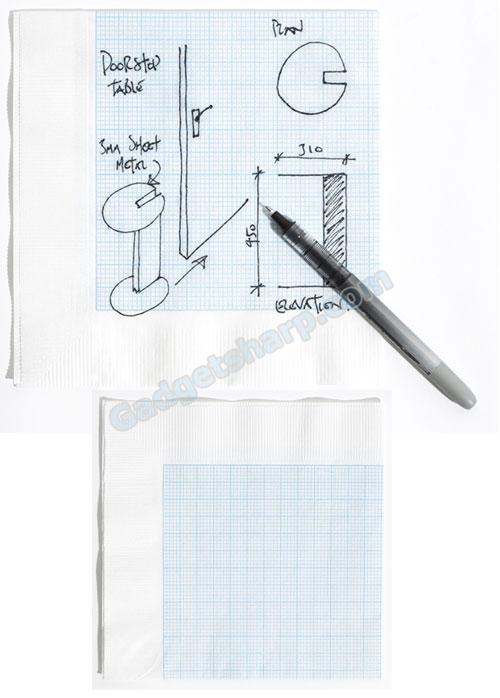 6. Napkins Calendar [link]
Unusual daily calendar by Russian designer Stas Aki.
You know it is actually weird for me. Do I only allow to use one napkin per day?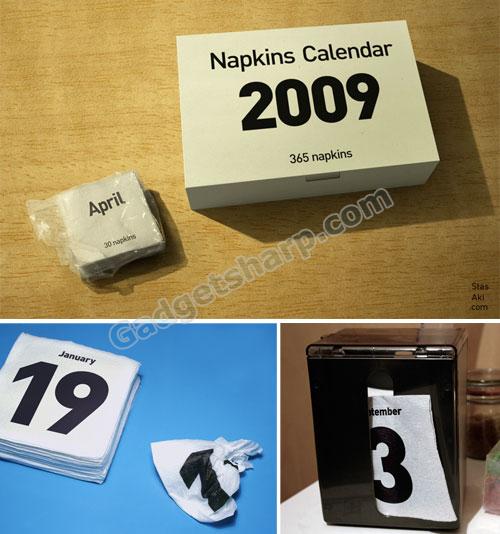 7. Cabbie Napkins [link]
Planning an evening of party-hopping and debauchery? This Cabbie Napkins will help you find your way home after you've had a few too many and can't remember where you live, what hotel you're staying at, or where the heck your pants are. Or, be a thoughtful hostess and pick up a few packs to assist your inebriated guests – simply fill in their address, where to find payment, and pop them in a cab!
Each pack contains one dozen 3-ply cocktail napkins, each measuring 5" square.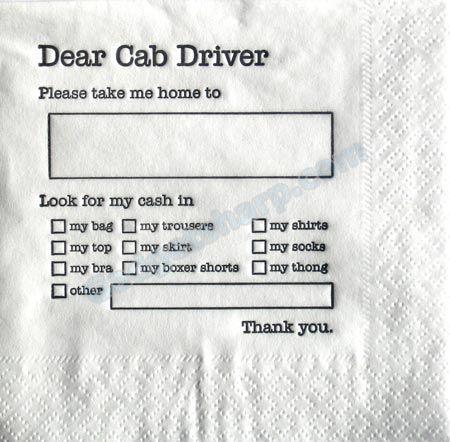 8. Hello Napkins [link]
Same idea like the cabbie napkin.
This Napkins help you break the ice and get right to the point. With space to fill in your name, phone number, and suggested meeting places, you can skip the small talk and get right to the good stuff. Be bold and hand one to a complete stranger on the subway, or subtly tuck one under your fellow party-goer's cocktail.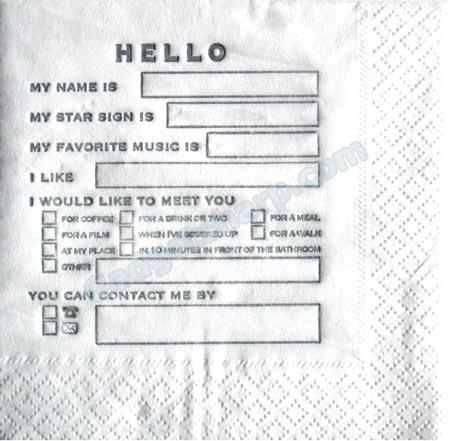 9. Giant napkin for giant hamburger from McDonald [link]
Eurosize poster sites turned into huge napkin dispenser complete with giant napkin made from original napkin material. This was done to promote McDonald's largest hamburger ever, the Big 'n' Juicy.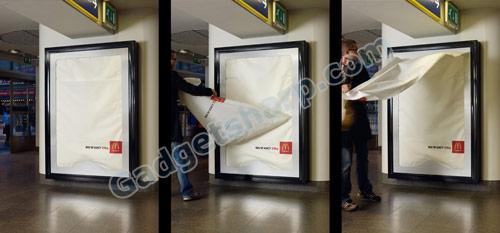 10. PARTY TOPICS NAPKINS [link]
Get the party started with Party Topics napkins. Each napkin contains 16 of the best questions from the Original Table Topics edition. Guaranteed to entertain your guests and keep them talking!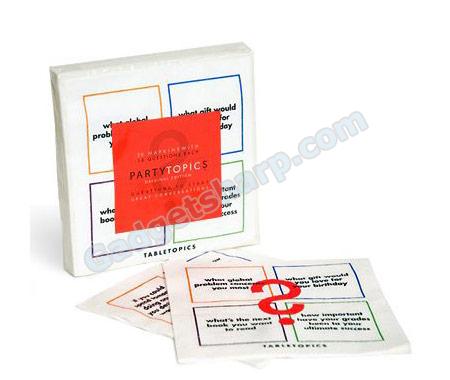 11. Keyboard-Napkin [link]
No more crumbs in your keyboard thanks to the keyboard-napkin!. This one is kind of hilarious.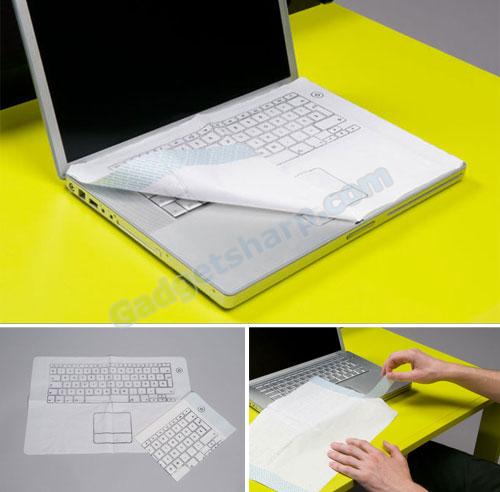 12. Dress For Dinner Napkins [link]
As seen in Everyday With Rachael Ray and Metropolitan Home Magazine and on the Today Show! Even if the guy's dressed in his favorite old white tee shirt, with this napkin at his neck he'll actually look like he made the effort to get dressed for dinner. A great conversation piece at any party. Cello wrapped.