If you or someone you know loves dragons and the interesting and exciting mythology that surrounds them you will no doubt have heard of dragon Collectibles. These are figurines and ornaments that depict dragons and dragonlings in a variety of poses, colors and styles. This post showcases 12 Fantastic Collectible Dragon Inspired Products, from bookend to rain-spout, from wall clock to table lamp. No wonder these fantastic collectibles can easily be a talking point with visitors or interesting gifts for your friends.
1. Fierce Dragon Bookends [amazon]
Your most treasured tomes will remain upright with these mythical dragon guardians! Richly rendered in astonishing detail, these bookends add a mystical decorative touch to any room. Polyresin. Each is 10 1/4"x 3 1/4" x 7" high. Pair.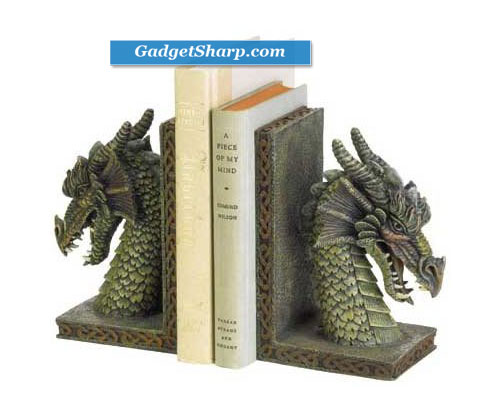 2. Gothic Dragon & Celtic Cross Table Lamp Skull [amazon]
This beautiful statue adds the perfect touch of evil to your living room, family room or bedroom. Measuring 13 inches tall, 7 1/2 inches wide and 4 1/4 inches deep, the statue features a huge evil dragon wrapping itself around a Gothic Cross with skulls on each of the arms and in the center. Made of cold cast resin, it is hand-accented with metallic silver and blood red paints to give it more Gothic look. It makes a great gift for dragon lovers.
3. Dragon Sand Timer [amazon]
This gorgeous Dragon Sand Timer - Collectible Figurine Statue Figure Sculpture has the finest details and highest quality you will find anywhere!
Dimensions: W: 4.5 x H: 6 (inches) Crafted with: Resin More Information: Time: Approx. 4.5 Min.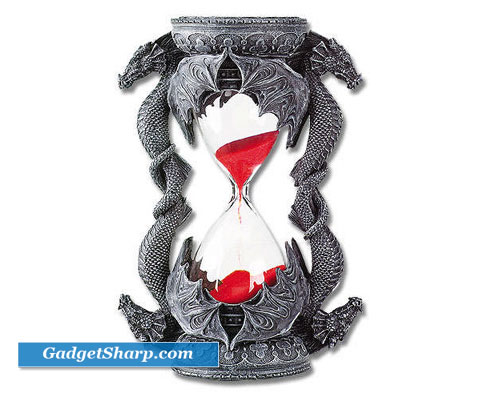 4. ROYAL DRAGON MUG [amazon]
Medieval style mug is richly emblazoned with fearsome dragon motif and fiercely frowning serpent handle. Decorative purposes only. Polyresin and metal. Measures: 3?" diameter x 4?" high, with handle, 5?" wide.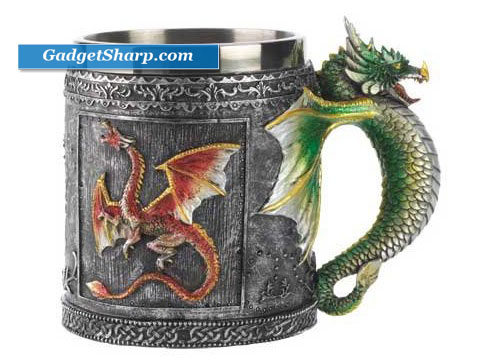 5. Alabastrite Dragon Oil Burner on Fire [amazon]
Warm fragrant oils accent this mystical piece, which has a dragon peering over a 4 3/4? diameter glass dish, supported by acrylic flames. Alabastrite with glass dish and candle cup. Uses tealights (not included) 9? x 6 3/4? x 7 1/2? high.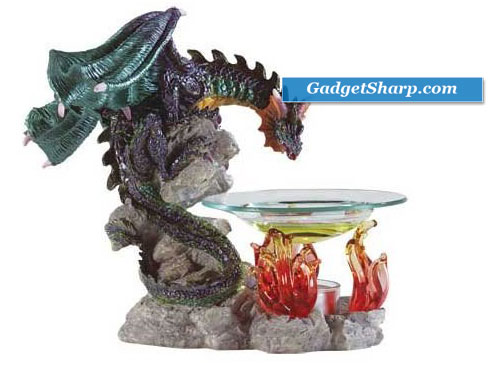 6. Dragon Candle Holder [amazon]
Add a wild edge to any decor with this tattoo-graphic candle lantern! Strikingly stylized dragon pattern casts a fascinating play of light and shadow and flickering flame. Glass. Candle not included. 4 3/4 inches diameter x 7 inches high.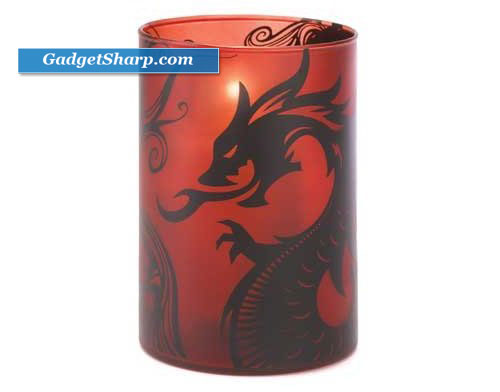 7. Bath Tissue Tyrant: Commode Dragon [amazon]
This medieval-style toilet tissue valet guards your bathroom bounty with Gothic flair! Artist Gary Chang sculpted our Toscano-exclusive, wall-mounted work in quality designer resin to capture every amazing detail. Unique to all the kingdom! Due to the nature of this item, we are unable to accept returns. 12.5"Wx4.5"Dx10"H. 3 lbs.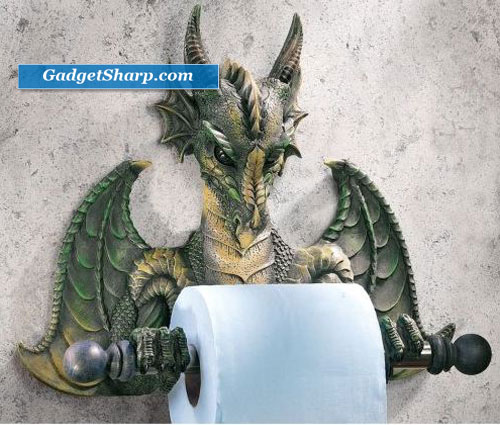 8. Ranier, the Sculptural Dragon Rainspout [amazon]
Form and function find their balance in our gargoyle-inspired dragon downspout for your home. He won't breathe fire, but he will bring a dramatically gothic detail to your modern castle's exterior! Cast in quality designer resin and finished in gothic stone. 16"Wx8"Dx5"H. 5 lbs.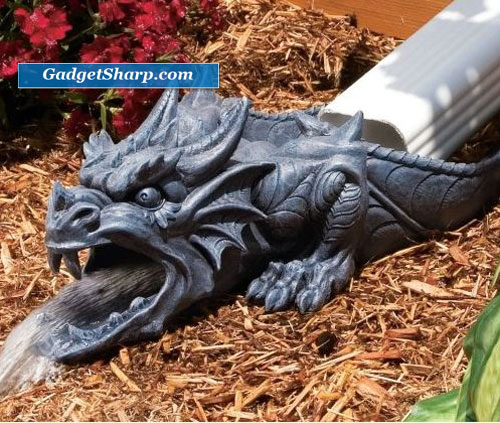 9. Dragon Ashtray [amazon]
Fabulous Hong Tze Collection–Dragon AshtrayDragon is imaginary animal in Asian, especially in China. As a legend, it can freely fly in the sky and swim in the ocean. Symbolizes power, brave, freedom and justice. Asian people also believe that Dragon is good for Feng Shui- It will safeguard your family from risk.
Size: L6" x D4" x H3.5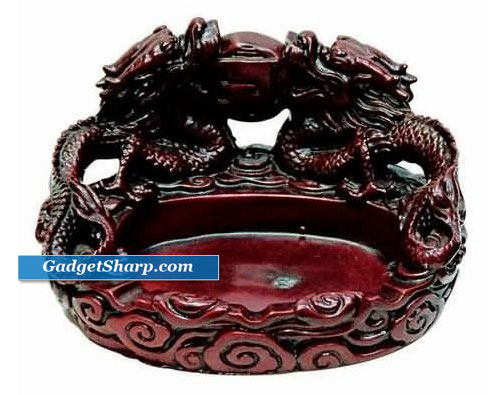 10. Gothic Coiled Celtic Dragon Quartz Mantel Clock [amazon]
Made of cold cast resin, this incredibly cool battery powered desk or mantel clock features a coiled medieval dragon, who is peacefully guarding the clock. It measures 8 inches tall, 6 3/4 inches wide and 3 1/4 inches deep. The clock face measures 3 inches in diameter.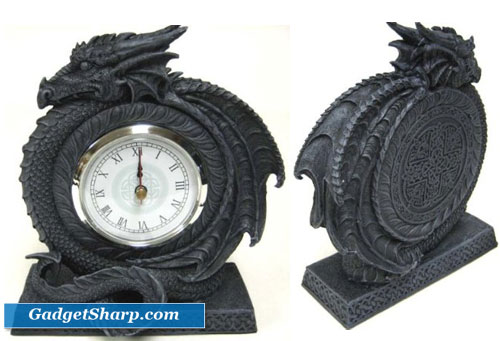 11. Dragon Incense Burner [amazon]
A fierce dragon winds its scaly coils around a burnished-bronze box, forming a stunning sculpture that hides a treasure within. Lift the lid to discover a stash of dragon blood scented incense! Includes fifteen Dragon?s Blood incense sticks. Polyresin. 11 inches x 4 inches x 4 inches high.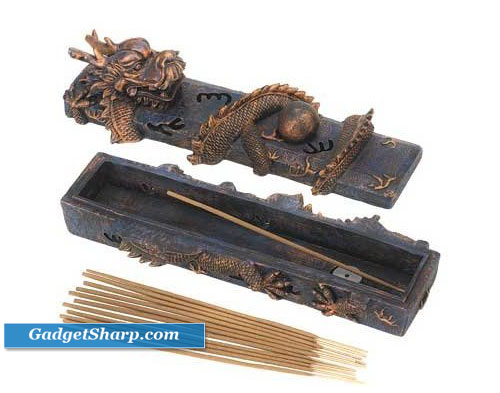 12. The Wolfram Dragons Sculptural Wall Shelf [amazon]
"Master dragon artist Gary Chang put these classic dragons into service! Drawing upon the rich history of dragon-embellished architecture, this exclusive artist's original boasts a single display shelf. Intricately sculpted, then cast in quality designer resin and hand-painted to resemble aged stone, this yard-long work melds medieval decorative art and functionality. 37andfrac12;""Wx8andfrac12;""Dx14""H. 27 lbs."